Abbreviations
| | |
| --- | --- |
| [17] | score in brackets: provisional score, usually for a wine tasted from an unfinished winery sample, released prematurely, suspected to be suffering from bottling shock, or similar |
| BF | barrel fermentation |
| DFB | damn fool bottle, meaning will not fit in a standard Bordeaux / Burgundy / Rhone wooden box (for cellaring). |
| g/L | grams per litre |
| H2S | hydrogen sulphide, the rotten egg / Rotorua odour, a by-product of yeast fermentation with insufficient oxygen, and keeping the wine on substantial yeast lees without aeration. The effect is to dull the wine. Sensitivity to H2S varies enormously, unfortunately, so wineries can become notorious for producing such wines. Vigorous splashy aeration, for example pouring an affected wine from one jug to another 10 times, can help these wines greatly |
| LA | lees autolysis |
| MLF | the malolactic bacterial fermentation either with or following the primary yeast fermentation. Winemakers can decide whether or not to permit MLF, via use of S02 |
| QDR (or QDW) | quaffing dry red (or white). For country or district wines, maybe not distinguished varietally or stylistically, but ripeish and adequate (or better) drinking. For varietal wines, suggests tending plain. |
| RFO | retained fermentation odours, often including subtle H2S which dulls the wine |
| RS | residual sugar |
| SO2 | sulphur dioxide, the main food-grade disinfectant used in wine |
| s/s | stainless steel |
| TCA | 2,4,6-trichloroanisole, the chemical primarily responsible for producing the musty smell characterising 'corked' wines. When severe it resembles the smell underneath damp cardboard which has been too long on clay under the house |
| VA | volatile acidity, both acetic acid (mostly) as in white vinegar, and the ester ethyl acetate (mostly) as in the aroma of nashi pear |
| VALUE | occasional wines which particularly appeal to me will be marked VALUE, irrespective of their score. This rating will be used sparingly |
Purpose of Reviews
The aim of the Reviews is a longstanding personal one: to review local and imported wines to one simple international standard, and report on them factually, objectively, and if possible constructively. From the customers' point of view, it has always seemed to me that it is helpful for wine buyers to know not only a reviewer's preferred wines, but also those less favoured. If readers compare reviewers' patterns of likes and dislikes, hey will soon find a reviewer whose palate preferences coincide with theirs. Some potentially disappointing bottles can then be avoided, vicariously. For example, many reviewers ignore reduced sulphur smells, whereas some wine-lovers dislike them intensely. Factual and honest reviews can help with issues of this kind.
Likewise, prices for some wines now bear little relation to their inherent quality, or to the natural variation of quality year to year which is inescapable in horticultural / agricultural pursuits. These reviews will therefore aim to separate intrinsic wine quality from fashion or price, working from blind tastings where possible.
The reviews are made and presented in good faith, as one person's independent systematic review of some of the wines available in New Zealand. No significance should be attached to the inclusion or not of any label. There are too many. A range of price levels will be reviewed, but inevitably more interesting and probably therefore more expensive wines will predominate. It seems unlikely the vast beverage-wine market includes many keen readers of wine reviews – price is more likely to be the controlling determinant of interest in the supermarket sector.
Wines will preferably be tasted blind, or at the least in a systematic format with others. Within each complete review, the wines will be presented:
either in one batch if the tasting has a clear theme, first indexed alphabetically, and then listed in descending order of score rating, or;
presented in the 17 classes shown below, the index alphabetical within the class, the reviews also in classes, and then in descending order of score rating.
White

Sparkling

Chardonnay

Sauvignon blanc, Semillon, and related blends

Riesling

Pinot gris

Gewurztraminer

Viognier

Sweet / Sticky

All other white wines, blends, etc.

Red

Rosé

Cabernet, Merlot, and related blends

Cabernet / Shiraz

Pinot noir

Syrah = Shiraz

Grenache, Syrah, Mourvedre & related blends

All other red wines, blends etc

From the Cellar. Older wines.
All countries will be together. A standardised listing format will be aimed for. Some background knowledge will be assumed. For example, French burgundy is pinot noir, Australian Penfolds Bin 28 is shiraz, or New Zealand's Te Mata Coleraine is cabernet, merlot, and related blends.
Prices; Marks / Scoring Systems; Cellaring times; Reliability caveat / Reassessment policy:
Prices:
Prices given in the Reviews will be approximate shelf retail, in New Zealand dollars. Prices vary widely between merchants, but unfortunately not many have an up-to-date and on-line means of checking wine prices, and fewer have a syntax which is intuitive and consistent to the questioner. Regional Wines & Spirits
(www.regionalwines.co.nz)
in Wellington, Vino Fino
(www.vinofino.co.nz)
in Christchurch, First Glass
(www.first-glass.co.nz)
in Auckland, and the importer Wine Direct
(www.winedirect.co.nz)
also in Auckland, have on-line wine catalogues that are worth trying, for checking wine prices.
Marks / Scoring Systems:
Wines will be reviewed on the 20-point scale. Nowadays, all wines fall in the 10 - 20 part of the scale, to conform with Australasian wineshow judging useage, rather than the (older) British use of the full 20 points. In the last 20 years, the British have followed the new world, in their contemporary use of the 20 point scale.
| | | | |
| --- | --- | --- | --- |
| Classes are: | | 15.5 – 16.9 | bronze medal level |
| | | 17.0 – 18.4 | silver medal |
| | | 18.5 and above | gold medal |
The Americans however prefer a larger scale of endeavour, and have introduced a 100-point scale, in which, like the 20-point scale, only the top half is used. There is a tendency in American-influenced regions for this scale to be followed slavishly. One hears uncritical consumers speaking of a wine as being 'a 90', as if that concept had a real validity. This is a conceit. No score means more than the evaluation of a given wine on a given day, and in relation to the wines the sample was evaluated with. The latter point is often over-looked.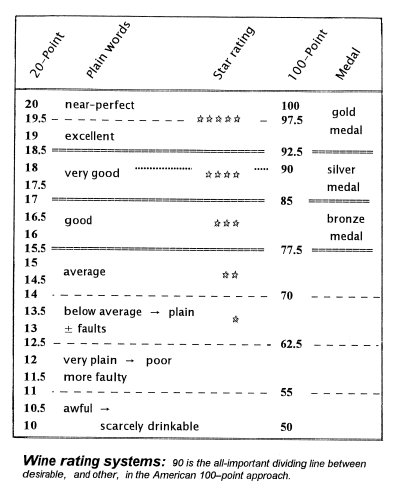 To try and cast some light on the main scoring systems, and tie them in to the more easily understood star rating system from nil to five, as commonly used in the travel industry, I have included a comparative chart. A suggestion in plain words as to what these levels imply in terms of taste and wine quality is also included. The words used by winewriters are all too often a source of difficulty. American useage again has led to inflation of word values. For example, the two most frequently encountered 100-point rating systems in the USA, those of the specialist Robert Parker in
The Wine Advocate
, and the more popular
Wine Spectator
magazine, between them apply four adjectives to their 95 + category (profound, classic, extraordinary, great) and another 3 (outstanding, exceptional, superior) to the bracket 90 - 94. When one thinks about these words, it would be a brave person who could assert that the latter three words are clearly less indicative of quality than the first four.
An interesting detail of preparing a chart such as this, is the need to think about lesser wines. There is a tendency for people to think that bronze medal wines are the norm. That is a nonsense. If medals are to mean anything, the bronze medal must clearly be
above average
. So that leaves a lot of wines needing some thought as to where they fit. Traditionally in New Zealand these wines are not much considered, and the consumer is left in the dark about them. This is scarcely helpful. Working on these ratings has made me realise I need to score these lesser wines more carefully, if the numbers below the line are to have the same meaning and relativity as the scores from 15.5 and up.
In these reviews, therefore, the bronze medal level will be used to denote a wine of some quality, not merely acceptable. Ratings will therefore be more demanding / indicate a higher satisfaction level, than some Show results. However, the value of any rating system lies not so much in the numbers, as in identifying with the author's preferences as expressed by words as well as the score. The goal will be to use terms consistently in these notes, so they will become meaningful to wine assessment and buying. This is particularly important for technical terms, where tasters are tempted to use trendy words before they are fully understood.
Differing ratings between wine critics should be regarded as a challenge to assess that wine oneself. A lot of (constructive) fun can be had in this, and the benefit in recognising reviewers' preferences, thresholds, and blindspots can be useful buying information.
Cellaring times:
This reviewer particularly likes mature wines. The reviews reflect that. In particular, the cellaring times suggested may seem incongruous to the instant-gratification generation. I can only urge them to seek out old wines, and experience for themselves the pleasures mature and gentle wine can bring to the dining table.
Maturing of wine follows an orderly evolution to an early maturity phase, a (generally extended) plateau of maturity, and (for good wines) a long gentle decline. As with people, wines may have differing attributes and merits at each phase of their 'life'. Each phase can be roughly reckoned as about one third of the estimated cellar-time given. This is based on storage of 750 ml bottles in a moist cool-temperate climate such as Wellington. Warmer or drier places may be half this time.
Reliability caveat / Reassessment policy:
For so long as we have the imperfect closure cork, there is, as André Simon long ago said, no such thing as great wine, only great bottles. Any proprietor wanting a wine reassessed is therefore invited, indeed urged, to send a second bottle. It must be understood by all parties that the incidence of individual degraded bottles of wine has been more frequent in and since the 1990s, than in the preceding three decades at least, and perhaps for a very long time. The primary cause is cork taint, the effects of which vary from so slight as to merely make the wine seem a bit plain, without realising why, through to obvious corked / musty characters. Therefore, comments based on any single bottle have a certain percentage chance of not being representative, perhaps as high as 1 in 12, due to factors beyond the taster's control. And, notwithstanding these reviews are prepared in total good faith, and as objectively as possible, reviewers make mistakes, too. Standing availability of reassessment is the only practical answer.
Author Profile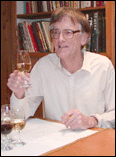 Geoff Kelly is an ex-DSIR New Zealand scientist who likes wine – and who particularly likes the mellow beauty which good wines white or red evolve during appropriate, and sometimes extended, cellaring. In preparing these reviews, he draws on more than 45 years' experience of systematic tasting, recording, and cellaring of wine.
Geoff was wine correspondent for
National Business Review
during the 1980s, and founding wine-writer for
Cuisine
magazine. He also contributed to the Viticulture and Oenology research programmes of the then Ministry of Agriculture and DSIR at Te Kauwhata, and of the then Department of Horticulture at Lincoln University. He has judged at the Air New Zealand and Easter Show national wine competitions, becoming a senior judge in 1981, and continuing intermittently in judging until the 2015 Royal Easter Show. He is now a wine consultant concentrating on wine evaluation. Since 2001, his wine reviews were formerly published as Geoff Kelly's Wine Reviews @
www.regionalwines.co.nz
(record now lost in changes to that site), and latterly in more detail @
www.GeoffKellyWineReviews.co.nz
. He has contributed review articles to the wine industry magazine
New Zealand WineGrower
, and the London-based
The World of Fine Wine
. Until recently, he was a guest Lecturer for the wine science programme at Lincoln University, Canterbury.
Terms of Use / Disclaimer
By accessing and using the Geoff Kelly Wine Reviews website, you agree that you have read and understood the Terms of Use set out below, and agree to access the information on an "As Is" basis.
Wine reviews in Geoff Kelly Wine Reviews are the professional opinion of the author. They are prepared in good faith, as impartially and objectively as is practicable, embodying the principles of fair comment and fair review, and in the interests of consumer information first and foremost. Gratis wine samples are reviewed on exactly the same basis as purchased wines.
The information contained within this website is provided with absolutely no warranty, without even the implied warranty of merchantability or fitness for a particular purpose, that is, on an "As Is" basis.
The website and its author does not accept responsibility or liability for any claims, damages or losses resulting from any use of this publication.
Copyright
Copyright in these Wine Reviews remains with the author. Reviews may be quoted or reproduced, provided acknowledgment is made at least to
Geoff Kelly
, preferably to:
www.GeoffKellyWineReviews.co.nz