OLD NEW ZEALAND CABERNET, 1903 NEW ZEALAND LANSDOWNE RED,
A CHALLENGE FOR 'CONCEPT LINDAUER' ...
OLD NEW ZEALAND CABERNET:
Participation in the 2016 Royal Easter Show Wine Awards represented my 35th year as a senior judge in the New Zealand wine industry. Time to step down, therefore. To mark the occasion, and with the active endorsement of chair of judges Kate Radburnd, I presented a little 'Farewell Tasting' of older New Zealand cabernets to the judges. This fitted neatly into the gap when all the results are being collated, and the final wines are being assembled for the Trophy judging, and then deciding the Champion Wine of the show.
There were two key players in the early days of (post-Prohibition) New Zealand Cabernet, in the 1940s and 1950s. They were Tom McDonald (later joined by Denis Kasza) at McWilliams in Taradale, Hawkes Bay, and Alex Corban in Henderson, who later also had some grapes planted out towards Kumeu. In the later '50s they were joined by Dudley Russell of Western Vineyards, Henderson, a former vineyard now slipping from wine-public memory, but well-known in its day for its Hock and Sauternes. In the later 1960s, Nick Nobilo planted cabernet sauvignon and pinot noir, as well as pinotage, at Kumeu, and set out to make great New Zealand red wine. He was the first in New Zealand to systematically use new French oak, for his top reds. Nick is still well known today in another guise, with his Vinoptima gewurztraminer vineyard, in Gisborne.
Sadly I have never owned any of Alex's Cabernet, but I was able to show the judges:
1967 McWilliams Cabernet Sauvignon
,
1967 Western Vineyards Cabernet Sauvignon
,
1969 McWilliams Cabernet Sauvignon
, and
1974 Nobilo Cabernet Sauvignon
. To set the scene, and more particularly to illustrate to younger judges that before American wine writers so dominated the international wine scene, cabernet sauvignon / claret was often a relatively light and fragrant wine, I introduced the tasting with
1966 Ch Talbot
. It was never a big wine, and so did not dominate the tasting at all. Style-wise it was just right.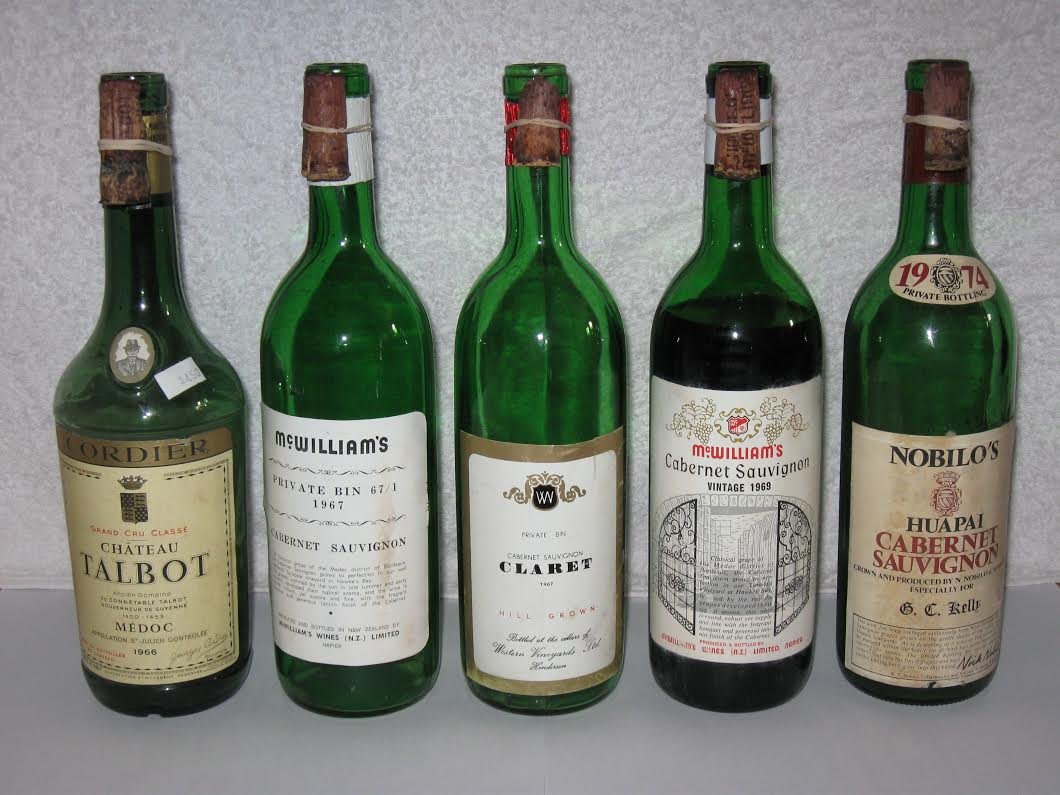 The five wines were presented revealed, in the following order (as in photo), with the handout notes (now slightly amended) in the italic 'admin' part of each review, below. Experiments the previous week suggested the wines would show best if decanted about 4 hours before tasting. The judges were joined by Mike Cooper, in recognition of his standing as New Zealand's senior and most experienced wine writer.
Scores in a reflective tasting of this nature are arbitrary to a degree. In those days, politically correct details such as declaring the alcohol level had scarcely been dreamt of. I do not recollect all the prices, but those given indicate the range at the time, noting that the famous 1965 McWilliams Cabernet Sauvignon was $1.40 ex-winery, and demand for the wine was such that it immediately became $2 and then $2.40 in subsequent vintages. All in all, the tasting was a thrill: the 21 tasters were, in a word, rapt. For the presenter, this was a great outcome, since older wines and younger tasters do not always appreciate each other.
1966 Ch Talbot
1967 McWilliams Cabernet Sauvignon
1967 Western Vineyards Cabernet Sauvignon
1969 McWilliams Cabernet Sauvignon
1974 Nobilo Cabernet Sauvignon
References:
Saunders, Peter, 1977:
A Guide to New Zealand Wine
. Wineglass Publishing, 64 p.
Scott, Dick, 1964:
Winemakers of New Zealand
. Southern Cross Books, Auckland, 100 p.
Thorpy, Frank, 1971:
Wine in New Zealand.
Collins, 199 p.
Kelly, Geoff, 2008:
The Evolution of Bordeaux and Hawkes Bay Blends in New Zealand, to 2005.
www.geoffkellywinereviews.co.nz/index.php?ArticleID=145
---
THE 1903 WAIRARAPA LANSDOWNE RED:
In February 2016 the opportunity arose to re-taste the nominally 1903-vintage Lansdowne red wine, thanks to the generosity of Ed Beetham and his long-established Wairarapa family. Coordination of the tasting was undertaken by wine journalist John Saker. The wine came from a vineyard located adjacent to the suburb of Masterton now called Lansdowne, on the north-east side of the town. The Beetham family then owned that land, centred on Lansdowne House, as well as Brancepeth Estate, in the gently hilly country at Wainuioru 15 km southeast of Masterton. I say re-taste, because I had the pleasure of tasting this wine in 1985, and wrote that tasting up in
National Business Review
. That article is reprinted on this website,
here
.
The grapes in the vineyard, the cepage, are not formally documented, but the Beethams and the Williams of Hawkes Bay intermarried, and there was contact with the Chambers family of Te Mata, and the Mission Estate. Grapes probably came from these sources, and the Beethams brought some from France directly. There are some records of pinot noir and hermitage (syrah) being planted in the vineyard, but I have not seen them. Scott (1964) records: [ Romeo ] Bragato was accompanied by three Agriculture Department officials to Beetham's Wairarapa vineyard. He inspected three acres of wine grapes, found them in perfect condition and drank some prime quality six-year-old Hermitage. This was 1895; hermitage is syrah (then named after the village Hermitage in the Northern Rhone Valley where the grape finds its greatest expression). Being cooler than Hawkes Bay, pinot noir seems highly probable to be have been the dominant grape. In the same report, Bragato mentions Pinot in Hawkes Bay as being the finest grapes he had seen. Syrah would go with it naturally. The Mission had much meunier in that era, and it is likely too. Cabernet franc has been mentioned, but no confirmation is known. It would be great to research these matters in more depth, in Beetham family correspondence, in contemporary newspapers, and directly in Romeo Bragato's reports.
When I tasted the wine thirty years ago, I described it as clearly old burgundy in style, still showing a rosy flush in a copper-garnet hue, with a surprisingly fragrant bouquet and flavour for its age, though very dry. 30 years on, therefore, I was apprehensive that the wine might have declined seriously, since it was no longer a big wine, even then.
But no, wonderful to report, the first bottle opened was in amazingly good condition, the cork clean, firm for much of its length, and dry. The colour still shows a rosy salmon flush (see photo), and likewise in the bouquet, once momentary bottle stink had cleared, one could see faded rose-petal florals, and even suggestions of browning red berry, though it would be exaggerating to say there was any cherry character. For anybody who likes old wine, it still smelt lovely, not at all oxidised, just faded. Flavour likewise still has some mouth feel and texture. As at the last tasting, it suggests the grapes must have been cropped very conservatively indeed, as was the norm in those days, to have remained so lively to this day.
There is still a clear taste of browning berry fruit, but the actual fruit sensation is short lived, instead beautifully clean French oak quickly becoming the dominant flavour. Yet as you reflect on it, the oak still has this dry burgundian fruit to a degree wrapping it up, and there is still perceptible dry extract. What a thrill a tasting such as this is.
The photos illustrate: (top left) the four bottles brought up and settling for the tasting, only two being opened; (top right) a hand-written label denoting a bin of 'Claret Lansdowne 1903' (though the wine seems certain to have been predominantly pinot noir, some syrah, and maybe some meunier and cabernet franc); (bottom left) the wines binned without labels, in the cellar under the house; and (bottom right) the wine in the glass, still showing appropriate gentle colour (for its age), but losing its rosy glow quite quickly.
It seems the bottles are still binned pretty well as they originally were. Many bottles were originally wax-capped, and some were re-waxed later in the piece. One bin is labelled 1903, but it is impossible now to know to which wines this refers. Conditions in the cellar are dry (even though in earlier years it has been flooded), with the result that many bottles are now empty or nearly so, the corks having shrunk. By the same token, those corks that are good are in phenomenal condition, relative to corks at my Lower Hutt place which are half the age, but in somewhat higher humidity. The corks must have been of first-class quality at the outset, at least 45 mm long, perhaps 50. In more humid cellars, corks often deteriorate to a puggy consistency after 40 or 50 or so years. In the best bottle of the nominal '1903' opened, the cork itself was remarkably fresh and firm. I had opened a 1967 Hawkes Bay cabernet sauvignon two days before, and its cork was almost decayed, in comparison.
Wellington wine-man Raymond Chan has written this tasting up more fully,
here
, with more background information and illustrations, on his now-remarkable free-access website. This site is the most complete and up-to-date source of on-line information on New Zealand wine available, with great background information for nearly all articles.
This exciting tasting raises the question, will the best current New Zealand wines last so long. The key issues here are cropping rate, and thus the dry extract or richness of the wine, and oak, more particularly the ratio of oak. Most modern New Zealand wines are too oaky, following the (climatically inappropriate) Australian lead, though it is fair to say that perceptive proprietors are reducing the ratio of new oak now. It is hard for oaky wines to retain real harmony and elegance in old age, when the perception of fruit must be dominant. And most modern New Zealand wines still do not have the concentration, to remain vital for 100 years. A modern wine such as 2013 Villa Maria Cabernet Sauvignon Ngakirikiri, cropped at c. 4.2 t/ha = 1.7 t/ac and with a dry extract of 31.5 g/L would be the best bet. Or Elephant Hill's two top 2013 reds, both with comparable dry extracts.
---
A CHALLENGE FOR 'CONCEPT LINDAUER' (in the 2004 Lindauer Vintage review, below) ...
---
MISCELLANEOUS:
The first three wines are the trial / preview tasting, for assembling the old New Zealand cabernets for the Easter Show judges. They are included to document a better bottle of the 1974, and to make the comparison with the more-famous 1976. The Tahbilk Cabernet is included to document the wine I spoke about at the Royal Easter Show Awards Dinner. I had been asked to present The Heritage Rose Bowl Trophy, for the set of three wines showing the greatest consistency over a 10-year or more span of vintages. In doing so I encouraged participants to cellar their favourite Trophy or Gold Medal-winning wines, in sufficient quantities to in fact guarantee future enjoyment. I used this wine as an example, noting that its merits as a young wine were such that immediately on tasting it (in 1973) I bought 4 cases (of 12), and thus could still enjoy the wine today.
1967 McWilliams Cabernet Sauvignon
1976 Nobilo Cabernet Sauvignon
1974 Nobilo Cabernet Sauvignon
1971 Ch Tahbilk Cabernet (standard bottling)
1997 Peter Lehman Sparkling Shiraz Black Queen Methode Traditionelle
1975 Ch Filhot
---