LIBRARY TASTING: 1916 CH MOUTON [-ROTHSCHILD], 1953, 1955 AND 1966 BODEGAS BILBAINAS RIOJA, 1966 BORDEAUX, AND SIMILAR ...
Conclusions from the tasting:
It is not every day that 21 people share in a Bordeaux wine made exactly 100 years previously, pretty well to the month (October 2016). And of the 12 wines tasted on the night, spanning 1916 to 1972 and (for the Bordeaux) none great vintages, no less than 9 of the wines were rated top wine of the tasting, by at least two of the tasters. Tasters therefore found much to enjoy, despite a less-than-stellar wine-list. This was highly satisfying. Details in the text.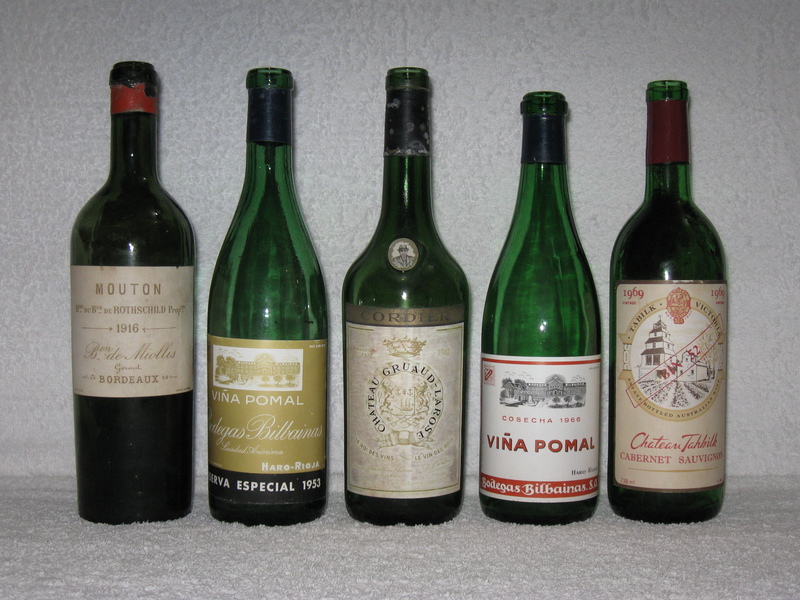 Five exciting wines from the 100-year-old claret and other old wines tasting, from the left: 1916 Ch Mouton (now Ch Mouton Rothschild), 17 +; 1953 Bodegas Bilbainas Vina Pomal Reserva Especial, 18 ½; 1962 Ch Gruaud-Larose, 18 +; 1966 Bodegas Bilbainas Vina Pomal, 19; 1969 Ch Tahbilk Cabernet Sauvignon Bin 52, 18. No two people would score wines this old in the same way, so much more than usually, the scores reflect one person's considered view, on the night.
Another quite different but extraordinary conclusion I drew from this tasting arose from preparing the handout. One pays so much (in New Zealand dollars) to subscribe to certain favoured wine websites, that one has the unreasonable hope they will always have something to say about the wines one is interested in, on the day. But for this tasting, I found to my astonishment that Jancis Robinson and Julia Harding at
jancisrobinson.com
had not reported on a single one of the 12 wines, presumably simply because (one assumes) the French wines are from lesser vintages. One has to ask, therefore, how winewriters leading such privileged lives, with their tasting fare so biassed to the finest wines from the finest vintages, year after year, can in fact relate to the the needs of the average taster in the street. I guess the short answer is, they do not seek to – as admittedly even I don't. But there is an underlying concern, all the same, and it overflows into the way, the level at which, wine scores are pitched. Robinson and Harding are notoriously 'hard' in their marking. Sometimes you feel this 'waiting for nirvana' approach is becoming unrealistic. By the same token it has to be said that Robert Parker, notwithstanding his well-documented hang-ups about / predilection for size and ripeness in wines, has nonetheless over the years been a good deal more catholic in his approach to, and documenting of, lesser vintages. Long may this continue.
The Introductory material given to participants is now incorporated in the 'admin' section of my wine review format, below.
The Invitation – The Wines:
In vintage order this time. There are no second bottles. If anything is severely corked / deteriorated, we will use Reserve bottles. For this tasting, the old wine will be presented, irrespective, to taste a 100-year-old wine, even if defective.
BORDEAUX
1916 Ch Mouton
(now Ch Mouton Rothschild),
Pauillac, then Second Growth
1962 Ch Gruaud-Larose
,
Saint-Julien, Second Growth
1966 Ch Mouton Baron Philippe
(now Ch d'Armailhac),
Pauillac, Fifth Growth
1966 Ch Pontet-Canet
,
Pauillac, Fifth Growth
1967 Ch Haut-Brion
,
Pessac, First Growth
1967 Ch Lynch Bages
,
Pauillac, Fifth Growth
1972 Ch Haut-Brion
,
Pessac, First Growth
SPAIN – RIOJA
1953 Bodegas Bilbainas Vina Pomal Reserva Especial
,
Rioja
1955 Bodegas Bilbainas Clarete Fino Vieja Reserva
,
Rioja
1966 Bodegas Bilbainas Vina Pomal
,
Rioja
AUSTRALIA
1966 Hardy's Cabernet Sauvignon Bin C626
,
McLaren Vale & Coonawarra
1969 Ch Tahbilk Cabernet Sauvignon Bin 52
,
Nagambie Lakes / Goulburn Valley, Central Victoria
A word of explanation about such a wine-list. First, how do you price it. The
wine-searcher
valuation on the old Mouton (now Ch Mouton Rothschild) alone is $4,382 – and some of the others are not insignificant. Secondly there is a risk the bottle will be corked or otherwise defective. Cork issues were much less common then, when handwork and pride in workmanship were still the norm. Thirdly, what do you put alongside it. Some 1966s seem the obvious first thought, being exactly a 50-year stepping stone. And Mouton-Baron-Philippe is closely related.
To counter-balance the corked risk, the tasting will include probably the finest wine in my cellar, 1953 Bodegas Bilbainas Reserva Especial. Those who have tasted this wine agree it is is astonishing. Should both those disappoint, I have taken out 1970 Ducru-Beaucaillou, an exquisite wine, but frail now. It will not be part of the tasting, if the 1953 is good. So one way or another, there should be something memorable.
1916 was not a great vintage, so for the other wines, it seems appropriate to collect some lesser-year oddments from the cellar, and present those too. So – three first growths (though a careful member of our tasting group has reminded me that Mouton was not a first growth, in 1916 !), 7 Bordeaux all told, the youngest 1972, and 3 Riojas the youngest 1966. And then, a couple of old Aussies, from the dawn of straight cabernet wines in Australia, one 1966, the other 1969.
The logistics of preparing old bottles with corks in variously difficult (and time-consuming) states are such that I must decant them at leisure, at home. My decanting approach is extraordinarily conservative, compared with what I have seen others do, but there is still the risk such old wines may have over-aired by the time of the tasting. Conversely ... I also clearly recollect that the sister bottle of the 1916, tried about 1986, was much better the next day. So as always, it is damnably hard to know how much air to give a wine.
Over to you. I hope this tasting will intrigue you.
References:
Broadbent, Michael 1980:
The Great Vintage Wine Book
.
Mitchell Beazley, 432 p.
Broadbent, Michael 2002:
Michael Broadbent's Vintage Wine
.
Harcourt, 560 p.
Hanson, Anthony 1982:
Burgundy
. Faber and Faber, 378 p.
Johnson, Hugh 1966:
Wine
. Thomas Nelson, 264 p.
Parker, Robert 1991:
Bordeaux
. Simon & Schuster, 1026 p.
Evans, Len 1973:
Australia and New Zealand Complete Book of Wine
. Paul Hamlyn, 528 p.
Halliday, James, 1985:
The Australian Wine Compendium
.
Angus & Robertson, 576 p.
Lake, Max, 1966:
Classic Wines of Australia
. Jacaranda Press,
134 p.
Parker, R 1991:
Bordeaux
. Simon & Schuster, 1026 p.
Penning-Rowsell, Edmund 1985:
The Wines of Bordeaux
.
Penguin, 606 p. Various Editions 1969 – 1985.
Read, Jan 1982:
The Wines of Spain
. Faber & Faber, 267 p.
www.jancisrobinson.com
= Jancis Robinson and Julia Harding
www.robertparker.com
= Robert Parker alone for this tasting
---
THE WINES REVIEWED:
# The price indications below are current values, from
wine-searcher
, not the original purchase price.
---