WORTH CELLARING TASTING: NEW ZEALAND PINOT NOIR >$35,
11 AUGUST 2016
Conclusions from the tasting:
This tasting was presented as a Worth Cellaring tasting for Regional Wines & Spirits, Wellington, in August 2016. The goal is to check some available wines, with the hope of finding some that individual tasters think are worth buying. It turned out to be an interesting tasting, in that it included wines from all the classic New Zealand pinot noir districts: Wairarapa, Marlborough, Nelson, Waipara, and Central Otago. The tasting turned up one sub-theme of note. There is the popularly held view that Central Otago wines are easy to recognise, the obvious fruit contrasting with the supposedly more savoury aspect of at least Martinborough and Nelson wines. Accordingly in the ranking questionnaire conducted at the blind stage, I asked tasters how many thought each wine from Otago. All but one of the wines registered at least one vote as from Otago, one of the wines most tasters thought Otago was in fact Wairarapa, and the only wine recording no votes at all for Otago, was one of its most famous labels. So it is not as simple as popular mythology would have it. My principal conclusion from the whole exercise correlated with other New Zealand pinot noir tastings in recent months: both winemakers and tasters need to be thinking a good deal more about under-ripe, green and stalky notes in New Zealand pinot noir wines, relative to the wines of Burgundy, which remain the benchmarks. The very best wines in the present tasting showed much of the sweetness and harmony of Burgundy proper.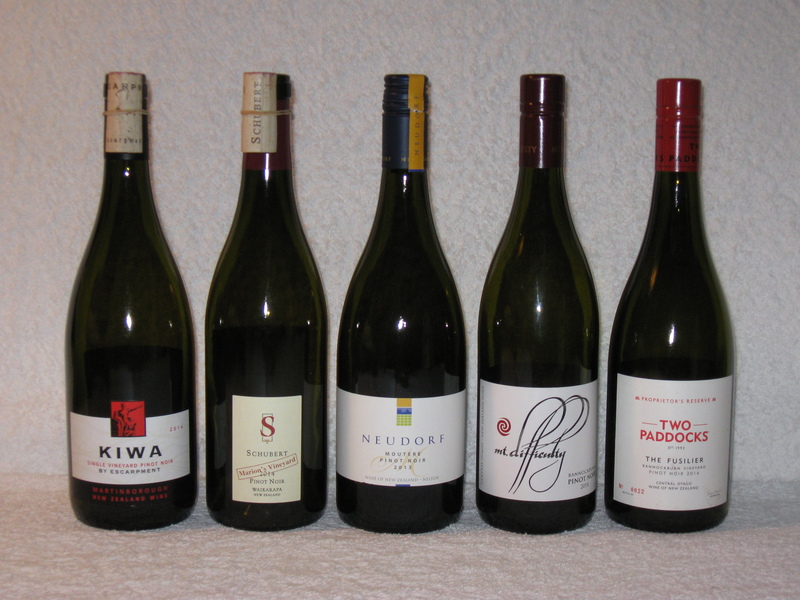 The five top wines from this Worth Cellaring pinot noir tasting are both highly varietal, and clearly burgundian. They should therefore give much pleasure. 2014 Escarpment Pinot Noir Kiwa, 17 ½ +; 2014 Schubert Pinot Noir Marion's Vineyard, 17 ½ +; 2013 Neudorf Pinot Noir Moutere, 18; 2014 Mt Difficulty Pinot Noir, 18 ½; 2014 Two Paddocks Pinot Noir Proprietor's Reserve The Fusilier, 18 ½ +.
Acknowledgement:
I very much appreciate the effort nearly all winemakers went to, to provide good background information about their wines. This approach greatly benefits both participants in the tasting (via the handout), and then the depth of information in this subsequent write-up.
---
THE WINES REVIEWED:
---