NEW RELEASES FRANCE AND AUSTRALIA: 2013 SYRAHS, 2013 CABERNETS, 2010 CHATEAUNEUF-du-PAPES ...
The 2010 vintage in Chateauneuf-du-Pape – Ripe or Over-ripe ?
Since seriously respected wine authors such as Jancis Robinson and John Livingstone-Learmonth are saying that the 2010 vintage in Chateauneuf-du-Pape has produced the finest wines since the 1978 vintage, it seems important to both gain a little understanding of the qualities of the vintage, and put some aside for future Library Tastings. It has been a conspicuous feature of my wine life (in New Zealand) that not a soul has ever offered a comparative review of the 1978 Chateauneufs. Certainly the few I have tasted have been a delight. I have to sadly record however, that we no longer live in the same viticultural world as the late 1970s / early '80s. Not only is the world a warmer place, leading to more ripeness, but worse, winemaking practice in the entire English and French-speaking world has been seriously distorted by the advent of American wine commentators seeking out and endorsing ever bigger and more alcoholic wines. Once red wines are much above 14% alcohol by volume, they all too often lack the vital quality that Jancis Robinson simply calls 'refreshment'. The nett result has been that in the hot year 2009 in France, yes, many of the wine are over-ripe and ponderous, but you can make allowances for the season. But in 2010, where warm days followed by cold nights offered the possibility of making highly aromatic and exciting wines, instead far too many winemakers in Chateauneuf-du-Pape appear to have over-ripened their fruit, seeking to make wines which would appeal to American (only) reviewers. This in the simplest terms is a tragedy.
It is true that the variety grenache, which dominates southern Rhone blends, has an extraordinary capacity to hide alcohol. It is the polar opposite of pinot noir, in that respect. Many of the wines illustrate that. But there is no hiding the smells and flavours of over-ripeness, most easily recognised by far too many wines smelling of ripe to over-ripe blackberries. Such wines largely lack any sign of aromatic herbes and refreshing red-fruits qualities on bouquet, and the associated high alcohols, often 15% and some clearly more, make the wines aggressive and less simpatico with food. This sad and bizarre trend has been reinforced by far too many of the world's me-too winewriters now uncritically assuming that the smells and aromas of chocolate (which goes with blackberry) are both normal and desirable in red wines. What a travesty, considering the beauty of the original fresh grape flavours, in optimal (that is, temperate) viticultural climates.
Accordingly my search for exciting wines amongst the 2010 Chateuneufs has brought disappointment too. But ultimately you get worn down by the views of the 'right-thinking' majority (temporary I hope), and I have still scored some of the wines highly. And yes ... I have bought the fresher and more attractive of the wines, with a view to presenting 2010 Chateauneuf-du-Pape Library Tastings in the coming years. I do not want a younger generation of wine people in New Zealand to miss out on tasting an allegedly great Chateauneuf vintage, in the way I did for the 1978s. Sadly the people who sell wine in New Zealand do not seem to see this as their responsibility. My great hope is that the 2010 Chateauneufs will ultimately be seen by the French winemakers themselves as a lost opportunity, when they were seduced by false prophets. Hopefully the next potentially great vintage in Chateauneuf-du-Pape will see a retreat from so many over-ripe and overly-alcoholic wines, and a return to more refreshing and aromatically exciting wines, with lower alcohols.
The present batch of reviews has also been shaped by my desire to present future Library Tastings showcasing the quality of the remarkable 2013 red-wine vintage in Hawkes Bay. In a wine country as isolated as New Zealand, it is important we constantly monitor local achievements in the light of comparable wines from overseas. And being a small country, blessed with a temperate viticultural climate, and thus better placed to match the wines of Europe, it is vital we do not become over-impressed with our own wines, and thus lose touch with the greater marketplace. We have the model of Australia constantly before us, where wine chauvinism has long been endemic. My search for potential foils by which to measure the Hawkes Bay achievements in 2013 has thus included Waiheke Island (naturally), Victoria and West Australia, and (equally naturally) Bordeaux and the Northern Rhone Valley.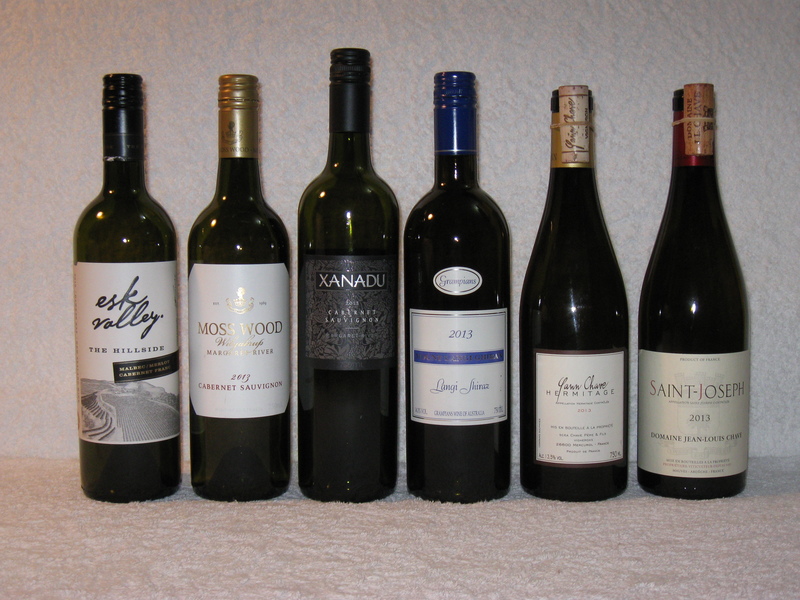 Six worthwhile wines from the new releases tasting: three interesting cabernet-style wines: 2010 Esk Valley The Hillside (malbec dominant), 18; 2013 Moss Wood Cabernet Sauvignon Wilyabrup, 18 +; 2013 Xanadu Cabernet Sauvignon, 18; and three dramatically good syrahs: 2013 Mount Langi Ghiran Shiraz Langi, 18 +; 2013 Yann Chave Hermitage, 19; 2013 Domaine Jean-Louis Chave Saint-Joseph, 19 +.
---
THE WINES REVIEWED:
# These wine were not assessed all at the one time. Conscious of that, best efforts have been made to correlate observations and rankings over the tasting interval, including at times even opening a fresh bottle.
White
Sparkling
Chardonnay
Red
Cabernet, Merlot, and related blends
Syrah = Shiraz
Grenache, Syrah, Mourvedre & related blends
---