LIBRARY TASTING: THE 2002 VINTAGE IN HAWKES BAY, WITH BORDEAUX, CHILE, AND SOUTH AUSTRALIAN MARKER WINES ...
Conclusions from the tasting:
The range of winestyles displayed in this tasting at Trinity Hill's winery, Hawkes Bay, was of particular interest and appeal. It is not every day that one can assess good New Zealand Hawkes Bay / Bordeaux blends with the real thing from Bordeaux, and at the level of a Second Growth. Likewise the assessment of a range of New Zealand syrahs in the context of highly-rated Australian shirazes proved of interest. The tasting attracted a lively group of wine industry people, a keen group of medical professionals from the Napier Public Hospital, and several wine enthusiasts. There was therefore no inhibition about using technical terms, and good discussions followed the blind tasting and ranking stages.
One reflective note to arise subsequently: tasting through these wines after writing them up, and trying them with food, there is a certain sadness in recording that on the good side, now that our industry has matured to the stage where cropping rates bear some relation to French ones, and therefore the wines now mature gracefully for a reasonable time in bottle (unlike earlier decades), nonetheless most of these wines are only now approaching maturity. New Zealand is such a young wine country that sadly, most of these wines have long since been drunk, long before they have mellowed sufficiently to in fact be at their best with food. This sad state of affairs is not helped by nearly all New Zealand winewriters posting ridiculously short keeping times for wines, when they review them. It is as if they by and large simply do not cellar wine, in any meaningful way – or do not like the taste of properly mature wine. The young wine country syndrome again. By the same token, New Zealand restaurants have much to answer for, their present wine pricing almost without exception being extortionate, particularly having regard to their total refusal to cellar wine until it is in fact ready to drink. Cellaring wine is essential both for its optimum enjoyment, and if we are to be taken seriously as a wine country.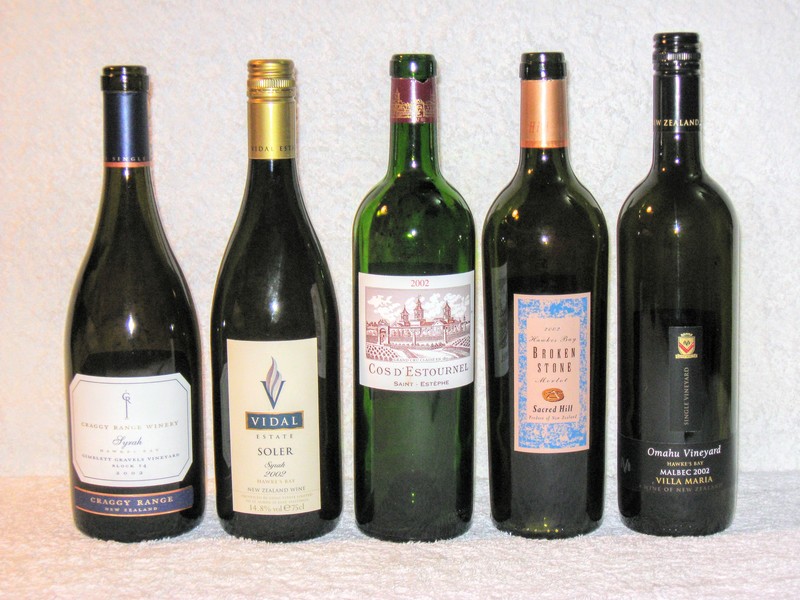 The five top wines from this 2002 vintage review Library Tasting are all now drinking magnificently, though there is no hurry at all to finish them: 2002 Craggy Range Syrah Block 14, 18; 2002 Vidal Syrah Soler, 18 +; 2002 Ch Cos d'Estournel, 18 +; 2002 Sacred Hill [ Merlot ] Brokenstone, 18½; 2002 Villa Maria Malbec Omahu Individual Vineyard, 18½ +.
Background Information for the Tasting:
The 2002 vintage was successful in Hawkes Bay, being seen as a successor to 1998, with some bigger and riper wines. In the most recent of my Vintage Tabulations for Hawkes Bay, the notes are:
La Nina changing to El Nino March. Modest early season and 45 mm rain 9 & 10 Dec at late flowering, 65 mm 18 Dec, damp early summer, 105 mm Feb 13 & 14, 40 mm 14 & 15 March, bleak prospects, then miraculous Indian autumn (apart from 25 mm 26 April no significant rain till end May) gave best quality and quantity vintage since 1998, but high alcohols – referred to locally by some as the Californian vintage. At best very good reds, but some too big. The Terraces made. Not the technical knowledge then as now, but the best cellaring well. Rating
7 – 9
.
It was good though warmer in South Australia,
Halliday
rating the Barossa Valley
10/10
, and McLaren Vale
9/10
, with Coonawarra (a blending component in one) also
9/10
. For Bordeaux,
Parker
rates the vintage in Bordeaux / Saint-Estephe
88
and
Tannic
, and
Wine Spectator
(who I think have the more thoughtful vintage summaries) rate 2002:
86:
drink, cool-style clarets, with firm tannins; stick to top names. Sadly, New Zealand does not figure in the
Wine Spectator
vintage chart, which despite all our cockiness about New Zealand wine, shows how far we still have to go. For Argentina
Wine Spectator
rate 2003 (the exact vintage for the malbec, not matching, regrettably)
91:
Drink, February heat wave during a long, dry season led to some inconsistencies, but Malbec excellent.
Why I would include malbec in this vintage review may arouse some curiosity. Some New Zealand authors, notably Stephen Bennett MW, have consistently held the view that New Zealand is too cool to ripen the variety properly. Apart from those using it as a bulking-up variety, some serious winemakers have persevered with the variety for good wine. It has formed a significant part of the noteworthy New Zealand red Esk Valley The Terraces. Babich have also in some years managed to conceal it constructively in their top cabernet / merlot, The Patriarch. But all too often, the tell-tale thread of stalkyness malbec brings adds weight to Bennett's view. With Villa Maria's preparedness to take a pioneering role in the evolution of New Zealand wine, there is interest in assessing whether in years like 1998 and 2002, the variety does in fact have a legitimate place in New Zealand. Hence including the Argentinian premium Individual Vineyard bottling, to match the Villa Maria likewise.
From Australia we have three of their most highly-regarded labels. Clarendon Astralis has achieved a cult-like following there, with prices on the auction market matching Grange. It has drawn some criticism from winemakers, but wine-lovers even in Australia (where wine technology sometimes dominates too much) do not always heed technical assessments of wine – hence the auction values averaging $A450. Penfolds Shiraz RWT is interesting too. It was an exciting innovation from this big wine firm in the later 1990s. It is deliberately made in a more French style, with all-French oak, both to stand apart from their Grange Shiraz, and to more closely emulate the great syrahs of France. Likewise their Bin 389 despite its volume, is in some years one of the great red wines of Australia. Around 2002, it was not oaked quite so aggressively as Grange.
For the syrah / shiraz group as a whole, the range of styles presented will be stimulating. We will span the range from lighter and hopefully more elegant New Zealand reds, through medium-sized examples to two famous South Australian wines. Few in New Zealand have in fact made the comparison between better Martinborough syrahs with more subtly-styled Hawkes Bay ones. Inclusion of our most Cote-Rotie-like syrah (Te Mata's Bullnose) with Dry River Syrah of the same year should therefore provide much interest. [ Later: the Bullnose opened TCA-affected, a reserve syrah from Vidal was substituted. ] The Craggy Range Block 14 Syrah is included both to bridge the stylistic gap between these first two syrahs and the more boldly conceived Esk Valley Reserve wine, and to provide a link with the Thursday tasting, where 6 vintages of Craggy Range's top (and now famous) syrah Le Sol will be up against the exactly matching vintages of Trinity Hill's equally famous top Syrah Homage. Where the Esk sits relative to the two Australian examples should be of great interest.
For the cabernet-oriented wines, Newton-Forrest Cornerstone is one of the most highly-regarded wines of the vintage, and the second-growth Ch Cos d'Estournel is the top-equal wine from Saint-Estephe. How these two sit with Penfolds highly-regarded cabernet-led Bin 389, and the two malbecs, should be of great interest. The cabernet-related and syrah-styled wines will not be separated into two flights. Instead we will have the fun of seeing if we can assess which class each wine falls into.
Acknowledgments:
John Hancock and Warren Gibson invited me to present these tastings at Trinity Hill in the first place, and then with Janine Bevege continued with much-appreciated assistance in the conducting of them.
References:
Cooper, Michael, 2005:
Buyer's Guide to New Zealand Wines.
Hodder Moa Beckett, 416 p.
www.geoffkellywinereviews.co.nz/index.php?ArticleID=217
www.robertparker.com
various authors
www.winecompanion.com.au
= James Halliday
www.winespectator.com
various authors
---
THE WINES REVIEWED:
# The first price given below is the current
wine-searcher
value, which gives an indication of the broader market estimation of the wine now. Where available, the original purchase price is given in the text following.
---