LIBRARY TASTING: COMPARISON FIVE MATCHED PAIRS 1978 / 1979 NOTABLE MEDOC CLASSED GROWTHS, PLUS TWO FIRST GROWTHS
Conclusions from the tasting:
This whole tasting (presented at Regional Wines, Wellington, in late August 2016) was a revelation, to me. With detailed background information presented to participants, summarising the views of Broadbent, Coates and Parker, I have never before felt quite so let down by people who have influenced me greatly. Particularly this was the case with Broadbent's assessment of the wines, the greatest surprise of all. I tend to think of him as almost infallible. But for the 1978 and 1979 wines, it is almost as if, having initially been quite kindly disposed to the two vintages, after a few disappointments he has taken a snitch to them, and then was hard-put to find good things in them in later years. Parker too seems to me to over-react, so much wearing his must-be-California-ripe hat, that some wines which are simply refreshing in a European context, and wonderfully fragrant and food-friendly, he pans. Whereas on this occasion, Clive Coates who I have always rather regarded as epitomising the previous / traditional English school of wine (waffle) writing, for these wines his words shine through loud and clear.
None of these wines was completely past it, as any casual reading of the compilation of tasting notes in the handout would suggest. And, the most recent of those tasting notes is 14 years before our tasting. They are not big wines, true, but there is far more to wine than simple size, weight, and impact. These wines pursue the small-is-beautiful approach, especially now, 37 or 38 years down the track. As such, they are infinitely more food-friendly than so many of the more highly-marked hefty and fashionable latter-day offerings. It is fair to say tasters derived much pleasure from them, nine of the 12 wines attracting at least one first or second-place vote from participants.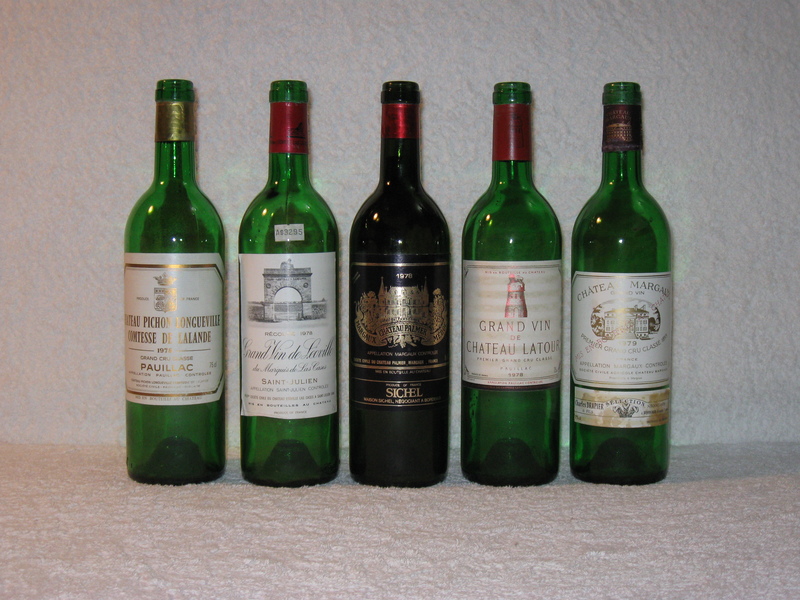 The top five wines from the 1978 / 79 Bordeaux Library Tasting: 1978 Ch Pichon Lalande, 18; 1978 Ch Leoville Las Cases, 18; 1978 Ch Palmer, 18 ½; 1978 Ch Latour, 18 ½; 1979 Ch Margaux, 18 ½ +. The remaining wines were clearly on a smaller scale.
In the notes which follow, the introductory 'admin' section for each wine gives the orthodox view. Preparation of the notes coincided with the Parker website being revamped, with temporary loss of access to older reviews. My excerpts may not best reflect what the site now has to say. This section is followed by my current evaluation, those views influenced at times by the 20 tasters the bottles were shared with. The wines were presented blind, and rankings were collected before IDs became known.
The Tasting Invitation:
Once upon a time, in the days before wines came to be rated on their size and weight, tasters were greatly intrigued by the two vintages 1978 and 1979 in Bordeaux. The 1960s and 1970s after the benchmark 1961 vintage had been variable, shall we say, with commentators desperately (it seems now) trying to find virtues in any half-decent year. And the better years were so widely spaced, for example 1970, then modest indeed till the tannic 1975s and hot-year 1976s. So the pleasantly ripe and 'typical' pair of back-to-back vintages in 1978 and 1979 attracted quite a lot of interest. Nowadays the 1979s in particular are seen as being on the small side, but the best of both vintages are still showing some charm.
This tasting will provide the rare even then, and much rarer now, opportunity to compare five of the best-known classed growths of the Medoc,
in matched pairs, 1978 vs 1979. This should give a great feel for the similarities and differences between the two years. To make up the 12, as a treat, we will have two First Growths, 1978 Ch Latour and 1979 Ch Margaux. This makes the tasting more expensive (but, I assure you,
valued well below
wine-searcher
), yet provides an opportunity to check two of our wines which even then were aspiring to be super-Seconds (or near-First-Growths), namely Ch Palmer and Ch Leoville Las Cases, and see how they measure up against the real thing. And any opportunity to taste Ch Palmer and Ch Margaux from the same year alongside each other iBs to be welcomed.
The 1978 and 1979 vintages:
The world was a cooler place in 1978, and the 1970s as a whole were particularly modest in Bordeaux.
Broadbent
rated the 1978 vintage
***(*)
in his 1980 great book, (paraphrased) a late cool vintage saved by fine weather in late August through September into October.
By the 2002 edition he had re-rated it to
***
. He considers 1978 better than 1979, where the (fortunately, again) dryer weather late in the season was much less extended. The 1979 vintage was too late for his first book, but in the 2002 edition he rated 1979 2 stars.
Wine Spectator
is not quite so severe, rating 1978 at
87:
Drink, structured, fleshy and complex; and 1979 as
83:
Drink, supple, fruity and delicate.
Where possible in the notes for the wines below, I have sought to give an early comment, Broadbent where available, then for this tasting I am adding in a Clive Coates' assessment, for though he is not as clinical as I prefer, he has tasted an enviable amount of Bordeaux ! Then finally, a Parker summary, to tap his now magisterial overview of the last 50 years of Bordeaux vintages. This step has highlighted how very individual and fraught wine-writing is: in the excerpts which follow, often there seems no hint they are talking about the same wine. So the old rule applies: there are no great wines, no fixed attributes in wine: each bottle is itself, after this passage of time. So every tasting like this is an adventure, setting out in the hope that certain bottles will be the very best they could be, having regard to their age ... now 37 or 38 years old.
References:
Broadbent, Michael 1980:
The Great Vintage Wine Book
. Mitchell Beazley, 432 p.
Broadbent, Michael 2002:
Michael Broadbent's Vintage Wine
. Harcourt, 560 p.
Coates, Clive, 2004:
The Wines of Bordeaux
. Weidenfeld & Nicholson, London, 720 p.
Parker, Robert 1991:
Bordeaux
. Simon & Schuster, 1026 p.
Parker, Robert M., 2003:
Bordeaux, Fourth Edition
.
Simon & Schuster, New York, 1244 p.
www.robertparker.com
( all Robert Parker, for this review )
---
THE WINES REVIEWED:
Values given are current from
wine-searcher
, then the original price is given later in the 'admin' section, where available.
---