LIBRARY TASTING: 1998 CHATEAUNEUF / SOUTHERN RHONE WINES AT
VILLA MARIA WINERY, AUGUST 2016
Geoff Kelly MSc (Hons)
A worthwhile conclusion about Southern Rhone wines:
There are basically two kinds of wine people. Firstly, there are those who love the aromatic and savoury appeal of Southern Rhone wines, and the way they match so many kinds of tasty main-course meals so well. These people approach the wines looking for complexity, sensory stimulation and pleasure. They don't mind the higher alcohol, or the fact some of the wines are complexed by the handiwork of the fragrant little yeast
Brettanomyces
. Some of these people in fact point out that the spice from brett makes the wines even better with food. And then, conversely, there are those of a more delicate persuasion, who find Southern Rhone wines too big, too alcoholic, too dry or too tannic, and in general just too flavoursome. These people tend to find their greatest red wine pleasure in pinot noir, not grenache blends. It is worth adding (in brackets) that these people formerly found pleasure in claret, too, before the wines of Bordeaux became Americanised.
All this is perfectly natural, perfectly understandable, and simply illuminates the diversity and joy of wine. Thus those who attended this tasting found pleasure according to their preferences – or prejudices. The best of the wines were simply magnificent. Those who seek to dismiss the 1998 vintage in the Southern Rhone Valley (because it was a warm year) are missing the point of the winestyle ... though I hasten to add, Southern Rhone wines can be over-ripened. This is more a problem now, than then. Some will find my writing-up too indulgent, but that's OK too. The wines are simply themselves. My reviews seek to indicate which factors dominate in these wines, and particularly those in which a balance has been achieved. Some bottles (rather than the wines) do now fail that test, particularly because when it comes to brett, every bottle is a law unto itself. Hard though it is too rationalise or understand, the unarguable fact is, that 20 years later, two bottles taken from the same case of wine can show wildly differing levels of brett complexity / degradation. Thus one cannot conclude one should sell the balance of one's case, on the basis of today's bottle, because the next bottle may be near-perfect. This tasting amply confirmed that, the Beaucastel being perfect though previous bottles have been bretty, and the Mordorée being a major disappointment, whereas a bottle only a month previously was a delight. Southern Rhone wines are only consistent from bottle to bottle, where producers sterile-filter to bottle. But few in the Rhone Valley do. In advocating unfiltered wines, Robert Parker has overlooked this vital point.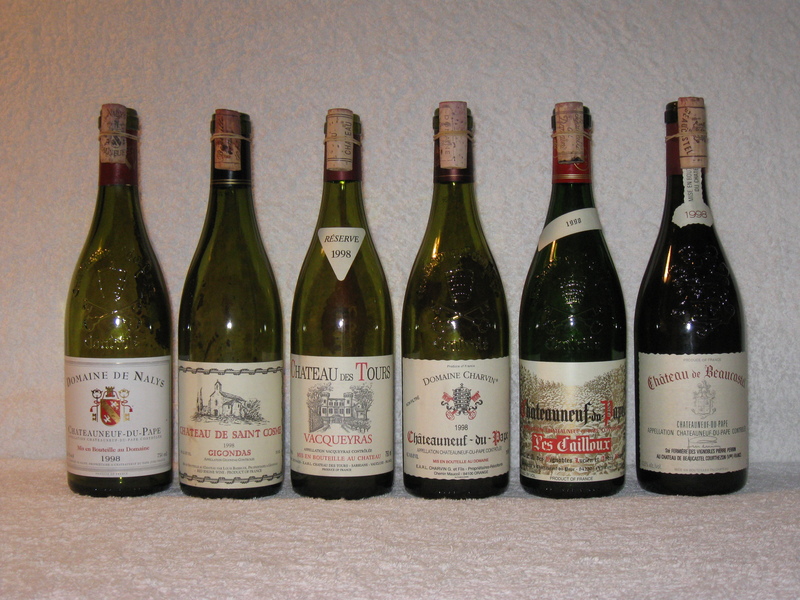 Six wonderful and food-friendly wines from the sometimes-maligned 1998 vintage in the Southern Rhone Valley: 1998 Domaine de Nalys Chateauneuf-du-Pape, 18; 1998 Ch de Saint Cosme Gigondas, 18 +; 1998 Ch des Tours Vacqueyras Reserve, 18 ½; 1998 Domaine Charvin Chateauneuf-du-Pape Non-Filtré, 18 ½; 1998 Domaine André Brunel Chateauneuf-du-Pape Les Cailloux, 18 ½ +; 1998 Ch de Beaucastel Chateauneuf-du-Pape, 19 +.
Background information to the Tasting – Vintages in the Southern Rhone Valley:
Only four times in the last 43 vintages 1970 – 2012 has Robert Parker /
The Wine Advocate
allocated a score of 98 to a Southern Rhone vintage. 1998 is one of them.
Wine Spectator
is more conservative, having gone to 97 twice in that time span, and again, 1998 is one of them [ but note their rating for 2010 ! ]. So we have an exciting tasting. There is no doubt that 1998 heralds a golden era for the southern Rhone Valley, only four vintages in the preceding 20 years rating 90 or more (in the American view), but many reaching that level since. Yet with the recent strength of the $NZ, prices have remained accessible, for wines of absolute world quality.
Table 1:
The better Southern Rhone Vintages of the last 45 years, compiled from
Broadbent
(to 2002),
Parker
(rated 90 or more, from 1970, where T = Tannic / youthful, E = Early / accessible, I = Irregular, and C means Caution, may be too old),
Wine Spectator
(90 or more, from 1988), and
John Livingstone-Learmonth
(checking detail):
YEAR
 Broadbent 
 Wine Advocate  
 Wine Spectator 
Summarised comments
1970
  ****
    –
   –
B: excellent in south, rich and well-balanced
1971
  ****
    –
   –
B: low acid, not kept quite as well
1978
  *****
  97R
    –
B: best since 1911, big, tannic, rich; J.L-L reference year
1983
  *****
  87C
    –
B: excellent, rich, concentrated, hard tannins have softened
1985
  *****
  88R
    –
B: outstanding reds, rich, long-lasting
1989
  ****
  94T
    96
B: rich complete reds; WS: powerful concentrated reds, round tannins
1990
  *****
  95E
    95
B: less aromatic than 1989, powerful, promising; WS: massive wines, great concentration
1995
  ****
  90T
    90
B: comparable with 1990; WS: tannic reds, Chateauneufs improving beautifully
1998
  *****
  98E
    97
B: best since 1990; WS: dense, rich, superb grenache, ripe tannins
1999
  ****
  90E
    90
B: south less than north; WS: syrah and mourvedre wines better than grenache
2000
    –
  98E
    94
WS: powerful rich ripe reds with silky tannins
2001
    –
  96T
    92
WS: great vintage with structured racy reds in Chateauneuf
2003
    –
  90I
    93
WS: very hot dry year, best superb, some inconsistency
2005
    –
  95T
    97
WS: great concentration, structure, should rival '98 and '90
2006
    –
  92R
    93
WS: ripe, pure, balanced, fresh, like 1999 but more concentrated
2007
    –
  98E
    95
WS: ripe rich powerful reds, some grenache over-ripe, mourvedre key for balance
2009
    –
  93E
    94
WS: Warm dry year, cool nights retained acid, pure fruit and polished tannins
2010
    –
  98T
    98
WS: Reduced crop, warm days, cool nights, beautifully ripe racy wines for aging, the spine of '05 with extra flesh
2012
    –
  92E
    93
WS: small crop, grenache year, ripe flavours, well-balanced
2015
    –
  94 – 97
    97
WS: best since 2010, powerful; J.L-L excitement evident ...
                                                  www.geoffkellywinereviews.co.nz
As might be predicted, Jancis Robinson with her cool or temperate-climate palate is less enamoured of the 1998 vintage, on which our tasting is based. So immediately we have a fun opportunity to check up on these famous people, and make up our own minds. Our tasting is half Chateauneuf du Pape, the most famous appellation in the Southern Rhone Valley, the balance sampling other districts. They should give us a great feel for the wines of the Southern Rhone Valley, and how well they age.
Cepage: the Main Grapes:
The main red grapes of the district are grenache, syrah, mourvedre, cinsaut and carignan. Some appellations permit whites in the red. Few winemakers use them. Grenache is far and away the dominant and traditional variety of the region. It is thin-skinned, is characterised by aromas of raspberry and cinnamon, and in a sense produces a kind of spirity pinot noir. Unlike pinot noir, it hides alcohol freakishly well, such that wines up to 15% may be quite acceptable. Either syrah or mourvedre is the next most important in quality terms. Both add darker berry notes and complexity, and (from syrah) perhaps hints of black pepper / spice though the climate is against the more subtle characteristics of syrah. Mourvedre is more finicky, and harder to ripen, but in the great years is the more noble of the two, particularly in its tannin structure. Wines with a higher percentage of mourvedre cellar well. Of the lesser varieties, cinsaut is a pretty pale early-maturing variety reminiscent of pinot meunier, and carignan is a robust productive well-coloured grape making hearty wines which are great in youth but don't age well. Its best use is in vin de pays and the like.
Table 2:
The southern Rhone Valley is famous for its diversity of grape types. In Chateauneuf-du-Pape 13 varieties are authorised, actually 15 if the colour forms of grenache and picpoul are counted. The table below is based on the 15 varieties authorised for Chateauneuf, plus three (asterisked) which are not authorised there, but may be elsewhere. Order approximately reflects incidence / frequency in the Southern Rhone Valley:

  RED VARIETIES

  grenache rouge (c.75% of all reds)
  syrah (c.10% of reds, increasing)
  mourvedre = mataro (<10%, increasing)  
  carignan * decreasing)
  cinsaut (c.2%)
  counoise
  muscardin
  vaccarese
  terret noir
  picpoul rouge


  WHITE VARIETIES

  grenache blanc (c.2%)
  marsanne *
  roussanne (the finest white, c.1%)        
  bourboulenc
  clairette
  picpoul
  picardin
  ugni blanc *
  muscat blanc à petits grains *


Ch Beaucastel is noted for using all the permitted varieties, including small amounts of the whites.
Further Background Information on Southern Rhone Wines, including Buying:
Any tasting of moderately well selected Southern Rhone wines is always a delight. We have Cotes-du-Rhone, Cotes-du-Rhone-Villages, Cotes-du-Rhone-Vacqueyras now entitled to the stand-alone appellation Vacqueyras, Gigondas (second only to Chateauneuf-du-Pape and often half the price), and the most famous of all and the absolute benchmark for the district, Chateauneuf-du-Pape.
The Chateauneuf-du-Pape appellation covers 3,200 ha (7,900 acres). To quote Jancis Robinson, it produces: mainly rich, spicy, full-bodied red wines which can be some of the most alluring expressions of warm-climate viticulture, but can also be either impossibly tannic or disappointingly jammy. The district is famous for being the first in France to institute harvest yield, ripeness and quality specifications for the district (in 1923). They were the foundation for the subsequent national Appellation d'Origine Controlée scheme. The base yield for absolute quality in the Chateauneuf-du-Pape district has long aimed for 35 hl/ha (4.6 t/ha = 1.85 t/ac), one of the lowest in France, and a key factor in the quality of the better wines. The contrast with new world countries is vivid.
Sources vary in their advice, but in practical terms, all these Southern Rhone Valley reds are made from blends which include grenache and some syrah or mourvedre. In the southern part of the district, the quality grape grenache must be a minimum of 40%, plus varying amounts of the noble grapes syrah and mourvedre in the better wines, and likewise percentages of carignan and / or cinsaut in the lesser ones. There can even be up to 5% white grapes.
There is a lot of straightforward Cotes-du-Rhone, with over 5,000 producers making over 400 million bottles a year. Minimum alcohol for the red is 11%, and it is cropped at around 5 – 6 tonnes / ha ( 2 – 2.5 tons / acre). The next level up is Cotes-du-Rhone-Villages, a much more restricted concept covering only 3,000 ha, with wines showing a minimum 12% cropped at c. 5 t/ha = 2 t/ac (only the best New Zealand growers practice this kind of level). For these wines, grenache must be at least 50%, and syrah and / or mourvedre 20%. The better quality is usually evident in mouth, much more so than the slightly higher cost. Likewise the Cotes-du-Rhone-Villages named-Village (18 - 19 only) are at best fractionally better again, with slightly lower cropping rates and a minimum alcohol of 12.5%. Note that the rules are constantly changing, and that there are traps. For example good Ventoux is great, but the appellation allows 30% carignan, which isn't, so as always, keep a wary eye on the cepage for any wine you wish to cellar.
The two most famous names are Gigondas, and Chateauneuf-du-Pape. The former is along the lines grenache up to 80%, a minimum 15% syrah and / or mourvedre, and a maximum 10% other Rhone varietals, carignan not allowed. Gigondas are thus great for the cellar. Minimum alcohol 12.5%. The average yield in these districts is 32 hL / ha = just over 4 t/ha = 1.6 t/ac. This is very different from New Zealand red wine average yields, and further accounts for why Gigondas and related wines cellar so well. Chateauneuf-du-Papes are more variable in their cepage, even Gr 100% being OK, but otherwise specs are similar.
Buying:
The big challenge for the antipodean wine-lover is to find clean wines. Traditionally French winemakers and European winewriters have to varying degrees been blind to sulphides, which even in small amounts have the unfortunate effect of making the whole wine dumb. This is exacerbated by many wines being made and held in concrete vats, where aeration is difficult. Nowadays, switched-on winemakers (and winewriters) are much more conscious that these Southern Rhone grapes are gloriously fragrant when neither over-ripened, or reductive. The goal is to find wines redolent of floral notes such as sweet william / carnations / wallflowers / dark roses, lavender, rosemary (the so-called 'garrigue' note) sometimes with a touch of cinnamon spice (from grenache) or white or black pepper spice (from syrah). Many are still made in concrete, a number now in stainless steel, supplemented by big old wood. A few have some new oak, but the varieties scarcely need it, due to their intrinsic tannins – especially in mourvedre. All too often, the Reserve bottlings with more new oak are lesser wines than the straight ones, but appeal to the American market where bigger and heavier is favoured over light and beautiful.
Cellaring:
Good Cotes-du-Rhone and better wines from the more highly rated appellations will cellar for decades. One of my all-time favourite wines right now is 1983 Guigal Cotes-du-Rhone. This fact is markedly in contrast to the consumerist views emanating from the American wine-writing establishment, where until very recently the thought of conserving is alien, and consuming is obsessive. They say they keep a year or two, maybe 3 or 5 sometimes. Disregard those views. Good ones will give much pleasure in cellar for a surprisingly long time, as the tasting amply confirmed. And they are wonderfully food-friendly, even with our fragrant yeast-friend brett ... or were until the American influence led to over-ripening, even in 'perfect' years like 2010, and hence alcohols higher than are enjoyable at table. While straight grenache can cellar remarkably well on great sites, as a general rule look for a good percentage of mourvedre in the cepage, for cellaring wines. Avoid wines with carignan.
References:
Broadbent, Michael 2002:
Michael Broadbent's Vintage Wine
. Harcourt, 560 p.
Broadbent, Michael 2003:
Michael Broadbent's Wine Vintages
. Mitchell Beazley, 223 p.
Parker, Robert, 1997:
Wines of the Rhone Valley
. Simon & Schuster, 685 p.
www.jancisrobinson.com
www.wineadvocate.com
Robert Parker, then
www.winespectaor.com
www.drinkrhone.com
John Livingstone-Learmonth
The indispensable basic reference for the wines of the Rhone Valley is Parker, 1997. It is now out print, but is freely available overseas second-hand for literally a few dollars (e.g.
www.abebooks.com
). The new guru on the Rhone is John Livingstone-Learmonth, whose book on the Northern Rhone is 'the bible'. We await a companion volume for the South. Meanwhile his quirky website
www.drinkrhone.com
is a both a delight and a frustration. Sub. £40 per annum.
---
THE WINES REVIEWED:
Values given are current from
wine-searcher
, then the original price is given later in the 'admin' section, where available.
---