AUSTRALIAN SHIRAZ THEN AND NOW, TWO TASTINGS: Part I: LIBRARY TASTING – THE BEST OF 1996 AUSTRALIAN SHIRAZES, plus JABOULET'S HERMITAGE LA CHAPELLE ...
[ Part II: current wines, scroll down ]
Geoff Kelly MSc (Hons)
Australian red wines have fallen out of favour somewhat in New Zealand over the last 15 years, now that New Zealand red wines are so increasingly good. Thus the idea of presenting a couple of Australian-themed tastings, the first a retrospective tasting of Australian red wines from 1996, a coolish aromatic year in Australia, the second covering current on-the-shelf wines and related to Part I if possible, seemed well worthwhile. The two tastings were hosted by Regional Wines & Spirits, Wellington, in late March and early April, 2017. Both tastings sold out.
SCOPE OF THE TASTINGS – THE WINES IN THE TWO PARTS:
LIBRARY TASTING PART I:
AUSTRALIA
1996 d'Arenberg Shiraz Dead-Arm, McLaren Vale, South Australia
1996 Bannockburn Shiraz, Geelong, Victoria
1996 Barossa Valley Estates E&E Shiraz Black Pepper, Barossa Valley, South Australia
1996 Jim Barry Shiraz McCrae Wood,
Clare Valley, South Australia
1996 Burge Shiraz Meshach, Barossa Valley, South Australia
1996 Cape Mentelle Shiraz, Margaret River, West Australia
1995 Coriole Shiraz Lloyd Reserve, McLaren Vale, South Australia
1996 Henschke Shiraz Mount Edelstone,
Eden Valley, South Australia
1996 McWilliams Shiraz Mount Pleasant Maurice O'Shea, Hunter Valley, NSW
1997 Mount Langi Ghiran Shiraz Langi, Grampians, Victoria
1996 Seppelt Shiraz Mount Ida, Heathcote, Victoria
FRANCE
1996 Jaboulet Hermitage La Chapelle, Northern Rhone Valley


CURRENT WINES PART II:
AUSTRALIA
2014 Burge Shiraz Filsell, Barossa Valley, South Australia
2013 Cape Mentelle Shiraz, Margaret River, West Australia
2013 Domaine Chandon Shiraz, Yarra Valley, Victoria
2011 Coriole Shiraz Lloyd Reserve, McLaren Vale, South Australia
2014 John Duval Shiraz Entity, Barossa Valley ± Eden V., South Australia
2012 Elderton Shiraz Command, Barossa Valley, South Australia
2012 Penfolds Shiraz Grange, Barossa Valley, South Australia
2013 Seppelt Shiraz St Peters, Grampians, Victoria
2014 Two Hands Shiraz Gnarly Dudes, Barossa Valley, South Australia
2015 Wirra Wirra Shiraz Catapult, McLaren Vale, South Australia
2012 Wirra Wirra Shiraz RSW, McLaren Vale, South Australia
NEW ZEALAND
2014 Elephant Hill Syrah Reserve, Hawkes Bay


Invitation to Part I:
The mid 1990s ... and for red wine in Wellington, all anybody wanted was Australian. A few wanted French, fewer Spanish, and when it came to New Zealand reds ... that was still the time when the Air New Zealand judging results created acute interest in anything that really looked exciting amongst New Zealand reds – but few did, and not much sold.
How different the world is now: New Zealand reds outsell all others. But before we forget totally, let's recollect that 1996 was a particularly attractive year climatically in nearly all the Australian red wine districts. It was one of the cooler years, making wines of much greater varietal interest to New Zealanders. So let's look at a dozen 1996s (mainly) at their 20-years-on point. They should be at full flowering.
Our wine list is shiraz only (being Australia's most famous red grape), and covers many of the noteworthy Australian names of the era. However greater emphasis has been placed on showing the geographic range, from West Australia right across to the Hunter Valley, via the Clare Valley, Eden Valley, Barossa Valley, and McLaren Vale in South Australia, the Grampians and Geelong in Victoria, and the Hunter Valley in New South Wales. Just to make the varietal part a little bit more focussed, there will be a classic French syrah from the Northern Rhone Valley, 1996 Jaboulet's Hermitage La Chapelle. All blind, naturally.
No good, you say, no Penfolds ... patience please: we will have an evening dedicated to Penfolds later in the year, some 1996, a number older, and that tasting will include the rare-as-hen's-teeth 1996 Penfolds Cabernet Sauvignon Kalimna Block 42. It is worth more than Grange. So look forward to that, and in the meantime come and enjoy these nicely-mature Australian shirazes.
Many consider Henschke's Mount Edelstone and Langi Ghiran's Langi shirazes the subtlest and most interesting of all the great Aussie shirazes, being much less oaky than the famous ones. We have both of them.
One detail: these 1996s are not any old Australian reds ... they were selected as the best of the crop then available in New Zealand, that is, both a good year, and the wines not too oaky or too euc'y, at a point when I had already been assessing and cellaring Australian wine for 30 years.
Presentation and Results:
In my tastings, which are presented as blind tastings for participants, I attach particular importance to pre-tasting, and sequencing the wines to tell a story. Apart from the first wine (which is intended to be a scene-setter representing the field that day, or introducing the winestyle) for this tasting I arranged the wines to reflect my long-standing interest in syrah the wine-style. Therefore they were sequenced approximately from the heaviest, most over-ripe and most oaky (i.e. traditional Australian shiraz interpretations) through to wines more closely reflecting the florality and pinot noir-like (but stronger and more aromatic) charm which the wine-style syrah can at best display, in some of the more temperate parts of Australia.
In any group of 21 people tasting wines such as these, some tasters prefer the more traditional styles, some the lighter more modern ones. In the introduction, no particular value was assigned to one wine-style over the other. Additionally, tasters were asked to imagine each wine with food including savoury casseroles, so that if there were any wine showing some brett (a complexity factor which for naive or open-minded tasters makes the wine so much better with savoury food), they would be appraised in an everyday way.
The results were interesting, to a person who has been cellaring Australian wine (often in case lots – 12) since the 1964 vintage. The wines opened very well, creating some surprise I suspect as to their mellowness and all-round appeal. Many tasters are (sadly) only familiar with the raw young current vintages, and often of the more affordable wines. The gridded analysis I put up on the whiteboard (as to how tasters rate the wines) is taken while the wines are still totally blind. This provides a visible counter to the presenter's views. It also helps stimulate interaction and discussion – which is so much a key part of a constructive wine tasting, as opposed to a didactic one. The analysis results are blended into the tasting review for each wine, below.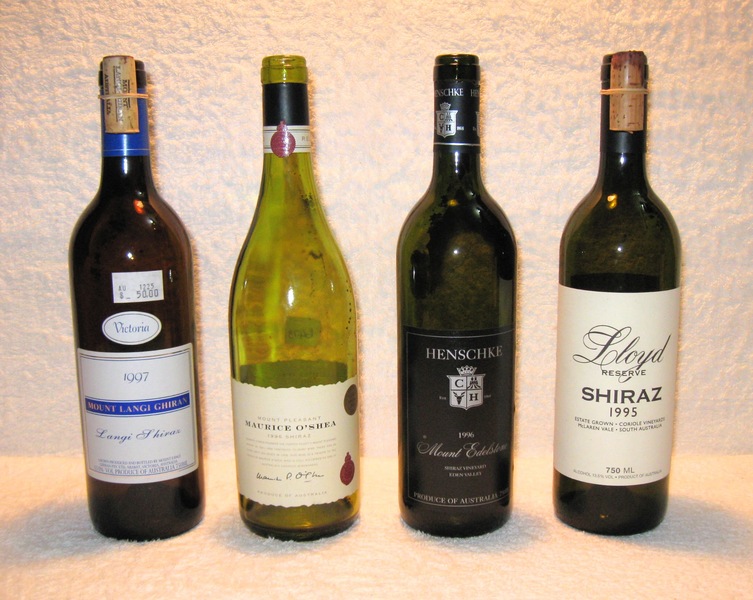 Four wines in this 1996-based Library Tasting of Australian reds particularly stood out for their elegance and international quality. From the left: 1997 Mount Langi Ghiran Shiraz Langi, 18.5 +, syrah-like; 1996 McWilliams Mount Pleasant Shiraz Maurice O'Shea, 18.5 +, almost reminiscent of a rich burgundy; 1996 Henschke Shiraz Mount Edelstone, 18.5, fragrant with more oak; and 1995 Coriole Shiraz Lloyd Reserve, 18, dense and deep.
Barrel sizes:
Detail varies even between Bordeaux and Burgundy, let alone other countries. Robinson (2006) concludes:
barrique: 225 litres
hogshead: 300 litres
puncheon: 450 – 500 litres
References:
Halliday, James, 1985:
The Australian Wine Compendium
. Angus & Robertson, 576 p.
Kelly, Geoff, 2011: A Syrah Ripening Curve in New Zealand wine terms.
The World of Fine Wine 34:
130-137
Lake, Max, 1966:
Classic Wines of Australia. Jacaranda Press
. 134 p.
Robinson, Jancis & Julia Harding, 2006:
The Oxford Companion to Wine
. Oxford University Press, 815 p.
Witt, Merrill, 2012:
BVE E & E Black Pepper Shiraz: A Great Name for an Outstanding Shiraz
www.winecompanion.com.au
= James Halliday and increasingly Ben Edwards (subscription needed)
www.jancisrobinson.com
= Jancis Robinson and Julia Harding mainly (subscription needed)
www.robertparker.com
= Robert Parker alone for this tasting (subscription needed)
www.winespectator.com
= Harvey Steiman for the one used (subscription needed)
www.langtons.com.au/classification
= Schedule of the top Australian wines, in 3 tiers
---
THE WINES REVIEWED, Part I:
#
Value:
The price indications for each wine below are current values, from
wine-searcher
, not the original purchase price.
#
Sources:
I do not have a large library of Australian wine-books, mainly because their authors are so tiresomely over-praising of the local wines. Tasting notes below (where available) are based on my web staple sources, as above, plus a quick web search. For the vintage ratings below, bear in mind till very recently, Australians tended to mark up the hot years, eg 1998, and mark down the temperate ones such as 1996. To the New Zealand palate (if influenced by the classical wines of France), the other way round is more appealing:
---
---
AUSTRALIAN SHIRAZ THEN AND NOW, TWO TASTINGS: Part II: SOME CURRENT AUSTRALIAN SHIRAZES, $21 – $892.50, INCLUDING 2012 PENFOLDS GRANGE ...
Invitation to Part II:
The goals for this tasting are several:
# as a follow-up to the 1996 Library Tasting, to breathe life into the currently quiet Australian red-wine market in New Zealand, now that New Zealand reds have become so good (thanks to modern New Zealand viticulture, which now has some regard to classical French cropping rates);
# secondly to try and have a good geographic spread with a couple of the wines repeated in both the 1996 vintage review and the current vintages batch, to see how they change over 20 years. The Cape Mentelle and the Lloyd Reserve are exact repeats from the 1996 tasting, the Burge Filsell is from the same vineyard as Meshach, but their third price-tier down, while the Seppelt St Peters is an upmarket relative of the Mount Ida from the first batch. We do not have the same geographic spread as Part I, no Hunter Valley, but two of the exciting cooler areas of Victoria, the Grampians, and the Yarra Valley, are represented, as well as Margaret River;
# and thirdly to include both exciting modern Australian districts, and if possible, exciting modern producers. The latter point is hardest to achieve, since many now-emerging Australian winemakers scarcely export to New Zealand. However, Domaine Chandon, John Duval's winery, and Two Hands represent the new approach, and the St Peters represents the best of the old, reinvigorated.
# Finally, since we had one classic French syrah wine in the Library batch, to serve as a calibration wine for the syrah / shiraz debate, it will be fun to have a well-rated New Zealand syrah in the current Australian batch of shirazes.
Having checked all the wines on Regional Wine's current stock-list against Halliday's
Wine Companion
rating, we are presenting 12 well-regarded shirazes all with scores of 93 or more points, one 95, one 96, and four of them 97 points: Coriole Lloyd Reserve, Elderton Command, Seppelt St Peters, and Wirra Wirra RSW. Then the thought occurred, with Penfolds Grange now having reached stratospheric price levels, such that few of us in fact taste it any more, plus Halliday scoring the current Grange 99 points, wouldn't it be good to add that into the strictly blind tasting. Will a 99-point wine stand out, to a well-informed Regional Wines tasting audience, amongst other good wines ?
So this is a tasting which we have not had at Regional Wines for some years. It presents an unparalleled opportunity to both check eleven Australian shirazes to see if they suit you for cellaring (because shiraz is Australia's most famous red wine, and Australian red wines, being generally rich, do in fact cellar very well), and to catch up on an Australian icon wine. The price of Grange does raise the price a bit, but the opportunity to taste it in such an informative setting should not be missed. With such an exciting diversity of labels, our presentation has to be blind, simply to see if we can taste the price differences. The usual whiteboard analysis of tasters' conclusions will be made, before the wines are identified and discussed, one by one.
Nett impressions:
The Part II wines as a group showed a measure of sophistication relative to the 1996s, but not by much, since the 1996s were chosen at the time exactly to cellar as wines which were not caricature over-ripe, over-oaked, and euc'y Australian reds. And 1996 was a year of climatic restraint, in Australia. Nonetheless, half the current batch show a positive backing-off in ripeness, a tiptoe-ing towards 'concept syrah' for the winestyle, as opposed to 'concept shiraz'. I'm not too sure many Australian winemakers think in those terms, but if you export your wine, then overseas buyers are entitled to put their own interpretation on them.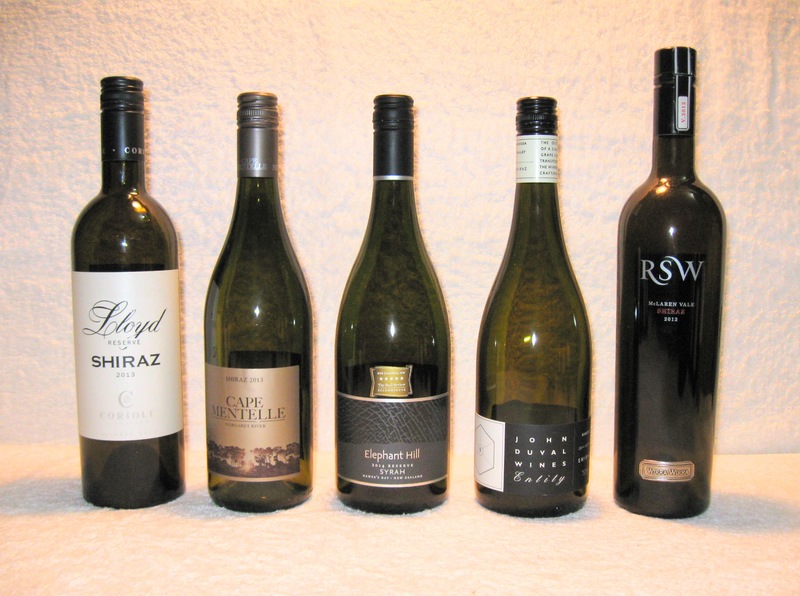 The cut-off for the top wines in the current-vintage tasting was less clear, but my top five were: 2013 Coriole Shiraz Lloyd Reserve, 18.5 +, as rich as the 1995 in Part I but more refined; 2013 Cape Mentelle Shiraz, 18.5 +, stylish and syrah-like; 2014 Elephant Hill Syrah Reserve, 18.5, as rich as the Australians but differing in its bouquet due to a whole-bunch component; 2014 John Duval Shiraz Entity, <18 +>, smooth and flavoursome; and 2012 Wirra Wirra Shiraz RSW, 18 +, akin to the Lloyd Reserve but a little more oak.
There are three standout wines in the current batch:
2013 Coriole Shiraz Lloyd Reserve
demonstrates that Australian red wines can be beautiful as well as big; the
2013 Cape Mentelle Shiraz
is an international-quality wine of syrah calibre, far from the richest in the group, but long, pleasing, satisfying with food, a wine you could drink all evening. That is rarely the case for the bigger Australian reds. The third standout wine is
2012 Penfolds Grange Bin 95
. It makes evident that their winemakers have learnt very little from contemporary classic winestyles in recent decades. The fine wine world has changed since 1950, see review. Yes, it is remarkably concentrated, but in its elevation the nett result is a coarse, brash wine, a caricature of all that is wrong with traditional Australian red wine. Any wine-country which worships this clumsy monster as a desirable goal of winemaking is seriously out of tune with worldwide wine opinion. Wine is about beauty, subtlety and finesse. 2012 Grange does not qualify under any of those headings. Of course, you are not allowed to say so. So many reviews, both domestic and overseas, are written under the persuasive influence of the winemaker, whether consciously or not. One of the reviews quoted hints at this. Why else would corporate winemakers travel so widely ? Locally, this is the tragedy of so much Australasian winewriting, where so many people are so totally under the thumb of conservative wine industry stalwarts. Conform, or else. Will we never learn from the (at best) more detached and scholarly American and British approach to winewriting ?
As with Part I, the wines were presented blind, decanted into 12 uniform bottles, then masked. The ranking exercise was completed before any discussion and identification took place.
References:
as for Part I.
---
THE WINES REVIEWED, Part II:
#
Value:
The price indications for each wine below are current purchase price, noting there is some variation between wine merchants.
#
Sources:
as for Part I.
# * an asterisk denotes a wine additional to the formal tasting, therefore not ranked etc.
---