LIBRARY TASTING: STONYRIDGE LAROSE SHINES IN A TASTING OF 1986 & 1987 CLASSED GROWTHS / CABERNET / MERLOT BLENDS
Introduction
In August 2016 I had the great pleasure of presenting two Library Tastings in the Board Room of the Villa Maria winery, Montgomerie Rd, Mangere. This came about thanks to the kindness of Export Manager Ian Clark, and owner Sir George Fistonich. The other tasting, 1998 Southern Rhone Valley wines, has been reported on
here
. As planning for this 1986 tasting proceeded, one further pleasure was to have several younger tasters confide to me that this would be their first serious opportunity to assess a Bordeaux First Growth. By 'serious' they meant blind, among other relevant wines. Such moments are very special, to people who love wine.
The tasting turned out to be a great thrill for most participants. The two First Growths were in sparkling form, Gruaud-Larose lived up to its reputation for the vintage, and New Zealand's 1987 Stonyridge Larose from Waiheke Island was clearly and dramatically among the top four wines of the tasting. We used the 1987 vintage for all the New Zealand reds, because the year was much better than 1986, so the local wines had a better chance of competing. The Stonyridge has from the outset been a sensational wine, illustrating for all those with the experience to appreciate it, that New Zealand could indeed make world-class cabernet / merlot reds. At the other end of the scale, another 'famous' Auckland district wine, The Antipodean (which is rarely if ever assessed blind) showed how easy it is to fool New Zealanders in wine matters. As always, the wine rankings were taken while all bottles were still blind, decanted into 12 identical bottles, and presented in numbered bags.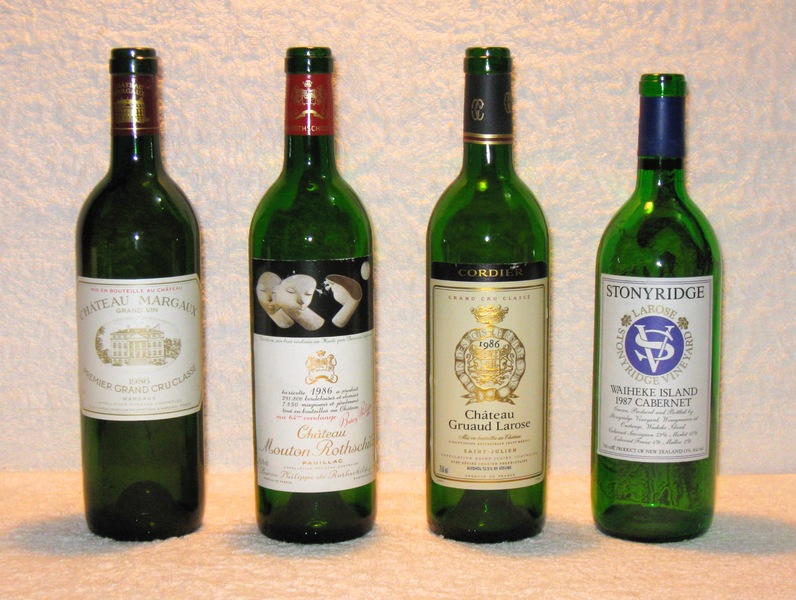 The top four wines in the 1986 / 87 Bordeaux blends Library Tasting at Villa Maria winery, Mangere, August 2016. From the left: 1986 Ch Margaux, 19.5, near-perfect claret; 1986 Ch Mouton-Rothschild, 19 +, slightly cedary; 1986 Ch Gruaud-Larose, 18.5 +, amazingly rich yet not in the slightest bit heavy; and 1987 Stonyridge Larose 18.5, simply remarkable.
The Invitation:
Robert Parker
(in his 2003 book,
Bordeaux
) says of the 1986 vintage: The year 1986 is without doubt a great vintage for the northern Medoc, particularly for St Julien and Pauillac. Our tasting will offer one Saint-Julien and two Pauillacs. Our First Growths include 1986 Mouton Rothschild and Ch Margaux, the former considered by most informed commentators to be (
Decanter
, May 2006): the star of the vintage, with some claiming it could be a 1945 in the making ... Parker has time and again given it a perfect 100-point score, not to mention a drinking window up to 2096. Other strong performers include ... Ch Margaux ...
As the years have gone by, views and ratings have changed. Here is a contemporary view from
Jeff Leve:
Critics at the time were enamored with 1986 Bordeaux wine, when they first tasted them. But time has not been kind to most 1986 Bordeaux wine. The fruit has fled over the past few decades and with few exceptions, only the brutal, hard tannins remain. 1986 Bordeaux wine has power, structure and concentration, but most lack charm, elegance or softness. 1986 Bordeaux wine is a stern, old school Bordeaux vintage that fans of what is known as "traditional Bordeaux" enjoy.
It is undeniable that a few great wines were produced. The best 1986 Bordeaux wine came from the Cabernet Sauvignon based wines from the Medoc, especially in Pauillac and St. Julien. Chateau Mouton Rothschild tastes like a 4 year old wine. And this is after close to 4 decades of age! It's a stunning wine and is the 1986 Bordeaux wine of the vintage! Gruaud Larose is sublime as is Leoville Las Cases and Rauzan Segla. There are a few others, but the good wines are far and few between.
So at the very least, since we have both the Mouton and Gruaud-Larose, we have an interesting tasting before us.
But why, it may be asked, am I offering 1987 New Zealand reds alongside 1986 Bordeaux. The only substantive reporting on the New Zealand 1986 and 1987 red wine vintages at the time was in
National Business Review
. There after several thorough comparative tastings I reported that (paraphrased): 1987 was a turning point in the evolution of 'claret' styles in this country. Up till then, there had been only Tom McDonald's 1965 McWilliams Cabernet Sauvignon, maybe the 1969, and the 1982 and 1983 Te Mata reds to demonstrate that we could in fact ripen cabernet ± merlot winestyles to Bordeaux standards in New Zealand. The key wine involved in reaching those conclusions was 1987 Stonyridge Larose, which we have in this tasting tonight. Accordingly the 1987s seem the obvious New Zealand wines to run against 1986 Bordeaux.
For the Bordeaux, interestingly,
Wine Spectator
(which has the best-annotated vintage charts in the business), still rates the vintage
95
, and says: Powerful, intense and tannic; best in Médoc.
Steven Spurrier
is one of the wisest wine-heads in the UK nowadays, and when it comes to Bordeaux has for many years been the guiding light at the UK's
Decanter
magazine. This is
Decanter
's summary of the 1986 vintage in Bordeaux:
A dry, hot summer held the promise of another great vintage until heavy rain at the end of September forced the harvest date back while swelling the grapes to produce a crop even larger than 1985. The natural exoticism of Mouton met these conditions head on to produce the wine of the vintage, but for most of the rest, Broadbent noted in 2001 that 'they might, just might, turn out well ... they are, of course, 'food wines' and unlikely to go over the hill without plenty of notice'. The Wine Society was more positive: 'Powerful, long-lasting classic wines for laying down; very fine Cabernet in Pauillac and St-Estephe, some superior to 1985 but with less obvious charm.' This was my view and I bought quite a lot. D'Angludet and the more chunky Lascombes from Margaux had flesh to match the tannins, while I noted a Monbrison (a good Margaux cru bourgeois) as 'a classic inky claret' on New Year's Eve 2006; recently, my last bottle still showed depth and vigour, but little Margaux charm. A Léoville-Barton opened in February 2013 was strikingly young still, but still packing an iron fist. The best 1986 Médocs will keep Left Bank addicts interested for another decade, while Merlot fans should give them a miss.
References:
Broadbent, Michael 2002:
Michael Broadbent's Vintage Wine
. Harcourt, 560 p.
Cooper, Michael 1990:
Pocket Guide to New Zealand Wines & Vintages
. Hodder & Stoughton, 256 p.
Cooper, Michael 1992:
Buyer's Guide to New Zealand Wines
. Hodder & Stoughton, 280 p.
Decanter (compilation), 2013:
1980s a Médoc lover's guide
www.decanter.com/features/1980-s-a-medoc-lovers-guide-245983
Kelly, Geoff, 1989: Various articles in
National Business Review
.
Leve, Jeff:
1986 Bordeaux Wine Vintage Report and Buying Guide
.
www.thewinecellarinsider.com
Parker, Robert 1991:
Bordeaux
. Simon & Schuster, 1026 p.
Parker, Robert M., 2003:
Bordeaux
. Simon & Schuster,
1244 p.
Penning-Rowsell, Edmund 1985:
The Wines of Bordeaux
.
Penguin, 606 p. Various Editions 1969 – 1985.
Peppercorn, David 1986:
The Wines of Bordeaux
. Mitchell Beazley, 144 p.
www.jancisrobinson.com
= Jancis Robinson MW and Julia Harding MW (subscription needed)
www.robertparker.com
= Robert Parker alone for this tasting (subscription needed)
www.thewinecellarinsider.com
= Jeff Leve
www.winespectator.com/vintagecharts/search/id/25
(subscription needed)
---
THE WINES REVIEWED:
# The first price given below is the current
wine-searcher
value, which gives an indication of the broader market estimation of the wine now. Where available, the original purchase price is given in the text following.
---