LIBRARY TASTING: A GUIGAL RETROSPECTIVE: 2010 – 1983 GIGONDAS, 2010 – 1983 COTE-ROTIE BRUNE & BLONDE, ALL FOUR GRANDS CRUS FROM 2003 ...
Review of the Tasting:
This was a wonderful tasting. It attracted keen winemakers and viticulturists from both Hawkes Bay, and Martinborough, something which at the discussion stage makes a tasting special for Wellington-based people. In introducing the wines, I commented that over and over again, my experience had been that if you wanted to share a special bottle with people who liked wine but were not label-conscious wine aficionados, then Guigal bottlings gave extraordinary pleasure at table. And this tasting showed why: 12 wines spanning 27 years, yet all of them would be marvellous with a meal. And in a technical sense, in this report (but by a person who likes old wine, note), none of the 12 are marked at less than 17 points, or silver medal level.
Most people were there for the four Guigal grands crus wines from the 2003 vintage, each and every one of them a 100-point wine for Robert Parker. Tasters found this a real thrill, for it is pretty rare to have such a tasting opportunity. But the sequence of five Cote Rotie Brune & Blonde wines from 2010 back to 1983 also created much interest. As did the three Gigondas spanning the same time frame: the 1983 was simply delicious. Yet wine know-alls do not even allow that such a wine could be even drinkable:
wine-searcher.com
simply does not list it – nor any Guigal Gigondas from the 1980s. Interesting, unbelievable to me, and sad.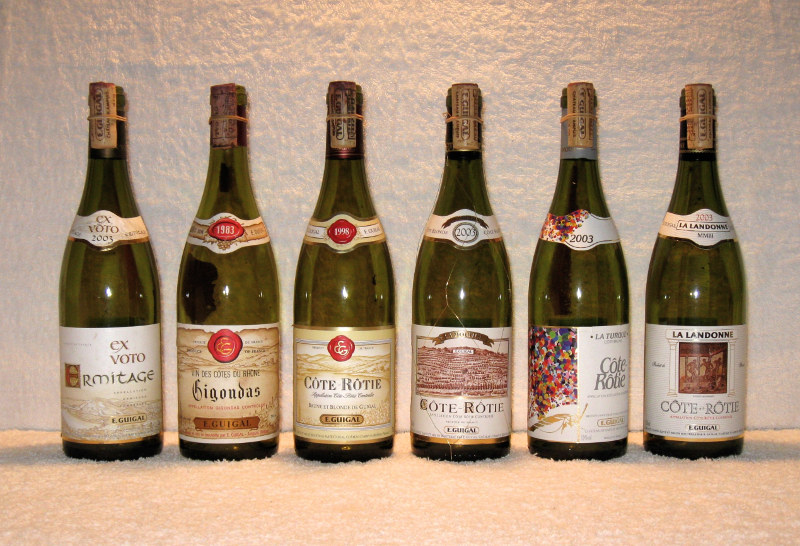 Some of the most exciting bottles from this exhilarating Guigal tasting in Wellington, which attracted keen winemakers from Hawkes Bay and Martinborough. From the left: 2003 Hermitage Ex Voto, young, bit oaky, 18 +; 1983 Gigondas, sublimely gentle, fragrant and velvety, 18.5; 1998 Cote Rote Brune et Blonde, definitive syrah florals, 18.5; 2003 Cote Rotie La Mouline, soft and rich, 19 +; 2003 Cote Rotie La Turque, gentle cassis; 19.5; 2003 Cote Rotie La Landonne, benchmark cassis, 19.5 +.
Invitation – The Wines:
1983 Guigal Gigondas
,
Southern Rhone Valley, France
1998 Guigal Gigondas
,
Southern Rhone Valley, France
2010 Guigal Gigondas
,
Southern Rhone Valley, France
1983 Guigal Cote-Rotie Brune & Blonde
,
Northern Rhone Valley, France
1985 Guigal Cote-Rotie Brune & Blonde
,
Northern Rhone Valley, France
1998 Guigal Cote-Rotie Brune & Blonde
,
Northern Rhone Valley, France
2003 Guigal Cote-Rotie Brune & Blonde
,
Northern Rhone Valley, France
2010 Guigal Cote-Rotie Brune & Blonde
,
Northern Rhone Valley, France
2003 Guigal Cote-Rotie La Landonne
,
Northern Rhone Valley, France
2003 Guigal Cote-Rotie La Mouline
,
Northern Rhone Valley, France
2003 Guigal Cote-Rotie La Turque
,
Northern Rhone Valley, France
2003 Guigal Hermitage Ex Voto
,
Northern Rhone Valley, France
Our tasting offers three Guigal
Gigondas
spanning 27 years, to show both the Guigal style with Southern Rhone blends, and the fact they age exquisitely. Then turning to the Northern Rhone, there will be five examples of
Cote-Rotie Brune & Blonde
, the wine that sets the standard for the appellation, and amounts to c.30% of the entire appellation's production. They also will span 27 years. These eight wines are all from good to very good years. Then there will be the four grands crus, all 2003, all four rated 100 points by Robert Parker, a highly-rated Northern Rhone vintage:
Cote-Rotie La Mouline
first made in 1966, and the most burgundy-like of the three,
Cote-Rotie La Landonne
(the all-syrah one) first made in 1978, and
Cote-Rotie La Turque
, first made in 1985. In discussing the grands crus,
Parker, 2011
says: The three single vineyard Cote-Roties are among the world's top fifty wines ever made. Their differences become apparent around age 8-10 and are dramatically different by age 15. So ours at 14 years old should be good. They will be joined by
Hermitage Ex Voto
, all syrah, first made in 2001. These four wines are virtually never offered for tasting all together, in New Zealand.
The reputation of the Guigals, late grandfather Etienne, father Marcel, and son Philippe grows year on year. Rather like J L Chave, you get the impression this is because the same two or three sets of taste-buds have assessed every wine, over the last 70 years.
Robert Parker
first came to recognise the extraordinary skills of the Guigals, and thus has a clearer view of their achievements than anybody. In his pioneering Rhone book of 198... has emerged as the dominant producer of outstanding Rhone wines ... both a negociant and a significant vineyard owner. It was founded only in 1946 [by Etienne]. Since the early seventies, his son, the bespectacled, bereted, birdlike Marcel, has taken charge. The result has been the transformation of very good wines to not only spectacular wines, but some of the finest in the world ...
Guigal's style of winemaking is unique not only in Cote-Rotie, but in all of the Rhone Valley. First, he is the Rhone's greatest exponent of the judicious use of new oak barrels for aging his wines ... his single-vineyard Cote-Roties sojourn 30 – 36 months in new oak [42 months now]. Second, because ... Guigal's red wines spend such a long time in both small oak and large oval foudres, his wines rarely have to be fined or filtered ... The results are wines that have ... impeccable balance and aging potential.
At the close of 2012, Parker's view had not changed much:
... The three single vineyard Cote-Roties are consistently among the world's greatest wines. ... The Guigal family may be the modern world's greatest testament to a family-run winery with impeccably high standards, integrity and an uncompromising vision of the future. They continue to push the envelope of quality to greater and greater heights. Marcel Guigal learned it all from his father, Etienne, a legend in the Northern Rhone. Over my three decade plus career, it has been a noteworthy story to watch Marcel's son, Philippe, take full responsibility for the future direction of this incredible enterprise. I have almost unlimited admiration for the Guigals and their ability to produce millions of bottles of inexpensive Cotes du Rhones that are among the finest of the entire Rhone Valley, as well as their portfolio of exquisite whites, reds and roses from the most prestigious appellations in the Rhone. After more than three decades of tasting here, I never cease to be amazed by what they accomplish.
Pricing for the Tasting:
The Guigal grands crus are rare in the world, and even rarer in New Zealand, their production being less than a tenth of any of the Bordeaux First Growths (Petrus excepted). They are allocated / rationed at release in New Zealand. At one point they moved almost to parity in price with the Bordeaux First Growths. They have not fallen, but the latter have departed to a new level. Please check the
wine-searcher.com
values for the four 2003 Guigal grands crus (a great vintage in the Northern Rhone Valley) this hard-to-match tasting offers. You will find their value alone divided by the number of tasters is significantly greater than the fee asked to share our 12 bottles.
Introduction to Maison Guigal
Maison Guigal is based in the village of Ampuis, the cradle of Cote-Rotie. Grandfather Etienne started his winemaking career there with the then-famous winemaking firm Vidal-Fleury in 1924. Vidal-Fleury continued to be one of the leading producers in Cote-Rotie. Etienne finally left to found his own winemaking company, Maison Guigal, in 1946. He continued till 1961 when blindness struck. Son Marcel took over and increasingly moved the firm towards the visionary path that characterises them today. In 1973 his wife joined him, and the house of Guigal became the complete family business. Current chief winemaker and son Philippe was born in 1975. Throughout the years the firm has increasingly been characterised by careful and perceptive acquisitions and expansion, yet it remains totally family owned and controlled.
First there were key vineyard acquisitions in Cote-Rotie, enabling the introduction of the single vineyard and monopole wine La Mouline in 1966, then progressively the acquisition of small parcels of the famous La Landonne vineyard as opportunity offered, leading to the second 'grand cru' wine La Landonne in 1978. The purchase of the Vidal-Fleury establishment in 1985 augmented the La Landonne holdings, and gave Guigal total control of the La Turque vineyard, to become the third of the great Cote-Rotie wines which have made Guigal famous the world over.
In 1995 the famous Chateau d'Ampuis in the heart of Ampuis village was acquired: it now serves as the prestige headquarters for the firm, and houses the Guigal cooperage. It has a Cote-Rotie named after it, assembled since 1995 from several well-regarded vineyards. The Cote-Rotie Chateau d'Ampuis sits between the 'grand cru' wines and Guigal's Cote-Rotie Brune & Blonde. However there is much more to the Guigal headquarters than this historic building, their extensive underground cellars and buildings in Ampuis now spread over and under about three hectares.
Robert Parker has long forecast that since Marcel Guigal holds that there are three pre-eminent wine regions in the Rhone Valley, namely Cote-Rotie, Hermitage, and Chateauneuf-du-Pape, that he would be seeking to acquire vineyards in the latter two places. Part of this goal was achieved in 2001, with the purchase of Domaine Jean-Louis Grippat, giving vineyards in Saint-Joseph and notably Hermitage. The key holding here was the small vineyard plots allowing the creation of a 'grand cru' Hermitage, Ex Voto, the same year. This wine is intended to complement and match the three 'grand cru' Cote-Roties, even though it is assembled from several parcels of land in named Hermitage vineyards. The same year Guigal acquired de Vallouit, providing further holdings in Cote-Rotie, Hermitage, Saint-Joseph and Crozes-Hermitage. These acquisitions also allowed the introduction of the premium Saint-Joseph wines Saint-Joseph Vignes de l'Hospice and Saint-Joseph Lieu dit, but they do not enjoy quite the reputation of the now-four grands crus. Interest now turns to when Maison Guigal will be able to acquire premium vineyards in Chateauneuf-du-Pape, and the introduction of a prestige wine from that appellation.
The mastery of Guigal father and son however extends well beyond their own vineyard holdings. To again quote
Robert Parker, 1997:
What is the key to Guigal's success? For Guigal's own vineyards, which are cultivated organically with no chemical fertilisers or treatments, there is a notoriously late harvest aimed at picking grapes that are nearly bursting because of their supermaturity. The late harvest, plus extremely low yields, minimal intervention in the wine cellar (minimal rackings and absolutely no filtration), all combine to produce spectacularly fragrant, rich, profound wines. The same prerequisites are applicable to the juice that Guigal purchases to fashion his blends of Cotes du Rhone, Hermitage, Condrieu, and Chateauneuf du Pape. He buys only from producers who have old vines and low yields and who harvest late.
An indication of the scope of the Guigal enterprise can be extracted (in part) from their website, plus
Wine Spectator
info. Though the crop may vary by 50% or more depending on the season, these are the approximate annual average production totals, reds only (but not forgetting Guigal is the leading producer, some 45%, of all Condrieu). The numbers for the premium wines show why they are rationed / allocated throughout the world. Our year, 2003, production was half normal, so it astonishing that New Zealand secured any at all:
  Cotes du Rhone:
  Gigondas:
  Chateauneuf-du-Pape:
  Crozes-Hermitage:
  Saint-Joseph:
  Cote-Rotie Brune & Blonde:
  Hermitage:
  Saint-Joseph Lieu Dit:
  Saint-Joseph Vignes de l'Hospice:           
  Cote-Rotie Chateau d'Ampuis:
  Cote-Rotie La Mouline:
  Cote-Rotie La Landonne:
  Cote-Rotie La Turque:
  Hermitage Ex Voto:


  166,500 cases
  10,000 cases
  166,650 cases
  37,500 cases
  18,350 cases
  23,350 cases (approx 30% of the entire appellation)     
  2,915 cases
  1,350 cases
  625 cases
  2,500 cases
  415 cases
  1,000 cases
  400 cases
  650 cases


References:
Livingstone-Learmonth, John, 2005:
The Wines of the Northern Rhone
. University of California Press, 704 p.
Parker, Robert, 1987:
Wines of the Rhone Valley and Provence
. Simon & Schuster, 456 p.
Parker, Robert, 1997:
Wines of the Rhone Valley
. Simon & Schuster, 685 p.
www.drinkrhone.com
= John Livingstone-Learmonth (subscription needed) NB: J. L-L uses SIX stars.
www.jancisrobinson.com
= Jancis Robinson MW mainly for this tasting (subscription needed)
www.robertparker.com
= Robert Parker and Jeb Dunnuck for this tasting (subscription needed)
www.winespectator.com
= James Molesworth for this tasting (subscription needed)
---
THE WINES REVIEWED:
# The first price given below is the current
wine-searcher
value, which gives an indication of the broader market estimation of the wine now. Occasionally, where available, the original purchase price is given in the text following. Where specific wine info is not easily available, I mostly give the recent cepage and elevation, even though this may be misleading for earlier vintages.
---