TWO GREAT NEW ZEALAND PINOT NOIRS: THE BEST AGE TO DRINK NEW ZEALAND PINOT NOIR ?
Introduction
Fifty-seven pinot noirs from Martinborough, Nelson, Marlborough, and Central Otago, and spanning 9 vintages, enabled me to set up a tasting to gain information on firstly: when is the best time to drink New Zealand pinot noir; and secondly, does the popular idea that Otago pinots are fleshy and easily recognised (the fruit bomb idea) have any validity. The tasting was rigorously double blind, with a procedure in which there was no conceivable way the taster could know the identity of any wine. Working alone, this is a time-consuming exercise.
Two main styles of New Zealand pinot noir: best age to drink ...
To answer the first question, it is best to make the proviso that there are two main kinds of pinot noir in New Zealand. This is based on price / marketing constraints, not the district of origin of the wine. In the under $25 market so avidly pursued by the supermarkets and the website
www.blackmarket.co.nz
, these are in general lighter wines with less serious elevation / oak handling (or even a stainless steel component), made from more heavily-cropped vineyards. These wines at best are still delightfully varietal, pretty, and fragrant, but they have less depth and body, so do not cellar so well. Many of them drink well at release (and most are in fact drunk soon after purchase), but they are at their most harmonious and integrated at around the three year mark. They will still be pleasant to drink for five to eight years. For the more serious wines over $25, but now increasingly also over $50 (and some creeping towards the more challenging $90 mark) the first thing to bear in mind is: never judge a pinot noir by its colour. Some of the best wines in the country are no deeper in hue than the pretty supermarket wines. But the instant you taste them, you realise there is much more body and stuffing in these wines, you can roll them around your mouth and savour the texture and weight of flavour, irrespective of the colour. In this they match the wines of Burgundy. Unlike the wines of Burgundy however, ours thus far do mostly mature more quickly. It is hard to generalise, since longevity of a wine depends primarily on the cropping rate and dry extract of the wine, plus the manner of elevation. But in general, serious New Zealand pinot noir shows its best harmonising of young fruit and more mature savoury complexity at around the five to seven-year point. They will still be good to drink as mature wines for eight to twelve years, and some last longer.
As to the supposed regional characteristics of the wines, it is most unwise to either generalise, or be categorical. The supermarket wines are made first and foremost to meet a price point. In general they are simpler, maybe not all the wine has been in barrel, and sometimes they retain a couple of grams residual sugar which can scarcely be tasted, but makes the wines pleasantly fruity and 'easy'. In this category there may be two easily recognised sub-camps: the light pretty and fragrant wines of the young alluviums on the valley floor of the Wairau Valley, Marlborough, where it is near-impossible to achieve depth of pinot noir flavour and character; and secondly, yes, the darker more fleshy even plummy wines from particularly the broader Cromwell Basin zone of Central Otago. But note, some of these are deliberatively over-ripened and under-oaked, to make the kind of soft round juicy wines an undiscriminating market wants. They define the market, rather more than the region of origin. These are the two main camps of commercial New Zealand pinot noir, and represent most of the wines which have led to the generalisations about Otago.
For the more serious wines however, the wines of Martinborough, Nelson, Marlborough on the upper terraces / older soils, Waipara, and Central Otago, I increasingly am of the view that the range of styles being made in each district has more to do with the winemaker, the wines varying from lighter to darker, and from more fragrant to more savoury, in exactly the same way as the wines of Burgundy vary wildly from producer to producer. The top wine in the tasting reported on here is one of the greatest pinot noirs thus far made in New Zealand. It could have as easily have been made in grand cru Morey-Saint-Denis vineyards as in Nelson or Otago. There is nothing about it that defines an Otago stamp. The more important point is, it captures the elusive charm of great pinot noir, whether lighter or darker. And while Martinborough has a reputation for producing drier more savoury styles of pinot noir, there are matching wines from the deeper older soils of Marlborough, and both Nelson and Otago.
The Tasting:
In the notes which follow, I first and foremost reward pinot noir varietal character, where the wines show full physiological maturity, the wonderful melding of florality and ripe berry character, and avoid both leafy grading to stalky green suggestions, or the opposite, the dreaded (by French winemakers) sur-maturité or over-ripeness, characterised by increasingly dark black-plummy smells and flavours. But note, slightly under-ripe wines may be very fragrant, the leafy concept grading almost insensibly into florals of the buddleia kind. One needs to smell a lot of flowers, as French winemakers do, to talk about pinot noir at all sensibly. Appropriate berry characters must then be complemented by, but not dominated by, sweet fragrant oak. Being a young wine country, there is still a tendency among our winemakers to think that if a little oak is good, then more oak is better. Too many of our Reserve Pinot Noirs are still just a barrel selection with extra time in barrel, rather than a wine grown from the outset at a lower cropping rate, to therefore be of greater dry extract, and better justify a premium price. Our pinot noir wines will in general improve greatly, when producers use less new oak, as chardonnay practice is starting to confirm (to the perceptive). Secondly, the wines must have presence in mouth, correlating with dry extract. This is the underlying rationale for the entire French Appellation d'Origine Controlée approach, with its emphasis on cropping rates (there expressed in hectolitres per hectare). For pinot noir, a thin-skinned variety, there is no correlation between richness of the wine, and depth of colour. In Burgundy, some of the greatest producers, Rousseau for example, produce wines almost invariably as light in hue as the lightest wines reported on here. Hence the importance I attach to reporting on colour, which in fact takes a surprising amount of effort, thousands of hand movements / glass to glass comparisons, to rank 57 wines accurately from darkest to lightest.
Grant Taylor
A word is needed about Grant Taylor, of Valli Wines. His wines absolutely dominated the tasting. I was disbelieving as the first half-dozen wines progressively revealed themselves. He is one of New Zealand's most gifted and most experienced pinot noir producers, with enviable experience in the Napa Valley of California in the 1980s. He came back to New Zealand in 1993, initially as winemaker at Gibbston Valley Wines. He was soon in demand as consulting winemaker to many fledgling wineries establishing in the new-found pinot noir land of Otago. During this time he maintained his consulting role in America, expanding to Oregon. He established his own winery, Valli, in 2006. These days he sails a little under the radar, with up-and-coming Otago producers perhaps putting more time into promotion and marketing etc. His greatest achievement in my view has been to exploit the extraordinary diversity of the Otago grape-growing region. He has taken the beautifully simple idea of making a definitive wine from each of the four main Otago sub-districts, districts which vary markedly in their heat summation and rainfall, and has made this idea his alone. In this, he illuminates the challenge that Burgundy presents to New Zealand pinot noir, where the Cote de Nuits is fractionally cooler than the Cote de Beaune. This is expressed in Burgundy via the northern wines at best showing more magical black cherry character, vs the red cherry of the south. Will Central Otago be analogous ? Thus far he has not embraced Alexandra, but has been prepared to tackle the most wayward of the Otago wine districts, the Waitaki Valley.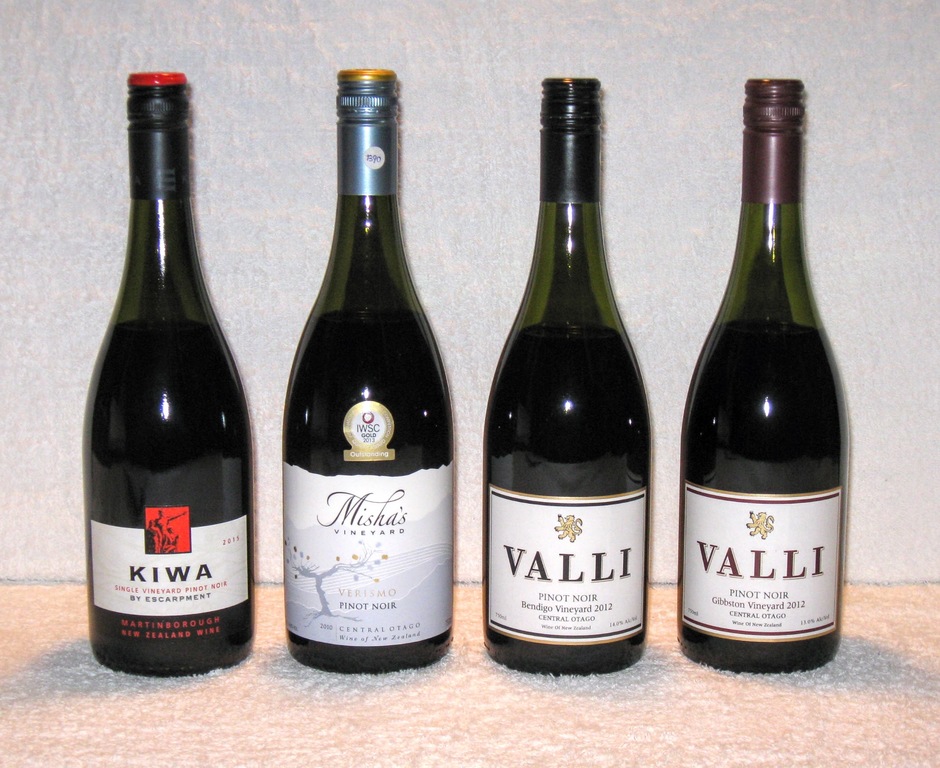 Examples of fine, cellar-worthy New Zealand pinot noirs. These are much more serious wines than the easy pinot noirs becoming popular via supermarkets and other price-led suppliers. From the left: 2015 Escarpment Pinot Noir Kiwa, infantile wine hinting at rose florals and cherry fruit, oaky as yet, 18.5 +; 2010 Misha's Vineyard Pinot Noir Verismo, showing a development curve more like Burgundy than New Zealand, a great sign, 18.5 +; 2012 Valli Pinot Noir Bendigo Vineyard, wonderfully floral and fragrant, hinting at Chambolle-Musigny, 19; 2012 Valli Pinot Noir Gibbston Vineyard, a complexity and depth rare in New Zealand pinot noir, comparable with the classed growths of Morey-Saint-Denis, 19 +.
---
THE WINES REVIEWED:
# The price given below is the approximate release price, where available.
---