LIBRARY TASTING: CONTEMPLATING OLD AUSTRALASIAN CHARDONNAY – THE 1986 VINTAGE ...
This tasting of Australasian chardonnays from the 1986 vintage (one 1987) was presented to the Central Otago Winegrowers' Association, in the Lake Dunstan Boat Club building, September 2015. It was both intriguing, and delightful too, for the romantically-minded and those who love wine for itself. Some were doubtful such wines could even be alive, yet I think it is safe to say, all participants found some of the wines of great interest.
Invitation and Background to the Tasting:
The mid-1980s were an interesting time in New Zealand winemaking, as we made a start on catching up with Australia. The best vinifera-based table wines really started to meet international standards for wine. In chardonnay specifically, there had been odd unoaked wines from Corbans and McWilliams in the later 60s, and then more complex wines from Nick Nobilo in the 1970s. After an overly-oaky 1978, McWilliams had fragrant, lean but still impressive 1980 and 1981 wines, leading into the start of more complex / modern examples of the grape starting in the early '80s, via Mission Vineyards, and from John Hancock followed by Larry McKenna at Delegats. John Hancock moved to Morton Estate, and his famous barrel-fermented Black Label Chardonnay first appeared in 1984. In Marlborough, Kevin Judd was at Cloudy Bay, and Tony Jordan (Australia) was helping put Hunters on the map. At Kumeu River, Michael Brajkovich made New Zealand's first consciously-MLF-complexed chardonnay in 1985. By 1986 Kym Milne at Villa Maria wanted part of this action, and their first barrel-fermented Reserve Chardonnays arrived in 1986. Both the latter firms have become both well-known and pre-eminent for their chardonnays, now. Kumeu River in particular has consistently won high praise from
Wine Spectator
magazine, in America.
This 1986 chardonnay retrospective is therefore a chance to taste a slice of New Zealand wine history. One reason some of the wines have lasted so remarkably well is the absence of an MLF component. In offering the tasting, I thought that was particularly the case for the Australian ones, but Gary Farr kindly put me right on that one.
Part of the rationale for offering an old chardonnay tasting to the Central Otago Winegrowers' Association in September 2015 was the (not always deserved) reputation winemakers have for liking only young wines. So the invitation for the tasting started off along these lines: Old Chardonnay: Please don't summarily ignore / write-off this tasting ! The chances are good that (corks willing) at least one of the wines will be remarkable, if last year's bottles, opened alongside older Latour Corton-Charlemagne and Chevalier-Montrachet wines, are any guide. I then went on to say that the bottles for the tasting were absolutely the palest of those remaining in my collection for the year, so being cellared in Wellington, they should be as good as any available. I concluded by mentioning that if interested people absolutely hated cashew nuts, and think all chardonnays should be lemon in hue, preferably with a green wash, then please don't come, in case they spoiled it for the others. But it is true that most people adore cashews, and I hoped people would be able to both enjoy these wines, and maybe, be pleasantly surprised.
The notes went on to say: thus, in New Zealand the conventional wisdom is that chardonnay can be cellared for 3 – 5, maybe 8 years at the outside. In this tasting we will explore whether good chardonnay can in fact cellar for longer. At 29 years old, roughly, there will be no florals, and precious little stonefruit. Instead, the good ones will smell and taste more of good oatmeal, cashews, hazelnuts, brazil nuts, and even a touch of walnut maybe, and will show physical fruit which you can savour in mouth. Such wines can be wonderful with food, and despite their signs of age, pleasantly satisfying, if they have the body to be sustaining. So this is a tasting for people who love wine with food. It is not a tasting for those who derive their pleasure from finding faults in wines, where other more positive people would see complexity.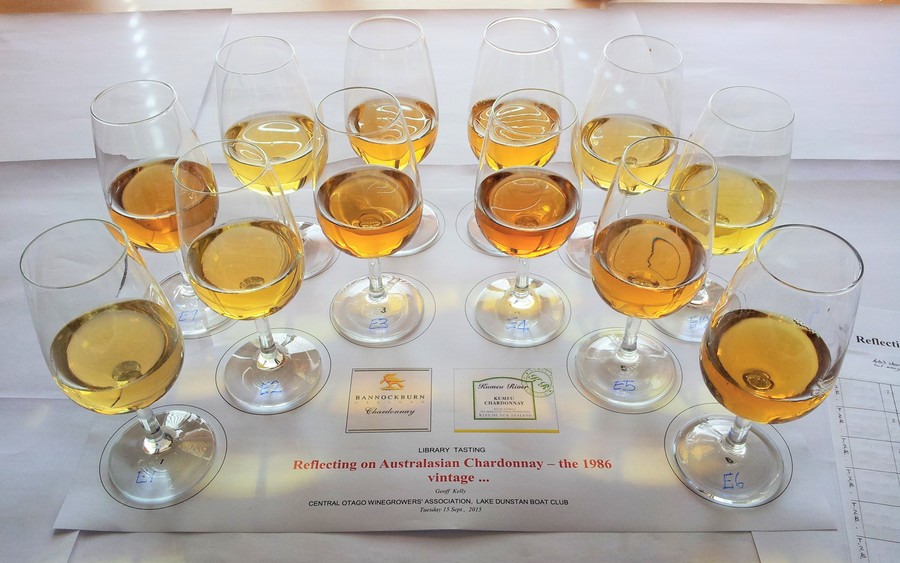 The twelve chardonnays in the tasting, showing colours ranging from two superb, to some worrying. Front row, from the left: 1986 C J Pask, trace maderisation, lacked body, 14; 1986 Hunters, highly varietal, faintly herbaceous, 16.5 +; 1986 Vidal, still works with food, drying, 15.5; 1986 Cooks Winemakers Reserve, much better than it looked, surprising body, see notes, 16; 1987 Kumeu River, dried peach notes, MLF apparent, 16.5; 1986 Villa Maria Gisborne Reserve, remarkable fruit, boisterous, 16.5+; Back row, from the left: 1986 Cloudy Bay, dried peach, slightly acid, 16 +; 1986 Bannockburn (Victoria), sensational colour, Meursault-like, TCA-impaired, score see text, 18.5; 1986 Martinborough Vineyard, herbaceous and acid, 13.5; 1986 Babich Irongate, ripe, sweet, hazel-nut-mealy, 17; 1986 Mountadam, remarkable fruit, mealy, marzipan complexity, 17.5 +; 1986 Tyrrell's Vat 47, sensational colour, absolutely benchmark chardonnay, remarkable, 18.5 +.
Incidental notes on the chardonnays of the era:
# It is astonishing if you take out half a dozen of the same old chardonnay, and examine them in a good light against a bright white background, that in no two bottles is the wine the same colour. This reflects the physical / structural variability of cork as a closure, and hence differential oxygen permeation, quite apart from cork solutes and cork taint. I showed three New Zealand chardonnays of similar and older (back to 1981) vintages to the judges at the Easter Show in 2012, partly to counter the thought expressed above (re winemakers and old wines), and they were both astonished, and some even (to their surprise) enchanted. I hoped therefore that participants would find some pretty exciting smells and flavours in this tasting, and would regard the tasting as an opportunity to embark on a little wine adventure.
# For this tasting, I scarcely attempted to document the wines. Most of the notes below are from memory, aided by comments kindly provided by Michael Brajkovich, Larry McKenna, Gary Farr, and Bruce Tyrrell. Not one of even the Australian wines is reviewed in
robertparker.com
or
jancisrobinson.com
, which must be some kind of record, nowadays. In general, prior to the 1980s, there was in effect no technical information for wine consumers. Wine writing was all romantic waffle, malolactic had never been heard of, and so on. For Australia, however, James Halliday started publishing books in the later 1970s, and he has become an unmatchable source of info. For the New Zealand wines, the 1980s are before Michael Cooper established his definitive annual Buyer's Guide, but Peter Saunders was active. For leading-edge wines we can assume some barrel fermentation with a significant percentage of new oak. I thought it was safe to assume no MLF for warmer-climate Australian chardonnays, but Gary Farr proved me wrong on that for his Geelong wine. In New Zealand the first commercial chardonnay to consciously be put through malolactic was the 1985 Kumeu River, though Denis Irwin's approach at Matawhero has not been documented, and wines such as his 1980 and 1983 Chardonnay may challenge that assessment. The barrel fermentation approach was first tried in New Zealand in the earliest 1980s. 1986 was a good year for white wines in Australasia.
# Tyrrell's can lay claim to creating Australasia's first international-calibre chardonnay, having adopted the barrel-ferment approach in 1973, Bruce Tyrrell advises.
# Morton Estate's Black Label Chardonnay was then (1984-on) the great wine of the day, John Hancock (initially at Delegats) along with Paul Mooney (Mission Vineyards) being the first to adopt barrel-ferment in New Zealand (Matawhero caveat, again). I checked all bottles I have of the 1986 Black Label, and thought even the palest looked too dark to bring. Barrel fermentation was then vigorously adopted by Villa's then chief winemaker, Kym Milne, the 1986 Villa Maria Gisborne Reserve Barrique-Ferment (again, now too dark to bring, I thought) being a multiple gold-medal winner of the day. His standard Gisborne Reserve is however included. Villa's success with the variety continues almost without interruption to the present day.
#
Perspective on tasting old chardonnay:
With chardonnay 29 years old, I took down more than the standard 12 wines for my library tastings, opened them all, and presented the best of them. Hence there are more than 12 reviews below – the others are included for the record, since few people assess old wine seriously in New Zealand. I have also included two contemporary wines in the reviews, simply because they add focus and reality to both the learning experience, and evaluating the older wines. But all the same, scoring chardonnays as old as these will always be totally a matter of individual preference and viewpoint. For those who love wine
per se
, and exploring its changing nuances over time, it is natural to be able to find virtues in wines long past their 'conventional' use-by date. But for your typical urbanite wine snob, wines like these are inconceivable. Such people are all too often more interested in labels than the actual wine, and seem to derive more satisfaction from telling you how they tipped such wines down the sink, thus bragging about their affluence and presumed taste superiority, rather than saying how they actually explored the sensory attributes of the remaining fruit, acid or oak balance, and to what extent the wine still achieved harmony. Pretty sad, really. I found the tail-ends of these bottles wonderful with food, in the following days, particularly for the richer wines with good dry extract. Being so old, once opened they deteriorated surprisingly slowly, having already achieved some kind of equilibrium.
Acknowledgements:
Michael Brajkovich, Gary Farr, Bruce Tyrrell and Larry McKenna all helped with detail, much appreciated.
References:
Brajkovich, Michael, 2015: Correspondence.
Farr, Gary, 2015: Correspondence.
Kelly, Geoff, 2012:
New Zealand Chardonnay comes of age – some top wines and a little history:
www.geoffkellywinereviews.co.nz/index.php?ArticleID=194
Halliday, James, 1985:
The Australian Wine Compendium
. Angus & Robertson, 576 p.
---
THE WINES REVIEWED:
# No price is given for most,
wine-searcher
listing none of the 1986 wines below, thus faithfully reflecting the blinkered views of so many wine people.
---