SYRAH AROUND THE WORLD: 9 COUNTRIES, 12 WINES
Geoff Kelly MSc (Hons)
Nett Impressions of the Tasting:
Having been vitally interested in syrah varietal expression for some decades now (1971), I have long wanted to present a tasting of a range of syrahs from as many countries as I could muster, if possible reflecting the best winestyles realistically achievable. This came to a head in March 2018, with a tasting at Regional Wines, Wellington. It seems that others share my enthusiasm for the variety, for the tasting sold out in 3 hours. In the event, the wines spoke well on the occasion, and tasters seemed to enjoy them a good deal.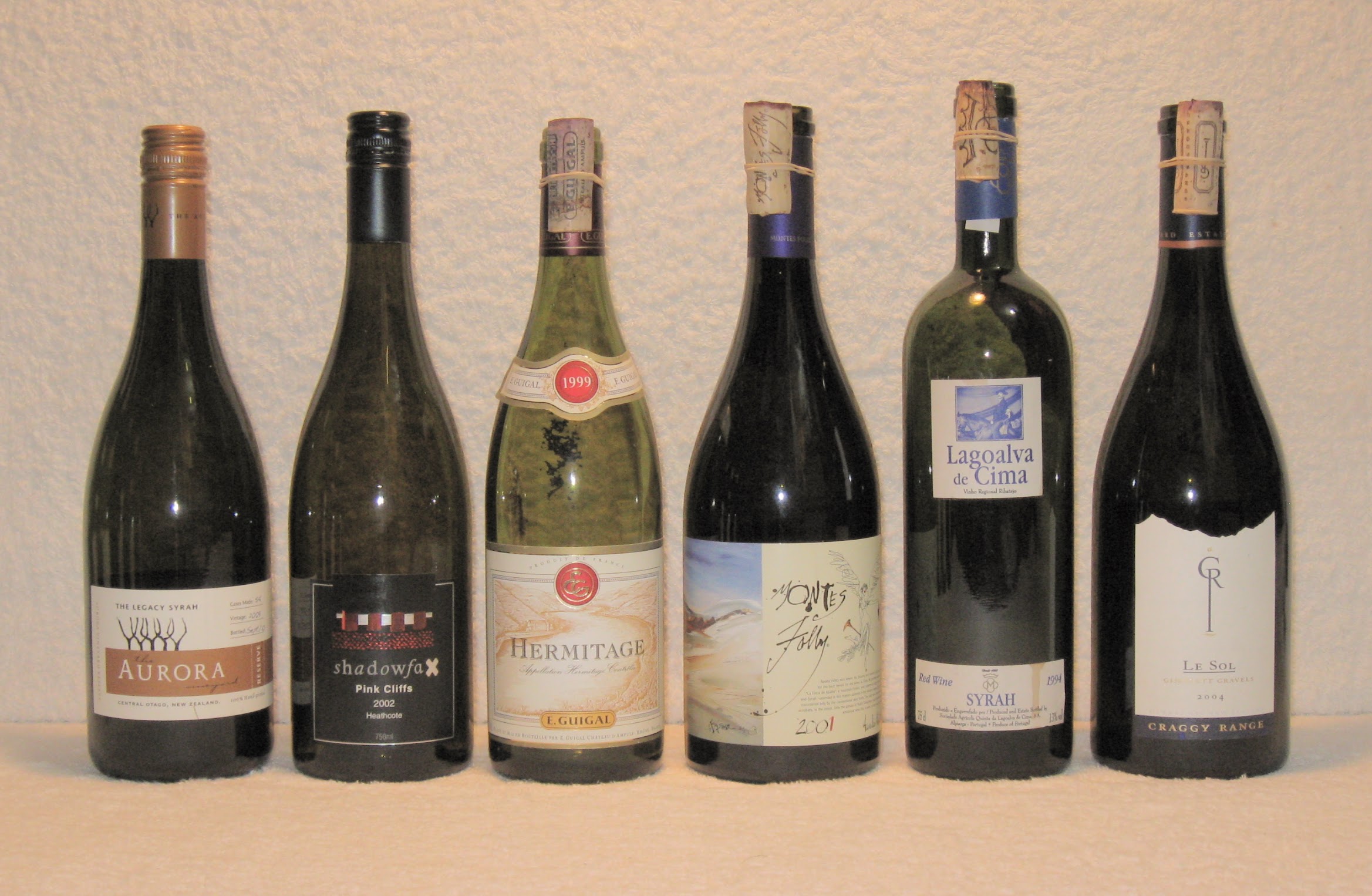 The top six wines in the tasting. From the left: 2009 Aurora Syrah The Legacy, from 45° South in Central Otago, a fragrant near-Cote Rotie wine style, 17.5 +; 2002 Shadowfax Shiraz Pink Cliffs, an aromatic cool-climate Australian shiraz with suggestions of syrah, 17.5 +; 1999 Guigal Hermitage, as so often with Guigal reds, a good benchmark syrah, 18; 2001 Montes Syrah Folly, totally modern Chilean syrah, uncannily close to the Craggy Range wine, 18.5; 1994 Quinta da Lagoalva de Cima Syrah, the surprise of the tasting, in the style of the Guigal but both more beautiful and more varietal, 18.5; and 2004 Craggy Range Syrah Le Sol, simply benchmark syrah, wallflower florals, cassis berry, light black pepper spicing, 18.5 +.
Caveat:
In an ideal world, if we wanted to gain an impression of how syrah (shiraz) tastes when grown and vinified in different countries round the world, we would have all the wines from within roughly the same 12 months / same vintage. But that is hard to achieve ... easier in London than Wellington ... for one does not see (say) Italian or Portuguese syrahs on the shelf every day in one's local New Zealand wine-shop. Accordingly it has taken me years to assemble an intriguing / amusing cross section of wines from so many countries. So there are many vintages, from 1994 to 2009, and many price-levels too, from supermarket wines to luxury ... I had forgotten the Montes Folly cost $NZ135.
But in a sense this was never intended to be the last word on syrah varietal expression. The goal is to have a fun tasting, on the theme of: how does syrah the grape express itself in different climates and different countries ? We have 12 wines from nine different countries, but if you regard Hawkes Bay and Central Otago as different countries (from the grape's point of view) ... and likewise Victoria and West Australia, or California and Washington ... well, then we have 12 different wines from 12 different countries.
The Invitation:
This tasting should be both fun and instructive. Have syrahs from nine different countries ever been offered for comparison in New Zealand before ?
The emphasis will be more on the syrah end of the syrah / shiraz spectrum than shiraz, with several definitive labels to help illustrate the style of this fragrant and exciting grape (when not over-ripened). They can't all be from much the same vintage, some countries being scarcely (or not) represented in New Zealand, but we've got them all within a 16-years span. Perhaps the American examples are the rarest for us in New Zealand, so I have matched their years with a top New Zealand, and a Trophy-winning West Australian.
Hopefully Guigal Hermitage will serve as a kind of benchmark for syrah itself, but it is an older vintage to bridge back to the Italian and Portuguese examples. There will be back-up bottles of the Guigal and Craggy Range Le Sol, to guarantee a taste of those, plus Reserve wines, if needed.
Packaging:
Since the debut of Craggy Range's Syrah Le Sol in 2001 in New Zealand, and likewise Trinity Hill's Syrah Homage following in 2002, Jancis Robinson (and occasionally others) has protested at the weight and size of their bottles. In this tasting, thanks to the generosity of Californian wine-man Mark Blake, who made available American syrahs not available in New Zealand, suddenly all has become clear. The American syrah bottles were also amazingly heavy and large. It seems that with this sad tendency for uncritical American wine people to assume that bigger must mean better, we have the equally sad phenomenon of New World producers hoping to export their premium syrahs to America slavishly following the witless American lead. Thus not only the Craggy Range Le Sol but also the top-level Montes Folly Chilean syrah were in equally heavy bottles. When it comes to fashion, conservation and the concept of a world of shrinking resources both take a back-seat. Only the discriminating wine-person notes that Maison Guigal do not deem it necessary to package their supremely fine 'La La' / grand cru syrah bottlings (at c.$US450) in such weighty glass. Time to grow up, methinks.
Acknowledgements:
Particular thanks to Mark Blake, of Blake Family Vineyards, for making the American syrahs available from his syrah tasting programme, at the stage he hoped to establish a winery on the Gimblett Gravels. Such wines are unknown in New Zealand.
References:
www.jancisrobinson.com
= Jancis Robinson and Julia Harding mainly (subscription needed)
www.robertparker.com
= Robert Parker and associates (subscription needed)
www.winespectator.com
= various authors (subscription needed)
---
THE WINES REVIEWED:
# In the admin (italicised) section of each review, the first price is the current
wine-searcher
value (in NZ$), where the vintage is listed. Older syrah does not seem to loom large in wine-lovers' minds, for remarkably few of our vintages are listed. The approximate original release price is given in the following text.
---