WORTH CELLARING TASTING: COTES DU RHONE AND RELATED REDS ...
Geoff Kelly MSc (Hons)
Nett impression:
This was a delightful evaluation exercise, enough of the wines showing a complexity of fruit aromas and flavours augmented by the evocative and food-friendly aromatic 'garrigue' character to make them exciting. The wines fell rather naturally into two halves, six of them finer in texture and mouthfeel, more sophisticated, the other six tending plainer, more sturdy than subtle. In comparison with some tending-similar reds from Portugal recently, however, all these wines were wonderfully dry. Some tasters commented adversely on the highish alcohols that are now regrettably almost the norm in the Southern Rhone Valley district, though the grenache-dominant wines concealed their alcohol remarkably well.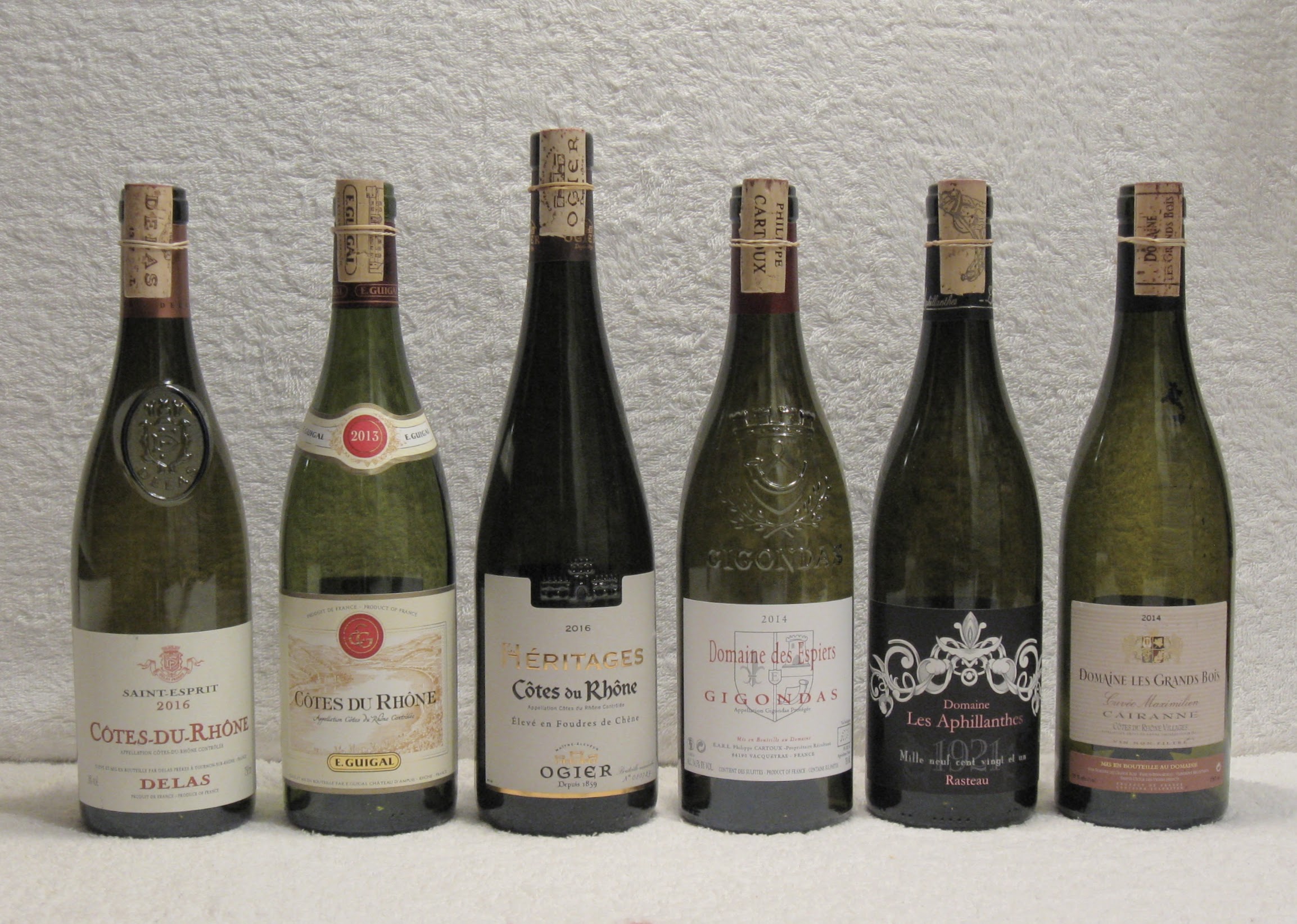 Half the wines in the tasting were perfectly pleasant food-friendly examples of their appellation, which it would be a pleasure to grab from the cellar when one suddenly wants an affordable red which will please most people, and doesn't need to be thought about too much. From the left: 2016 Delas Freres Cotes du Rhone Saint-Esprit, clearly syrah-dominant, 17 +; 2013 Maison Guigal Cotes du Rhone, more mellow from both age and old-oak elevation, 17.5; 2016 Domaine Ogier Cotes du Rhone Heritages, textbook young Cotes du Rhone, and affordable, 17.5 +; 2014 Domaine des Espiers Gigondas, the most beautiful wine in the tasting, though not the richest, 18; 2015 Domaine Les Aphillanthes Rasteau 1921, all the beauty of fine grenache, in a cellar-worthy wine of Chateauneuf-du-Pape quality, 18 +; 2014 Domaine Les Grands Bois Cotes du Rhone-Villages Cairanne Cuvée Maximilien, understated now but wonderfully rich, real cellar potential, 18.5
The essential Southern Rhone garrigue aroma / complexity factor:
What is this characteristic aroma that people talk about in the wines of the Southern Rhone Valley ? The term 'garrigue' refers to the low shrubby vegetation of the hills and forelands of the peri-Mediterranean district. Many of the component plants of this scrub have essential oils, which are volatile in hot weather. The vegetation type is known as maquis or garrigue. It is analogous to manuka and kanuka short scrub in North Auckland, in that it spreads over areas formerly forested. When you push through it, there is this wonderful essential oil smell. The Mediterranean zone being drier than New Zealand, however, the vegetation type is now semi-permanent there. Characteristic plants contributing to the fragrant garrigue aroma are:

  rosemary: Rosmarinus officinalis
  lavender:  Lavandula stoechas
  sage:       Salvia officinalis + other species of salvia  
  thyme:     Thymus vulgaris
  oregano:  Origanum vulgare


  myrtle:      Myrtus communis
  juniper:     several species of Juniperus
  fennel:      Foeniculum vulgare
  rockrose:  Cistus monspeliensis
  pinks:        several species of Dianthus

Recent vintages:
As the Australians used to say, before they became more aware of of the wines of the world beyond their shores, in a warmer climate, vintage does not matter so much. It is still important, though, and the quality of the season may very much determine which wines best suit your personal taste. For example, the hot years can be too ripe, the wines lacking florality, subtlety, and complexity. To a degree, the years regarded as less successful can sometimes be more rewarding, if your preference in red Cotes du Rhone inclines to a lighter, more floral and fragrant, burgundian style. The Espiers Gigondas in the tasting illustrated this concept to perfection.
Recent Southern Rhone Vintages
, compiled from
Parker
and
Wine Spectator
.
For the Parker rating, E = Early, T = Tannic.
YEAR
Parker rating
  for the year
Wine Spectator
     rating
Nett impression for the year:
2012:

92E

93

small crop ... but ripe flavours, well-balanced, cellar-worthy
2013

88E

89

cool year, better for Sy and Mv than Gr, selection needed
2014

87E

88

damp year, reduced crop, least year since 2008, selection needed
2015

93T

97

Sy lesser, rich ripe Gr and Mv wines in the style of 2009, cellar
2016

98E

96 – 99

marked diurnal range, aromatic wines in the style of 2010, cellar.
Robinson assesses 2016 as: 'one of the great vintages'.
The Invitation:
Time to run another '
Worth Cellaring
' tasting, on the warm red grenache-based wines of the Southern Rhone Valley. At best these can be the most food-friendly and best-value red wines on Earth. They can have all the soft charm and appeal of pinot noir, yet just be that little bit more substantial. In general, one has to pay quite a lot to achieve substantial pinot noirs. This is where the Southern Rhone wines come into their own.
But selection is the key. Because many of them are matured more in large vats, even concrete, than smaller barrels, we have to be on the lookout for heavy dull wines showing some reduction. Most winewriters will never tell you about that aspect of wines. Hence the appeal of having our own evaluation tasting, to decide for ourselves which are in truth worth buying.
Good Cotes du Rhone will cellar for years, ageing very gracefully. The layout for the tasting will therefore be: to taste the Guigal wine first as a yardstick – any wine better than this will be worth buying; then a 10-year-old wine to demonstrate that the good ones cellar well; then a sampling of both Cotes du Rhone, and some of the named villages formerly in the Cotes du Rhone-Villages appellation. They cost a a little more. This approach should give us a good feel for the wines of the district, and what price level to buy.
By and large Cotes du Rhone is based on grenache, with varying amounts of syrah. Cheaper ones have carignan and cinsaut in them, and don't keep so well, whereas the best cellar wines have more mourvedre. Many are raised in concrete, some in stainless, some better ones in big old wood, and a few modern ones have a touch of new oak. We have 12 wines, ranging from the simplest Cotes du Rhone around $20, to representatives of the elite villages formerly in Cotes du Rhone-Villages, but some now with their own AOC, such as Vacqueyras and Rasteau, now in the $40s. The whole idea is to find more affordable Cotes du Rhone-related wines with some of the quality, flavour and weight of Gigondas or Chateauneuf-du-Pape, but at maybe half the price.
The wines will be tasted blind, on this occasion 25 ml samples were used, then a vote on which is best (still blind), before discussion of each sample, to sort out why it is good, bad or indifferent.
References:
www.jancisrobinson.com
= Jancis Robinson MW & Julia Harding MW mainly (subscription needed)
www.robertparker.com
= [ Robert Parker ] Jeb Dunnuck and Joe Czerwinski for this article (subscription needed)
www.winespectator.com
= James Molesworth mainly (subscription needed)
---
THE WINES REVIEWED:
# In the admin (italicised) section of each review, the price given is present retail (approx), in New Zealand.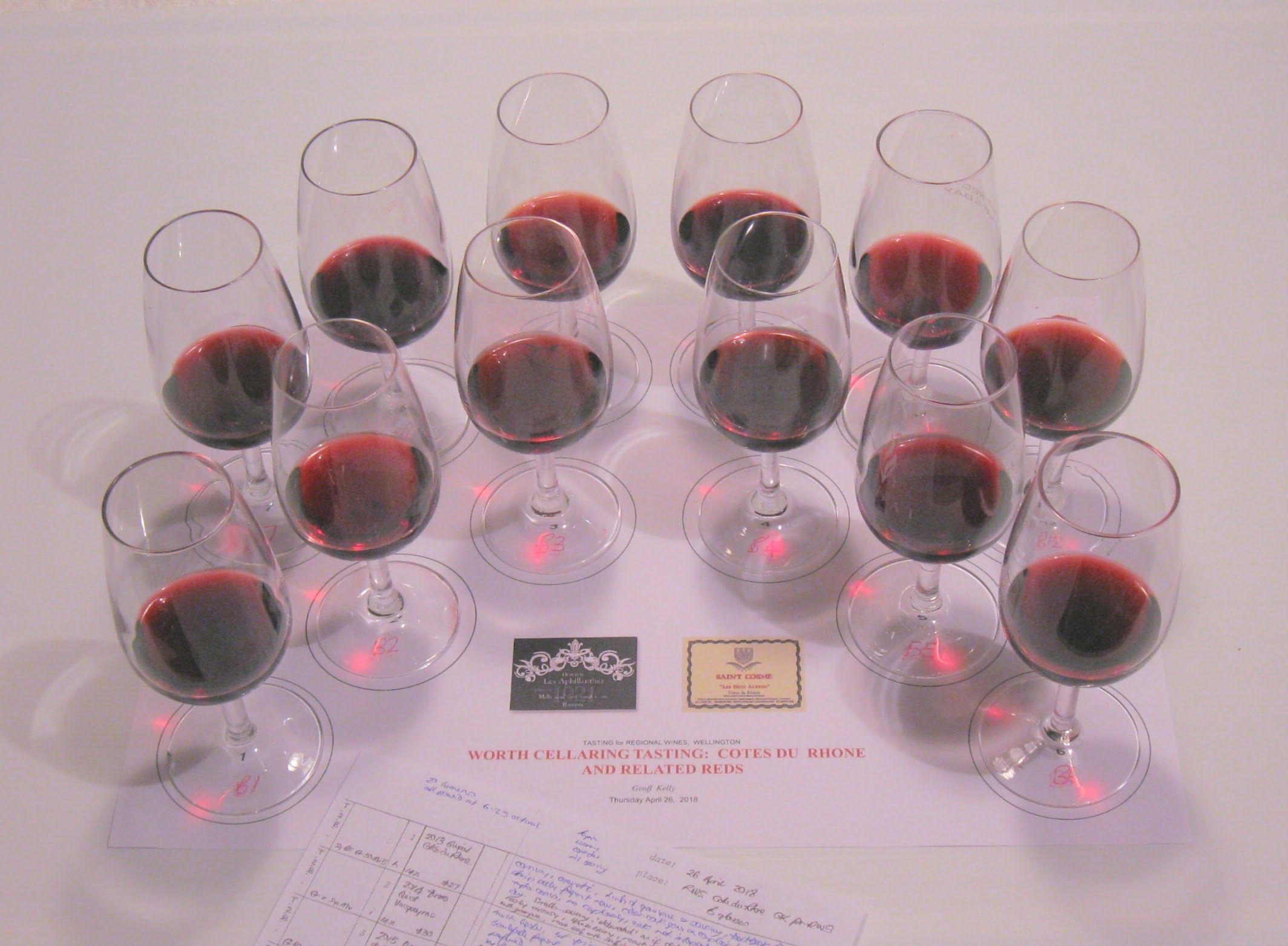 Sitting down to the glasses, some were clearly a lighter red, as in glasses 2, 9 and 11. These turned out to be the grenache-led wines, particularly 11, the Aphillanthes, 90% grenache. Two of the wines were unusually dark. For 10, the Cairanne Cuvée Maximilien, this correlated with an unusually high percentage of mourvedre, not the fact it was a great wine. Like burgundy, depth of colour is no index of quality, in Southern Rhone wines. For example, by far the most-liked wine of the tasting, wine 9, is also the lightest in the set.
---