WORTH CELLARING TASTING 2 AUGUST 2018, at REGIONAL WINES, WELLINGTON
2015 AND 2016 IN THE SOUTHERN RHONE VALLEY – TWO GREAT CHATEAUNEUF-DU-PAPE VINTAGES ESSENTIAL TO THE WELL-FOUND CELLAR ...
Geoff Kelly, MSc Hons
Conclusions from the the Tasting:
Two recent tastings in Wellington, New Zealand, have focussed on Chateauneuf-du-Pape, and related Southern Rhone Valley wines. The first was a retrospective, a look back at the 1998 wines, a sunny warm year, now they are 20 years old. The second tasting a week later explored some current vintages available for purchase, mainly the highly-rated 2015 vintage, to see if they offered good prospects for cellaring. And in particular to see if they would be as worth cellaring as the 1998s.
The conclusion for the 2015s (and one 2016) is: what a transformation ! Whereas in 1998, maybe half the wines showed some measure of
Brettanomyces
complexity, in 2015 only one wine (in the 12) showed this more traditional Southern Rhone Valley complexity factor. This 2015 tasting was an absolute delight: the best of these 2015s are simply beautiful wines, which will give the utmost pleasure. They can be cellared confidently.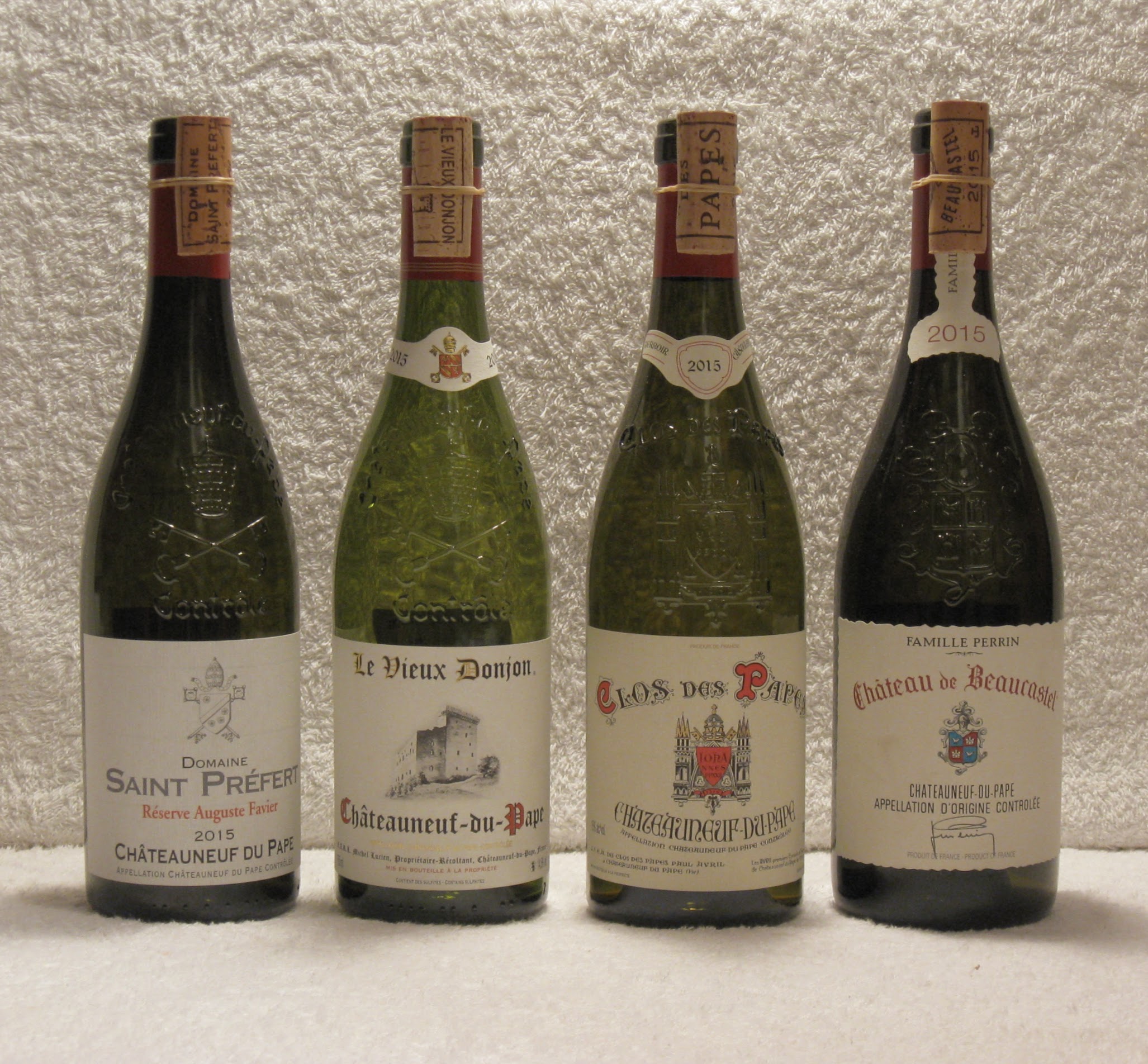 The top four or five wines in this Worth Cellaring tasting were of a calibre to covet for one's cellar. And the look-ahead to 2016, via Charvin's Cote du Rhone (not illustrated) showed a wine that simply had to be bought by the case. Of the Chateauneufs, from the left, both the 2015 Saint Préferts were remarkable, and affordable, the Reserve bottling Auguste Favier with new oak both modern and subtle, 18.5 +; 2015 Le Vieux Donjon showed a medium-dark kind of Chateauneuf, subtly oaked, beautifully complex, 19; 2015 Clos des Papes represented near-perfection, in a fragrant garrigue-laden red-fruits style, 19 +; and 2015 Ch de Beaucastel is the best young example of this famous estate I have seen, epitomising a darker-fruits, mourvedre-led interpretation of Chateauneuf-du-Pape, 19 +.
Mystery surrounds one aspect of a couple of the wines, however. Why in such a well-regarded year do some wines show stalky and under-ripe qualities ? It seems important to me, that though proprietors may now be reacting against the American-led call for ever bigger and ever-riper wines (rightly, in my view), nonetheless in a year like 2015 there is no case for stalky, under-ripe, early-picked or otherwise falsely 'delicate' wines. Wine enthusiasts do look to the Southern Rhone Valley for warmth in the wine, appropriate ripeness, and bottled sunshine.
If the 2016 Domaine Charvin Cotes-du-Rhone in the tasting is a representative guide to the succeeding vintage, then the taste of this wine, coupled with the assessments of John Livingstone-Learmonth, both suggest that 2016 will be a year like 1978, where one must cellar as much Southern Rhone wine as one can afford, or in fact a little more if one has any sense. Thus one can secure 20, 30 or even 40 years of absolute tasting and drinking pleasure, as the best of the 1978s illustrate to this day.
A great opportunity:
It is rare for the various (worthwhile) wine media to all be saying much the same thing, but that is the case for the 2015 and 2016 vintages in the Southern Rhone Valley. For our first tasting, centred on the 2015 vintage, Berry Bros & Rudd, the famed London wine merchants, quote Frederic Brunier of the equally famous Domaine Vieux Telegraphe in Chateauneuf-du-Pape, in their combined assessment of the 2015 wines:
... they combine all the best features of 2010, 2007 and 2005 ... Cerebral yet perfumed, concentrated yet light on their feet, the reds are conspicuously successful in 2015 and will repay long cellaring.
Looking ahead, the joy of the situation is, there is total agreement that on acccount of the extraordinarily cool nights, the 2016 vintage has produced even finer wines, with finer-grain tannins, and even more elegance. Thus we have the pleasure of looking forward to a similar evaluation tasting next year. It is like 2009 and 2010 in either Bordeaux or the Rhone Valley ... in the years to come one would bitterly regret not having both years in one's cellar. As the years go by, undoubtedly views as to which is the better year for any given domaine will change from time to time. The best way to secure the greatest pleasure out of these two years is to cellar both vintages.
And the only way to cellar wine is by the case-lot. Think about it. Even with 12 bottles, for many folk the chances of having any left after 12 years are low. Yet the wines may increase in beauty and complexity for 30 or more years. It is critically important to in fact think ahead realistically, in providing for one's later years.
The quality of the 2015 and 2016 Southern Rhone Valley vintages:
For an evaluation of the 2015s relative to the 2016s to follow, we can compare views from either side of the Atlantic – both précised:
Catherine Petrie, MW
, of United Kingdom wine merchant Goedhuis & Co, on their website,
2017:
2016 is a roaring success in the Rhone. It follows the excellent 2015 whose release saw an upsurge in interest in this classic French region ... As a result of the long, steady growing season, the 2016s are slightly lighter in body and alcohol than the 2015s, by the measure of half or one degree of alcohol depending on the region. Their slightly lower pH gives them a distinct freshness too.
What marks the 2016s apart is three key elements: the first, and most significant, is the density and opulence of fruit richness. I do not mean heady alcohol and heavy body here, I mean intensely rich, luxurious flavours. This richness is matched by the second defining element: supple, melting tannins. In many cases the 2016s have equally high (sometimes even higher) tannic content compared with the 2015s, but their profile is distinctly different. These are small, sweet, silky tannins, where the 2015s had an edge of firmness and structure. The third component is their energy and freshness. The long, late growing season with warm autumn days and cool nights aided the development of phenolic ripeness (silky tannins and rich colours) alongside retention of vibrant acidity and low pH. These three elements combined have a dual result: the wines have the classic elements for a long development, but they are also strikingly accessible and approachable in their youth.
Where the excellent 2015s will reward the patient, many of the 2016s will do for now, tomorrow, the next time, and the next ... the choice is yours.
And from
Jeb Dunnuck
of Robert Parker / The Wine Advocate, as reported on the Saint Cosme website,
2017:
The Southern Rhone has two solid vintages in the pipeline; the elegant and lively 2015s and the deeper, richer, truly profound 2016s.
2015 –
... the wines are fresh, elegant and streamlined, with nicely integrated acidity and balanced profiles. While they lack the sheer depth of fruit found in the 2016s, they have a vibrancy that makes them already appealing, yet the majority will evolve gracefully. [ There is a hint, in his somewhat contradictory further remarks, that we need to be on the look-out for perhaps too much tannin in some 2015s, like some of the 1998s.]
2016 –
The 2016s are on another level. The wines are beautifully concentrated and structured – on par with 2010 – yet have a more open, sexy, voluptuous style due to the larger yields. The tannin quality is beautiful, the wines have notable freshness and purity, their alcohol is integrated, and quality is incredibly high across all the regions. In fact, the biggest surprise was the consistency of the vintage, which is even more homogenous than 2015. This is truly an extraordinary vintage.
The Invitation (modified):
As suggested above, the secret to future wine happiness, and true enjoyment of wine at table, is to identify the great years at the the outset, and then buy the wines one likes best in cases of 12. There is simply no other way of luxuriating in beautifully mature wines 20 years down the track, when the wine is truly ready. And when it comes to the pleasure of red wines with food, the wines of the Southern Rhone Valley are peerless. Take for example those who had the foresight to buy the 1978 Chateauneuf-du-Papes, or the 1989s, 1998s, or 2010s. They are sitting on vinous treasure which is beyond compare, and will provide enjoyment almost for a lifetime. My last 1978 Chateauneuf-du-Pape is now delicate ethereal fragrant old wine reminiscent of great burgundy.
Anybody can achieve this – it just takes foresight and commitment. All the evidence is that both 2015 and 2016 are stellar years in the Southern Rhone Valley, comparable with 2009 and 2010 in every detail, that is the 2015s are riper, with more tannin structure, the 2016s are slightly cooler and more aromatic.
Wine Spectator
is the best reference source for vintage evaluations, and they rate 2015 and 2016
97
, and
96 – 99
respectively. Years rated 95 or over are rare.
As a logical follow-up to our review of the 1998 Chateauneuf-du-Papes, the first step is to evaluate the 2015 wines which are available, to see which to cellar. Next year there will be the thrill of the 2016s. Anybody who attended the 2010 Chateauneuf-du-Pape tasting at Regional Wines last year will have some inkling of what these years may deliver.
In this Worth Cellaring tasting, we will check 12 Southern Rhone Valley wines, 10 of them from the 2015 vintage, and one doubled up with its 2014 running mate, to perhaps show the difference between a good vintage and a great one. But we also now have one preview peep at the 2016 vintage, the Domaine Charvin Cotes du Rhone, which has been highly rated by John Livingstone-Learmonth. This will be doubly intructive, because we also have the 2015 Domaine Charvin Chateaneuf-du-Pape in the tasting. It will be great to assess exactly what is the difference between the two appellations, and why one costs nearly three times as much, and will cellar for considerably longer. We have several of the most famous names from Chateauneuf-du-Pape, including Ch de Beaucastel, Clos des Papes (the latter the one with two vintages), and Le Vieux Donjon, as well as Domaine Charvin. Note that for the latter three domaines, the proprietors have just the one grand vin ... there is none of this pandering to elites with fancy sub-labels.
To make the tasting more affordable, there are some other 2015 Southern Rhones, which should help illuminate the quality of the very best Chateauneuf-du-Papes.
Background information to the Tasting – Vintages in the Southern Rhone Valley:
Only four times in the last 46 vintages 1970 – 2015 has Robert Parker /
The Wine Advocate
allocated a score of 97 to a Southern Rhone vintage. 2015 may be one of them, but their rating is provisional as yet.
Wine Spectator
is a jump ahead of The Wine Advocate, and already has a provisional rating posted for 2016, but their ratings start with 1988. They have allocated 97 five times only, with both 2015 and 2016 qualifying. For 2016, their tentative rating includes the possibility of 99, a quality they have never implied before. So we have exciting wines to contemplate. There is no doubt that 1998 heralded a golden era for the southern Rhone Valley, with relatively few vintages in the preceding 20 years rating 90 or more (in the American view), but many reaching that level since. Until the recent easing of the New Zealand dollar, prices have remained accessible, for wines of absolute world quality.
Table 1:
The better Southern Rhone Vintages of the last 47 years.
YEAR
Broadbent
Wine Advocate
Wine Spectator
Summarised comments
1970
****
    
–
B: excellent in south, rich and well-balanced
1971
 ****½  
 –   
–
B: low acid, not kept quite as well
1978
*****  
97R
–
B: best since 1911, big, tannic, rich; J.L-L reference year
1983
*****
87C
–
B: excellent, rich, concentrated, hard tannins have softened
1985
*****
88R
–
B: outstanding reds, rich, long-lasting
1989
****½
94T
96
B: rich complete reds; WS: powerful concentrated reds, round tannins
1990
*****
95E
95
B: less aromatic than 1989, powerful, promising; WS: massive wines, great concentration
1995
****½
90T

90
B: comparable with 1990; WS: tannic reds, Chateauneufs improving beautifully
1998
*****
98E
97
B: best since 1990; WS: dense, rich, superb grenache, ripe tannins
1999
****½
90E

90
B: south less than north; WS: syrah and mourvedre wines better than grenache
2000
–
98E
94
WS: powerful rich ripe reds with silky tannins
2001
–
96T
92
WS: great vintage with structured racy reds in Chateauneuf
2003
–
90I
93
WS: very hot dry year, best superb, some inconsistency
2005
–

95T
97
WS: great concentration, structure, should rival '98 and '90
2006
–
92R

93
WS: ripe, pure, balanced, fresh, like 1999 but more concentrated
2007
–
98E
95
WS: ripe rich powerful reds, some grenache over-ripe, mourvedre key for balance
2009
–
93E
94
WS: Warm dry year, cool nights retained acid, pure fruit and polished tannins
2010
–
98T
98
WS: Reduced crop, warm days, cool nights, beautifully ripe racy wines for aging, the spine of '05 with extra flesh
2012
–
92E
93
WS: small crop, grenache year, ripe flavours, well-balanced
2015
–

94 – 97
97
WS: best since 2010, powerful; J.L-L: a very good vintage, but not on a par with 2010 ... though Gigondas excelled
2016
–
–
96 – 99
WS: Exceptional diurnal variation, truly rare vintage. J.L-L: 2016 is an exceptional vintage at Chateauneuf-Du-Pape, and is very good indeed elsewhere ... superior to 2015.
                                                  www.geoffkellywinereviews.co.nz
The better Southern Rhone Vintages of the last 47 years, compiled from
Broadbent
(B, to 2002),
Parker
(rated 90 or more, from 1970, where T = Tannic / youthful, E = Early / accessible, I = Irregular, and C means Caution, may be too old),
Wine Spectator
(WS, 90 or more, from 1988), and
John Livingstone-Learmonth
(J.L-L, additional detail):
Cepage: the Main Grapes:
The main red grapes of the district are grenache, syrah, mourvedre, cinsaut and carignan. Some appellations permit whites in the red. Few winemakers use them. Grenache is far and away the dominant and traditional variety of the region. It is thinnish-skinned, is characterised by aromas of raspberry and cinnamon, and in a sense produces a kind of spirity pinot noir. Unlike pinot noir, grenache hides alcohol freakishly well, such that wines up to 15% may be quite acceptable. Either syrah or mourvedre is the next most important in quality terms. Both add darker berry notes and complexity, and (from syrah) perhaps hints of black pepper / spice though the climate is against these more subtle characteristics of syrah. Mourvedre is more finicky, and harder to ripen perfectly, but in the great years is the more noble of the two (in this climate), particularly in its tannin structure. Wines with a higher percentage of mourvedre cellar well. Of the lesser varieties, cinsaut is a pretty pale early-maturing variety reminiscent of pinot meunier, and carignan is a robust productive well-coloured grape making hearty wines which are great in youth but don't age well. Its best use is in
vin de pays
and the like. Further details on the grapes of Southern Rhone Valley wines were presented in my review of a 2010 Chateauneuf-du-Pape Library Tasting,
here
.
Wine style, and Buying:
The big challenge for the antipodean wine-lover is to find clean wines. Traditionally French winemakers and European winewriters have to varying degrees been blind to sulphides, which even in small amounts have the unfortunate effect of making the whole wine dumb. This is exacerbated by many wines being made and held in concrete vats, where aeration is difficult. Nowadays, switched-on winemakers (and winewriters) are much more conscious that these Southern Rhone grapes are gloriously fragrant when neither over-ripened, or reductive. The goal is to find wines redolent of floral notes such as sweet william / carnations / wallflowers / dark roses, lavender, rosemary (the so-called 'garrigue' note) sometimes with a touch of cinnamon spice (from grenache) or white or black pepper spice (from syrah).
Many wines are still made in concrete, supplemented by big old wood, plus a number now in stainless steel. The trend now for some is to be 'modern', with varying use of new oak. The varieties scarcely need it, due to their intrinsic tannins – especially in mourvedre. All too often, the Reserve bottlings with more new oak are intrinsically less fragrant and complex wines than the straight ones, but appeal to the American market where bigger, more obvious and heavier is favoured over lighter and more beautiful.
The other factor to be on the lookout for is our fragrant wild-yeast friend
Brettanomyces
, which traditionally has been a part of the complexity in many Southern Rhone wines. This is due to the prevalence of old oak, and the reluctance of many proprietors to sterile-filter to bottle. The latter approach was mistakenly strongly endorsed by Robert Parker, before he became attuned to brett in wines. There are two keys issues about brett: The first is that no two bottles in a case will be the same, unless the wine has been sterile-filtered, so do not give up on your resource, because one bottle is a bit too bretty. And the other is, some people are hyper-sensitive to brett, and like to make a fuss about it. In a tasting group, all too often this can detract from the pure enjoyment of the wine by more tolerant tasters. The simple fact is, most people like a little bit of savoury brett complexity in wine, and it makes the wine superb with main course foods.
References:
Broadbent, Michael 2002:
Michael Broadbent's Vintage Wine.
Harcourt, 560 p.
Broadbent, Michael 2003:
Michael Broadbent's Wine Vintages.
Mitchell Beazley, 223 p.
Karis, Harry, 2009:
The Chateauneuf-du-Pape Wine Book.
Kavino, 488 p.
Parker, Robert, 1997:
Wines of the Rhone Valley.
Simon & Schuster, 685 p.
www.jancisrobinson.com
= Jancis Robinson MW and Julia Harding MW, subscription needed for reviews
www.erobertparker.com
= Robert Parker and now rather more the off-siders, vintage chart, subscription needed for reviews
www.winespectator.com
= various authors, vintage chart and vintage information (the best in the business), subscription needed for reviews
ww.drinkrhone.com
= John Livingstone-Learmonth, a wealth of experience and detail, all in an individual style, subscription needed
www.goedhuis.com/blog/2017/10/20/rhone-2016-en-primeur-an-exceptional-vintage
https://www.saintcosme.com/upload/fichier/2017_10_19_jeb_dunnuck_notes_et_commentaires_gigondas_2015_2016.pdf
---
THE WINES REVIEWED:
---