LIBRARY TASTING 30 AUGUST 2018, at REGIONAL WINES, WELLINGTON
THE MEALY / NUTTY PLEASURES OF OLD
CHARDONNAY, 1975 – 2001 ...
Geoff Kelly, MSc Hons
Conclusions from the Tasting:
What a delight this tasting was ! Those who attended clearly were there to find all the enjoyment they could in these variously old wines. There was an eager sense of anticipation evident as the wines were poured. And that anticipation was heightened when it became known that we had three winemakers sharing in the wines: John Forrest from Marlborough, and Larry McKenna and his new winemaker Tim Bourne, from Escarpment Vineyard in Martinborough. Not all winemakers are interested in old wines, so it very much adds to the enjoyment of city-bound tasters when there are winemakers present, not least to field difficult questions.
Since old chardonnays (sadly) are readily affected by cork-related factors including TCA, my approach to this tasting was to open 16 old chardonnays, and present the best 12. Colour of the wines was not an immediate giveaway to age, in this blind tasting. At the sorting stage, a couple went out immediately, showing clear brown hues in the generally attractive range of straw to light gold colours. The oldest wine presented (1975) was not the most gold or the darkest, and likewise, one of the youngest wines was among the darkest.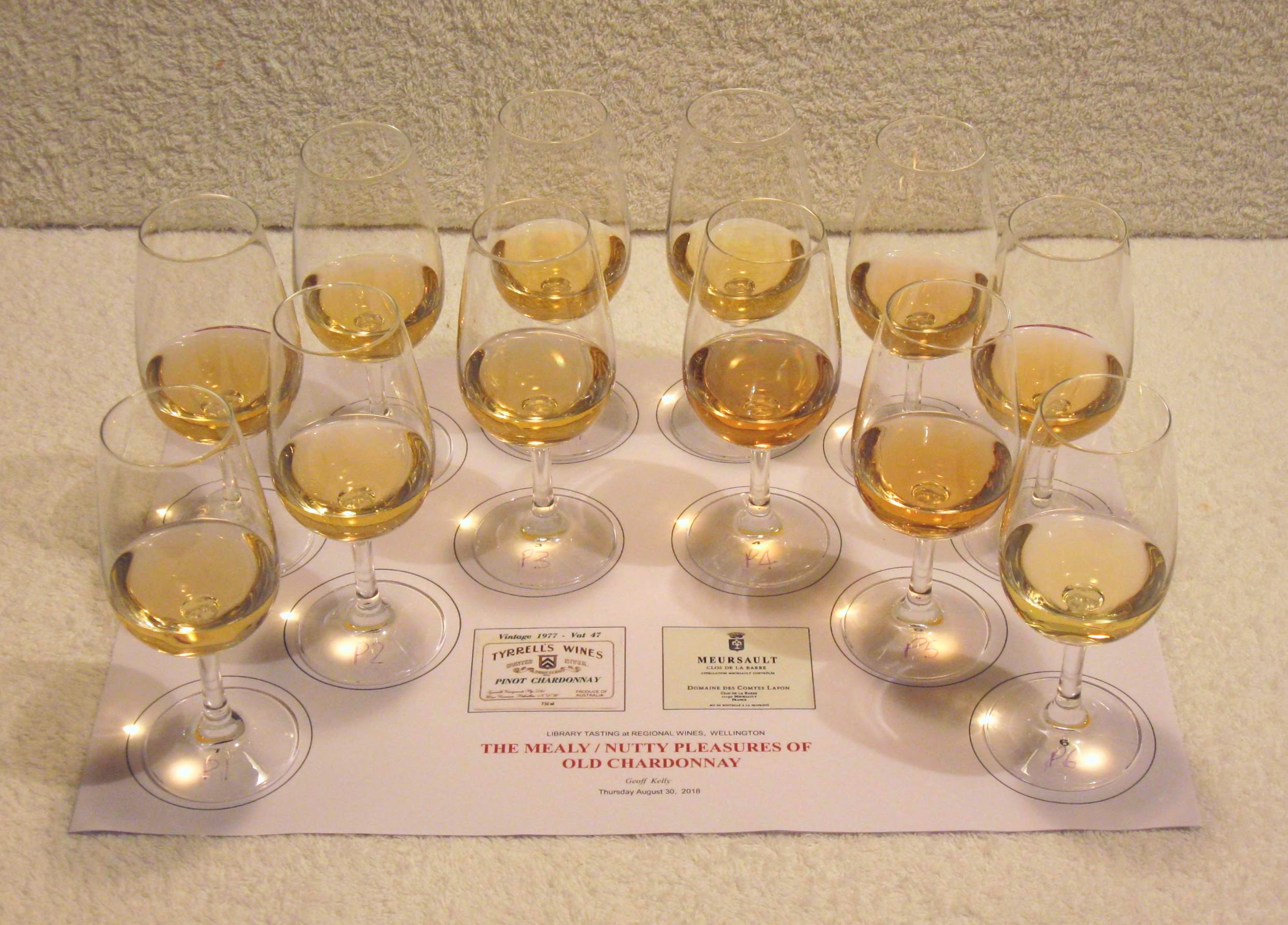 The New Zealand wine market as a whole is so pathetically habituated to drinking young, even current release, wine, that any colour at all in whites is regarded with suspicion. This approach simply denies the taster the pleasures of the gloriously complex flavours to be found in wine at maturity. This is particularly the case for a variety such as chardonnay, which when traditionally vinified matures for almost as long as reds. The 12 wines as poured did not too seriously give away the fact their ages ranged from 17 years for the youngest, to 43 years the oldest. Wines 4, 5, 11 and 12 show some or more old gold hue, yet three of them scored 17.5 or more in the quality ranking. Wine 7 is the group favourite, 1996 Bannockburn (Victoria) Chardonnay.
The invitation to the tasting alluded to the smells and flavours of lees-enhanced chardonnays: oatmeal, cashew, hazel and darker nuts, and we found plenty of these characters. But there was remarkable persistence of stonefruit suggestions, though rather more dried than fresh, with the better wines still showing wonderful texture, as one hopes for in good white burgundy. All these wines would have been good or better with the right food, whether just nuts unadorned, or less sweet baking such as anzac biscuits, or many chicken, veal or pork dishes, especially those with milk involved in the preparation. To those who have the length of experience to appreciate and enjoy old fully mature chardonnay, it was no trouble to initially rate all 12 of these wines at least bronze medal in level. And the best of them quite amply illustrated the wonderful and diverse ways in which great chardonnay can with age develop an enchanting complexity and depth of flavour, flavours which linger long after the reluctant swallow.
The appreciation of old wine is a good deal more individual and to a degree idiosyncratic than the evaluation of young wines, where there are more conventionally-defined parameters to measure against. Thus it is only to be expected that there would be considerable diversity of view as to which was the 'best' wine or wines. From the presenter's point of view, it is simply a thrill to record that no less than 10 of the 12 wines had at least one vote as somebody's top or second-favourite wine. And five of the wines had five or more votes for first place or second place. This is a great result.
In this Library Tasting, four of my five top wines were also endorsed by the group as a whole. For the fifth, I favoured the more classically-styled Giaconda, but the lush Hawkes Bay wine Coniglio (not shown) had its supporters. From the left: 1995 Eyrie Vineyards Chardonnay from Oregon could easily have been from Burgundy, 18.5; 2001 Giaconda Chardonnay from Victoria likewise showed French styling, in a more massive way, 18 +; 1994 Leeuwin Estate Chardonnay Art Series had all the magic of clone mendoza, beautifully raised, 18.5 +; 1982 Comtes Lafon Meursault Clos de la Barre exemplifed the concept 'mealy' Meursault, but was a little impaired by the cork, 18 +; and the most popular wine, 1996 Bannockburn Chardonnay was a model of mature flavours, balance and harmony, 18.5 +.
Reflections on Chardonnay the grape and the wine:
Michael Broadbent, 1980
, on [ Chardonnay ] White Burgundy:
White burgundy reflects the perfect union of grape variety, soil and climate and, at its best, epitomizes the summit of the winemaker's art: a dry wine that satisfies the palate with subtle flavour, gentle persistence and perfection of finish. ...
and relative to the
Tasting Notes
for the White Burgundy chapter:
I have been far more selective than I was with the reds ... That I bother to quote quite a few old vintages demonstrates how well many of the really good dry whites keep and how, like old champagne, they develop a style of their own which can delight the open minded, even if our French friends consider this yet another example of a
vice anglais
, an eccentric aberration bordering on necrophilia.
Jasper Morris, 2010:
And then there is Jasper Morris, MW, writing in his wonderful book
Inside Burgundy
, who sums up to perfection what chardonnay should be, as opposed to the extraordinary verbiage of so many contemporary New World winewriters so little versed in the classical wines of the world:
Chardonnay:
By the end of the 20th century this marvellous grape had become more or less synonymous with white wine, to the great detriment of its reputation. So much modest, mass-produced wine made in whole or in part from Chardonnay had flooded the world market, the lack of genuine fruit often hidden behind an overlay of oak flavours, that noble versions were devalued in the eyes of a Chardonnay-weary world.
... But Chardonnay is, for many, the finest white grape of all, and Burgundy potentially the outstanding location for growing it. ...
Character of Chardonnay:
New World Chardonnays frequently incite descriptors of tropical fruits, the wines weighed down by a surfeit of mangos, pawpaws, ripe melon, pineapple and kumquat notes. I have not really understood why winemakers using such notes on their back labels would imagine anyone would want these flavours in a glass of wine. In any case, they are rarely to be found in Burgundian Chardonnay.
Essentially, Chardonnay is non-aromatic and full-bodied. ... There is no reason why the Chardonnay wines of Burgundy should not be powerful wines, since power does not preclude finesse and complexity. All that needs to be avoided is the production of over-alcoholic or slightly sweet, clumsy and heavy examples of white burgundy.
Invitation to this Tasting:
By way of scene-setter, the incomparable Hugh Johnson on chardonnay, in his book
Wine
, 1966: A friend of mine is a typical grower in Meursault ... I once asked him about the keeping qualities of Meursault. Before I could stop him he had found a bottle of his wine of 1929, unthinkably old from a commercial point of view ... Time had done nothing but round off its formidable qualities into a beautifully polished prism of scent and taste ...
This is a special tasting, not so much of great bottles but of interesting ones. It is designed for genuine wine-lovers, those who love old wine as much as young ones, those who approach a wine seeking virtues, rather than faults.
Happily there are quite a number of such people, for this Library Tasting sold out in 20 hours. And perhaps there are more overseas, for
wine-searcher
indicates values exceeding $400 for one of the older bottles, and over $100 for quite a number ... wines which as Hugh Johnson notes above, are impossibly old in a conventional market sense. But yet, there is this thought, that the hallmark of really good wine is that it ages gracefully.
A point to note for the Australian wines (which include some of their best) is that some (but not all) see no MLF ... which keeps them fresher. But even without the MLF fermentation, the extended lees contact for the good ones should produce both enhanced body to age on, and satisfying aromas and flavours reminiscent of oatmeal, cashew and brazil nuts. In wines that have darkened a little, there may be hazelnut and sometimes even a touch of walnut flavours, where oak use has been too enthusiastic. With luck there will still be some signs of stonefruits too ... even if in some the peaches will be more akin to dried or glacé ones than fresh-off-the-tree.
So join us for a little adventure in wine, for, given the price of present-day quality chardonnays, you only need to find one wine that is memorable for you, for the tasting to be justifiable. Worth commenting that the Giaconda Chardonnay from Beechworth, Victoria, was $160 at release on the shelf, in New Zealand, so not many will have tasted that.
Acknowledgements:
this narrative benefitted greatly from discussion with Dr Andrew Moore, of Otago University,
References:
Broadbent, Michael 1980:
The Great Vintage Wine Book.
Mitchell Beazley, 432 p.
Broadbent, Michael 2002:
Michael Broadbent's Vintage Wine.
Harcourt, 560 p.
Broadbent, Michael 2003:
Michael Broadbent's Wine Vintages.
Mitchell Beazley, 223 p.
Cooper, M. 2001 – 2003: successive years,
Michael Cooper's Buyers Guide to New Zealand Wines.
Hodder Moa Beckett.
Halliday, James, 1985:
The Australian Wine Compendium.
Angus & Robertson, 576 p.
Johnson, Hugh 1966:
Wine.
Thomas Nelson, 264 p.
Langton's Vintage Chart:
www.langtons.com.au/media/pdf/VintageChart.pdf
Morris, Jasper MW, 2010:
Inside Burgundy.
Berry Bros & Rudd, 656 p.
www.jancisrobinson.com
= Jancis Robinson MW and Julia Harding MW, subscription needed for reviews
www.erobertparker.com
= Robert Parker and Jeb Dunnuck, vintage chart, subscription needed for reviews
www.winespectator.com
= vintage chart, subscription needed for reviews
---
THE WINES REVIEWED:
All 16 wines opened for the Library Tasting are included, to add perspective. Those excluded are marked with an asterisk. Few current values can be included, since
wine-searcher
is as blinkered as many other wine people about old chardonnay, and rarely lists them. In vintage order the wines are:
1975 Cuvaison Chardonnay
1979 Buena Vista Chardonnay Heritage *
1980 McWilliams Chardonnay
1982 Dom. Comtes Lafon Meursault-Charmes 1er Cru *
1982 Dom. Comtes Lafon Meursault Clos de la Barre   
1984 Mount Mary Chardonnay *
1984 Yarra Yering Chardonnay
1985 Tyrrell's Pinot Chardonnay Vat 47 *


1994 Penfolds Chardonnay Bin 94A
1994 Leeuwin Estate Chardonnay
1995 Eyrie Vineyards Chardonnay Reserve
1996 Bannockburn Chardonnay
1998 Kumeu River Chardonnay Maté's
2000 Morton Estate Chardonnay Coniglio
2001 Giaconda Chardonnay
2001 Dry River Chardonnay Amaranth


And in country / alphabetical order:
AMERICA:
1979 Buena Vista Chardonnay Heritage *
1975 Cuvaison Chardonnay
1995 Eyrie Vineyards Chardonnay Reserve          
AUSTRALIA
1996 Bannockburn Chardonnay
2001 Giaconda Chardonnay
1994 Leeuwin Estate Chardonnay
1984 Mount Mary Chardonnay *
1994 Penfolds Chardonnay Bin 94A


1985 Tyrrell's Pinot Chardonnay Vat 47 *
1984 Yarra Yering Chardonnay
FRANCE
1982 Dom. Comtes Lafon Meursault-Charmes 1er Cru *   
1982 Dom. Comtes Lafon Meursault Clos de la Barre
NEW ZEALAND
2001 Dry River Chardonnay Amaranth
1998 Kumeu River Chardonnay Maté's
1980 McWilliams Chardonnay
2000 Morton Estate Chardonnay Coniglio


For the reviews following:
---