LIBRARY TASTING 28 MARCH 2019, at REGIONAL WINES, WELLINGTON
TWENTY YEARS ON: HOW DO THE 1999 CHATEAUNEUF-DU-PAPE & GIGONDAS WINES TASTE IN 2019 ?
Geoff Kelly, MSc Hons
Conclusions:
This was one of those magical tastings where people assembled early, and there seemed to be a palpable excitement evident about the whole exercise. From the presenter's point of view, this is very exciting – you just hope the wines and the presentation fulfill the expectations. Happily on this occasion they did – the follow-up from participants in the next few days exceeded previous experience. And it is always gratifying when winemakers display the interest to attend … and all the moreso right in the middle of vintage. They contributed greatly to the tasting – particularly at the discussion stage, as technical details emerged after the blind tasting.
Tasters commented particularly on the volume of bouquet the wines showed, the way the wines just jumped out of the glass, and spoke to you. The freshness and fragrance of many of the wines, at 20 years of age, appealed widely … as did the thought of having them with appropriate meals. Perhaps the most gratifying aspect of the whole presentation was the way participants assessed the wines, particularly with respect to the brett component that most tastings of last-century Southern Rhone wines will inescapably display. Tasters noted the presence of brett as a complexity factor in some of the wines, but went on to assess whether the wine was in fact diminished by it … for example, the fruit curtailed.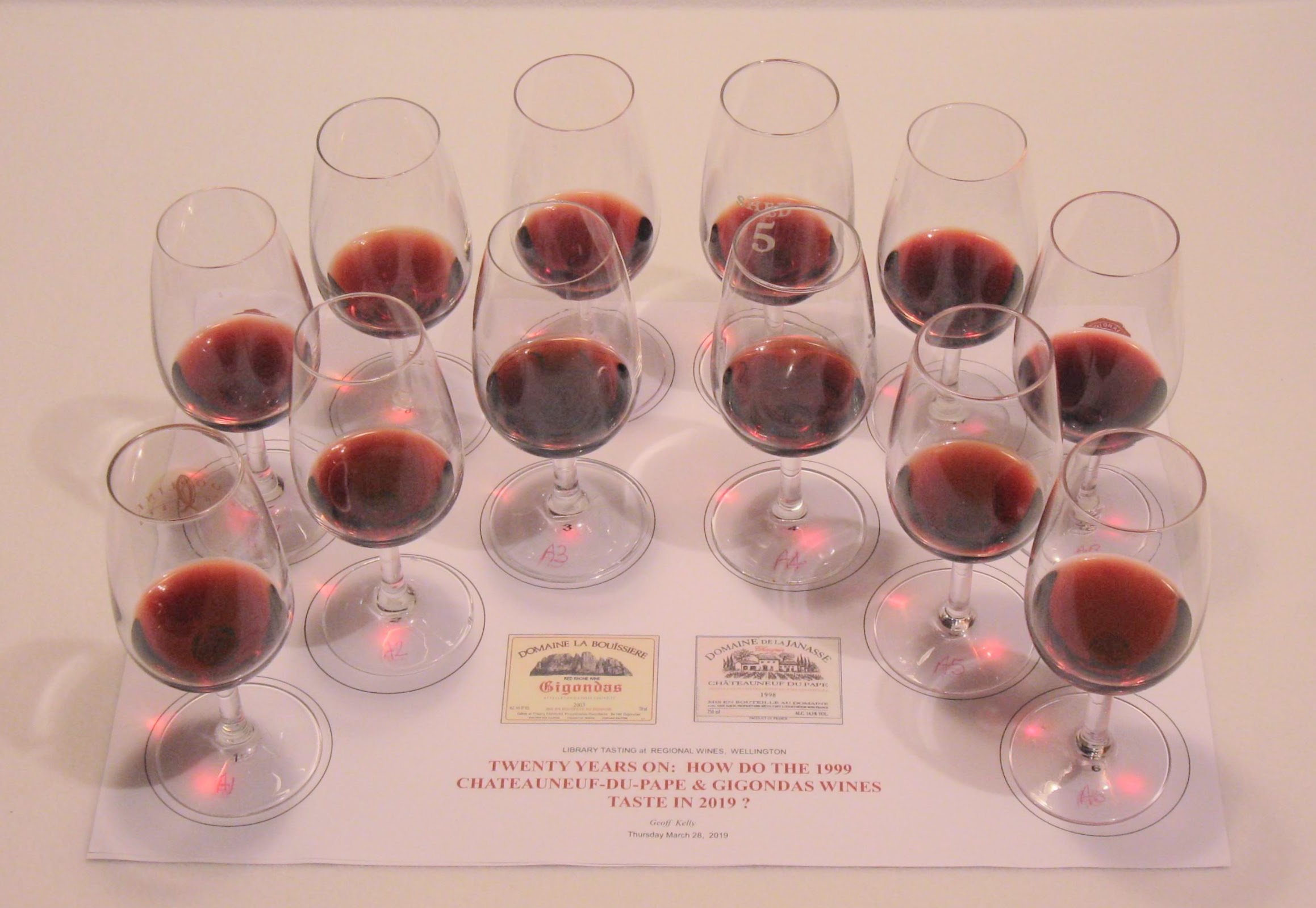 The glasses presented an enticing sight. Even just sitting there, once poured the 22 sets made the tasting room smell delightful. Numbering in two arcs from the front left, wine 8 shows the lighter colour of an all-grenache cuvée, wine 12 the darker vibrant hues of a high percentage of mourvedre. As is often the case with more burgundy-styled wines, there was not a great correlation between ranking and depth of colour, wine 9 for example, Clos des Papes, being one of the lighter colours, but one of the top wines.
In general, the wines suggested that 20 years is a delightful point at which to drink good Gigondas and Chateauneuf-du-Pape Southern Rhone Valley wines. None of the wines was fading, and indeed several still had noticeable tannin to lose, and softening and charm still to emerge. And it was near-impossible to identify which were the Gigondas wines, and which were the Chateauneuf-du-Papes, at the blind stage. One long-experienced taster from Victoria University of Wellington came to the tasting with this specific 'it would be fun if ...' goal in mind, but conceded defeat.
The Invitation:
1999 is an interesting year in France,  a year of moderation after the hot-year and often tanniny wines of 1998.  In Burgundy 1999 is rated 
92
 – juicy, rich and vibrant – by 
Wine Spectator
,  whereas in the Northern Rhone Valley their rating is 
96
 – silky vintage with stunning quality for Cote-Rotie.  In the Southern Rhone Valley however,  their conclusion is a little less than Burgundy,  
90
 – Syrah- and Mourvèdre-based wines offer lovely balance and length; Grenache-based wines less successful. 
So for all those who think the 1998s in the Southern Rhone Valley (
Wine Spectator,  97
) are a bit big and ripe,  or tanniny,  then the lighter,  more supple 1999s should have much appeal.  The only caveat to mention is,  at that time,  a measure of brett was frequent in many of the wines of these districts,  so if you are hypersensitive to the savoury,  fragrant qualities of even a measured brett component,  this tasting might not be for you.  Happily,  many people find a little brett part of the wonderfully food-friendly appeal of Southern Rhone Valley wines.   
There is a certain symmetry in checking out the 1979s at their 20-year point … an age when most Chateauneuf-du-Pape wines are considered to be approaching maturity.  But we can add to that symmetry by having half the tasting from the second great appellation of the Southern Rhone Valley,  Gigondas,  to match the six wines from Chateauneuf-du-Pape.  For most Gigondas wines,  20 years should be clearly full maturity.  In effect this will mean that the red (and some black) berry characters and hints of aromatic garrigue complexity of youth will now be fully melded into complex,  savoury,  mouth-watering wines with some mellow autumnal hints,  wines crying out for protein-rich meals. 
Robert Parker on the Southern Rhone Valley district, and 1999:
In the English-speaking world, Robert Parker had by the turn of the century accumulated almost unmatched knowledge of the wines of the Rhone Valley. Only John Livingstone-Learmonth in Great Britain compared. The only caution needed in adopting Parker's views is, at that stage he was still quite enamoured of brett (more below) in wines, whereas in parts of the world more influenced by the science of wine, essentially Australia, brett was becoming a no-no. In
Parker's Wine Buyers Guide Sixth Edition, 2002
, he comments: I have been visiting France professionally as a wine critic for twenty-two years, and have never seen such a quality transformation in a viticultural region as I have witnessed in the Rhone Valley over the last four or five years. A new, young generation of winemakers has increasingly taken charge of their family domaines. This has resulted in a refreshing new, open-minded approach to winemaking where the goal is simple - high quality.
Some of the young men and women Parker lists as changing the face of the Rhone Valley ... [ here, only those relevant to our Southern Rhone Valley tasting, and the text paraphrased ] include: Paul-Vincent Avril at Clos des Papes, Louis Barruol at Saint Cosme, Laurent Charvin at Dom Charvin, Christophe Délorme at Dom La Mordorée (now deceased), Laurence Féraud at Dom Pegau, Yves Gras at Santa Duc, Christophe & Isabelle Sabon at La Janasse, and Sophie and Karine Armenier at Dom Marcoux. In other words, over half our wines are considered by Parker to be showcase wines for the Southern Rhone Valley. Exciting, even with a little brett.
For the district as whole in 1999, Parker considers: This excellent vintage will be simply over shadowed ... [ by 1998, 2000, 2001 ] ... Fine ripeness was achieved in all varietals, with mourvedre and syrah performing better in 1999 than in 1998 ... Elegance and balance are the operative words to describe the Southern Rhone's 1999s, a vintage that will get better press as it evolves.
To complement Parker's views, Antonio Galloni at
Vinous
considers: In the South … crop levels were lower in '99, but the growing season and harvest conditions were not so ideal as those of the previous year, and rain in mid-September affected some later harvesters. Numerous producers mentioned that careful elimination of less-than-ideal fruit was critical. While grenache was not quite as splendid as in the previous year, 1999 was an excellent vintage for later-ripening syrah and mourvedre. So there is good agreement.
Traditional vs Modern elevation:
An intriguing detail for the Gigondas wines within the tasting is the opportunity to compare alternative oak handlings. For 1999 Domaine La Bouissiere Gigondas and 1999 Domaine La Bouissiere Gigondas Le Font du Tonin, and for 1999 Domaine Santa Duc Gigondas and 1999 Domaine Santa Duc Gigondas Prestige des Hautes Garrigues, in each case the second more specifically named variant is the 'modern' version with elevation in a percentage of new oak. The standard wine tends to be the traditional approach, raised in vat and large old wood.  There are comparable trends in Chateauneuf-du-Pape. In youth the difference is obvious – but less so later.
Background information to the Tasting – Vintages in the Southern Rhone Valley:
Only five times in the 47 vintages 1970 – 2016 has Robert Parker / 
The Wine Advocate
 allocated a score of 98 to a Southern Rhone vintage. For 1999 they say
90
.  
Wine Spectator
 Rhone Valley ratings start in 1988. Though they are a bit more conservative,  having allocated 98 once only, to 2010, they have now gone to 97 four times. For 1999 they also say
90
. So 1999 is a good year by any standards, and when one reflects that American sources tend to rate bigger and more alcoholic years more highly, tasters with a more European palate may well find an understated year such as 1999 more to their liking than the numbers suggest. Incidentally, the exciting detail in these ratings is,
Wine Spectator
rates 2016 at
99
, the finest ever. Since these wines are (at the point of writing) just coming into the market-place, it is time to add to one's Southern Rhone cellar.
There is no doubt that 1998 heralds a golden era for the southern Rhone Valley,  with relatively few vintages in the preceding 20 years rating 90 or more (in the American view),  but many reaching that level since.  Yet with the recent strength of the New Zealand dollar,  until the 2015 and 2016 vintages, prices have remained accessible,  for wines of absolute world quality.  The problem now is, the world is discovering the joys of Southern Rhone Valley wines. It will be harder to find comparative tastings like this 1999 one, for the 2015 and 2016 vintages.
Table 1:
The better Southern Rhone Vintages of the last 47 years, compiled from
Broadbent
(B, to 2002),
Parker
(rated 90 or more, from 1970, where T = Tannic / youthful, E = Early / accessible, I = Irregular, and C means Caution, may be too old),
Wine Spectator
(WS, 90 or more, from 1988), and
John Livingstone-Learmonth
(J.L-L, for additional detail):
YEAR
 Broadbent  
 Wine Advocate  
Wine Spectator
Summarised comments
1970
 ****  
 –  
 –  
B: excellent in south, rich and well-balanced
1971
 ****½  
 –  
 –  
B: low acid, not kept quite as well
1978
 *****  
 97R  
 –  
B: best since 1911, big, tannic, rich; J.L-L reference year
1983
 *****  
 87C  
 –  
B: excellent, rich, concentrated, hard tannins have softened
1985
 *****  
 88R  
 –  
B: outstanding reds, rich, long-lasting
1989
 ****½  
 94T  
96
B: rich complete reds; WS: powerful concentrated reds, round tannins
1990
 *****  
 95E  
95
B: less aromatic than 1989, powerful, promising; WS: massive wines, great concentration
1995
 ****½  
 90T  
90
B: comparable with 1990; WS: tannic reds, Chateauneufs improving beautifully
1998
 *****  
 98E  
97
B: best since 1990; WS: dense, rich, superb grenache, ripe tannins
1999
 ****½  
 90E  
90
B: south less than north; WS: syrah and mourvedre wines better than grenache
2000
 – 
 98E  
94
WS: powerful rich ripe reds with silky tannins
2001
 –  
 96T  
92
WS: great vintage with structured racy reds in Chateauneuf
2003
 –  
 90I  
93
WS: very hot dry year, best superb, some inconsistency
2005
 –  
 95T  
97
WS: great concentration, structure, should rival '98 and '90
2006
 –  
 92R  
93
WS: ripe, pure, balanced, fresh, like 1999 but more concentrated
2007
 –  
 98E  
95
WS: ripe rich powerful reds, some grenache over-ripe, mourvedre key for balance
2009
 –  
 93E  
94
WS: Warm dry year, cool nights retained acid, pure fruit and polished tannins
2010
 –  
 98T  
98
WS: Reduced crop, warm days, cool nights, beautifully ripe racy wines for aging, the spine of '05 with extra flesh
2012
 –  
 92E  
93
WS: small crop, grenache year, ripe flavours, well-balanced
2015
 –  
 93T  
97
WS: best since 2010, powerful; J.L-L: a very good vintage, but not on a par with 2010 ... though Gigondas excelled
2016
 –  
 98E  
99
WS: Exceptional diurnal variation, truly rare vintage. J.L-L: 2016 is an exceptional vintage at Chateauneuf-Du-Pape, and is very good indeed elsewhere ... superior to 2015.
                                                               www.geoffkellywinereviews.co.nz
Cepage:  the Main Grapes:
The main red grapes of the district are grenache,  syrah,  mourvedre,  vaccarese, counoise, cinsaut and carignan.  Some appellations permit whites in the red.  Few winemakers use them.  Grenache is far and away the dominant and traditional variety of the region.  It is thin-skinned,  is characterised by aromas of raspberry and cinnamon,  and in a sense produces a kind of spirity pinot noir.  Unlike pinot noir,  it hides alcohol freakishly well,  such that wines up to 15% may be quite acceptable.  Either syrah or mourvedre is the next most important in quality terms.  Both add darker berry notes and complexity,  and (from syrah) perhaps hints of black pepper / spice though the climate is against the more subtle floral and aromatic characteristics of syrah.  Mourvedre is more finicky,  and harder to ripen,  but in the great years is the more noble of the two in this district,  particularly in its tannin structure.  Wines with a higher percentage of mourvedre cellar well.  Of the lesser varieties,  vaccarese is floral and aromatic at best, counoise can contribute acid, cinsaut is a pretty, pale, early-maturing variety reminiscent of pinot meunier (and widely used for rosé),  while carignan is a robust productive well-coloured grape making hearty wines which are great in youth, but don't age well.  Its best use is in
vin de pays
and the like.
Wine style, and Buying:
The big challenge for the antipodean wine-lover is to find clean wines.  Traditionally French winemakers and European winewriters have to varying degrees been blind to sulphides,  which even in small amounts have the unfortunate effect of making the whole wine dumb.  This is exacerbated by many wines being made and held in concrete vats,  where aeration is difficult.  Nowadays,  switched-on winemakers (and winewriters) are much more conscious that these Southern Rhone grapes are gloriously fragrant when neither over-ripened,  or reductive.  The goal is to find wines redolent of floral notes such as sweet william / carnations / wallflowers / dark roses,  lavender,  rosemary (the so-called 'garrigue' note) sometimes with a touch of cinnamon spice (from grenache) or white or black pepper spice (from syrah).
Many wines are still made in concrete,  a number now in stainless steel,  supplemented by big old wood.  The trend now for some is to be 'modern', with varying use of new oak. The varieties scarcely need it,  due to their intrinsic tannins – especially in mourvedre.  All too often,  the Reserve bottlings with more new oak are intrinsically less fragrant and complex wines than the straight ones,  but appeal to the American market where bigger, more obvious and heavier is favoured over lighter and more beautiful.  The point of including the twinned pairs of Gigondas wines is to see essentially the same cepage raised in vat and big old wood in the standard Gigondas, whereas for the 'prestige' labels some of the wine is raised in small oak, including some new.
The other factor to be on the lookout for is our fragrant wild-yeast friend
Brettanomyces
, brett for short, which traditionally has been a part of the bouquet complexity in many Southern Rhone wines. This is due to the prevalence of old oak, and the reluctance of many proprietors to sterile-filter to bottle. The latter approach was mistakenly strongly endorsed by Robert Parker, before he became attuned to brett in wines. There are two key issues about brett: The first is that no two bottles in a case will be the same, unless the wine has been sterile-filtered, so do not give up on your resource, because one bottle is a bit too bretty. And the other is, some people are hyper-sensitive to brett, and like to make a fuss about it. All too often this can detract from the pure enjoyment of the wine by more tolerant tasters. The simple fact is, most people like a little bit of savoury brett complexity in wine, and it makes the wine superb with mains course foods.
References:
Broadbent,  Michael  2002:  
Michael Broadbent's Vintage Wine.
 Harcourt,  560 p.  
Broadbent,  Michael  2003:    
Michael Broadbent's Wine Vintages.
 Mitchell Beazley,  223 p.  
Karis, Harry 2009:  
The Chateauneuf-du-Pape Wine Book.
Kavino, 488 p.
Parker,  Robert  1997:   
Wines of the Rhone Valley.
 Simon & Schuster,  685 p.
Parker, Robert 2002:  
Parker's Wine Buyers Guide Sixth Edition.
  Simon & Schuster,  1,648 p.
ww.drinkrhone.com
=  John Livingstone-Learmonth, J. L-L below, subscription needed. Invaluable detail.
www.jancisrobinson.com
= Jancis Robinson MW and Julia Harding MW, subscription needed for reviews
www.robertparker.com
= Robert Parker and Jeb Dunnuck, vintage chart, subscription needed for reviews
www.winespectator.com
= vintage chart, subscription needed for reviews
---
THE WINES REVIEWED:
'Prices' shown below are the current 
wine-searcher
value. Note these are often an indication only, since 1999 is considered unrealistically 'old' (by them), for Gigondas particularly … but for both appellations. Bizarre. The absence of comment from Jancis Robinson reflects the fact that she and her fellow tasters rather overlooked the Southern Rhone, till this century. Livingstone-Learmonth therefore provides the essential English viewpoint. Where known, the original purchase price is in the text.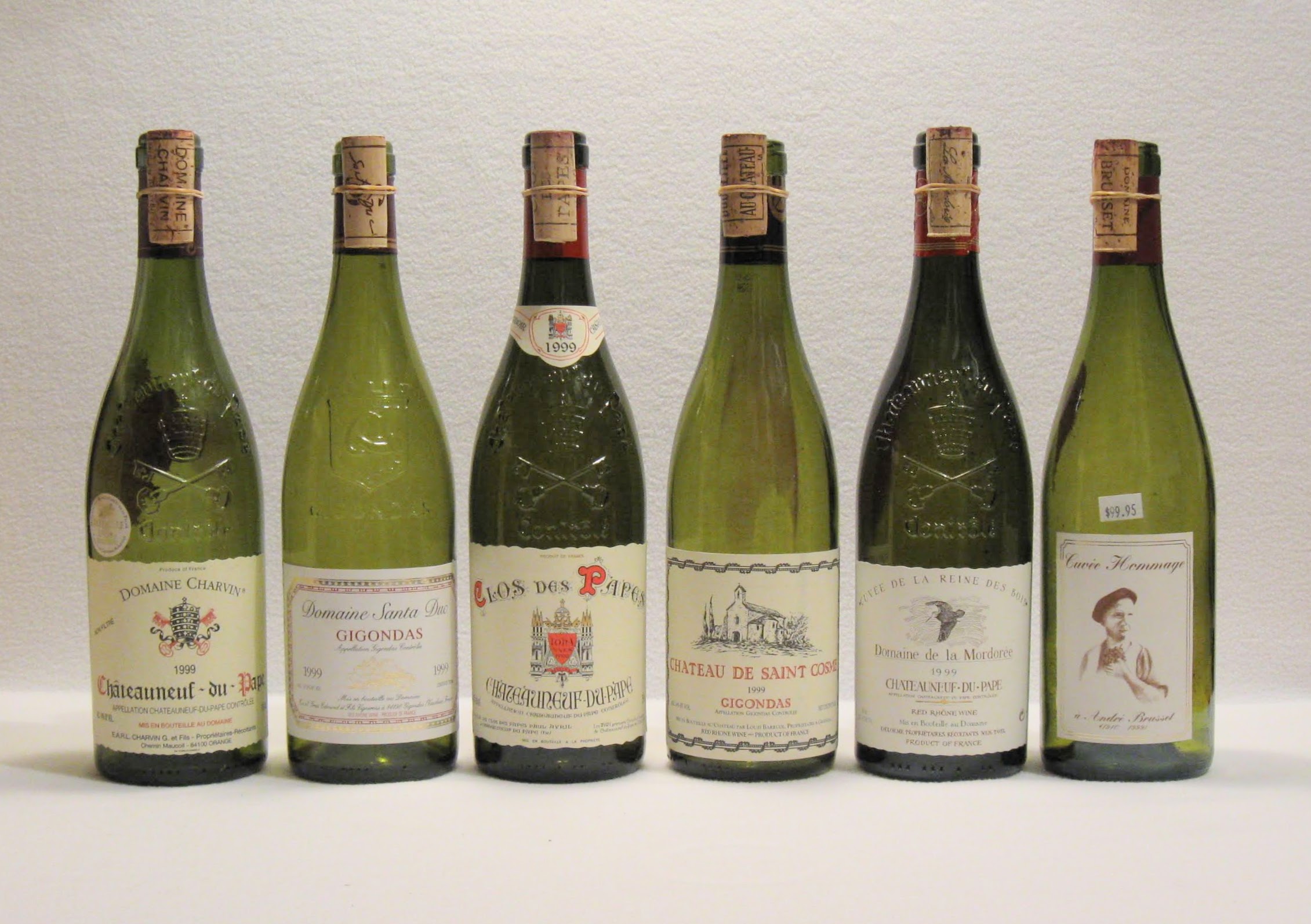 The top six wines of the tasting. From the left: 1999 Domaine Charvin Chateauneuf-du-Pape, very different from the others, a near-Cote-Rotie floral bouquet and fresh palate bespeaking a whole-bunch approach, 18; 1999 Domaine Santa Duc Gigondas, a more traditional winestyle, 18; 1999 Clos des Papes Chateauneuf-du-Pape, soft, burgundian, almost succulent, 18.5; 1999 Chateau de Saint Cosme Gigondas, beautiful modern wine again with whole-bunch fragrance and complexity, a little deeper than the Charvin, 18.5; 1999 Domaine de la Mordorée Chateauneuf-du-Pape Cuvée de la Reine des Bois, supremely fragrant and subtle modern Chateauneuf, 18.5 +; and 1999 Domaine Brusset Cairanne Hommage a André Brusset, amazingly youthful and fresh, showing great richness and depth, 19.



---