EVALUATION TASTING, MAY 2019, WELLINGTON
2016 IN THE SOUTHERN RHONE VALLEY: Pt 2, MOSTLY WINES FROM MAISON VAURON, AUCKLAND
Geoff Kelly, MSc Hons
Scene-setting:
When the 2010 Southern Rhone red wines were released,  Andrew Jefford in
The World of Fine Wine
(2014),  quotes Rhone authority
John Livingstone-Learmonth
as saying the 2010 vintage in the Southern Rhone valley is:  "close to the legendary 1978 at the same stage of its life." Now, with the release of the 2016s,
 Livingstone-Learmonth
and others are comparing the quality of this vintage with 2010. Assembling various assessments by
Livingstone-Learmonth
,  he is (in effect) saying that the four great vintages in the Southern Rhone Valley in the last 40 years are 1978,  1990, 2010, and 2016. For those vintages, I would suggest the 1990s tend to be warmer in style and less fresh than the other three.  The 2016 Southern Rhone wines can therefore be thought of as among the best three vintages in the last 40 years.
The quality of the 2016 vintage in the Southern Rhone Valley:
As above,
John Livingstone-Learmonth
has been studying the wines of the Rhone Valley since the 1970s. He truly knows wine quality, when he finds it. Consider his further thoughts, expressed in his inimitable style (paraphrased):
"2016 is a fabulous vintage at Châteauneuf-du-Pape … a dazzle of pleasure to the eye and to all the senses. The wines are full of bounty, are aromatic, possess certain content, ripe tannins, and, hallelujah, are BALANCED … 2016 aligns itself with 1978 more than 1981, and notably with 1990, which was a sun-filled vintage with a high yield, just like 2016. However, winemaking was more rudimentary in 1990 … This is therefore a vintage that will give enormous amounts of pleasure and will live extremely well."
Livingstone-Learmonth goes on to quote some of the leading winemakers in the district. This provides a wonderful insight into why this vintage is so good:
•
Louis Barruol
of
Ch Saint Cosme:
"For me, 2016 here resembles 2010. The balance is super, and the wines are more openly fruited than 2015 … the 2016s have better balance and structure … they have ripeness, a lot of freshness, good texture, architecture, and come without a high degree."
•
Francois Perrin
of top Chateauneuf-du-Pape
Ch Beaucastel:
"2016 is juicy, on fruit, ripe fruit without excess. It is a Grande Vintage – everything is good. It's among the top years of Beaucastel – 1989, 1990, 1978."
•
Vincent Avril
of
Clos Des Papes
, perhaps the leading challenger for the top wine of the district: "the pHs were very, very good in 2016, which was an advantage, and the tannins are very ripe. The pH is often 3.80 to 3.90, but this year it's 3.70; it's superior to 2010's, by the way."
And for another English view,
Matt Walls
in
Decanter:
"I've tasted nearly 1,500 wines from the 2016 vintage, and it's clear that this is a very good year in the northern Rhone – and truly great in the South."
And for an American view:
James Molesworth
,  
Wine Spectator
, referring to the Southern Rhone Valley specifically: "I've now tasted 15 vintages in the region's cellars,  and 2016 is hands down the best young vintage I have seen." But he also quotes Southern Rhone Valley wine consultant and specialist
Philippe Cambie
, who consults to many wine-estates in Chateauneuf-du-Pape and the wider district: "2016 has tannin, fruit, freshness and power … It's the best vintage of my life."
And
James Suckling
, formerly of
Wine Spectator
, now running his own wine website, considers: "I tasted almost 500 wines ... the Chateauneufs 2016 are quite simply the best wines this region has seen in a very long time. The overcooked fruit, the excessive extraction and the obsession with excess seem to be over for most producers."
For a more partisan view, the
Syndicat de Gigondas
states: "The 2016 vintage was truly unique, with perfect climatic conditions for our Rhône varieties and an exceptional harvest. ... First tastings indicate that this will be an exceptional vintage, with pronounced aromatic intensity, great concentration, perfect balance and good structure thanks to the perfectly ripe tannins."
A more detailed examination of why the 2016 Southern Rhone Valley red wines are so exciting in 2016, comes from
Catherine Petrie,  MW
, of Justerini & Brooks (UK). She writes in November, 2017 (but I have added the sub-sections):
"What marks the 2016s apart is three key elements:
# the first, and most significant, is the density and opulence of fruit richness. I do not mean heady alcohol and heavy body here, I mean intensely rich, luxurious flavours. '
# This richness is matched by the second defining element: supple, melting tannins. In many cases the 2016s have equally high (sometimes even higher) tannic content compared with the 2015s, but their profile is distinctly different. These are small, sweet, silky tannins, where the 2015s had an edge of firmness and structure (meaning the Syrahs from that vintage, in particular, may require some time).
# The third component is their energy and freshness. The long, late growing season with warm autumn days and cool nights aided the development of phenolic ripeness (silky tannins and rich colours) alongside retention of vibrant acidity and low pH.
These three elements combined have a dual result: the wines have the classic elements for a long development, but they are also strikingly accessible and approachable in their youth."
For a final thought on the 2016 red wines of the Southern Rhone Valley, back to
John Livingstone-Learmonth:
"... it is right to rejoice in the mighty bounty of a vintage such as 2016. THESE YEARS DO NOT COME ALONG LIKE LONDON BUSES – THREE AT A TIME! Balance and harmony, and deep filling - it's as much as one can wish for, so these wines should be stocked somewhere in your cellar ..."
The tasting:
Following on from my first batch of 2016 Southern Rhone wines evaluated (report
here
), I consulted some importing merchants to see what other wines are available in New Zealand. Both Wine Direct (Auckland) and Caro's (Auckland) had a few, but Maison Vauron, founded by Jean-Christophe Poizat and Scott Gray, had a veritable cornucopia of them … by New Zealand standards. After a little thought, and further reading (summarised in the quotations above), it seemed sensible to get a good cross-section of the wines down to Wellington, and review them in a single, carefully-prepared, blind tasting.
For the wines, there is little more that needs to be said, given the views of experienced Northern Hemisphere tasters quoted above. They are much closer to the Rhone Valley than we are, in New Zealand. But it is the freshness and fragrance of these wines that appeals to me. Many of the better ones are clearly floral, as well as being zingy on the the aromatic savoury-herbes garrigue character, which reminds of salvia, lavender, or even rosemary (when a bit strong). The only qualification one needs to make in the more technically-informed southern hemisphere, is that northern hemisphere winewriters rarely attempt to dissect the wine. It is not so much that they suppress information on faults: rather it is that with a few exceptions, they fail to recognise and identify them accurately. This becomes a matter of acute importance in the case of reduction, where rather many people are clearly sensitive to the dulling effects of reduced sulphur in a wine, and don't like such wines, even if they can't say why. For them, wines exhibiting reduced-sulphur characters are a no-no for purchase.
I urge wine-lovers to buy as many of the better 2016 Southern Rhone reds as they can afford. This is an investment in future pleasure – and a virtually guaranteed one. They are wines which will be enchanting with conventional food, notwithstanding that alcohols are higher than in 1978, the great previous vintage a few older reviewers make reference to. For younger tasters, 2010 is the best reference vintage, for those who seek freshness, subtlety, and varietal accuracy and finesse in their Southern Rhone Valley red wines, as opposed to size.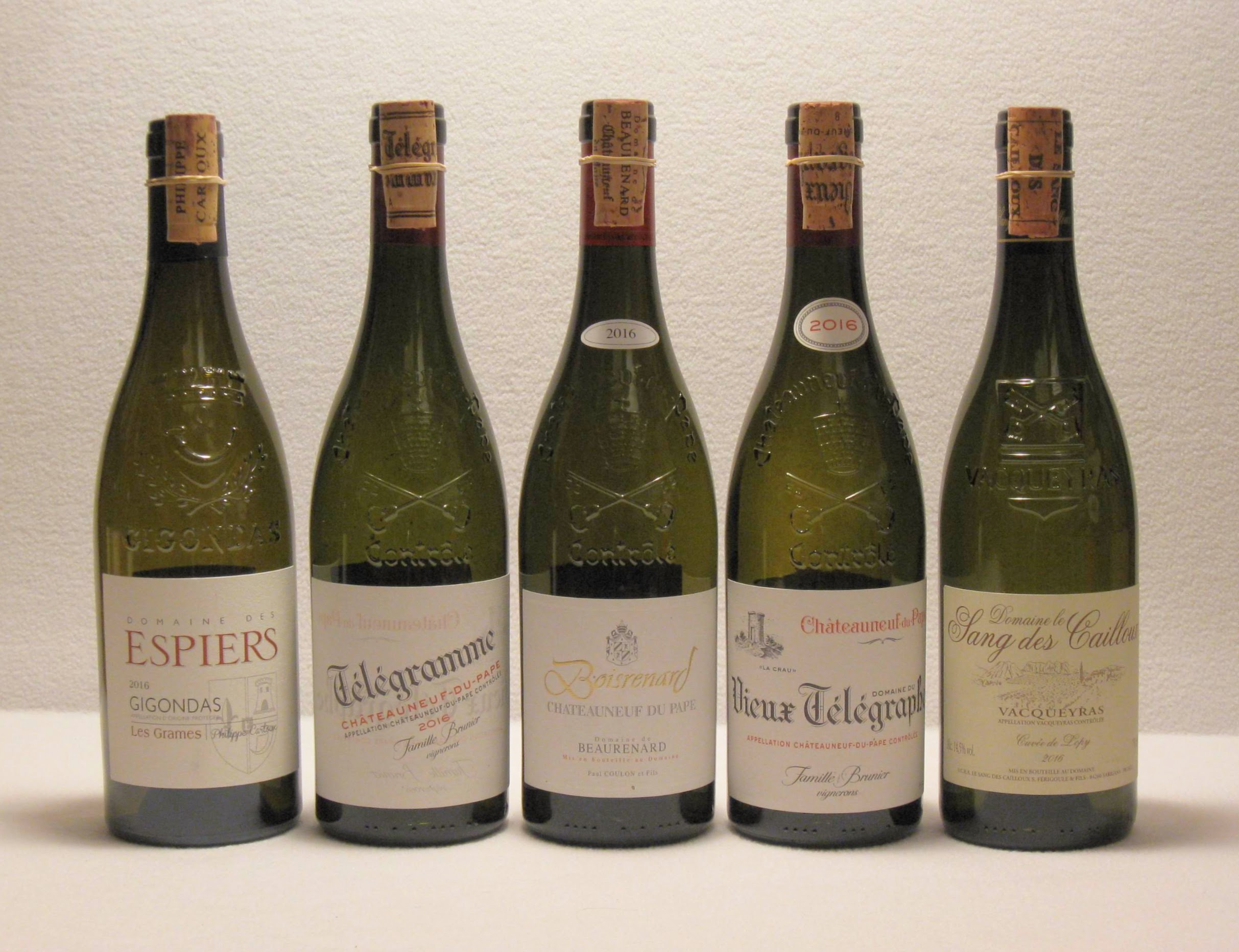 In a world of ever-inflating wine scores, my top wines in this exhilarating tasting genuinely merit gold-medal ranking. They show various facets of the delight to be found in Southern Rhone Valley red wines, in a fresh and fragrant year such as 2016. From the left, 2016 Domaine des Espiers Gigondas Les Grames, superbly fragrant but lighter as befits its higher-altitude location, 18.5; 2016 Domaine du Vieux Télégraphe Télégramme, the in-effect second wine from younger vines, darker and more aromatic than the senior wine, again floral, exquisite purity, 18.5 +; 2016 Domaine de Beaurenard Chateauneuf-du-Pape Boisrenard, a bigger and darker 'reserve'-level wine, and some new oak too, needing significant time in cellar to unfurl, 19; 2016 Domaine du Vieux Télégraphe, much lighter than some earlier Télégraphes, supreme red-fruits fragrance, 19, and 2016 Domaine Le Sang de Cailloux Vacqueyras Cuvée de Lopy, deep, dark and mysterious, darker than I would normally endorse, yet magical, 19.
Acknowledgements & References:
In the reviews below, the brief 'admin' section depends almost entirely on the now-indispensable Rhone Valley reference website:
ww.drinkrhone.com
 =  John Livingstone-Learmonth,  J. L-L below,  subscription needed.  
Supplementary detail has been gleaned from far and wide, but mostly winery websites and:
www.jancisrobinson.com
  =  Jancis Robinson MW and Julia Harding MW,  but the 2016 Southern Rhone mostly Richard Hemming MW. Subscription needed for reviews 
www.robertparker.com
  = Robert Parker and associates,  vintage chart,  subscription needed for reviews 
www.winespectator.com
 = James Molesworth Rhone Valley, vintage chart,  subscription needed for reviews 
---
THE WINES REVIEWED:
The reviews below result from a carefully randomised fully blind tasting. The cepage details given are indicative, averaging recent vintages, not specific to 2016.
---