EVALUATION TASTING, JUNE / JULY 2019, WELLINGTON
2016 VINTAGE IN THE SOUTHERN RHONE VALLEY, Pt 3: REGIONAL WINES, TRUFFLE IMPORTS, GLENGARRY WINES, WELLINGTON
Geoff Kelly, MSc Hons
Eric Asimov, paraphrased, New York Times, 24 January, 2019:

Of the many wonderful transformations that have characterized the last decade in wine, perhaps the most heartening has been the stylistic swing back toward balance and nuance.

This shift comes after a long period in which exaggerated red wine ruled. Ultraripe, jammy fruit bombs – lacking freshness and structure (other than the tannins contributed by new oak barrels) – seemed for too long to epitomize what powerful critics sought and what many producers were all too willing to provide.

These overblown wines surged to become prominent in many different regions, but none more so than Chateauneuf-du-Pape, in the southern Rhone Valley of France.

Chateauneuf has always been a big, powerful, rough-hewed wine, capable of majesty yet always a bit tattered. … I loved its intensity and its complexity. … rustic in the best sense of the word, conjuring up the fragrant wild herbs known as garrigue in Provence and southern France. Somewhere along the way, many Chateauneufs lost that rustic appeal.
Contents:
Introduction:
Main conclusions from the tasting:
Table 1:  The better Southern Rhone Valley vintages of the last '40' years: 
Cepage:  the main grapes of the Southern Rhone Valley: 
The essential Southern Rhone Valley garrigue aroma / complexity factor:  
Caveat re alcohol levels: 
Nett conclusion on the use of oak in Southern Rhone Valley wines: 
Wine style,  and Invitation to the Regional Wines 2016 Southern Rhone Valley Worth Cellaring tasting: 
Background to this tasting and article:
Acknowledgements: 
References: 
THE WINES REVIEWED:
Introduction:
The unusual qualities of the 2016 vintage in the Southern Rhone Valley have been introduced (via a small-scale literature review) in my earlier article:
2016 In The Southern Rhone Valley: Pt 2
. Having been tasting the wines of this district since the later 1970s, I along with many others (as cited in the earlier review) believe the vintage shows an extraordinary freshness, florality, and aromatic zip and charm which is rare in this district.
Having assessed two small batches of 2016s, it seemed important to me to show these wines to other wine people in the Wellington district, as outlined in the section below,
Background to this tasting and article
. That presentation enabled me to prepare a fully blind tasting of 52 wines, which is the subject of this report. A summary tabulation of the better Southern Rhone Valley vintages over the last '40' years is shown in Table 1 below. This has been adapted from similar summaries in my earlier Southern Rhone Valley reviews. It is included again with this review both for completeness, and to provide a context for the 2016 wines. Other sections enlarging on aspects of the wines are shown above, in the Contents.
Main conclusions from the tasting:
Once again, the nett impression of the tasting was the sheer pleasure of the wines, so many wines so fragrant and so dramatically speaking of both their variety / varieties, and their place of origin. They seem to me to match the 2010s. 2016 and 2010 are the two years in current memory best qualified to compare with the magical year 1978, with one reservation: alcohols were definitely lower, back then. But the nett quality in these wines is still great: one could scarcely own too many of them, if one is interested in guaranteeing future pleasure. And they will cellar better than most years, with their often vibrant acid balances. The wines therefore go some of the way to restoring Eric Asimov's former delight in the district, as quoted above.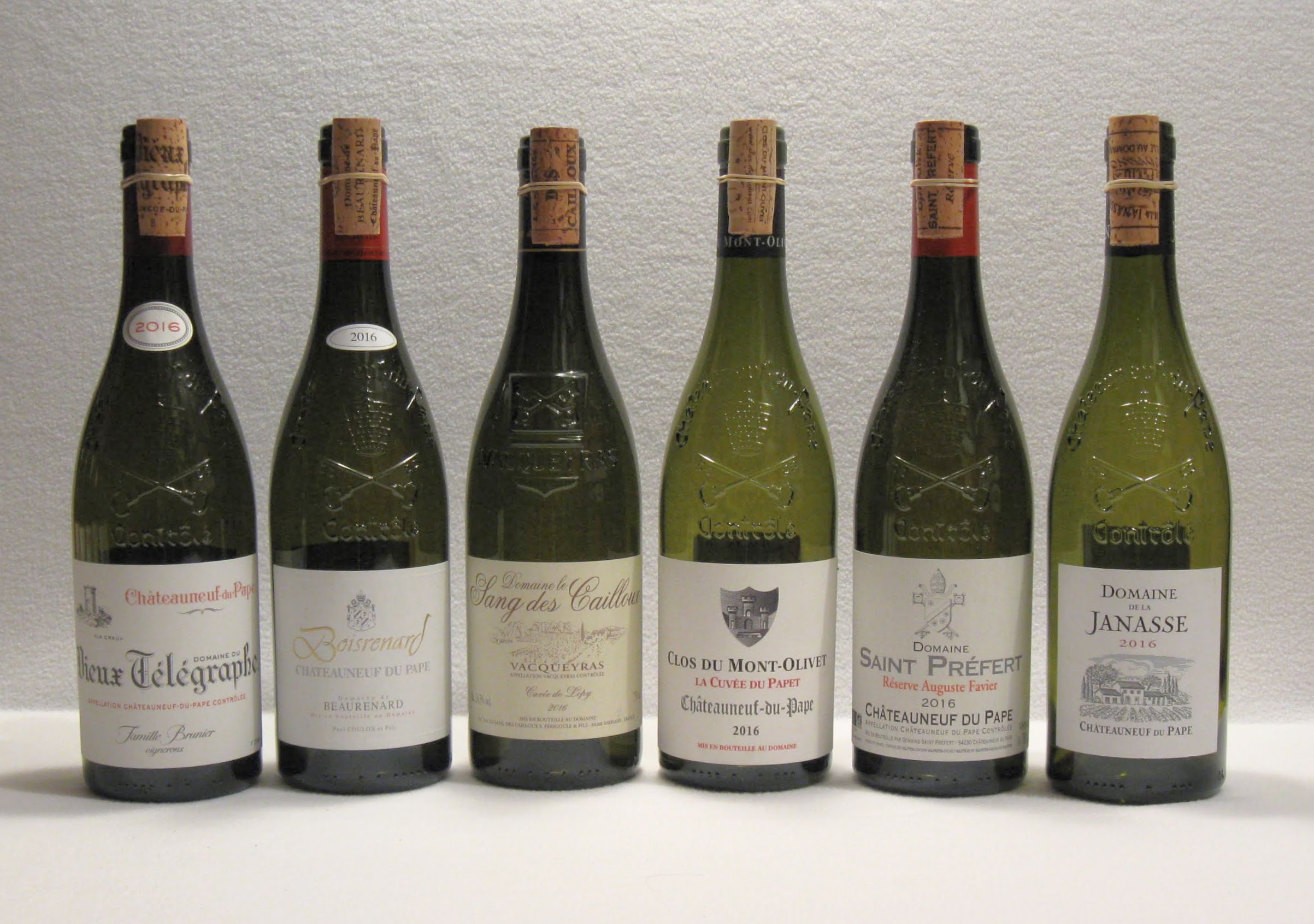 My top six of the 13 wines rated at gold-medal level in this review. From left: 2016 Domaine du Vieux Telegraphe Chateauneuf-du-Pape, the lightest of the 49 reds in colour, subtle, yet supremely fragrant, concentrated, burgundian, 18.5 +; 2016 Domaine de Beaurenard Chateauneuf-du-Pape Boisrenard, a richer and darker wine, succulent, new oak apparent, a 'modern' wine, 19; 2016 Domaine Le Sang des Cailloux Vacqueyras Cuvée de Lopy Vieilles Vignes, the second-deepest wine in colour, but amazingly syrah-floral on aromatic dark fruit, the palate in a sense light, yet long, exquisitely oaked, 19; 2016 Clos du Mont-Olivet Chateauneuf-du-Pape La Cuvée de Papet, unusually aromatic and fragant (with some alcohol showing), very rich on palate, a long-term cellar prospect, 19; Domaine Saint-Préfert Chateauneuf-du-Pape Réserve Auguste Favier, my notes simply say very beautiful wine, extraordinary, 19 +, and the dark horse of the exercise, the standard 2016 Domaine Janasse Chateauneuf-du-Pape, seeming to offer a perfect combination of florals, aromatics, superb berry flavours, great length. One can only speculate as to how the Cuvée Chaupin and the Vieilles Vignes would compare, in this magical year, 19 +,
A pointer to the remarkable quality many of these 2016 Southern Rhone Valley wines display can be gleaned from the fact that,  in this blind tasting of essentially a commercial batch of wines,  13 of the 41 strictly Southern Rhone Valley red wines were marked at gold-medal level, some 31.7%.  That is on my marking scale,  which is stricter than that applying in conventional New Zealand wine-judging and wine-writing.  Such a high percentage of very good wines in a batch like this is unusual,  particularly where many wines are priced well under $100.  All told 52 wines were in the blind tasting,  including three whites. A New Zealand pinot noir and syrah, and a couple of other Rhones, were put in for style reference / calibration / training purposes.  This report covers 49 wines. 
In this assessment,  the wines were in the first and second instance assessed wine to wine,  not with food,  so the high alcohols (which some will find negative, particularly in a food context) are mostly not reflected in the scores. Alcohol levels are considered further in the section titled
Caveat re alcohol levels
. It is hard to avoid the conclusion that the manner of elevation of the wine is critical to perceived quality in the Southern Rhone Valley, wood-matured wines almost always being superior. The role of oak maturation vessels rather than inert concrete or stainless steel for these wines also has its section,
Nett conclusion on the use of oak …
, below. One clear conclusion I have taken away from these 2016s is,  how rewarding it would be to compare the 2010 and 2016 wines,  via a formal tasting with matched  pairs.   
Table 1:  The better Southern Rhone Valley Vintages of the last '40' years:
YEAR
 Broadbent  
 Wine Advocate  
Wine Spectator
Summarised comments
1976
 ** to ****  
 –  
 –  
B: hot dry summer, potentially ripe and concentrated wines, but late Sept. rain reduced cellaring potential
1978
 *****  
 97R  
 –  
B: best since 1911, big, tannic, rich; generally agreed by J.L-L and others to be the current absolute reference year
1983
 *****  
 87C  
 –  
B: excellent, rich, concentrated, hard tannins have softened; GK: later views elsewhere not quite so favourable
1985
 *****  
 88R  
 –  
B: outstanding reds, rich, long-lasting; GK: again, in the context of the 1980s
1989
 ****½  
 94T  
96
B: rich complete reds; WS: powerful concentrated reds, round tannins; GK: in quality terms, the start of a new era for the Southern Rhone Valley
1990
 *****  
 95E  
95
B: less aromatic than 1989, powerful, promising; WS: massive wines, great concentration; GK: but the style inclining to 1998
1995
 ****½  
 90T  
90
B: comparable with 1990; WS: tannic reds, Chateauneufs improving beautifully
1998
 *****  
 98E  
97
B: best since 1990; WS: dense, rich, superb grenache, ripe tannins; GK: too warm for fragrant / floral wines
1999
 ****½  
 90E  
90
B: south less than north; WS: syrah and mourvedre wines better than grenache; GK: the wines attractively mature in 2019
2000
 – 
 98E  
94
WS: powerful rich ripe reds with silky tannins
2001
 –  
 96T  
92
WS: great vintage with structured racy reds in Chateauneuf
2003
 –  
 90I  
93
WS: very hot dry year, best superb, some inconsistency
2005
 –  
 95T  
97
WS: great concentration, structure, should rival 1998 and 1990; GK: high alcohols
2006
 –  
 92R  
93
WS: ripe, pure, balanced, fresh, like 1999 but more concentrated
2007
 –  
 98E  
95
WS: ripe rich powerful reds, some grenache over-ripe, mourvedre key for balance; GK: very high alcohols
2009
 –  
 93E  
94
WS: Warm dry year, cool nights retained acid, pure fruit and polished tannins; GK: but high alcohols
2010
 –  
 98T  
98
WS: Reduced crop, warm days, cool nights, beautifully ripe racy wines for aging, the spine of 2005 with extra flesh; GK: more fragrant than 2009, but alcohols still high
2012
 –  
 92E  
93
WS: small crop, grenache year, ripe flavours, well-balanced
2015
 –  
 93T  
97
WS: warm, dry, then Aug. rain. Reds rich, ripe, powerful, in style of 2009, 2007, but better definition; J.L-L: not on a par with 2010; GK: high alcohols
2016
 –  
 98E  
99
WS: Exceptional diurnal variation, truly rare vintage – the new benchmark. Reds rich yet racy and fresh; GK: 'cooler', more floral / fragrant wines than 2015, but alcohols still high
                                               www.geoffkellywinereviews.co.nz
Table compiled from
Broadbent
(B, to 2002),
Parker
(rated 90 or more, from 1970, where T = Tannic / youthful, E = Early / accessible, I = Irregular, and C means Caution, may be too old),
Wine Spectator
(WS, 90 or more, from 1988), and
John Livingstone-Learmonth
(J.L-L, for additional detail). Some personal thoughts (GK) now added.
Cepage: the Main Grapes of the Southern Rhone Valley:
The main red grapes of the district are grenache, syrah, mourvedre, vaccarese, counoise, cinsaut and carignan. Some appellations permit whites in the red: few winemakers use them. Grenache is far and away the dominant and traditional variety of the region. In the drier zones of the Southern Rhone Valley it is relatively thick-skinned, and its wine is characterised by aromas of raspberry and cinnamon. In a sense the winestyle it produces is a kind of spirity pinot noir, though sometimes more tanniny. Unlike pinot noir, it hides alcohol freakishly well, such that wines up to nearly 15% may be quite acceptable. Either syrah or mourvedre is the next most important in quality terms. Both add darker berry notes and complexity, and (from syrah) perhaps hints of florals and black pepper / spice, though the climate is usually against the more subtle floral and aromatic characteristics of syrah. Mourvedre is more finicky, and harder to ripen, but in its great years is the more noble of the two in this district, particularly in its tannin structure. Wines with a higher percentage of mourvedre cellar well. Of the lesser varieties, vaccarese is floral and aromatic at best, counoise can contribute acid, cinsaut is a pretty, pale, early-maturing variety reminiscent of pinot meunier (and widely used for rosé), while carignan is a robust productive well-coloured grape making hearty wines which are great in youth, but don't age well. Its best use is in
vin de pays
and the like.
The essential Southern Rhone Valley garrigue aroma / complexity factor: 
What is this characteristic aroma that people talk about in the wines of the Southern Rhone Valley ? The term 'garrigue' refers to the low shrubby vegetation of the hills and forelands of the peri-Mediterranean district. Many of the component plants of this scrub have essential oils, which are volatile in hot weather. On particularly hot days, this volatilised oil is in the air, and traces accumulate on grape skins. With the longer skin contact time that red wines undergo in fermentation and cuvaison, traces of these essential oils may carry through to the wine. In general, white wines do not have skin time, and do not show the character. This vegetation type is known as garrigue, or maquis. It is analogous to manuka and kanuka short scrub in North Auckland, in that it spreads over areas formerly forested. When you push through it on a sunny day, bruising some plant cells, there is this wonderful essential oil smell. The Mediterranean zone being drier than New Zealand, however, the vegetation type is now semi-permanent there. Characteristic plants contributing to the fragrant garrigue aroma are:  
rosemary Rosmarinus officinalis
lavender Lavandula stoechas
sage Salvia officinalis
salvia other species of Salvia
thyme Thymus vulgaris 
oregano Origanum vulgare

myrtle Myrtus communis
juniper several species of Juniperus
fennel Foeniculum vulgare
rockrose Cistus monspeliensis
pinks several species of Dianthus


Caveat re alcohol levels:
Notwithstanding their freshness, their aromatics and their charm, the main failing of these new-generation Southern Rhone Valley wines is the tendency to high alcohols. There are several aspects to this. For those brought up on European wines, and subtle wines, and particularly classic claret and burgundy, once alcohol levels rise to only fractionally over 14%, the wine becomes increasingly difficult to match to food … and especially subtle food. At 15%, the wines are clearly spirity with food, and therefore much less attractive. For many people of European persuasion, such wines are simply ungainly. This is one reason why Guigal's Cotes du Rhone since the 1980s has become progressively more syrah-dominated. Syrah can achieve good physiological maturity at markedly lower alcohols. This wine has been able to maintain a 13.5 to 14% alcohol value, and remain remarkably good with food.
The curious thing is, however, that in general, winewriters from warm-climate wine regions, and notably from America and Australia, are almost without exception unconcerned about high alcohols. Presumably they also reflect their wine-consumer constituencies. Yet since the 2003 vintage, and reaching a peak in the 2007 vintage, alcohol levels in the Southern Rhone Valley wines have been creeping inexorably upwards. And even though 2016 is seen as a somewhat more moderate year, partly because the alcohol is masked by the amazing freshness in the wines, and partly because so much wine-writing reflects tasting alone, not the wine at table, there are many bottles with given alcohols at 15%, and one suspects actual alcohols higher still. Some in fact are recording and maybe surpassing 16%, which not only makes them awkwardly spirity at table, but also raises legal questions. For many years 15% has been the arbitrary dividing line between 'table' wine, and the various fortified wines, which usually attract a higher excise rate.
Conversely, when I started assessing the wines of the Southern Rhone Valley, if labels bore any alcohol at all, it was invariably a nominal 12½% … very rarely 13½%. Nobody really knew or cared, in a less legislation-obsessed age. But the observable fact was, the Southern Rhone Valley wines then were more subtle and delicate, more grape-oriented, and more naturally flowed on from the wines of Burgundy, as slightly bigger / more flavoursome 'burgundy' styles. And they accompanied food magnificently. That is certainly not always the case today.
In a warming world, this question of the alcohol level in peri-Mediterranean wines in general, and Southern Rhone Valley wines in particular (because of their quality reputation), is a matter winemakers and wine-researchers need to be thinking a lot more about. As we have seen in the automobile industry, the traditional American consumerist view that bigger is better is no longer appropriate.
Nett conclusion on the use of oak in Southern Rhone Valley wines:
The conclusions for this were clear-cut, completely unequivocal. In the blind tasting, many (but not all) of the wines raised solely in concrete (or stainless steel) could be recognised at the blind stage, in the set. They inclined to a locked-up, slightly congested bouquet and palate, not as open, breathing, soft and generous as the wines raised in big old oak / foudres. Some were tending reductive (or, in the Pt 2 tasting, frankly reductive). This is entirely logical, and consistent with the fact that storage in big old wood allows some interaction between the wine and the atmosphere, some breathing of the fluid, no matter how slight.
Whereas for the more modestly priced wines, elevation solely in inert vats is a matter of economics, in contrast, for some of the more highly priced wines (and the Dom. Charvin epitomised this conclusion), a persistence with vat-only elevation, eschewing even foudres, increasingly can be seen as an inappropriately conservative approach to the winemaking, which reduces the ultimate beauty and appeal of the wine. A key factor here is the increasing market intolerance of reduction in wines, both red and white. One and two generations ago, many European table wines were reductive. Further, virtually no wine reviewers of the time ever commented on it. This is one key area where the New World approach to winemaking, with its greater emphasis on the technological approach, has vastly changed the wines of the Old World, and for the better.
The continued making of tending-reductive winestyles by some producers is all the more to be regretted, when market research tells us that most of these wines, even the more expensive, are drunk long before they are in fact mature and
à point
in bottle, when some softness from ageing (including attenuation of reduction) might be expected. The singular success of the house of Guigal, where their Cotes du Rhone is arguably the best-known and most popular Rhone red wine in the world, can largely be attributed to their ensuring that a significant percentage of even their cheapest red wines are raised in wood.
Wine style, and Invitation to the Regional Wines 2016 Southern Rhone Valley Worth Cellaring tasting:
Traditionally, red wines in the Southern Rhone Valley had longer macerations / cuvaisons to achieve the necessary flavour and tannin structure, then were raised in concrete vats and big old-oak foudres, which impart very little additional flavour. So the grape flavours rule. Foudres vary infinitely in size, but 4,500 – 6,000 litres is a common size. They can be up to 30,000 litres. In the last 25 years or so there has been a change in practice for some-only wineries, a change coinciding with the rise to world influence of the American reviewer Robert Parker. His predilection has long been for riper and bigger red wines, made aromatic more from new oak, rather than from the intrinsic subtlety and complexity of grape aromatics: terpenes, flavonoids, phenolics, and tannins. In essence, that is why he has not been highly-regarded for his pinot noir assessments.
Accordingly, some producers gradually made their picking dates later, thus producing riper, less floral and more alcoholic wines, and at the same time they reduced the whole-bunch component / use of stalks, thus further reducing natural grape florals, freshness and phenolics in the wine. Some producers also reduced maceration time / cuvaison, further reducing both grape and stalk tannin pick-up. They compensated for this by raising some of the wine at least in smaller and new oak, or relatively new oak, thus adding the more obvious / less subtle pseudo-floral of vanillin from the new oak, plus new oak aromatics – as in many Californian reds. Thus some French red wines started to lose
typicité
– and the term 'international winestyle' crept into wine parlance. The more cautious used puncheons and hogsheads of various capacities from c.300 to c.650 litres, while others went as far as the barrique size favoured in Bordeaux, 225 litres or thereabouts, to introduce a greater ratio of new oak vanillin and phenolics to the wines. Naturally, all this has dismayed traditionalists no end, including Asimov, as quoted.
One goal of this tasting therefore is to assess to what extent we can find the traditional attributes of grape florals and grape aromatics, plus general satisfaction at table, in these more modern wines. That goal is assisted by a general awareness now that the quest for bigger and riper wines has gone too far, and there is some backing-off from what may be regarded as the heyday of big Robert-Parker-style Chateauneuf-du-Papes, reaching its zenith with the 2007 vintage. But even so, the alcohols in our wines are still high. And even though grenache is extraordinary in its ability to hide alcohol, will ours hide it sufficiently well to be pleasing ?
Our quest is assisted by the remarkable attributes of the 2016 vintage in the district (as documented in the quotations introducing the
Part 2 article)
, warm days yet cold nights, the wines thus retaining natural acid and freshness. The better wines therefore should still retain florals, and a finegrain texture, due to the natural acids. Tartaric addition is theoretically illegal in Rhone wines (except in declared 'exceptional' circumstances), but some wines incline one to believe that the prohibition is not universally observed. But in general, this is where the fine wines of France differ so considerably from the supposedly fine wines of Australia, where commonly there is a jagged palate structure and finish to the wine, from added tartaric acid.
The wines chosen present as complete a range as is easily managed in 12 samples, from wines raised all in concrete, such as Domaine Charvin, through to a couple of wines which are the top tier from the producer, wines which tend to be in the modern style. Note also that certain very traditional producers have resisted the modern trend to tiers of quality, 'prestige' wines and the like, and continue to offer just the one cuvée. Domaine Charvin again is a good example, and Clos des Papes the most famous example, whereas others have been seduced by the concept of more and more premium cuvées, at ever higher prices. This appeals to a certain class of wine consumer. For other people, however, the thought is that by reserving the best fruit for the prestige wines, the standard cuvées suffer. Producers are at pains to say this is not the case, as they would, but the thought has the inexorable logic of common-sense. We have several 'just-the-one-cuvée' wines.
The tasting includes wines from three of the best-known subsidiary appellations to Chateauneuf-du-Pape, both to introduce their style, and because they at best offer such compelling value. In particular, the wines of Gigondas can offer the traditionalist the virtues of older-style Chateauneufs, because Gigondas is at higher altitude, the district is conservative, and the wines are (in general) simply not so big and ripe. Likewise, Vacqueyras has long been a popular appellation for affordable but quality Cotes-du-Rhone wines without the price-tag of Chateauneuf. Today, there are younger producers out to show their district is every bit as good as Chateauneuf proper. Our third alternative is Cairanne, perhaps the most popular of the villages to recently (2016) gain its own appellation, instead of being bundled into Cotes-du-Rhone-Villages. Cairanne has been a -Village wine since 1967. At best, where the cropping rates are low, they offer simply wonderful value.
The goal therefore for this Regional Wines tasting is to show participants that 2016 in the Southern Rhone Valley is absolutely exceptional. And that if tasters cellar the best of these wines, they will be securing a resource providing exceptional anticipation and pleasure for the next 30 years – give or take. Given the rare quality of the vintage, therefore, tasters should regard this tasting as an investment, the opportunity to taste 12 wines, and select those which most appeal to cellar.
A key part of the tasting is the selection of wines ranging from (at one extreme) elevation completely in concrete, that is no oak at all, through many variations on some big old oak or foudres only, then use of usually older puncheon-sized barrels, to some using barriques, sometimes a few percent new, plus one relatively 'modern' wine with 20% new oak. The tasting offers an opportunity to see which wines are preferred, and why. In this district it is the florals and aromas of the grapes, plus the grape tannins, that provide the key elements of the wine. New oak can interfere.
Background to this tasting and article:
The springboard for this third 2016 Southern Rhone Valley wine assessment was a Worth Cellaring tasting of 12 wines I presented at Regional Wines, Wellington. The Invitation for that tasting is immediately above. Some of the wines for the tasting were selected on the basis of my 2016 Southern Rhone Valley Pt 2 tasting and article, already mentioned. My goal was to introduce customers to the remarkable (and unusual) floral and aromatic beauty some of the better of these 2016 Southern Rhone Valley wines display, and to encourage them to lay away some in their cellars. In preparing for the follow-up to this tasting, I assembled further bottles from several sources, notably Truffle Imports, Wellington, ready for setting up a blind tasting. And then, Glengarry Wines also had a (mostly) 2016 Rhone Valley wine tasting the following day, which Meredith Parkin facilitated my sharing in. And odd other bottles were added from Wine Direct and other companies. The 12 wines from the Worth Cellaring tasting were included,  newly masked,  in the complete set of wines reported on here.  Because they were better researched than the other wines, at the writing-up stage they provided a useful internal check on the other wines.  These various sources enabled a blind tasting to be set up of some 52 wines, 49 of them red including cross-reference / training wines, and 41 of them strictly Southern Rhone Valley. Because the Southern Rhone Valley wines are so unusually fresh and aromatic in 2016, the samples did not deteriorate with the delay: in fact most were much the better for it.
This wine review article and the Pt 2 one before it differ in one critical dimension from virtually all wine-writing in New Zealand. The majority of the wines, I paid for. The significance of this becomes apparent in many quite different ways, some important to the consumer seeking impartial information. A second point of difference in my approach to wine-writing is, if I believe a wine has all the essentials required to be communicating brilliantly in (say) eight years, but does not have much to say today, I tend to mark it highly. Most wine-writing, and most consumers, are more concerned with the here and now. In contrast, cellaring wine is important to me. Thirdly, where a wine has negative features which impair its ability to reflect the desirable attributes of either its variety / varieties, or its appellation, I strive to say so. Most wine-writers either draw a discreet veil over any deficiencies, or fail to recognise / identify them at all.
Another key difference in my approach to wine centres on the concept of florality. Flower-related aromas, and sensory 'beauty' in the wine, are important to me. It is one of the key analogies French winemakers consistently use, in commenting on wine quality. In contrast, my experience for many years now of the wine-writers to whom I subscribe is that these values are of little importance, or even unknown, to many latterday English-speaking commentators. And while for climatic reasons you can understand Australian winemakers not thinking much about floral aspects in wine, it is disappointing when you find similar disinterest, even unawareness, in rather many New Zealand winemakers. The New Zealand viticultural milieu is ideally suited to producing floral and fragrant wines, which gives them a critical point of difference in export markets, when compared with Australian wines. In particular, this quality of New Zealand wines needs emphasising in European export markets. Thus far, few have done so.
In tasting the wines, I assess them not only in the one carefully set up fully-blind tasting, but also repeatedly on the following days. The glasses are individually sealed and meticulously kept under ice, in-between times. This approach facilitates an enhanced understanding of the future development of the wine (see next paragraph). Few wine-writers however take this trouble: the wine is assessed and reported on, at the moment. This is particularly the case for wine-writing based on commercial judging formats, where there is often in effect a perverted status in being seen to be the first judge to finish the flight. Detailed understanding of the subtleties of the wine, its relative ripeness, and its likely development, is much less likely to be gained, in that approach. This is particularly the case in New Zealand, where tolerance of under-ripeness is a systemic judging issue.
Louis Barruol at Ch de Saint Cosme often includes family (even homely) snippets of wine wisdom in his technical sheets.  When speaking of the importance of the 'terroir' in his approach to making his Gigondas wines,  he also sums up my approach to wine evaluation perfectly: It is within this scheme of things, and only this one, that a wine can find its truth, its vibrancy, its consistency, and this intimate logic that is expressed throughout its life.
Because wine is not a snapshot, but rather a feature film. So, when it comes to assessing a wine, it is better to have seen the whole film, and not just a few shots from the first five minutes.
In the wine reviews which follow, the 12 wines from the Worth Cellaring tasting (for Regional Wines) were much better researched than the other wines, in order to prepare an informative handout for participants. Accordingly, 12 of the reviews below have much longer italicised 'admin' sections, with quotes from appropriate wine reviewers. This was not done for most of the wines.
Acknowledgements:
Extensive use has been made of the vast information resource in John Livingstone-Learmonth's website, as below. He not only provides most of the technical information for the wines (supplemented by winery website info where available), but also supplies most of the United Kingdom views on the wines. Jancis Robinson and colleagues provide back-up, though with the caveat noted below. Reviews from the Robert Parker website are included where possible (now largely from his deputies) to achieve the most recent reviews, and pan-Atlantic judging balance. Wine Spectator provides back-up. John Follas of Truffle Imports kindly made his selection of 2016s available to me, though I am not a regular client. Meredith Parkin at Glengarry Wines (Wellington) facilitated my sampling the Glengarry range. The latter samples (taken at an in-store presentation) were
gratis
.
References:
Broadbent,  Michael  2002:   
Michael Broadbent's Vintage Wine.
 Harcourt,  560 p.  
Broadbent,  Michael  2003:   
Michael Broadbent's Wine Vintages.
 Mitchell Beazley,  223 p.  
Karis, Harry 2009:
The Chateauneuf-du-Pape Wine Book.
Kavino, 488 p.
Parker,  Robert  1997:  
Wines of the Rhone Valley.
 Simon & Schuster,  685 p.
www.jancisrobinson.com
= Jancis Robinson MW and Richard Hemming MW for this article, subscription needed for reviews
www.erobertparker.com
= Robert Parker and Joe Czerwinski for this article, vintage chart, subscription needed for reviews
www.winespectator.com
= vintage chart, subscription needed for reviews
ww.drinkrhone.com
=  John Livingstone-Learmonth, subscription needed
---
THE WINES REVIEWED:
The reviews below result from a careful randomised fully blind tasting.  The cepage details given are indicative,  averaging recent vintages,  unless stated not specific to 2016.  The price given is the shelf price in $NZ, though this may vary somewhat from place to place. Participants in the Worth Cellaring tasting were provided with a comprehensive hand-out, including wine reviews – hence the longer 'admin' section in those reviews below.
J.L-L
is John Livingstone-Learmonth, now the single most knowledgeable commentator on the wines of the Rhone Valley.
JC
@RP is Joe Czerwinski at Robert Parker, successor to Jeb Dunnuck (and previously, Robert Parker) now JD has his own website.
RH
is Richard Hemming MW, recent recruit to Jancis Robinson's reviewers, where he now seems to be the main Rhone Valley spokesman. Thus far his reviews of Southern Rhone Valley wines lack the delight in, and understanding of, the district which characterise J.L-L's and Robert Parker's (
sensu stricto
) approach, so I have used his reports (for the UK view) only where J.L-L is silent. In general I seek to balance an English view with an American one, since American writers are generally unconcerned about high alcohols.
---