LIBRARY TASTING 18 JULY 2019, at REGIONAL WINES, WELLINGTON
THE 2005 VINTAGE IN GIGONDAS & CHATEAUNEUF-DU-PAPE
Geoff Kelly, MSc Hons
This report is based on a Library Tasting presented at Regional Wines, Wellington, in July, 2019. With several Rhone tastings reported on recently, introductory material here can be brief. A compiled summary of quality for recent vintages in the Southern Rhone Valley, plus an outline of the main grapes in the wines, and what is meant by the garrigue complexity factor on bouquet, is given in my
The 2016 Vintage in the Southern Rhone Valley, Part 3
review.
Conclusions from the tasting:
Writing in
Decanter
in 2007, John Livingstone-Learmonth felt that the 2005 vintage in both the Northern and the Southern Rhone Valley was just as impressive as in Bordeaux and Burgundy. The wines in the South, he said, showed more balance than the 1998s, more stuffing than the 2001s, are tighter-knit than 1990s, yet more rounded than the 1989s. He liked their freshness. For our tasting, coming to them immediately after the 2016 Southern Rhone review, the first impression was one of contrast, not quite the vivid florality and aromatics of the exceptional 2016s. Yet as one settled into the tasting, one quickly found many fragrant and beautifully balanced wines, just starting to show at 14 years of age the harmony of first maturity. The wines were (naturally) selected for perceived quality at the point of cellaring, so the set of 12 was not a random sample. An indication of the quality of the wines is given by half of them scoring at or above the New Zealand gold medal level (18.5 = 92.5), in a more conservative application of the marks than applies in standard wine-writing / judging practice in New Zealand. The wines have good tannin structure and sufficient acid, so with their good fruit, many of the better wines have another 15 years of quality maturity ahead of them, for those who like mature wine. As with most better Southern Rhone Valley vintages in the last 15 years, however, for rather many wines one wishes the alcohols were appreciably lower.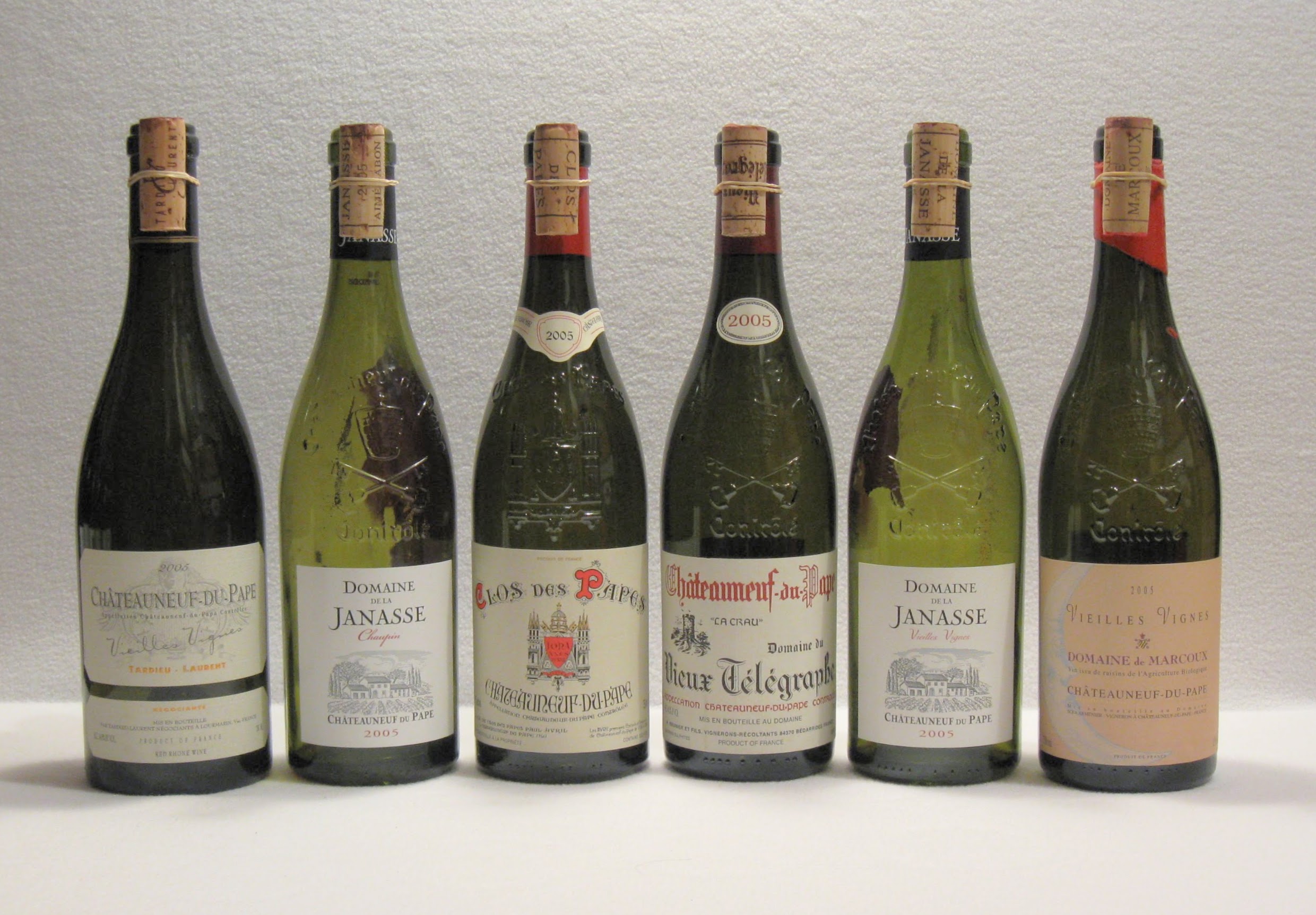 This 2005 Southern Rhone Valley tasting was undertaken in the midst of the evaluations for the remarkable 2016 Southern Rhone wines. The first impression was the contrast, the remarkable freshness of the 2016s, vs the the 2005s at the start of their plateau of maturity, yet by no means showing undue age. And as soon as one was immersed in them, 2005 really is a quality vintage in the Southern Rhone Valley. Six of the 12 wines were clearly of gold-medal standard. From the left: 2005 Tardieu-Laurent Chateauneuf-du-Pape Vieilles Vignes, aromatic on cedary new oak, very much a modern wine, but has the richness to carry the oak, 18.5; 2005 Domaine de la Janasse Chateauneuf-du-Pape Cuvée Chaupin, lovely grenache emulating pinot noir in a slightly spirity way, 18.5; 2005 Clos des Papes Chateauneuf-du-Pape, all the delicacy this winery is famous for, wonderful red fruits, classical, 18.5 +; 2005 Domaine du Vieux Telegraphe Chateauneuf-du-Pape La Crau, subtle, yet showing all the beauty of great Southern Rhone wine, you could sniff and savour this all night, 19; 2005 Domaine de la Janasse Chateauneuf-du-Pape Vieilles Vignes, a richer and darker wine than its neighbours, with amazing concentration of flavour, clearly the top wine for the group, 19; 2005 Domaine de Marcoux Chateauneuf-du-Pape Vieilles Vignes, all red fruits, understated, burgundian in the way nearly pure grenache can be, with the greatest dry extract / mouthfeel of any wine in the set, remarkable, 19 +
Invitation to the tasting – Background:
In the last 12 months we have run Library Tastings on the warm-year 1998 Chateauneuf-du-Papes and Gigondas wines (July, 2018), and then the in some ways more charming 1999 wines from the same appellations March, 1999. We have also had Worth Cellaring Tastings for the Southern Rhone Valley, first the 2015 offerings in August 2018, and then a similar Tasting for the even more remarkable 2016 vintage, in June 2019.
The present 2005 Chateauneuf-du-Pape and Gigondas Library tasting concludes this series of tastings on the (at best) wonderfully aromatic and exciting wines of the Southern Rhone Valley. This time we will look at wines solely from 2005, a year for which the vintage rating is creeping up and up. The wines are regarded by
Wine Spectator
as: 'Wines show concentration, purity, and structure. Great cellaring potential,
97
/100' . They are scored higher than 1990, but fractionally less than 2010 and 2016. At 14 years of age, they are perhaps halfway through their evolution: they should be very exciting. The more alcoholic 2007s we will defer.
One highlight for me in our set of wines will be to compare the three bottlings of Domaine de la Janasse, one of the more highly regarded wineries, but not yet so sought-after as to be unaffordable. The standard Domaine Janasse was the top wine of our 2016 Worth Cellaring review: we will have Domaine Janasse Chateauneuf-du-Pape, a blend, the more expensive Domaine Janasse Chateauneuf-du-Pape Cuvée Chaupin, a 100% grenache bottling, and as well, Domaine Janasse Chateauneuf-du-Pape Vieilles Vignes, now a rare wine in New Zealand. Few people in New Zealand have tasted all three cuvées of Domaine Janasse together.
But the tasting also includes what are now regarded as some of the key or benchmark Chateauneufs: Clos des Papes (now hard to buy in New Zealand), Marcoux Vieilles Vignes both rare and valuable (one of the six-star wines, see the comments from J.L-L below), Mordorée Cuvée de la Reine, and Vieux Telegraphe (the other six-star wine, see the comments from J.L-L below). Plus three Gigondas, to compare and contrast, including the relatively rare Saint Cosme Gigondas Hominis Fides, also 100% grenache, to compare with the Janasse Chaupin. Three wines labelled Vieilles Vignes … but in fact when you go through the websites, most of our wines are made from 'old vines'. All in all, a tasting not to be missed.
Invitation to the Tasting – not one but two key wines:
One intriguing aspect to this tasting is: we have two wines marked by John Livingstone-Learmonth as six stars out of five. J.L-L is now the ultimate authority on the wines of both the Northern and Southern Rhone Valleys. His allocating six stars … all part of his delightfully quirky style of reportage … is rarer than Robert Parker's 100 points … and in the latter's heyday they attracted plenty of attention. Parker had both a fantastic grip of the Rhone valley wines, witness his marvellous book from 1997, but also loved the wines dearly (even when they were often quite bretty). This gives him an endearing credibility. Livingstone-Learmonth shares that enthusiasm explicitly, and his writing style is equally endearing. In contrast Jancis Robinson rather gives the impression that the wines of the Southern Rhone Valley are mostly not her personal favourites, and her associates seem hell-bent on following her lead, rather than redressing the balance from her somewhat detached approach to this region. Great interest therefore attaches to her review of one of our wines, also one of J.L-L's six-star wines, 2005 Domaine Marcoux Vieilles Vignes, which she scores 19 … a score-level she has applied in the Southern Rhone Valley only a couple of dozen times in her entire career. In the sense one cannot subscribe to all winewriters, now that wine websites are multiplying like rabbits, that leaves James Molesworth at Wine Spectator. He has been reporting steadily on Southern Rhone Valley wines for more than 10 years now, and his vintage chart summaries are the best in the business. His wine reviews offer consistency, but a vocabulary that can be difficult for non-Americans. There is also a distressingly American consumerist view of the life expectancies of these wines.
References:
Broadbent,  Michael  2002:   
Michael Broadbent's Vintage Wine.
 Harcourt,  560 p.  
Broadbent,  Michael  2003:   
Michael Broadbent's Wine Vintages.
 Mitchell Beazley,  223 p.  
Karis, Harry 2009:
The Chateauneuf-du-Pape Wine Book.
Kavino, 488 p.
Parker,  Robert  1997:  
Wines of the Rhone Valley.
 Simon & Schuster,  685 p.
Parker, Robert 2002:
Parker's Wine Buyers Guide Sixth Edition.
  Simon & Schuster,  1,648 p.
https://www.decanter.com/features/rhone-2005-vintage-of-a-lifetime-247304/
– free part
ww.drinkrhone.com
=  John Livingstone-Learmonth, J. L-L below, subscription needed
www.jancisrobinson.com
= Jancis Robinson MW and Julia Harding MW, subscription needed for reviews
www.robertparker.com
= Robert Parker and Jeb Dunnuck (then), vintage chart, subscription needed for reviews
www.winespectator.com
= vintage chart, subscription needed for reviews
Acknowledgements:
Extensive use has been made of the vast information resource in John Livingstone-Learmonth's website, as above. A matching number of reviews from the Robert Parker website are also included, to achieve pan-Atlantic judging balance.
---
THE WINES REVIEWED:
Initial price given is the
wine-searcher
value today. Approximate purchase price where known is in the text.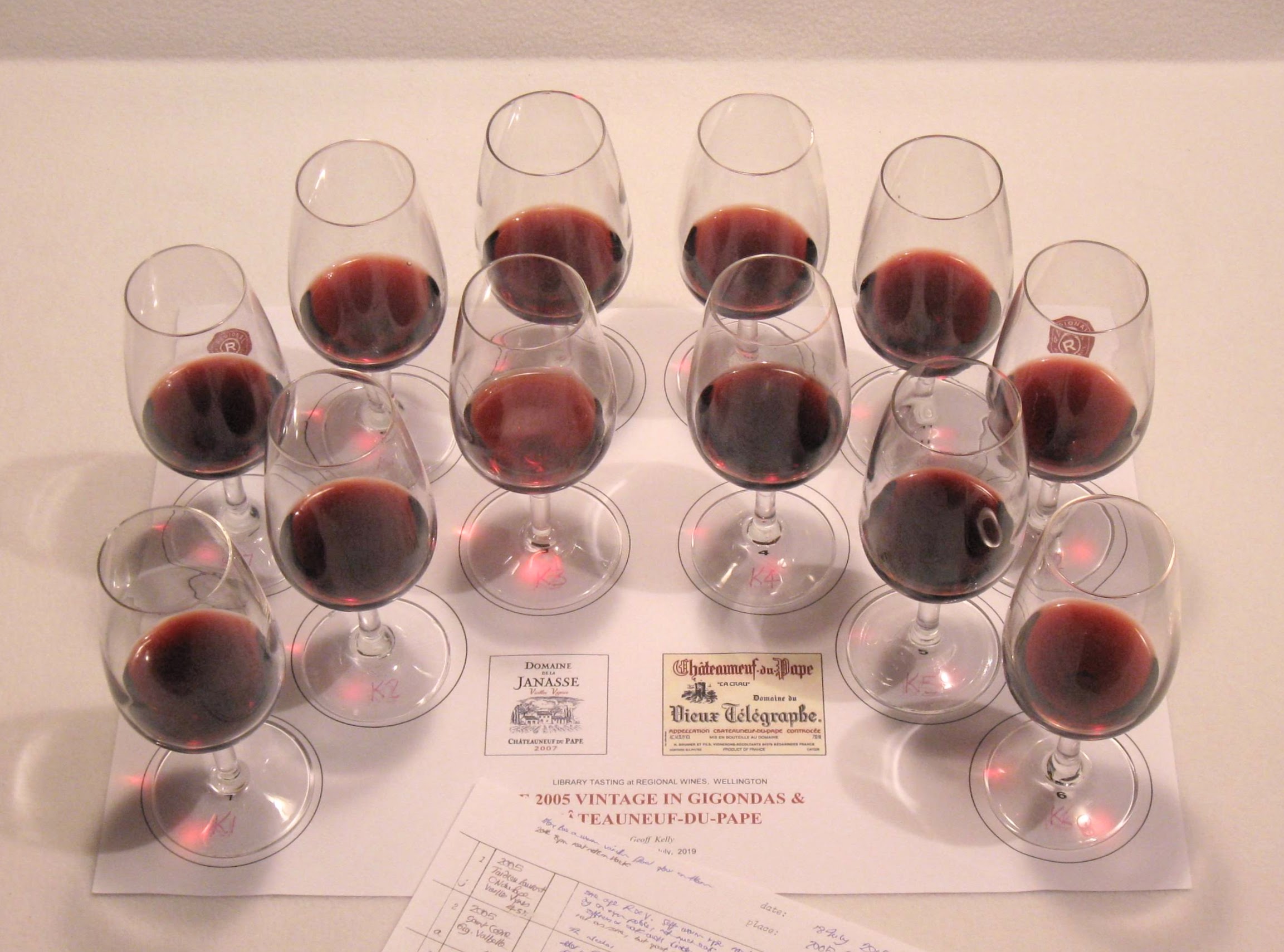 The 12 wines from the 2005 vintage, still showing considerable depth of colour. Numbering starts front row, left. Wine five the Santa Duc Hautes Garrigues the only one still with a youthful carmine hue. Wine three is unnaturally light, thought to be part-oxidised. Wine six, Vieux Telegraphe, and wine 10, Clos des Papes, are classic / archetypal chateauneuf in appearance. Wine 8 Janasse Chaupin, and wine 12, the Marcoux, are fractionally lighter, being 100% (or nearly) grenache. The wines show much more substantial colour than the nicely-mature 1999s illustrated recently.
---