EVALUATION TASTING, JUNE 2020, WELLINGTON
THE DELIGHTS OF WINE: BUBBLY, CHARDONNAY, SYRAH / SHIRAZ, SOUTHERN RHONE BLENDS …
Geoff Kelly, MSc Hons
Introduction:
A few wines that have come together recently provided a welcome opportunity to think about not only good bubbly, but also fine chardonnay, and the contrasting yet comparable winestyles which emerge when careful winemakers handle syrah / shiraz in Hawkes Bay and South Australia. There were also a couple of pretty serious cabernet / merlots. These wines are not necessarily the current vintage, but even the older ones are often found lingering in specialist wine shops. Premium wine moves slowly, these days, as our winemakers become more and more ambitious with their pricing, while many consumers become more diffident. I hope winemakers and their pricing strategists have taken note of the 2019 Bordeaux en primeur campaign pricing, relative to its reported quality.
The four Elephant Hill reds are special. They represent the future for fine wine in this country, as New Zealand red wine after nearly two long generations, finally shakes off its over-cropped, under-ripe and hybrid red wine legacy, and pays attention to what classical French cropping rates actually mean, in terms of ripeness, dry extract, mouth-feel and quality in the finished wine. In that context, winemaker Steve Skinner at Elephant Hill is making a tremendous contribution to the quality of red wine achievements and standards in New Zealand. Admittedly the four reviewed here reflect his upper two tiers of quality, but keen wine-lovers should make themselves familiar with his offerings.
The tasting also included a few more late-comers from the glorious 2016 vintage in the Southern Rhone Valley. The best 2016s represent some of the most exciting Southern Rhone reds I have seen, over the years. There was another example in the tasting. As I have over-emphasised before, the best of them offer a level of excitement rarely found in red wine. One could hardly have too many of these food-friendly wines in one's personal cellar.
Finally, three bubblies, one illustrating the remarkable potential we have for the methode champenoise winestyle in New Zealand, once we pay more attention to enhancing dry extract and reducing over-ripeness and 'fruitiness', and two reminders of the real thing, enhanced by a few years mellowing in cellar.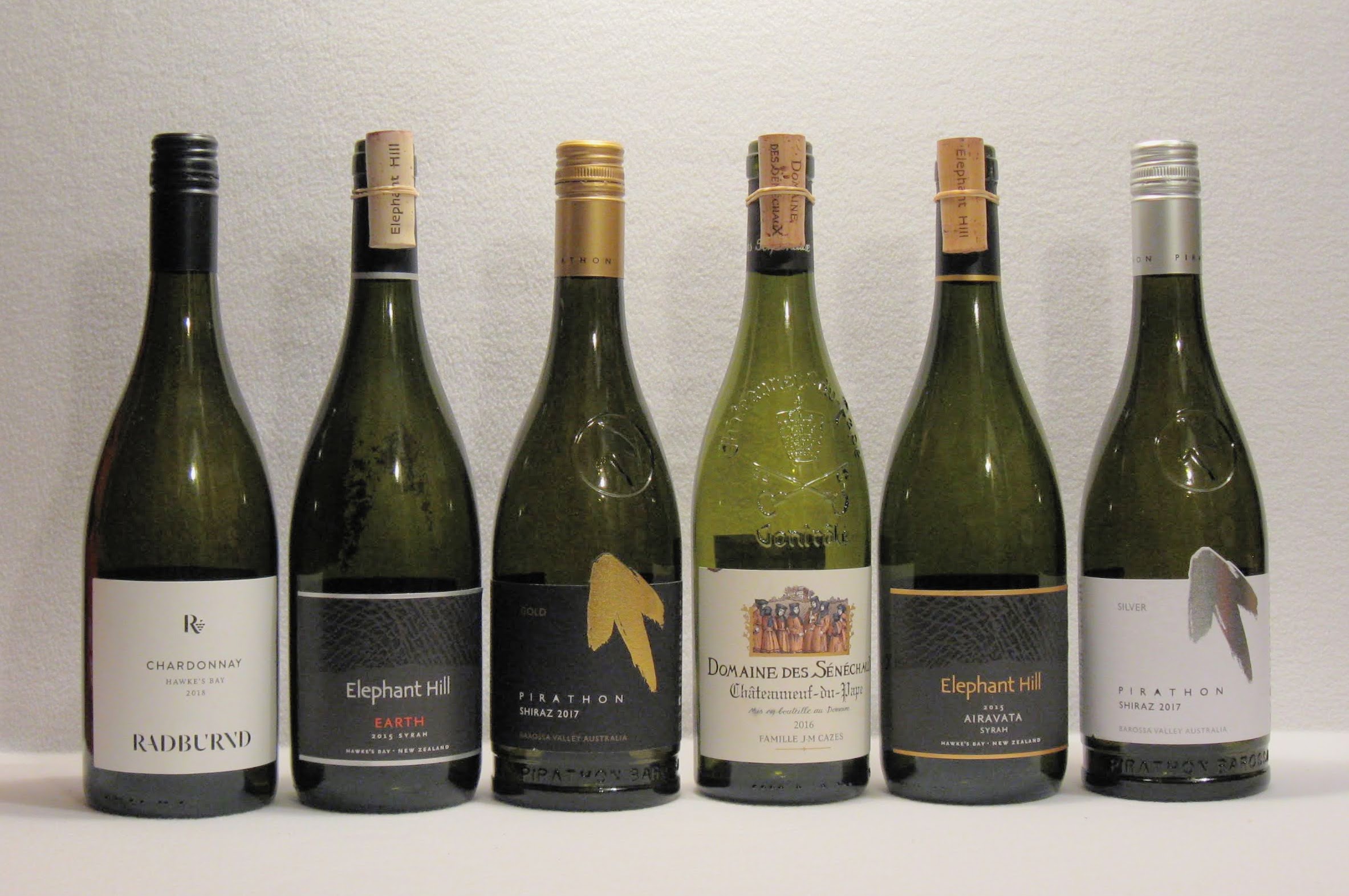 Some of the more exciting wines from the June tasting. From the left, the new Hawkes Bay 2018 Radburnd Cellars debut Chardonnay, lovely clone mendoza smells and flavours, cellar-worthy, 18.5 +; 2015 Hawkes Bay Elephant Hill Syrah Earth, one of the richest, yet subtlest and most beautiful syrahs ever made in New Zealand, superb potential, 19 +; 2017 Pirathon Shiraz Gold from the Northwest Barossa Valley, nearly syrah-like, rich and long, only the faintest Australian signature, great cellar potential, 18.5 +; 2016 Domaine des Senechaux Chateauneuf-du-Pape, an exquisite example of this fabulous year, not big but beautiful, 18.5 +; 2016 Elephant Hill Syrah Airavata, the flagship, tip-toeing towards over-ripeness, also cellar potential, 18.5 +; and finally, 2017 Pirathon Shiraz Silver, included not because it is in the top 6 wines, but because it gives such a good taste of the style of the top Pirathon shirazes, yet it is readily available at an affordable price, 18.
---
THE WINES REVIEWED:
SPARKLING:
CHARDONNAY:
SYRAH = SHIRAZ :
CABERNET, MERLOT, AND RELATED BLENDS:
GRENACHE, SYRAH, MOURVEDRE & RELATED BLENDS:
---