LIBRARY TASTING 6 NOVEMBER 2019, at TE AWA WINERY,  HAWKES BAY
TWELVE 1999 SYRAHS AT BEAUTIFUL MATURITY – THREE COUNTRIES …
Geoff Kelly, MSc Hons
Conclusions from the tasting:
If the 1989 Bordeaux got off to dubious start in the first of these two 2019 Summer FAWC ! Library Tastings, the syrahs in Pt 2 quickly revealed themselves to include some beautiful wines. On my scale of values, half the wines merit at least 18.5 = 92.5 points = gold medal in Australia / New Zealand. That is not to say there were no hitches: one of the (hopefully) top Hermitages had to be rejected for oxidation, and a second wine showed some signs of the same issue.
There were two magical facets to the tasting. The top syrahs were truly floral, a key dimension for syrah only thought about by European wine-people (and too few of them), and secondly, two of the Australian wines were sufficiently subtle and not over-ripened to be classed as syrah. But they did have the distinctive subtle floral mint note (akin to the garrigue character found in Rhone Valley wines) pointing to an Australian environmental influence, rather than the true florals associated with the intrinsic syrah grape.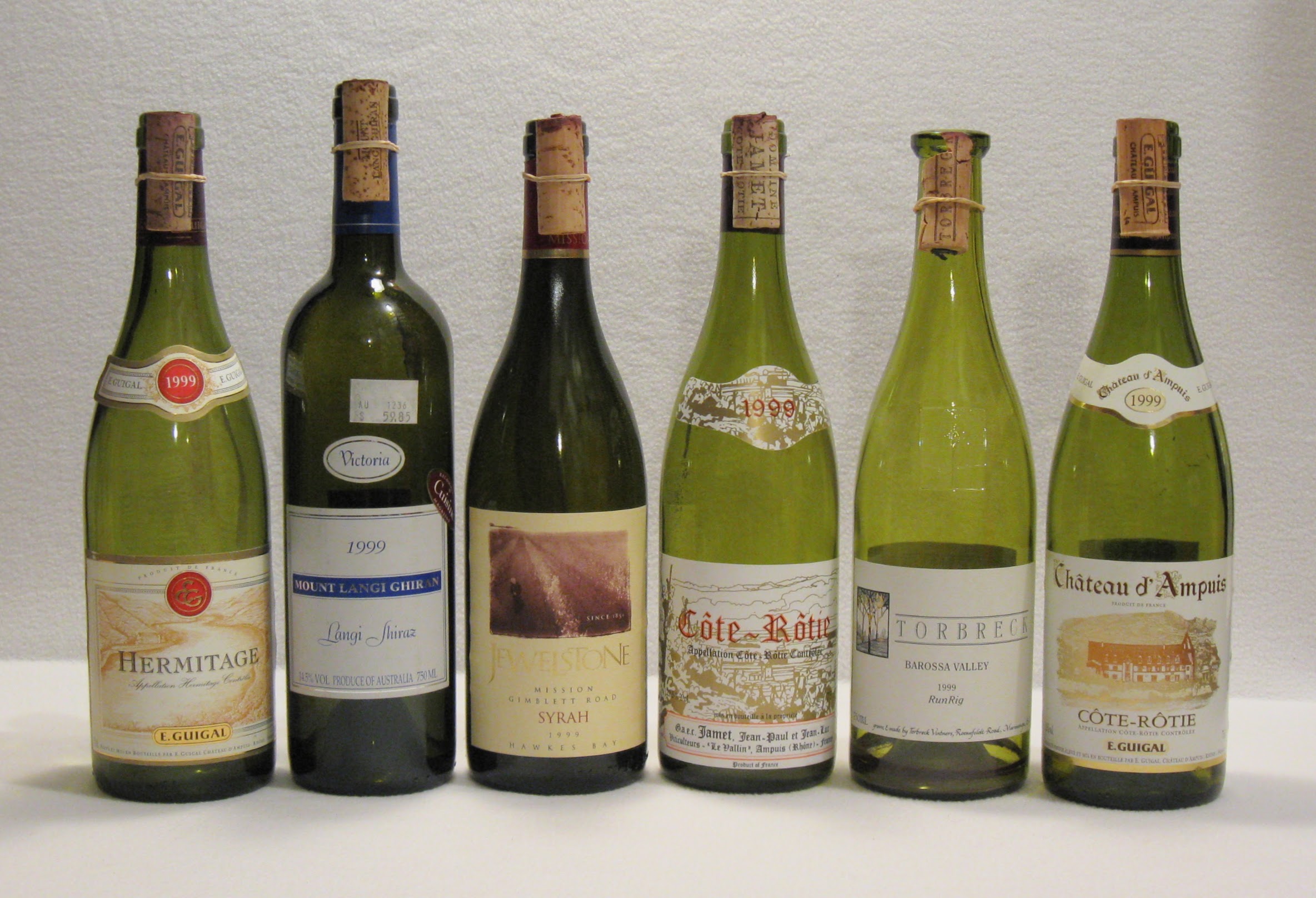 For the second evening, these 1999 syrahs were simply beautiful. 20 years is the perfect time to taste well-constituted Rhone Valley wines, either syrahs from the North, or grenache-led blends from the South. At this age they show perfect maturity, yet with their youthful characters still evident, plus no sign of decay. In contrast to the 1989 Bordeaux tasting two nights earlier, fully half the wines in this tasting showed syrah of gold-medal quality. From the left: 1999 Guigal Hermitage, still beautifully floral, the wine subtle and gentle, reminders of fine pinot noir, 18.5; 1999 Mount Langhi Ghiran Shiraz Langi from the Grampians in Victoria, Australia, highly floral with distinctive flowering mint Prostanthera notes to the fore, aromatic berry and subtle oak, syrah-quality not shiraz, 18.5; 1999 Mission Estate Syrah Jewelstone from New Zealand, a rich palate outclassing the Langi and the Jamet, showing just how exciting syrah will be for New Zealand in years to come, Hermitage-like, 18.5 +; 1999 Domaine Jamet Cote Rotie, magnificent syrah florals the finest in the set, aromatic berry, full maturity, 18.5 +; 1999 Torbreck Shiraz RunRig, clearly the youngest wine in the tasting, flowering mint on bouquet, superb syrah-quality berry ripeness on palate, great richness, a great future ahead of it, 19; and 1999 Guigal Cote Rotie Chateau d'Ampuis, showing the magical combination of subtlety, finesse and power, highly syrah-varietal, slightly oaky in the Guigal style, but magnificent, 19 +.
Tasters were delighted with the top French syrahs, for wines of this calibre are always a thrill. But many people were also very pleased by just how impressive and competitive the sole New Zealand 1999 syrah turned out to be. This was an exciting result for New Zealand syrah, in very respectable company. As with the 1999 Southern Rhone Valley wines
reported on recently
, and a 1999 pinot noir tasting yet to be published, 20 years is a lovely time to assess many wines, including syrah. The better wines are at a perfect level of maturity, and truly delightful at table at that age. You would never suspect that, given the bizarrely myopic drinking window estimates stated by so many Australasian wine-writers.
Background information for participants:
For some years now it has been apparent that syrah is a red variety exceptionally well suited to New Zealand.  The key reason is that when carefully ripened,  syrah in New Zealand retains both florals and spice,  as in the Northern Rhone Valley.  These qualities make our syrah both rare on the world scale,  and exceptionally food-friendly,  being just a little bigger than pinot noir.  This tasting of 1999 vintage wines will illustrate the main syrah styles from its homeland in France,  together with three of Australia's subtlest shiraz wines,  and one exceptional New Zealand wine.  Vintage conditions in each location were attractive – more fragrant wines than the warmer-year 1998s. Australians (naturally) thought 1998 the better year, because the wines were 'bigger'.
For those who love syrah,  we span Cote Rotie,  Hermitage,  and one of the top wines of Crozes-Hermitage.  Elsewhere, nine of our wines are marked 90 points or more,  two are not marked in the sources I use.  The Hermitage Les Bessards should be a benchmark experience:  
Jeb Dunnuck @ www.robertparker.com
:  a full-bodied, deeply concentrated, layered and perfectly balanced wine, 
98
.  And the Jamet Cote Rotie sounds attractive too,  
Dunnuck
 again:  Sensationally rich, concentrated and full-bodied, it reveals a classic bouquet of pepper, smoked herbs, black currants and licorice, 
97
.
Turning to the New World,  I have deliberately selected only Australian wines which have some chance of being considered syrahs.  Henschke's Mt Edelstone is a lot subtler than Hill of Grace,  almost Cote Rotie to Hermitage (in a sense),  but it is the rare and increasingly sought-after Torbreck Runrig that I want to see,  blind,  with 20 years age on:  
Lisa Perrotti-Brown @ www.robertparker.com
:  this is a very elegant wine with vibrant acid and concentrated fruit, 
99
.  But will it in fact seem an elegant syrah,  or more a lumbering shiraz,  in this company ?  For the New Zealand wine,  the 1999 Jewelstone was conspicuously one of the best in New Zealand that year,  in those early days for syrah.  
Our tasting includes eight French syrahs reflecting the definitive Northern Rhone syrah districts, four examples from the authoritative Hermitage appellation, three of the more 'feminine' Cote Rotie wines, and one of of the top wines from Crozes-Hermitage. Against them we have three subtle and careful Australian shirazes, wines which in some seasons can claim to be thought of as syrah. One of them, Torbreck Runrig, is a rare wine in any terms, and little tasted in New Zealand. Wines such as Penfolds Grange and Henschke Hill of Grace are inappropriate to a tasting such as this, which focusses on syrah in its subtlety and beauty. The twelfth wine is a particularly good one from New Zealand, where climatically our syrahs are unequivocally in the French syrah camp, not the Australian shiraz one.
1999 was an interesting year in nearly all grape-growing districts. 1998 was everywhere a big, ripe and tanniny year, making wines in a style much endorsed by the American school of wine-writers. 1999 was in contrast a much more subtle and understated season, and the wines did not initially impress those who measure quality by size. But in a country such as New Zealand, we should be looking for more in our red wines than simply the ability to impress. A key requirement for syrah is for the wine to be fragrant, versatile, food-friendly, and generally great at table, in the same style as pinot noir but a little bolder and more substantial.
The best vintage assessments in the wine world used to be provided by (the late) Michael Broadbent. With Michael's retirement that role has now been seized by the
Wine Spectator
magazine and website, which presents a careful and regularly updated summary of their estimation of the quality of each vintage. And it is interesting to note that they are gradually moving away from the simple concept, that bigger is better. For our French 1999 wines,
Broadbent
says: The four best-known producers all agreed: "exceptional on two counts. Excellent in terms of quantity and quality." … "comparable to 1995 and 1990". Reds with intense colours, ripe fruit aromas, good acidity,
*****
.
Wine Spectator
has completely revised its relative estimation of 1998 and 1999 in the last few years, and now says for 1999: Voluptuous, silky vintage with stunning quality for Côte-Rôtie,
96
. Taken together, these provide a pretty exciting background for our eight wines.
For Australia, the country is so huge, it is near-impossible to make meaningful statements. For Australia,
Broadbent
sums up with: Shiraz generally has good colour and ripe fruit character, with supple tannins. On the whole, a satisfactory outcome,
*** → *****
.
Halliday
's vintage chart in
The Wine Companion
website is a much more detailed affair: for our wines Eden Valley,
7
/10; Barossa Valley
5
/10 (noting that 1998 is 10 – so a pretty old-style view there); and the Grampians are
10
.
For New Zealand, Michael Cooper's annual Buyer's Guide provides the best view. 1999 was still a bit early for syrah to be singled out in his account, but by saying the season was too short for cabernet sauvignon, but for some producers, good for merlot and malbec, we can infer it was also good for syrah. My most recent tasting of our New Zealand wine confirms that supposition.
References:
Broadbent,  Michael 2003:  
Michael Broadbent's Wine Vintages
.  Mitchell Beazley,  223 p.  
Cooper, M. 2002:
Michael Cooper's Buyers Guide to New Zealand Wines
. Hodder Moa Beckett, 373 p.
Livingstone-Learmonth,  John 2005:   
The Wines of the Northern Rhone
.  University of California Press,  704 p.
Parker,  Robert,  1997:  
Wines of the Rhone Valley
.  Simon & Schuster,  685 p.  
www.winecompanion.com.au
= James Halliday and now associates, but reviews not initialled, subscription needed
www.drinkrhone.com
  =  John Livingstone-Learmonth … subscription needed
www.robertparker.com
  =  Robert Parker and increasingly the associates … subscription needed for reviews    
www.jancisrobinson.com
  =  Jancis Robinson and Julia Harding … subscription needed for reviews
---
THE WINES REVIEWED, SYRAH and SHIRAZ:
The first 'price' given is the current
wine-searcher
value. Where there is some evidence, an approximation of the original purchase price is given in the text. Because John Livingstone-Learmonth now has a knowledge of the Rhone Valley that matches or surpasses the excellence of Robert Parker's earlier contribution, I have reported his views nearly in full, where available. There is much to learn from his very individual mode of reporting.
AUSTRALIA
1999 Henschke Shiraz Mount Edelstone
1999 Mount Langi Ghiran Shiraz Langi
1999 Torbreck Shiraz Runrig
FRANCE, NORTHERN RHONE VALLEY:
1999 Domaine du Colombier Hermitage
1999 Delas Cote Rotie Seigneur de Maugiron      
1999 Delas Hermitage Marquise de Tourettes


1999 Dom. A. Graillot Crozes-Hermitage La Guiraude  
1999 Guigal Cote Rotie Ch d'Ampuis
1999 Guigal Hermitage
1999 Domaine Jamet Cote Rotie
1999 Domaine Michel Ogier Cote Rotie
NEW ZEALAND, HAWKES BAY
1999 Mission Syrah Jewelstone


---