LIBRARY TASTING FOR HAWKES BAY SUMMER FOOD AND WINE CLASSIC, NOV. 2018
GREAT SYRAHS FROM THE 2010 VINTAGE: FRANCE AND NEW ZEALAND ...
Geoff Kelly, MSc Hons
Conclusions from the tasting:
For some reason strictly blind comparative evaluation tastings are quite rare in New Zealand. It seems to be part of a general reluctance to seriously cellar wine, and hold it for a classical interval which might allow meaningful later comparison. Syrah in New Zealand has emerged as arguably
the
'serious' red with the greatest claim to being internationally competitive with the best examples in the world, namely the defining / yardstick syrahs of the Northern Rhone Valley. There was therefore palpable excitement amongst participants beforehand, that we had some of the word's best syrahs, and some of New Zealand's best syrahs, in front of us. Would be be able to tell which was which ?
And in the event, it was not easy. Participants included some of the most serious syrah winemakers in New Zealand. I am not aware of anybody getting all the wines sheeted home to their correct countries. When you look at the wine-list, this says volumes about the quality of New Zealand's emerging syrahs. Thus, tasters came away from this tasting excited by the quality of the top wines … from both countries … and rather wishing that all the wines had been from the 2010 vintage. In hindsight it was a mistake to include the earlier and later vintages of Chave Hermitage. They were too shown up by the magnificence of the 2010s. The initial thought in offering one younger, one older, was to offer winemakers and tasters the opportunity to be more familiar with the J L Chave approach, the wines being scarce and little-known in New Zealand. Not all ideas for tastings work out.
For the top 2010 wines, the principal conclusion for the Northern Rhone Valley is that the best wines are of benchmark quality. With the technical quality of winemaking nowadays, some of them may rival the now near-mythical 1961s. The very best of the 2010 New Zealand syrahs can be tasted amongst them, and not easily recognised. And stylistically, some of the lesser New Zealand wines are very much heading in the right direction, needing only for their winemakers to taste the classics more frequently. I cannot wait to offer a wider cross-section of 2010 Northern Rhone syrahs, with some of the top New Zealand wines. It should be a benchmark tasting.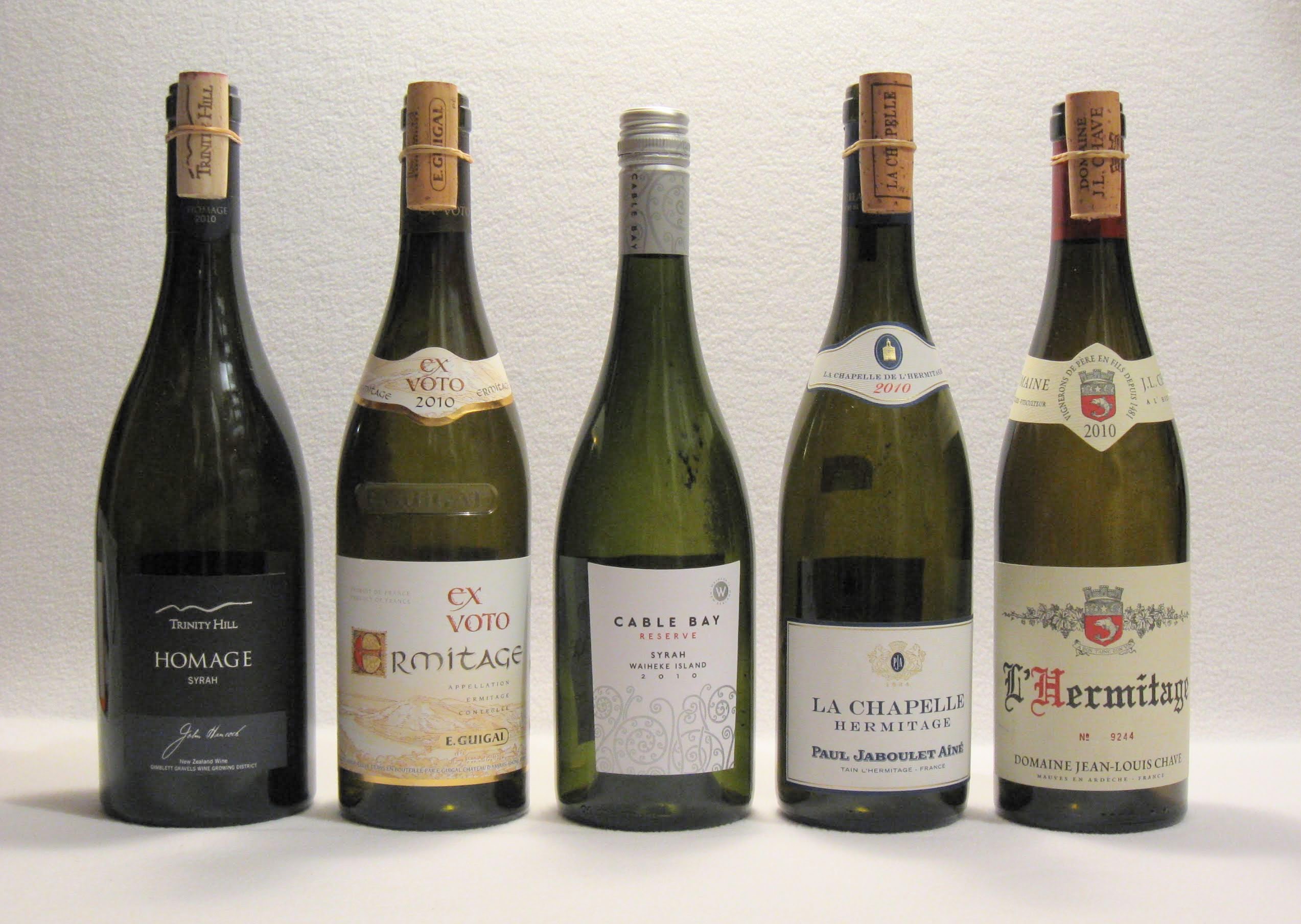 The top five wines in this tasting were of sensational quality, the kind of wine one could not have too many of in one's cellar, wines to return to again and again. From the left, 2010 Trinity Hill Syrah Homage truly is a wine to challenge La Chapelle, and thus pay 'homage' to Gerard Jaboulet. Bouquet is both floral and aromatic, with great freshness of berry weight through the rich palate, 19; in one sense the next wine 2010 Guigal Ermitage Ex Voto is a Guigal wine first, and a definitive syrah second, but nonetheless it is going to provide its owners with immense satisfaction. It is richly cassisy and concentrated, with noticeable but soft, fragrant and cedary oak, 19 +; then the surprise wine to nearly all tasters, 2010 Cable Bay Syrah Reserve, from Waiheke Island. This wine offers a softness, suppleness and burgundian charm which contrasts vividly with the Guigal, yet is just as exciting. The touch of blueberry implies greater berry ripeness than some of these syrahs. This was clearly marked the top wine of the tasting by the group, in part because in New Zealand tasters are not sufficiently familiar with the undisputed benchmark syrah wines from the Northern Rhone Valley, 19.5; next the supremely exciting 2010 Jaboulet Hermitage La Chapelle, a winery totally recapturing its earlier glory, under Caroline Frey (Ch La Lagune, Ludon near Margaux). This wine has magnificent cassisy berry, and at this stage a little more oak than is ideal in syrah, but it will marry away. Glorious wine, 19.5; and as my top wine of the tasting, the highly-regarded 2010 J L Chave Hermitage, showing all the florality and berry aromatics one could ask for in definitive syrah, in a wine of great richness. This wine is a total 'style' statement, there being a slight unease amongst technical tasters, that it was not immaculately pure – see text. In my view it defines syrah as a winestyle, 19.5 +. Any New Zealand winemaker truly serious about making internationally-recognised syrah in New Zealand (as we will do) needs these five wines in their cellar, to serve as the absolute reference point for decades to come.
Information provided for tasters
(abbreviated):
How many New Zealand wine people have tasted the definitive syrahs from Domaine Jean-Louis Chave Hermitage, the now-resurrected Jaboulet Hermitage La Chapelle, and the latterday Guigal Hermitage Ex Voto, all together ?  Let alone when the wines are from a year of the quality of the great 2010 year, and two are Robert Parker 100-point wines. Not many,  I suspect,  for these are rare (and expensive) wines. For a winemaker or viticulturist in a temperate climate, these are the greatest syrahs on earth. The vineyards on the hill-slope above the village of Hermitage are the absolute spiritual homeland of the world's greatest syrahs,  but the planted area is tiny – 139.6 ha = 345 acres, give or take.  Cropping rate for the appellation averages 4.3 t/ha = 1.75 t/ac, adding to their rarity of the wines. Yet understanding these wines is essential, if New Zealand winemakers are to move New Zealand syrah into the top echelon of the world of fine wines.
One of the other top syrah appellations in the Northern Rhone Valley is Cote Rotie. In this tasting, we will have one of the best, Domaine Jamet, from the same great year. It is a pity that we cannot also have the top 2010 Cornas, from Domaine Auguste Clape, for that wine is simply sensational … but it is also extremely rare in New Zealand.
Instead, the other half of our tasting is a muster of some of the top New Zealand syrahs, at this early stage in their evolution, barely 25 years after the first examples were committed to bottle (in the post-Prohibition era). These New Zealand wines include Trinity Hill Syrah Homage, and are again all from the same year. Homage was named by John Hancock (when winemaker at Trinity Hill) to acknowledge the great contribution to syrah understanding that the late Gerard Jaboulet made.
The taste of great Syrah
(abbreviated):
Syrah grown in a temperate climate such as the Northern Rhone Valley,  or Hawkes Bay or Waiheke Island (in both of which places it excels,  but it is thriving in a number of other places in New Zealand too), is a wonderfully fragrant and aromatic grape.  At varying points in its ripening profile it shares aromas and tastes with pinot noir, merlot, and cabernet sauvignon.  Good syrah can even be described as pinot noir on steroids. This may seem facile, but it is intended to highlight the conclusion that great syrah depends for its quality on the floral and aromatic components of the bouquet, the fresh berry palate, and the suppleness of its tannins, in a winestyle not dominated by oak.   
The range of styles which are legitimate has however led to both debate and confusion as to the real nature of the grape.  And our view in New Zealand was until recently distorted by the sheer weight of numbers of shiraz wines from Australia, wines which usually are so over-ripe (and often over-oaked) as to bear little relation to carefully-made syrah. In the handout I therefore reprinted an excerpt from my 'Ripening Curve for Syrah',  meaning the sequence of smells and flavours the grape passes through in achieving perfect maturity,  and then over-maturity.  I first published this in an article in the London-based 
The World of Fine Wine
, in 2011. Rather than include it again here, it is simpler to refer to a lecture I presented to Year 3 Oenology and Viticulture students at Lincoln University, as presented
here
, scroll down to the section:
A syrah ripening curve:
The Tasting:
Our tasting assembles 10 syrahs from the great 2010 vintage, five classic from the Northern Rhone Valley, and five which I regard very highly from New Zealand. Four are from Hawkes Bay, and one from Waiheke Island – lest we forget. There are also two other vintages of Domaine Jean-Louis Chave Hermitage, one younger, one older, to give some feel for how syrah develops with a little age. The wines of Jean-Louis Chave are not widely tasted in New Zealand, so this is a worthwhile addition to the scope of the tasting.
The 2010 vintage was an exciting year in the Northern Rhone Valley. It was at the time regarded as among the best vintages in living memory (with 1990 and 1961), but it is now challenged by both 2015 and 2016. The 2010 vintage is rated
98
by
Wine Spectator
, and is described thus: Cool, wet spring resulted in historically low yields, but excellent growing season backed by well-timed September rain and late Indian summer led to a late harvest of terrific quality. Reds are racy and loaded with minerality; even better defined than '09.
robertparker.com
also rates the vintage
98
and long-term.
In Hawkes Bay the year was very similar, for in both districts a warmer 2009 year was followed by a fractionally cooler more aromatic 2010 vintage. Both are rated equally highly for syrah, though individual tasters vary in whether they prefer the slightly softer wines of the warmer year, or the vital aromatics of 2010. The two vintages together will provide essential study material for New Zealand winemakers for many years to come.
References:
Cooper, M. 2011 – 2015:
Michael Cooper's Buyers Guide to New Zealand Wines
. Hodder Moa Beckett.
Livingstone-Learmonth,  John 2005:   
The Wines of the Northern Rhone
.  University of California Press,  720 p.
Parker,  Robert,  1997:  
Wines of the Rhone Valley
.  Simon & Schuster,  685 p.
www.drinkrhone.com
  =  John Livingstone-Learmonth, subscription needed for reviews
www.robertparker.com
  =  Robert Parker and increasingly the associates,  subscription needed for reviews
www.jancisrobinson.com
  =  Jancis Robinson MW and Julia Harding MW,  subscription needed for reviews
www.winespectator.com
= vintage chart, subscription needed for reviews
Acknowledgements:
This report benefitted greatly from comments offered by Warren Cotterill, thank you. I very much appreciate the generosity of Villa Maria Group in hosting these Library Tastings in Hawkes Bay, as well as Auckland.
---
THE WINES REVIEWED – SYRAH
'Price' given is the current
wine-searcher
value. Because John Livingstone-Learmonth now has a knowledge of the Rhone Valley that matches or surpasses the excellence of Robert Parker's earlier personal contribution, I have reported his views in full, where available. There is much to learn from his very individual mode of reporting.
The first Table highlights which country the wines are from, and indicates a
robertparker.com
score (one
Vinous
), if available:
NORTHERN RHONE VALLEY
2010 J L Chave Hermitage (100)
2010 Guigal Hermitage Ex Voto (100)
2010 Jaboulet Hermitage La Chapelle (97+)
2010 Jaboulet Hermitage La Petite Chapelle (92)
2010 Jamet Cote Rotie ( 95-96, Vinous )       
2014 J L Chave Hermitage (94 - 96)

2005 J L Chave Hermitage (97)
NEW ZEALAND:
2010 Bilancia Syrah La Collina (89)
2010 Cable Bay Syrah Reserve (89)
2010 Craggy Range Syrah Le Sol (90+)      
2010 Mission Syrah Huchet ( – )
2010 Trinity Hill Syrah Homage (91)

Reserve Wines:
2010 Matua Valley Syrah Reserve
The Triangle, Hawkes Bay, New Zealand: 14%;  $ –     screwcap;  Sy 100% from vines up to 15 years age from the Matheson Vineyard; French oak; Michael Cooper, 2013:
… clearly the best yet … the plate is vibrantly fruity, with substantial body, a strong surge of blackcurrant, plum and spice flavours and ripe, velvety tannins, ****
; www.matua.co.nz
2010 Yves Cuilleron Cote Rotie Terres Sombres
Cote Rotie,  Northern Rhone Valley,  France:  13%;  $147    cork;  Sy 100% hand-picked @ c. 5.8 t/ha (2.3 t/ac) from vines planted at 8 – 10,000 vines / ha,  on darker schist soils;  some whole-bunch,  cuvaison c.21 days;  MLF and c.18 months in barrel;  production 900 x 9-litre cases;  Wine Spectator, 2013:
A very racy red, with good cut right from the start, delivering mouthwatering damson plum, red currant, blackberry and bitter cherry notes, seamlessly layered with iron, violet and dark tapenade flavors. The long, pure finish is precise. 2016 - 2026,
95; www.cuilleron.com



---