LIBRARY TASTING at REGIONAL WINES, WELLINGTON, 29 AUGUST 2019
1979 BORDEAUX BLENDS AT 40 YEARS:  BORDEAUX (TWO FIRST GROWTHS), CALIFORNIA,  VICTORIA ...
Geoff Kelly, MSc Hons
Conclusions from the tasting:
The Invitation implied that the vintage was not the greatest, but some of the labels gave us a reasonable chance of sampling 'interesting' 40-year-old bordeaux … including some wines which few people can afford nowadays. Thus it turned out to be. So the first thing to say is, that from a careful cellar in cool-temperate Wellington, these 1979 wines are at full stretch. In a warmer climate such as Auckland, they would be critically older and less pleasing. The best of the wines illustrated that good wine doesn't really ever become bad (unless the cork fails): like some people at least, good wine just becomes older and frailer, but still nice to be around, and whether you like it or not is more a function of the the individual's tasting experience, than of the wine itself.
Yes, as examples of claret, these 1979s distinctly reflected a much smaller scale of wine better suited to subtle food, such as the British particularly have traditionally appreciated. Such wines are now described as 'classic' in style, rather than contemporary … the degree of patronising depending on the author. Nearly all of them would still be eminently enjoyable, with the right dish. The problem is, these days too many people drink only current-vintage and thus often raw wine … and the gentle mellowness of wines such as these is too foreign to be accepted. There is only one remedy to this dilemma.
Though you are not allowed to say so, the fact is, too many of the over-ripe, over-alcoholic, over-oaked wines of the recent-modern approach do not enhance food. They compete with it. Happily, this Americanisation of claret (that bigger is better) has passed its peak, and lower alcohols, fresher acid balances, and greater inherent subtlety, are now again the goal in France. And not only in Bordeaux. That is not always the case, unfortunately, in some warmer-climate countries. Given global warming, it seems safe to say that we will not be returning to wines as 'classical' and small-scale as those of the 1970s, in the foreseeable future. These 1979s therefore gave us a pleasant sampling and reminiscence of an era now past.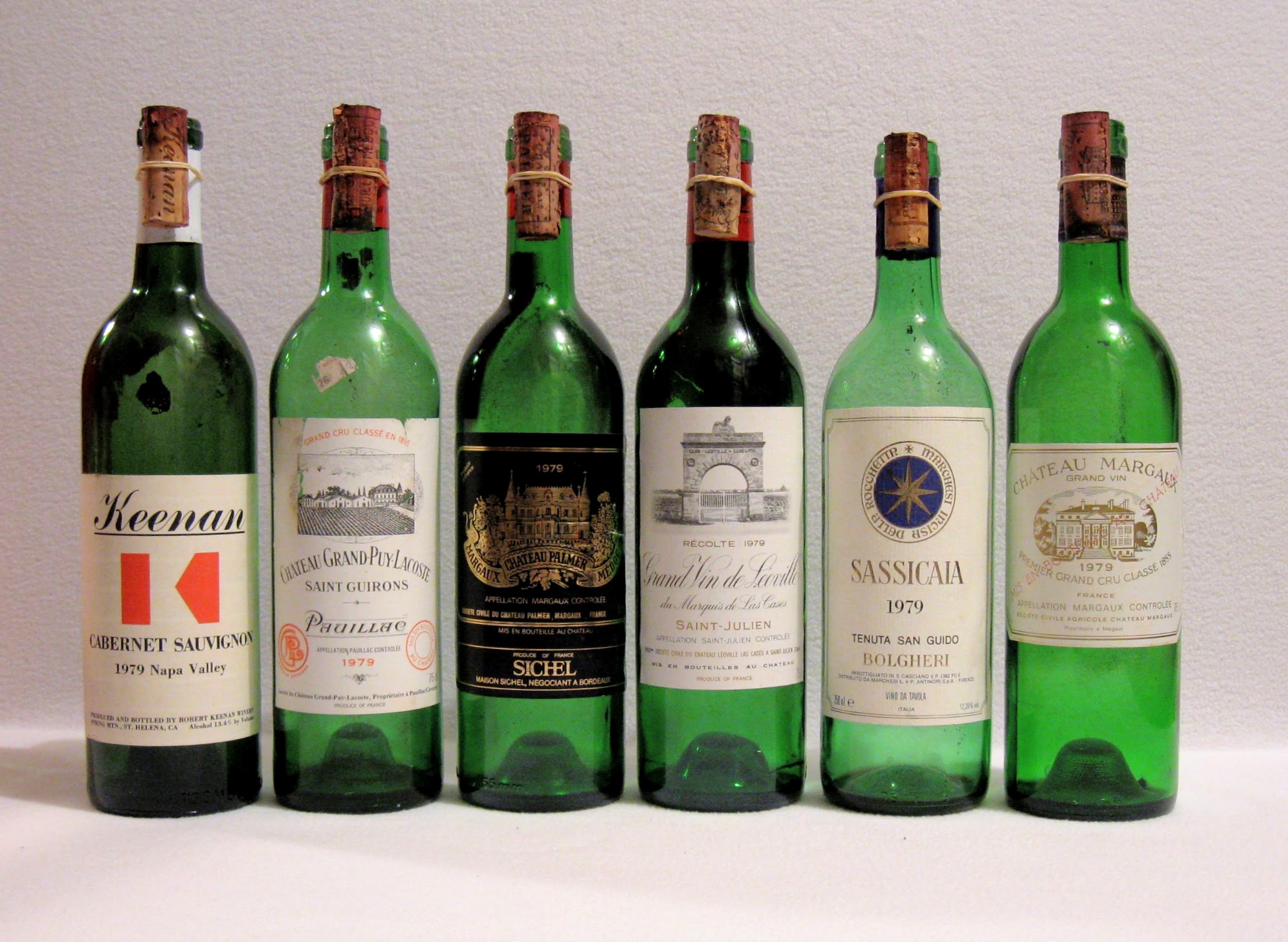 Though 1979 now has a modest reputation amongst wine people grown accustomed to the bigger, riper, and softer wines of the latter-day era, nonetheless, any of these better six wines in this tasting would still be a pleasure to have at table. From the left, 1979 Keenan Cabernet Sauvignon, still surprisingly youthful in appearance, altogether a bigger and more flavoursome wine, 17.5; 1979 Ch Grand-Puy-Lacoste, the opposite extreme, ethereal cedar, browning berry and gossamer harmony all through, too subtle for some tasters, 17.5; 1979 Ch Palmer, fragrant merlot dominant here, a gentle wine, much lighter than its near-neigbour Ch Margaux, 17.5 +; 1979 Ch Leoville Las Cases younger than some of the clarets, more clearly cabernet-dominant and clearly cassisy, not as perfectly ripe as some, 17.5 +; 1979 Sassicaia very clearly cabernet-dominant, a bolder wine with obvious berry and oak, not quite the magical subtlety of the better bordeaux, but not to be ignored, 18; and finally Ch Margaux itself, clearly the most compete and elegant of the bordeaux, sweetly-fruited, no hints of decline … but still the wine of a smaller year, hence the score 18 +.
The 1979 Vintage:
For the seven Bordeaux in our 1979 tasting, there is not much point in re-inventing the wheel. In London they are so much closer to the action: the following account of the 1979 vintage in Bordeaux is reproduced from
Decanter:
Weather Conditions:
The extremely wet conditions of winter lasted well into spring, although conditions improved in time for a successful flowering. Little rain fell during July and August, and temperatures were low. September fared little better. The result was an abundant crop of poorly ripened grapes.
Best Appellations:
This was the third October vintage on the trot, and the largest vintage of the decade, setting a new record for the quantity of red AC wine. The wines in general have not fulfilled their early promise, because of the problem of maturing the Cabernets. As a result many wines which promised well when 10 years old have declined and now show rather lean tannins while lacking fruit. Graves produced by far the best wines, which are delicious today, all others … have problems.
Best Producers: Graves:
superb rich delicious wine from Haut Brion and La Mission, while excellent and perfectly matured wines are to be found from Domaine de Chevalier and Haut Bailly.
Margaux:
while many front runners in Medoc have stumbled, Chateau Margaux and Palmer have lasted the course better than most.
St.Julien:
Leoville Las Cases and Leoville Barton are probably the best survivors.
Pauillac:
some big disappointments here. Lafite, which seemed so promising, has not really gone anywhere, and Pichon Lalande is one of the few vintages in 20 years not to live up to its early promise.
The tasting included three of the wines nominated by
Decanter
as being in the best shape now: Ch Margaux, Ch Palmer, and Ch Leoville Las Cases. To set the above Bordeaux comments in context, see the summary of vintages 1970 – 1990 in Table 1, below.
Table 1:
The 1979 vintage in context, paraphrased from the sources shown:
| | | | |
| --- | --- | --- | --- |
| Year | Broadbent | Robinson | Wine Spectator |
| 1990 | ★★★★★ abundant, exciting vintage, well-constituted wines, substantial | Hot year, alluring wines, many outstanding, velvety texture and luscious, almost over- ripe | 97, Drink: Opulent, well-structured and harmonious |
| 1989 | ★★★★★ rich, ripe, excellent fruit and tannin balance | Hot year, huge crop of rich, opulent wines, attractive young. Right bank very good | 98, Drink: Bold, dramatic fruit character; tannic and long-aging |
| 1988 | ★★★★ firm well-structured wines, overshadowed | 'Classic' in style ie firm and initially a bit austere | 93, Drink: Racy, fruity wines, with good structure |
| 1987 | ★★ → ★★★ light and attractive | Simple, unexciting, early maturing | 76, Past peak: Delicate, ripe, yet diluted |
| 1986 | ★★★★ hot summer, huge crop, surprisingly good | Dense, viciously tannic at first. Some may impress in the end … patience | 95, Drink: Powerful, intense and tannic; best in Médoc |
| 1985 | ★★★★★ beautifully balanced wines, some now fading | Fragrant wines drank well for years but losing fruit and ripeness now | 93, Drink: Balanced, supple and fruity; defines finesse |
| 1984 | ★ lean, hard wines mostly | – | 70, Past peak: Unripe, astringent and dry |
| 1983 | ★★★ appealing, now fading | Good but less concentrated than 1982, many peaked. Margaux district best | 86, Drink: Rich and ripe in fruit and tannins; some overly tannic |
| 1982 | ★★★★★ exceptional, but not typical, still good | Legendary, the first of the modern era, concentrated, delicious. The best still fine | 95, Drink: Intense ripe fruit and generous in style; round tannins. St.-Julien and St.-Emilion stand out |
| 1981 | ★★ → ★★★ in classic style, some fine Pomerols | Patchy quality, lack of guts but attractive balance. Now faded | 82, Past peak: Elegant, balanced and charming |
| 1980 | ★ modest, lunch wines | – | 78, Past peak: Light |
| 1979 | ★★ Left back lacking ripeness, right better | Graceful, suave and well-balanced initially, should have been drunk | 83, Drink: Supple, fruity and delicate |
| 1978 | ★★★ better than expected, declining now | Saved by perfect autumn. The big left bank names are strongest | 87, Drink: Structured, fleshy and complex |
| 1977 | – Worst year of decade | – | 60, Past peak: Poor, unripe and acidic |
| 1976 | ★★ → ★★★ hot year, easy but not classic, some charmers | – | 80, Past peak: Fat, ripe and lacking structure |
| 1975 | ★ → ★★★ good colours, initial promise, now dry and tannic | Many overwhelmed by dry tannins. A few Pomerols and Pauillacs are magnificent | 85, Drink: Hard, tannic. Right bank ripe, rich |
| 1974 | – Ungracious wines, avoid | – | 58, Past peak: Unripe and diluted |
| 1973 | ★★ at best, light | – | 68, Past peak: Light, diluted |
| 1972 | – Mostly un-ripe, avoid | – | 60, Past peak: Acidic, light |
| 1971 | ★★★ → ★★★★ Right bank better than Left | – | 83, Drink: Large crop; uneven quality. Right bank very good |
| 1970 | ★★★★ quantity and quality, some did not live up to promise | Firm, sturdy wines, very much of their era, have lasted well but now short on flesh | 91, Drink: Excellent all-around vintage; structured, lots of fruit |
For the other districts, it is not always easy to obtain vintage information. For Australia, Halliday's website vintage analysis goes back only to 1987. Books of the time are loath to rate vintages … it was still that era when all Australian wines were considered excellent, and every year was a vintage year. My recollection as measured by my favourite Victorian winery, Ch Tahbilk, is that 1979 was a more than acceptable year. For California,
Wine Spectator
's excellent vintage charts rate California cabernet-based wines as balanced, supple and elegant, but austere (maybe relative to the fine 1978 year),
88
, now past their peak – but by no means the least vintage of the decade. For Tuscany, Italy, the same source considers 1979 one of the better years: Very balanced, with lovely fruit and ripe tannins, now past peak,
89
.
The Invitation:
Hindsight now tells us that in Bordeaux there were no great years in the entire decade of the 1970s … though the 1970 vintage comes closest – by modern standards on a par with say 1996 or 2011. 1978 and 1979 were a kind of two-some, 1978 great in Burgundy and the Rhone Valley, and initially praised in Bordeaux … but now seen more as just smallish wines, pleasantly ripe. In Bordeaux 1979 is similar, but in general critically less ripe … though one or two 1979s out-performed. One of our First Growths is such a wine. In addition to the two First Growths, we have two of the undoubted Super-Seconds, Palmer and Leoville Las Cases. How many Super-Seconds there are depends on who you talk to, but these two are on everybody's list.
To add interest we have Italy's top bordeaux-blend,  Sassicaia, initiated by the Marchesi Rocchetta in the late 1940s,  and commercialised in the early 1970s. Because it did not comply with the regulations (for chianti),  it had to be marketed as Vino da Tavola. It took the authorities till 1994 however, to recognise its quality and merit,  and grant it the first single-vineyard DOC. Sassicaia now tends to be more expensive than all but the better Second Growths.  And then we have three Californian wines, to compare and contrast. To better understand the role of cabernet sauvignon and merlot in Bordeaux blends,  we have varietal bottlings from the same Californian winery, both 1979. The other outsider in the tasting is a pioneering 'cool-climate' nearly-Bordeaux blend from inland and montane cool-zone Victoria … a wine trying to break the Australian mould of over-ripened,  over-oaked, overly alcoholic reds that prevailed at the time.
References:
Broadbent,  Michael  2002:  
Michael Broadbent's Vintage Wine
.  Harcourt,  560 p. 
Broadbent,  Michael  2003:   
Michael Broadbent's Wine Vintages
.  Mitchell Beazley,  223 p. 
Coates, Clive, 1982:
Claret
. Century Publishing, London, 424 p.
Coates, Clive, 2004:
The Wines of Bordeaux
. Weidenfeld & Nicholson, London, 720 p.
Halliday, James, 1985:
The Australian Wine Compendium
. Angus & Robertson, Sydney, 576 p.
Halliday, James, 1993:
Wine Atlas of California
. Angus & Robertson, Sydney, 400 p.
Halliday, James, 2007:
Wine Atlas of Australia
. University of California Press, Berkeley, 312 p.
Parker,  Robert  1991:  
Bordeaux
.  Simon & Schuster,  New York, 1026 p. 
Parker,  Robert M.,  2003:   
Bordeaux,  Fourth Edition
.  Simon & Schuster,  New York,  1244 p. 
www.decanter.com
= the London-based magazine of the same name, subscription needed for tasting detail
www.thewinecellarinsider.com
= Jeff Leve
www.jancisrobinson.com
= Jancis Robinson MW and Julia Harding MW, subscription needed for reviews
www.robertparker.com
= Robert Parker and successors, vintage chart, subscription needed for reviews
www.winespectator.com
= vintage chart, subscription needed for reviews
---
THE WINES REVIEWED – CABERNET / MERLOT
Price: In the 'admin' section of the reviews below, the first value given is the current world price from
wine-searcher
. The original price follows in text, if known. For tasting notes, the date given is the actual tasting date (where known), not the publication date of the source, as in the References.
Table 2:
Geographic distribution of the wines tasted:
AMERICA: CALIFORNIA
1979 Dry Creek Cab. Sauvignon, Sonoma County
1979 Keenan Cabernet Sauvignon, Napa Valley
1979 Keenan Merlot, Spring Mtn district, Napa V.
AUSTRALIA
1979 Virgin Hills, Kyneton district, Victoria
FRANCE
1979 Ch Figeac, Saint Emilion 1er Grand Cru 'B'

1979 Ch Grand-Puy-Lacoste, Pauillac 5th Growth
1979 Ch Lafite Rothschild, Pauillac First Growth
1979 Ch Leoville Las Cases, St-Julien 2nd Growth
1979 Ch Margaux, Margaux First Growth
1979 Ch Palmer, Margaux Third Growth
1979 Ch Pichon-Lalande, Saint-Julien 2nd Growth
ITALY: TUSCANY
1979 Tenuta San Guido Sassicaia, Bolgheri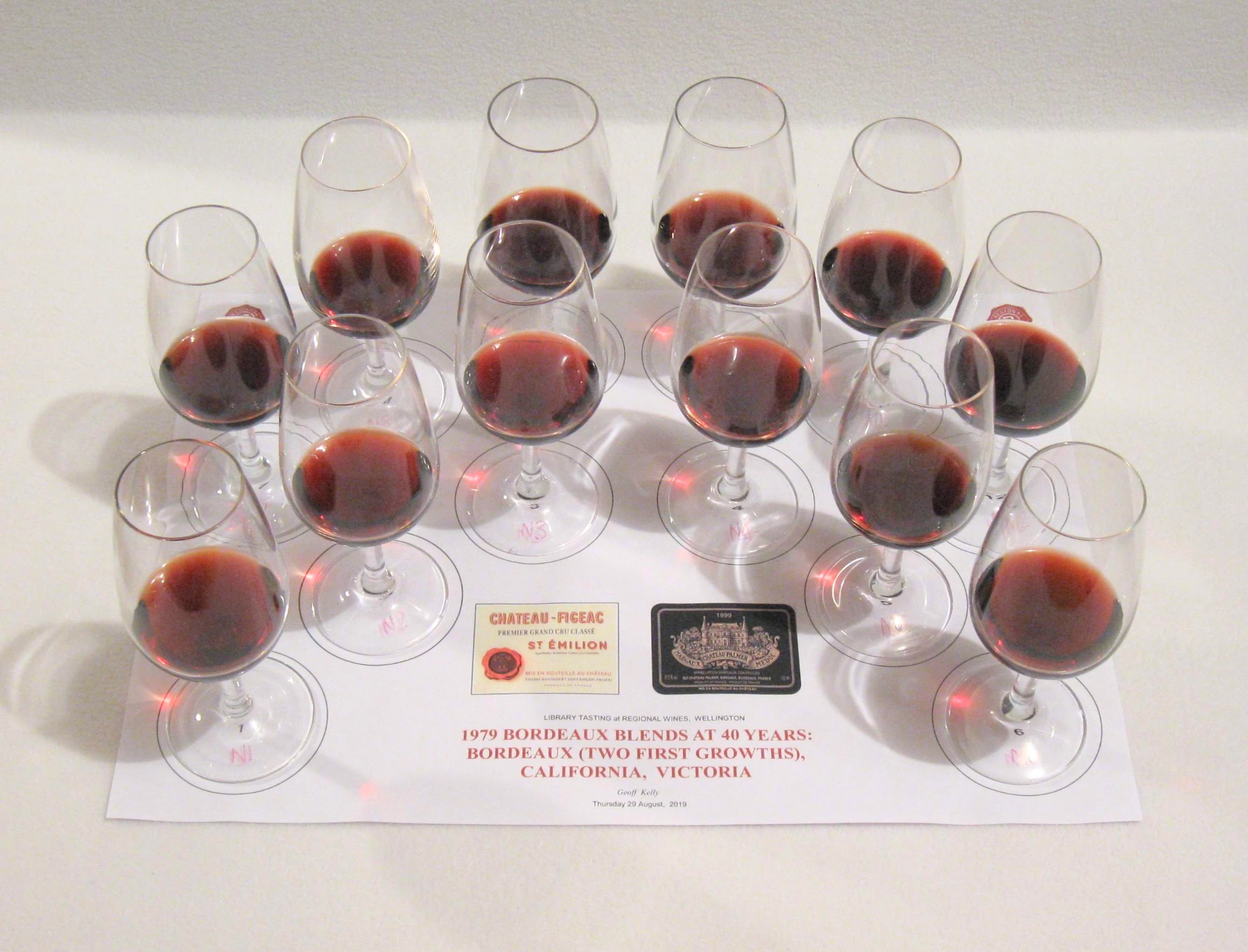 In this photo, the colours had darkened a little by the time of the photo, but the wines are still fresh (held on ice). Nonetheless the gradation of colour, and the surprising freshness and depth a couple had retained over the 40 years, came as a surprise to tasters. Glasses 1 – 6 front row, 7 – 12 behind. Wines 2 and 6, the 1979 Dry Creek Cabernet Sauvignon from California, and the 1979 Sassicaia from Tuscany, the two lightest. Wines 5 and 7, the Pauillacs 1979 Grande Puy Lacoste and 1979 Lafite-Rothschild, retaining surprising colour for the relative lightness of flavour; wine 9 the lovely 1979 Ch Margaux, as good as one could hope for from the vintage; and then sequestered to a degree at the end, the two 'strong' wines of the tasting, 11 the 1979 Keenan Cabernet Sauvignon from California, and 12 the 1979 Virgin Hills, from Victoria, Australia.
Reserve Wines:
1979 Clos du Val Cabernet Sauvignon,
Napa Valley, California
1979 Clos du Val Merlot,
Napa Valley, California
1979 Antinori Tignanello,
Val di Pesa, Tuscany, Italy (Sa dominant, CS, CF)
1979 Ch Montrose,
Saint Estephe Second Growth
---