LIBRARY TASTING at REGIONAL WINES, WELLINGTON, 25 OCTOBER 2018
1978 BORDEAUX BLENDS INCLUDING ONE FIRST GROWTH, ALSO ONE BAROLO, AT 40 YEARS ...
Geoff Kelly, MSc Hons
1978: Appalling growing season. At the end of August chateaux owners were in despair. Complete disaster loomed. Then, suddenly, the weather improved with a September blessed with cloudless skies and unbroken ripening sunshine through to the start of harvest just after the first week in October. It was, in the many times repeated words of Harry Waugh, 'the year of the miracle'. But could a last minute reprieve make up for the previous miserable conditions?       Michael Broadbent, 2002
Conclusions from the tasting:
For anyone taking an interest in older bordeaux, the nett impression one would gather from from the Net is, that the wines of the '70s are now pretty sad, and almost to be bypassed. The first thing to say in riposte to that is, quite simply, in that era, claret and bordeaux were not expected to be big, weighty, and 'impressive' – in the way they are now, after a whole generation of wine assessment so very much influenced (for better or worse) by the American obsession with size and ripeness in wine.
The best of these 1978s are simply beautiful wines, the best of them so fragrant that as the blind bottles passed round the room, as people poured their 30 ml measure each, you could see this look of astonishment and delight, wow, that wonderful smell, on nearly every face. This is rare, in any wine tasting. But by the same token, even the greatest of these wines is not a 'big' wine, by modern standards. It fell to the interloper, Sassicaia, to be the sturdy wine of the day.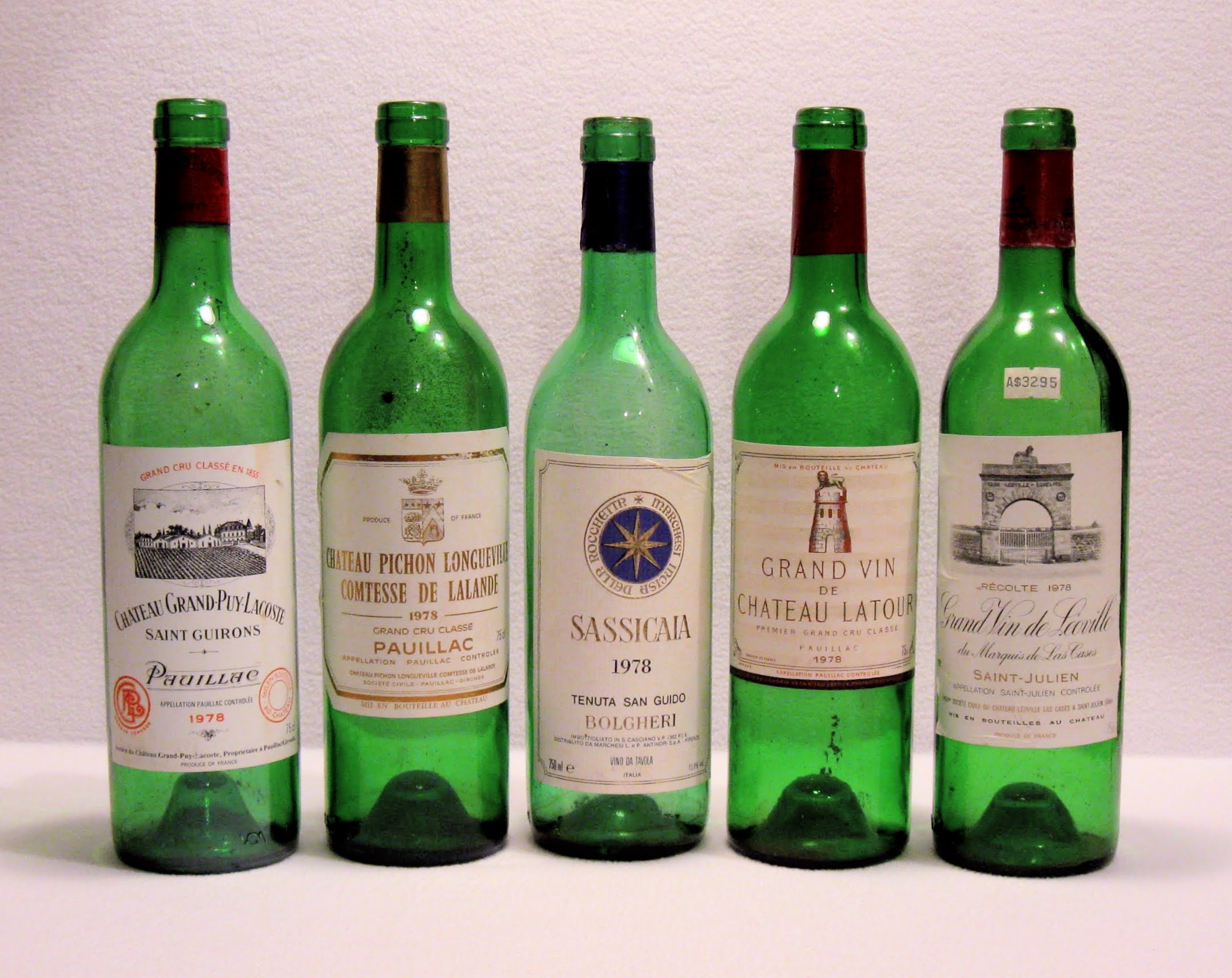 The top five wines scoring 18 points or more in this tasting. From the left, 1978 Ch Grand-Puy-Lacoste, smaller-scale but showing a wonderful harmony of cassis-led smells and flavours all browning now, with fragrant cedary oak, the palate soft and harmonious, 18; 1978 Ch Pichon Lalande, not quite as perfectly ripe as the Grand-Puy-Lacoste but a little richer, very much 'classic claret', 18 +; 1978 Sassicaia, bigger and riper than any of the bordeaux, a little burly, but well-liked, 18.5; 1978 Ch Latour, a wonderful bouquet showing great ripeness and classic claret style, still good richness, fully mature, a well-liked wine, 18.5 +; and the top wine for me, 1978 Ch Leoville Las Cases, an extraordinary volume of bouquet, followed by perfect mouth-filling ripeness of all varieties, not the richest wine but the most elegant and complex, 19.
To judge from this tasting, with wines bought at release and cellared since then in near-ideal ambient under-house conditions in Wellington's excessively modest climate, 1978 bordeaux are now all
à point
for drinking, even the most serious labels. Being not as ripe as wines from modern vintages considered good, these 1978s present complex and informative bouquets, adding greatly to the pleasure of assessing them – and drinking them. Note these bottle are all from the cool Wellington climate. Auckland bottles (for example) would probably smell and taste considerably older.
Information provided for tasters:
The world was cooler place in 1978, and the 1970s as a whole were particularly modest in Bordeaux.
Broadbent
rated the vintage ***, a late cool vintage saved by fine weather in later September and October. He considers 1978 better than 1979.
Robert Parker
rates it
87 – 88
mostly, and 1979 similarly. In contrast, the vintage was highly regarded in Burgundy, the best since 1971, ***** from
Broadbent
, but less from Parker (who wasn't so good with Burgundy), and if anything the Rhone was more highly regarded, with the usually understated Broadbent ***** again, with words like 'astonishing' and 'absolute perfection'. Parker scored the Rhone Valley
97 – 98
, the highest ratings he has ever given the district – until 2010. Broadbent has Barolo at ***** too, and Parker
97
. So there should be some attractive if fully mature aromas and flavours in this set of wines.
Most of the information given to tasters for each wine is now in the italicised 'admin' section for each wine. Where possible in the notes for the wines below, I have sought to give an early comment, Broadbent where available, then for this tasting I am adding in a
Clive Coates
' assessment, for though he is not as clinical as I prefer, he has tasted an enviable amount of Bordeaux ! Then finally, a Parker summary, to tap his now magisterial overview of the last 50 years of Bordeaux vintages. This step has highlighted how very individual and fraught wine-writing is: in the excerpts which follow, often there seems no hint they are talking about the same wine. So the old rule applies: there are no great wines, no fixed attributes in wine: each bottle is itself, after this passage of time. So every tasting like this is an adventure, setting out in the hope that certain bottles will be the very best they could be, having regard to their age … now 40 years old.
NB: for nearly all the bordeaux notes, the Parker views are his thoughts on the youngish wine. The other reflection that occurred in preparing these notes is: how few reviews there are on-line now about the 1978 vintage. Only Parker has comprehensive knowledge of the vintage. Yet 1978 is not so long ago. It seems extraordinary that so often,
Wine Spectator
(and even
Jancis Robinson
) have nothing to say, with all their resources and connections. A wine friend of mine (in Hong Kong) writes, in response to the invitation on my website, how weird it is that good 1978 wines are being offered for public tasting in Wellington, New Zealand.
Note that for those few wines displaying alcohols, just how great the change in wine style has been in the last 40 years, as the American preference for fully-ripe to over-ripe wines came to dominate both consumer taste ... and therefore, wine-making approaches, world-wide. At the same time global warming made it easier to achieve full ripeness or (all too often) over-ripening. Temperate-climate wine-lovers can only hope the pendulum principle will apply to this issue.
References:
Broadbent,  Michael  2002:  
Michael Broadbent's Vintage Wine
.  Harcourt,  560 p. 
Coates, Clive, 2004:
The Wines of Bordeaux
. Weidenfeld & Nicholson, London, 720 p.
Parker,  Robert  1991:  
Bordeaux
.  Simon & Schuster,  1026 p. 
Parker,  Robert M.,  2003:   
Bordeaux,  Fourth Edition
.  Simon & Schuster,  New York,  1244 p. 
www.jancisrobinson.com
= Jancis Robinson MW and Julia Harding MW, subscription needed for reviews
www.robertparker.com
= Robert Parker and associates, vintage chart, subscription needed for reviews
www.winespectator.com
= vintage chart, subscription needed for reviews
---
THE WINES REVIEWED,  CABERNET / MERLOT
(bar one):
FRANCE:
1978 Ch d'Angludet, Margaux cru bourgeois
1978 Ch Grand-Puy-Lacoste, Pauillac Fifth Growth
1978 Ch Latour, Pauillac First Growth
1978 Ch Leoville Barton, Saint Julien Second Growth
1978 Ch Leoville Las Cases, Saint-Julien 2nd Growth
1978 Ch Montrose, Saint-Estephe Second Growth
1978 Ch Palmer, Margaux Third Growth

1978 Ch Pichon Lalande, Pauillac Second Growth
1978 Ch Pontet Canet, Pauillac Second Growth
CALIFORNIA:
1978 Pine Ridge Cab. Sauvignon Rutherford, Napa V.
ITALY:
1978 Pio Cesare Barolo, Piedmont
1978 Tenuta San Guido Sassicaia, Tuscany

Reserve wines:
BORDEAUX
1978 Ch Canon-la-Gaffeliere, Saint Emilion, 11.5%; $117 cork; Me 55%, CF 40, CS 5; around 18 months in barrel, percentage new then not clear, in later '80s moved to 100% new; R. Parker, 1998:
The 1978 is fully mature, and given this wine's inclination to behave like a burgundy and die quickly, it is best drunk up. Light ruby with some browning, this round, soft, fruity wine is one-dimensional and light, but cleanly made. Anticipated maturity: Now - probably in serious decline,
75; www.neipperg.com
NEW ZEALAND
1978 Babich Cabernet Sauvignon, probably all Henderson, 11.5%; $ – cork; CS 100%, 18 months French oak; www.babichwines.com
1978 Montana Cabernet Sauvignon Marlborough Private Bin, 11.8%; $ – cork; CS 100%; 12 months in French barriques; Peter V Hubscher Selection; no relevant website.
1978 Nobilo Cabernet Sauvignon, Huapai, Auckland district, 10.5%; $ – cork; CS 100% probably; understood to be 2 years in French oak,  a high percentage new; no relevant website.



---