LIBRARY TASTING at REGIONAL WINES, WELLINGTON, 18 SEPTEMBER 2014
VERTICAL TASTING OF THE GREAT JABOULET HERMITAGE
LA CHAPELLE, 1969 – 2010 …
Geoff Kelly, MSc Hons
Comment by Gérard Chave of J L Chave, quoted by John Livingstone-Learmonth, 2005, p.282: ... in the background ring Gerard's trenchant words about much modern winemaking: "The uniformity imposed by new oak and overextraction are what I deplore the most these days."
Introduction and Invitation:
When it comes to
syrah
,  for many years since the war Jaboulet's Hermitage La Chapelle was regarded as the pre-eminent example of the grape in the world,  fully ranking with grands crus from Bordeaux and Burgundy. In the early / mid-1990s however, decline set in, exacerbated by the untimely death of Gerard Jaboulet in 1997. The reputation for the top Hermitage, and thus the finest syrah in the world, passed to J L Chave.  But latterly,  with the late 2005 / 2006 purchase of Maison Paul Jaboulet Aîné in its entirety by the Frey family, owners of Ch La Lagune in Margaux (and linked with champagne-house Billecart-Salmon too),  there is every sign with the 2009 and 2010 vintages,  that La Chapelle will soon be restored to top or top-equal billing.  
This Library Tasting offers 11 vintages of La Chapelle,  and one of J L Chave's Hermitage,  the wines spanning 41 years.  So the first thing to casually mention is,  you would almost certainly need to go to somewhere like London,  if you wanted to find a tasting like this.  We have never heard of anything like it in New Zealand (or even Australia).  And the second key point is,  check the price ($NZ165),  then pause and consider you are tasting 12 examples of a famous wine, spanning 41 years, for a price equal to half a bottle. One of the older vintages in this tasting has a
wine-searcher
valuation of over $NZ1,000 a bottle.  The current shelf price of the recent vintages is around $345.
Another compelling aspect to this tasting is,  it includes 1990 La Chapelle,  a 100-point Robert Parker wine,  and along with the 1978,  the only La Chapelle in recent decades considered to approach the 1961.  Jaboulet's 1961 Hermitage La Chapelle is widely regarded as one of the greatest red wines of any type made since the war – in the top 10.  It remains the ultimate syrah.  This tasting should give us an inkling of what it is like.
Finally,  there will be one fine syrah in the tasting that is not La Chapelle.  What better wine to calibrate Hermitage La Chapelle than 1999 J L Chave Hermitage,  a great year there.  How many of  us have been in a position to ever compare these two great syrahs,  alongside each other.  This will be a tasting to remember.
Conclusions from the tasting:
This was considered an exciting tasting, which sold out quickly. Tasters came from Auckland, and syrah winemakers came from Hawkes Bay, to share in such a rare set of wines. On the night, people seemed pleased with what they found, even though it was remarkable how many different variations on the La Chapelle winestyle won through to be somebody's favourite wine of the night – eight of the 12 wines. Our findings reflected the view documented by Jancis Robinson (in 2006), and widely held, that the quality of Hermitage La Chapelle deteriorated sadly in the latter years of the Jaboulet regime. 1990 can be considered the last of the classic great Jaboulet La Chapelles. Conversely, with Caroline Frey now at the helm, 2009 and particularly the 2010 can be regarded as the opening wines for a wonderful new era for this label. There has been some comment that perhaps there is just a bit too much Bordeaux styling in these new wines, so far, but this seems carping. The distinction and precise varietal character of the syrah fruit in the 2010 is both enviable and admirable – and immediately places this label back amongst the pre-eminent syrahs of the world.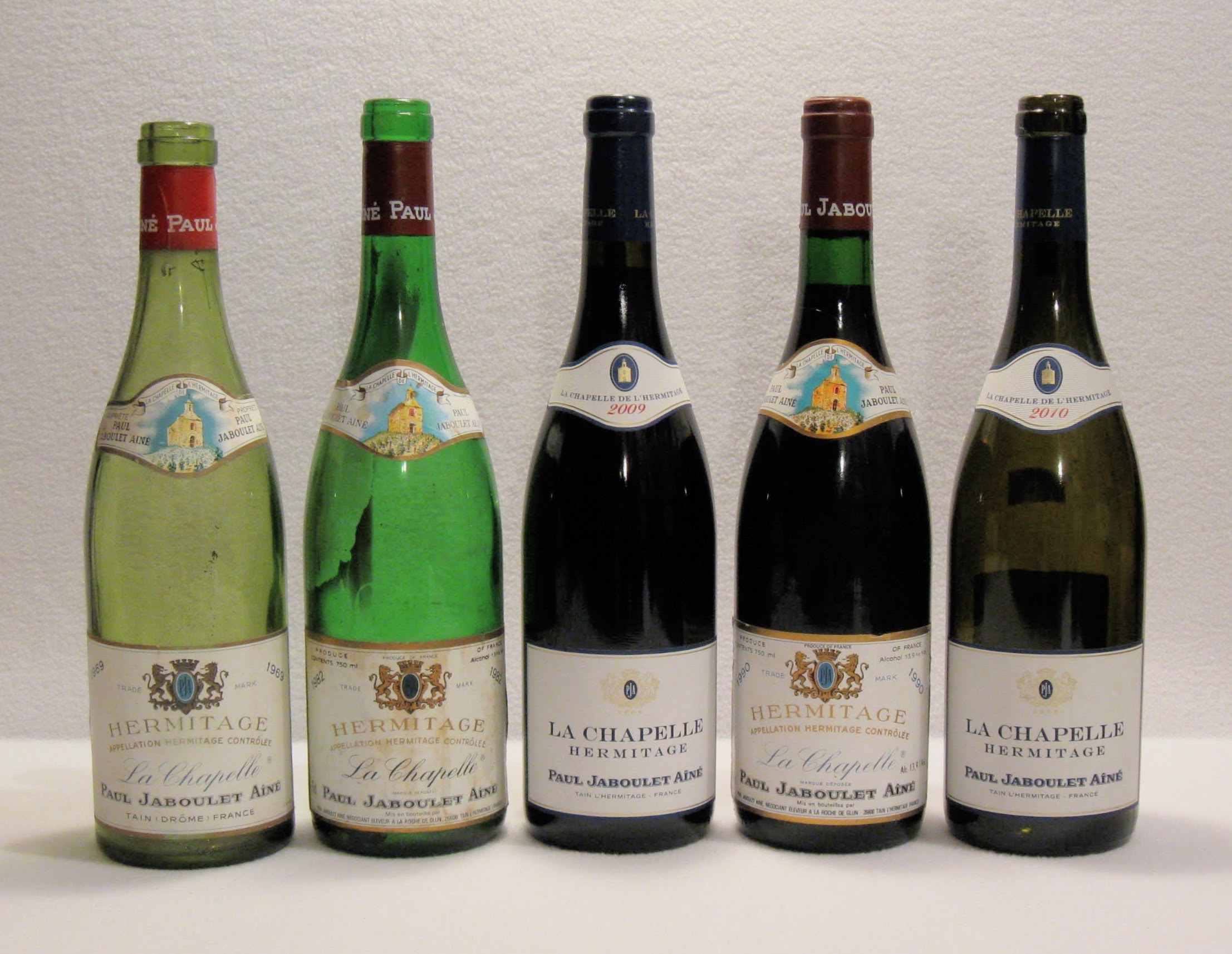 The top five Jaboulet Hermitage La Chapelles in this exciting tasting presented a startling,  but rewarding,  range of styles,  collectively illustrating what a rewarding grape temperate-climate syrah can be. From the left, 1969 La Chapelle, very much needing decanting and breathing (just for age, not reduction), surprisingly rich, marking 18 well-breathed; 1982 La Chapelle clearly a different, fragrant, sweeter style as it has been from the outset, reminders of some Cote de Nuits wines, 18 +; 2009 La Chapelle a big, rich, plush wine flirting with over-ripeness, 18.5; 1990 La Chapelle along with the 2010 showing near-perfect ripeness of syrah, still cassis aromatics apparent, fully mature, top wine for three people, 19, and 2010 La Chapelle, in practical terms a perfect example of fine syrah in its youth, intense cassis and dark plum, aromatic, long and exciting, 19 +.
Background to Jaboulet Hermitage La Chapelle:
Now that Michael Broadbent has stepped back from active wine-writing,  the two wine people I read most are the rather hard-marking Jancis Robinson and the more ebullient Robert Parker (
sensu stricto
).  Robinson shared in a vertical of La Chapelle in November 2005, which covered the vintages 1955 – 2000. Between them,  and their no-nonsense writing style and pan-Atlantic perspective on wine,  the truth is often to be found.  Nowadays too,  for the Rhone Valley one also has to consult John Livingstone-Learmonth,  who writes in a most engaging yet old-fashioned style,  with a remarkable level of factual detail.
As noted earlier,  Robert Parker in June 2000 referred to 1961 Jaboulet Hermitage La Chapelle as: 'This is unquestionably one of the greatest wines made in the twentieth century. In the two dozen tastings where I have had the 1961 La Chapelle, I rated it 100 points twenty times.'  Other wine authorities have expressed similar views.   Sadly we do not have the 1961,  it having achieved prices of up to $US28,500 per bottle at auction in recent years.  We do however have the 1990,  thanks to John Comerford,  and the 1989,  thanks to Mike Parker.  Second only to the 1978 (which we also lack),  these two vintages have (according to some) the reputation of showing something of the calibre of the 1961.  However Jancis Robinson's late-2005 tasting of 33 vintages did not include the 1978 or the 1989 in her top wines.  Instead she listed:  1961, 1964,  1972, 1982, 1990.  Note we have the 1982, as well as the 1990. We also have the 2009, which Parker describes as: '... the 2009 Hermitage La Chapelle is easily the greatest, most profound La Chapelle since the 1990.', and the 2010, which all agree is scarcely less, and slightly fresher. We will see.
In the handout for the Tasting I paraphrased Robinson's write-up of her Jaboulet Hermitage La Chapelle vertical tasting,  to set the scene for tasters. Though it makes this introduction less self-contained, for publication it seems more appropriate to link to her January 2006 summary review,
here
, which is free issue on her website. The individual reviews remain behind the pay-wall. Her coverage of La Chapelle vintages is one of the most complete on her website, outside the wines of Bordeaux.
La Chapelle the wine:
Based on
Livingstone-Learmonth
's summary for La Chapelle on his website and in his celebrated book 'The Wines of the Northern Rhone', the general approach to making the wine is: the wine all syrah, Le Méal the main vineyard, then Les Bessards, some Rocoules, average vine age 40 years; the grapes destemmed, cooled,  usually c.22 days cuvaison,  some oxygenation;  for the 2009 and 2010 now 20% new oak,  the balance 1 – 3 year oak barrique-sized,  c.12 – 15 months depending on season, then 3 months (presumably assembly) in vat; at one stage some fining and filtering,  not clear currently; production up to 1990 or a little later understood to be less than 4,000 cases,  some years half that,  progressively through balance of century and till Freys took over increasing to a max known of 8,900 cases from the same strictly delimited area, so this very much a factor in the absolute decline of the wine;  since 2007 decreasing to historical levels again,  the 2009 (a reduced crop year) just under 2,000 cases.
Below is a Table indicating the approximate quality of each vintage, and four wine-writer summary views of the achievement for La Chapelle the wine in each vintage, expressed simply as their score for the wine. Further information is included in the notes for each vintage.
Table 1: To the left the Wine Spectator / Michael Broadbent vintage rating for the Northern Rhone Valley each year, then four wine-writer ratings per year for Jaboulet Hermitage La Chapelle: 1969 – 2010
Year
Vintage Rating
WS1 / MB2
Broadbent 3
Robinson 4
J. L-L5
Parker 6
2010
WS 98
–
18.5
–
97+
2009
WS 96
–
18.5+
–
98
2008
WS 86
–
–
not made
–
2007
WS 91
–
18+
✶✶✶✶
91
2006
WS 92
–
17.5
✶✶✶
90
2005
WS 94
–
18.5
✶✶✶✶✶
93
2004
WS 90
–
17
✶✶✶
88
2003
WS 94
–
16
✶✶✶✶(✶)
96
2002
WS 82
–
–
✶✶(✶)
–
2001
WS 89
–
16.5
✶✶✶✶
88
2000
WS 88
✶✶(✶✶)
17
✶(✶)
86
1999
WS 96
– 
16+
✶✶✶✶
89
1998
WS 90
–
15
✶✶✶
92
1997
WS 88
–
14
✶✶✶✶
93
1996
WS 90
✶✶✶(✶✶)
16.5
✶✶✶✶
92
1995
WS 91
✶✶(✶✶✶)
15.5
✶✶✶✶✶
90
1994
MB ✶✶
–
16.5
✶✶✶
89
1993
MB ✶✶
–
–
✶✶
–
1992
MB ✶✶✶
–
13
✶✶(✶)
–
1991
MB ✶✶✶
✶✶✶✶
17
✶✶✶✶
91
1990 ✲ 1
MB ✶✶✶✶✶
✶✶✶✶✶
18.5
✶✶✶✶✶✶
100
1989 ✲
MB ✶✶✶✶
✶✶✶✶✶
18+
✶✶✶✶
96
1988
MB ✶✶✶✶
✶✶✶(✶✶)
18
✶✶✶✶✶
92
1987
MB ✶
–
–
✶✶(✶)
86
1986
MB ✶✶✶
✶✶(✶✶)
15
✶✶✶(✶)
87
1985 ✲
MB ✶✶✶✶✶
✶✶✶(✶)
16.5
✶✶✶✶✶
95
1984
MB ✶✶
✶✶✶
13.5
✶✶✶
79
1983
MB ✶✶✶✶✶
✶✶✶
17+
✶✶✶
86
1982
MB ✶✶✶✶
✶✶✶✶
17+
✶✶✶✶
92
1981
MB ✶✶✶
–
16 –
✶✶(✶)
68
1980
MB ✶✶
–
17
✶✶(✶)
86
1979 ✲
MB ✶✶✶✶
✶✶✶✶
16
✶✶✶✶✶
90
1978 ✲
MB ✶✶✶✶✶
✶✶✶✶✶
18.5+
✶✶✶✶✶✶
100
1977
MB ✶
–
–
✶✶
76
1976 ✲
MB ✶✶✶✶
✶✶✶
15
✶✶✶✶✶
87
1975
MB ✶
–
16.5
✶✶(✶)
87
1974
MB ✶
–
16
✶✶✶✶
–
1973
MB ✶✶
–
16
✶✶✶✶
--
1972
MB ✶✶
✶✶✶
17.5
✶✶✶✶
88
1971
MB ✶✶✶✶✶
✶✶✶✶✶
19
✶✶✶
93
1970
MB ✶✶✶✶
✶✶✶✶✶
18
✶✶✶✶✶
94
1969 ✲
MB ✶✶✶✶✶
✶✶✶
15
✶✶✶✶✶
89
1. Wine Spectator ratings per year for the Northen Rhone Valley go back to 1995, then "notable years" only, indicated by ✲ placed by year.
2. The Michael Broadbent ratings required some interpolation. The ratings given for the Northern and Southern Rhone Valleys are sometimes combined. For some years, clarifying detail in the text allows an inference for the North to be made.
3. In one of the more astonishing omissions from Broadbent's first great vintage notes book (1980), the Rhone Valley was not covered.
4. Jancis Robinson and Julia Harding scores only, averaged where appropriate.
5. John Livingstone-Learmonth marks out of 6 stars, the latter used very rarely indeed.
6. Most recent score, latterly Joe Czerwinski, then Jeb Dunnuck, before 2000 Robert Parker.
The
Wine Spectator
rating for the years is used, because in my experience, their summary of the character of a vintage (in general) is more accurate than Robert Parker /
The Wine Advocate
, due to the latter rating bigger wines higher, and liking acid less. There is a slightly more European sensibility in the
Wine Spectator
evaluation of the vintage, as a whole.
Parker
's particular affinity with the syrahs of the Northern Rhone Valley means he has a better feel for the individual wines, however, and he uses descriptors more carefully and understandably.
Acknowledgements:
The success of this tasting owed much to discussion with, and critical bottles being supplied by, John Comerford, Wellington, and Mike Parker, Masterton. Thank you both.
References:
Broadbent,  Michael  2002:  
Michael Broadbent's Vintage Wine
.  Harcourt,  560 p. 
Broadbent,  Michael  2003:   
Michael Broadbent's Wine Vintages
.  Mitchell Beazley,  223 p. 
Livingstone-Learmonth, John:
The Wines of the Northern Rhone
. University of California Press, 704 p.
Parker, Robert M. 1987:
The Wines of the Rhone Valley and Provence
. Simon & Schuster, 457 p.
Parker,  Robert M.  1997:  
Wines of the Rhone Valley
.  Simon & Schuster,  685 p.
Robinson, Jancis, 2006:
Hermitage La Chapelle – the rise and fall of a great wine.
https://www.jancisrobinson.com/articles/hermitage-la-chapelle-the-rise-and-fall-of-a-great-wine
www.drinkrhone.com
John Livingstone-Learmonth, subscription needed for detail
www.robertparker.com
Robert Parker, but latterly more his deputies, subscription needed for reviews
www.jancisrobinson.com
Jancis Robinson MW and Julia Harding MW, subscription needed for reviews
www.winespectator.com/vintagecharts
---
THE WINES REVIEWED – SYRAH:
The first 'price' shown below is the 2014 
wine-searcher
 world value,  expressed in $NZ.  The Jaboulet website is not always accessible, and lacks information.
---