LIBRARY TASTING 6 OCTOBER 2020, EIT SENSORY LAB, HAWKES BAY
1976 BORDEAUX AND BORDEAUX BLENDS ... NEW ZEALAND ADDENDUM ...
Geoff Kelly, MSc Hons
Conclusions from the tasting:
The nett impression tasters gained from the tasting was one of surprise and relief, that the wines were so good at the 44-years-old point, compared with the predictions made for them by respected commentators, often so many years ago. Tasters declared themselves well-pleased with the quality of several of the wines, despite one wine of acute interest, 1976 Ch Petrus, being impaired by TCA. At least six of the 12 wines were somebody's favourite: always a pointer to the level of enjoyment.
How does one account for the predictions of the pundits in many cases so seriously under-estimating these wines? For example of the 1976 Ch Kirwan, Robert Parker considered it in 1989: in total collapse, washed out…, yet 31 years later not a single taster (out of 21) rated it the least wine of the tasting, most agreeing it was pleasant, mature, small-scale claret. The most likely explanation is the almost total absence back then of wineries assembling a master-blend for bottling. Some indeed still bottled from individual barrel to bottle, meaning an infinite number of 'final wines' went to market. This is the simplest / most economical explanation for the views of varying commentators about the same label appearing to describe totally different wines.
The top wines still showed the lovely appetising bouquets and supple palates of classical but not large-scale bordeaux in full maturity. Nonetheless, one can sum up the 1976s by saying that in 2020, provided the wines have been cellared in conditions never exceeding 18° C, even the best are in the late stages of their plateau of maturity. Most 1976 Bordeaux will be best served by being finished up. All need decanting, and some need further air to dispel a little bottle stink. Forty-two years (say, since bottling) is a long time to be locked up. The 1976 Ch Figeac rejected from the tasting for quite severe TCA turned out to be surprisingly aromatic for a Saint-Emilion, and would have fitted in at about the Ch Giscours 17.5 + level, after 48 hours on ice with Gladwrap®.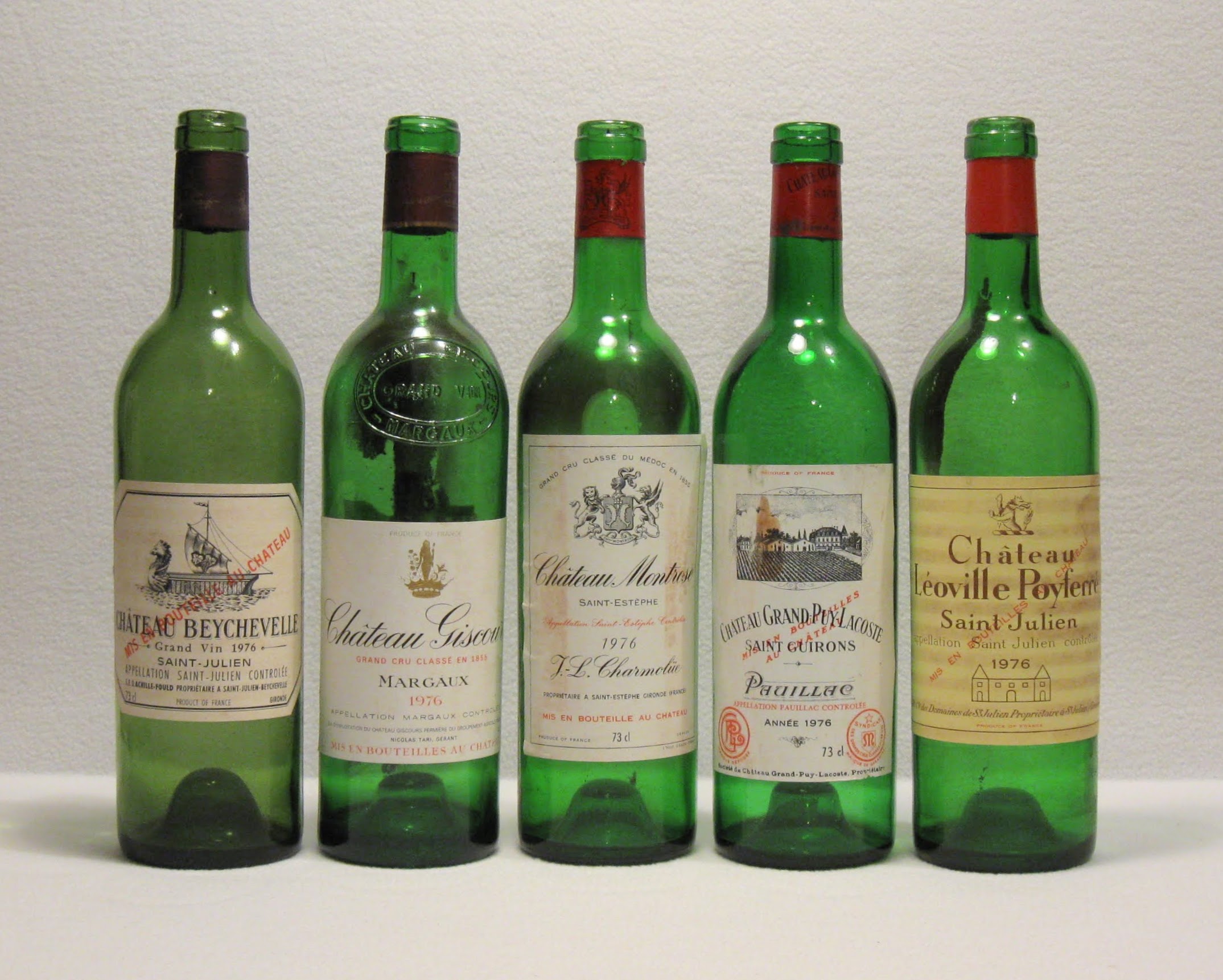 The top five wines in the 1976 Bordeaux tasting. What amazed tasters about these wines is just how pleasant they were, and how good they would be to take out to dinner, if subtlety and finesse were one's preferences in wine. Reading the reviews of the pundits on the 1976 bordeaux, no such impression would be formed. From the left, 1976 Ch Beychevelle, a pleasing example of a fully mature, smaller scale, fragrant and 'classical' west-bank bordeaux, before there was any expectation that bordeaux be big and impressive, 17.5; 1976 Ch Giscours in contrast an altogether bigger wine, the deepest in colour and the same impression following through bouquet and palate, all tending a bit burly, 17.5 +; 1976 Ch Montrose a little different from the other four, smaller-scale but very aromatic and 'fresh' (in the context of the tasting), as if cabernet sauvignon were more prominent in the cepage than it is, five top places, 18; 1976 Ch Grand-Puy-Lacoste inimitably itself, not a big wine but a beautiful harmony of mature ripe cabernet sauvignon and cedar, seamless, first or second-favourite for eight tasters, 18.5; and 1976 Ch Leoville-Poyferre, surprisingly rich and ripe considering the reviews on-line, classic cabernet and cedar on a bigger scale than the Grand-Puy-Lacoste, top or second-favourite wine for seven tasters, and even a little time in hand, 18.5 +.
The 1970s in Bordeaux:
When we think back now to the post-war vintages in Bordeaux, the 1940s were famous for the 1945s, 1947s and 1949s, the 1950s for the 1953s, 1955s (to a degree) and 1959s, the 1960s ever-memorable for the 1961s, but also here and there some lovely wines from 1962, 1964 and 1966. But for the 1970s, there was the the initial 1970 vintage, hailed at the time but rather shrinking subsequently, the 1975s again hailed at the time, but the tannins stood firm while the fruit receded, then the 1976s, '78s and '79s … all subsequently proving much less than initially hoped. Table 1 sets out the nature of the vintages for the 1970s and 1980s.
Table 1:
The 1976 vintage in context, paraphrased from the sources shown:
| | | | |
| --- | --- | --- | --- |
| Year | Broadbent | Robinson | Wine Spectator |
| 1990 | ★★★★★ abundant, exciting vintage, well-constituted wines, substantial | Hot year, alluring wines, many outstanding, velvety texture and luscious, almost over- ripe | 97, Drink: Opulent, well-structured and harmonious |
| 1989 | ★★★★★ rich, ripe, excellent fruit and tannin balance | Hot year, huge crop of rich, opulent wines, attractive young. Right bank very good | 98, Drink: Bold, dramatic fruit character; tannic and long-aging |
| 1988 | ★★★★ firm well-structured wines, overshadowed | 'Classic' in style ie firm and initially a bit austere | 93, Drink: Racy, fruity wines, with good structure |
| 1987 | ★★ → ★★★ light and attractive | Simple, unexciting, early maturing | 76, Past peak: Delicate, ripe, yet diluted |
| 1986 | ★★★★ hot summer, huge crop, surprisingly good | Dense, viciously tannic at first. Some may impress in the end … patience | 95, Drink: Powerful, intense and tannic; best in Médoc |
| 1985 | ★★★★★ beautifully balanced wines, some now fading | Fragrant wines drank well for years but losing fruit and ripeness now | 93, Drink: Balanced, supple and fruity; defines finesse |
| 1984 | ★ lean, hard wines mostly | – | 70, Past peak: Unripe, astringent and dry |
| 1983 | ★★★ appealing, now fading | Good but less concentrated than 1982, many peaked. Margaux district best | 86, Drink: Rich and ripe in fruit and tannins; some overly tannic |
| 1982 | ★★★★★ exceptional, but not typical, still good | Legendary, the first of the modern era, concentrated, delicious. The best still fine | 95, Drink: Intense ripe fruit and generous in style; round tannins. St.-Julien and St.-Emilion stand out |
| 1981 | ★★ → ★★★ in classic style, some fine Pomerols | Patchy quality, lack of guts but attractive balance. Now faded | 82, Past peak: Elegant, balanced and charming |
| 1980 | ★ modest, lunch wines | – | 78, Past peak: Light |
| 1979 | ★★ Left back lacking ripeness, right better | Graceful, suave and well-balanced initially, should have been drunk | 83, Drink: Supple, fruity and delicate |
| 1978 | ★★★ better than expected, declining now | Saved by perfect autumn. The big left bank names are strongest | 87, Drink: Structured, fleshy and complex |
| 1977 | – Worst year of decade | – | 60, Past peak: Poor, unripe and acidic |
| 1976 | ★★ → ★★★ hot year, easy but not classic, some charmers | – | 80, Past peak: Fat, ripe and lacking structure |
| 1975 | ★ → ★★★ good colours, initial promise, now dry and tannic | Many overwhelmed by dry tannins. A few Pomerols and Pauillacs are magnificent | 85, Drink: Hard, tannic. Right bank ripe, rich |
| 1974 | – Ungracious wines, avoid | – | 58, Past peak: Unripe and diluted |
| 1973 | ★★ at best, light | – | 68, Past peak: Light, diluted |
| 1972 | – Mostly un-ripe, avoid | – | 60, Past peak: Acidic, light |
| 1971 | ★★★ → ★★★★ Right bank better than Left | – | 83, Drink: Large crop; uneven quality. Right bank very good |
| 1970 | ★★★★ quantity and quality, some did not live up to promise | Firm, sturdy wines, very much of their era, have lasted well but now short on flesh | 91, Drink: Excellent all-around vintage; structured, lots of fruit |
For 1976 in particular, the 1976 summer in Europe was a hot one,  with at-the-time newspaper photos of people frolicking in fountains and so forth commonplace.  In the vineyards,  berries were small,  thick-skinned and tannic.  Vintage date at 15 September was the earliest of the decade,  and hopes were high.  However rain during vintage quashed the possibility of a challenger to 1961,  as some had predicted. Some earlier assessments:
Broadbent 1980:
★★★
A good vintage, not outstanding, but some immediately satisfactory wines … a hot, dry, wonderful summer … The year of the rather alarming heat and drought in northern Europe. The weather broke in September … interrupting the picking in Bordeaux which began on 15 September. … 1976 prices remained reasonable – albeit at a level that made the decade of the 1960s look ridiculously cheap, and the 1950s another world.
Assessment:
useful wines. At best, claret at its most pleasantly refreshing, but quite a few wines, from high to low class, lack flesh; more lean and hungry than elegantly svelte and supple. … A vintage worth buying carefully and keeping a while.
Peppercorn 1982:
… by the end of August, the grapes were extremely small and conditions resembled 1921, 1947 and 1949 … Rain [during vintage] had the effect ... of diluting quality. The resulting wines have a deep colour, were fairly rich in alcohol, and very low in fixed acidity, with unusually high pHs … and tannins … masked by fruit.
Broadbent: 2003:
★★ to ★★★
On release a deservedly popular vintage. … the wines were easy and agreeable, but many, from high class to low, lacked flesh; more lean and supple than pleasantly fresh, some of the first growths combined substance and elegance. Never a classic claret vintage, though many were beguiled by its youthful appeal, attractive colour, and initial fruit. Some continue to charm and delight. Many are flavoury, most are fading. One or two top growths have time in hand, despite being well past their prime. Drink up.
Stephen Brook
in his authoritative '
The Complete Bordeaux' (2007)
provides a more recent summing up:
1976:
An exceedingly hot summer, with weeks of very high temperatures and little rain until mid-September, right at the the beginning of harvest. The rain diluted the musts. The result was a large crop of wines that matured rapidly; many had a baked character, others were thin from dilution. The whites were rich and powerful, but aged quickly thanks to low acidity.
The Invitation:
For this year's Hawkes Bay Library Tasting offerings, the first tasting offers the rare opportunity to taste 44 year-old claret, 11 from Bordeaux, plus one New Zealand. The wines will be fully mature, to declining, but still full of interest for those who like old wine.
There are two goals for this tasting. For the first, in the sense that the cabernet / merlots of Bordeaux (or Hawkes Bay) are cellar wines par excellence, this tasting offers the rare opportunity to see a reasonable sampling of well-known names at an age greater than most people are familiar with. Secondly, it offers the opportunity to taste the rare, in New Zealand nearly mythical, Ch Petrus (then 95% merlot, 5% cabernet franc) within an affordable context. I say affordable, because 1976 is not one of Petrus's greatest years, the season being warm and the wines tending tanniny, so we can cost Petrus into the tasting at a realistic figure. All the wines have been cellared in Wellington's cool climate since original purchase at release.
References:
Beaven, D. W. 1977:
Wines for Dining – New Zealand Pocket Guide.
Whitcoulls Publishers, 63 p.
Broadbent,  Michael  1980:  
The Great Vintage Wine Book.
 Mitchell Beazley,  432 p.  
Broadbent, M.B. 2002:
Michael Broadbent's Vintage Wine.
Harcourt / Websters International, 560 p.
Broadbent, M.B, 2003:
Michael Broadbent's Wine Vintages.
Mitchell Beazley,  223 p. 
Brook, Stephen, 2007:
The Complete Bordeaux.
Mitchell Beazley, 720 p.
Halliday, James, 1985:
The Australian Wine Compendium.
Angus & Robertson, Sydney, 576 p.
Parker,  R  1991:  
Bordeaux.
 Simon & Schuster,  Second Edition, 1026 p. [ the cepage details are more likely to be accurate for the time, using the earlier edition ]
Peppercorn, D. 1982:
Bordeaux.
Faber & Faber, 424 p.
Saunders, Peter, 1977:  
A Guide to New Zealand Wine 1977 Edition.
Wineglass Publishing, 64 p.
www.jancisrobinson.com
= Jancis Robinson MW and Julia Harding MW, subscription needed for reviews
www.robertparker.com
= Robert Parker and successors, vintage chart, subscription needed for reviews
www.winespectator.com
= vintage chart, subscription needed for reviews.
---
THE WINES REVIEWED – CABERNET / MERLOT
The wines span:  Haut-Medoc, Margaux, Pauillac, Saint-Estephe, Saint-Julien, and Pomerol (the Saint-Emilion being lost to TCA), plus Huapai / Kumeu for New Zealand and Coonawarra in South Australia. There are surprisingly few tasting notes on-line for the 1976 Bordeaux. Robinson has only Ch Petrus. As always, Parker is the most likely to have tasted a wine. The date given alongside a tasting note is the inferred date of tasting, not the publication date of the book. The first price shown is the current
wine-searcher
value, if available. This indicates how the world-at-large rates the wine, today. Purchase price where known is shown in the text. At the time, the standard bordeaux bottle was 730 mls.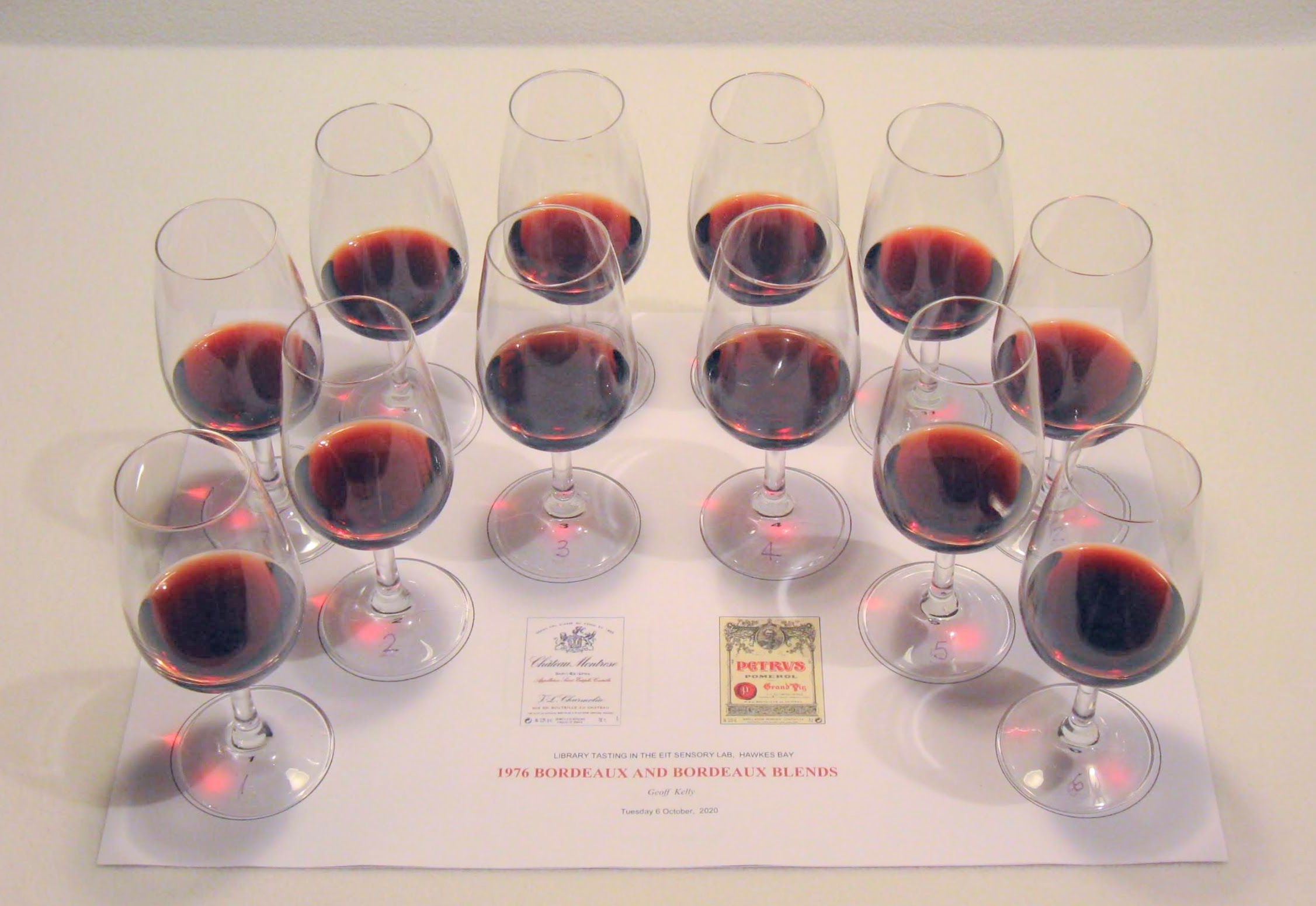 The 12 wines were a pleasure to sit down to, the colours all healthy and glowing for their age, and the generalised aroma of mature claret wafting from the set simply a great pleasure. Front row wines 1 – 6, back 7 – 12. Despite being totally written off years ago by the pundits, Ch Kirwan on opening seemed the best 'in the middle' wine to introduce the scope of the tasting, at glass one. Colours ranged from the lightest ruby and garnet in position nine, the 1976 Nobilo Cabernet Sauvignon, through to the clearly deepest wine of the 12, Ch Giscours in position six. Note the relative lightness of the Redman Cabernet Sauvignon at position four, anything but an Aussie blockbuster, and likewise the matching lightness of the top wines of the tasting, Ch Grand-Puy-Lacoste in position 11, and Ch Leoville-Poyferre, wine 12. Wines seven, eight and nine put the three slightly 'odd' wines, Ch La Lagune with brett, Ch Petrus big and tanniny, and the quite strong Nobilo, together, so they could share their characteristics among themselves, and not detract from the more fragrant and elegant wines concluding the tasting.
---
A New Zealand sequel …
Following the formal tasting, since one does not have 1976 bordeaux open every day, it seemed appropriate to take out the New Zealand Cabernet Sauvignons of the era, and set up a little blind tasting to see how they compared with the real thing.
The mid-70s were an interesting time for the New Zealand wine industry, with progressive wineries taking their first tentative steps into
vinifera
-based wine production. Leaving aside Mission Estate, muller-thurgau had become the top white variety by 1970, and in the early to mid-'70s it was time to try cabernet sauvignon, as the best-known red variety (in the New World). The problem was, in that era, very few winemakers had any calibrated tasting experience of the benchmark wines of France. Accordingly many (but not all) wines labelled Cabernet Sauvignon and talking blissfully of Bordeaux in the fine print on their labels, were in fact caricatures of the real thing, being colossally under-ripe, dilute or some in fact watered (up to 1983), and acid. This situation persisted into the early / mid-1980s. Any New Zealand wine reviewer commenting factually on the shortcomings of the wines, or attempting to judge them to international standards, was all too often threatened with Court action by insecure winemakers, or removed from judging them. Myopia and self-interest prevailed, greatly aided by (wine) import licensing.
By 1976, the lead earlier set by Tom McDonald (and to a degree, Alex Corban and Mission Estate) had waned: only two winemakers were striving to grow and vinify grapes to a European standard of ripeness and wine-concentration: Nick Nobilo at Huapai, and Denis Irwin at Matawhero, Gisborne. Thus my venturing to include 1976 Nobilo Cabernet Sauvignon in the 1976 Bordeaux review … with tolerable success. And hence the further thought: how would some of the other New Zealand bordeaux-styled red wines of the time compare. In the event I could not locate 1976 Cooks Cabernet Sauvignon, so put in a 1974 Cooks Claret, since 1974 was a markedly dry summer in the Auckland district. Results below.
And for those winemakers in New Zealand who wish to retain the cork closure, but still question the merit of spending extra on top-quality (and appropriately branded and dated) corks, it is noteworthy that the average ullage on the ten French wines was 15.5 mm after a nominal 42 years, for quality corks averaging 53 mm in length. In contrast the average ullage on the five New Zealand wines was 49 mm, for an average cork length of 44 mm. All wines have been in the same cellar conditions since original purchase.
---