LIBRARY TASTING 24 SEPTEMBER 2020, at REGIONAL WINES, WELLINGTON
THE GREAT 2010 VINTAGE IN BORDEAUX – A NEW ZEALAND VIEW
Geoff Kelly, MSc Hons
Alfred Tesseron, owner, Ch Pontet-Canet website: Technology is neither necessary nor desirable, as only taste can guide choices and reveal the emotional subtleties of a great terroir treated with respect.
Conclusions from the tasting:
This was a simply sensational tasting. Because the
en primeur
prices were so high, very few of these labels ever reached retail / wine shop shelves in New Zealand. Therefore, few New Zealand people have tasted them at all.
The tasting got off to a good start, with not a single bottle showing cork / TCA taint. Are we really reaching the level of (re-considered) artisan work plus backing-up technology where cork can be (nearly) relied on ? As the tasting proceeded, the little noises of pleasure to be heard round the room were both exciting, and immensely rewarding for the presenter.
For the wines, the better ones showed a freshness of character which showcases Bordeaux at its best, coupled with a ripeness and concentration bespeaking a great year. The year 2010 combines the essential elements of 'classical' bordeaux, namely fragrance and florality on bouquet, with good acid balance on palate, plus concentration, ripeness and depth, in the modern style. A simple index to the level of both satisfaction and the learning opportunities that this tasting presented can be gathered from the fact that seven of the twelve wines were one or more person's top or second-favourite wine. In the writing-up of the wines, nine of the 12 wines rank gold-medal level by Australasian judging standards. It is fair to note these standards are very different from those applying in London, where the wine world is at commentators' feet, and the absolute benchmark labels rarely or never tasted in New Zealand are seen relatively frequently.
Among the wines, 2010 Ch Montrose is revelatory. 2010 Ch Leoville-Barton and 2010 Vieux Chateau Certain epitomise in a marvellous / at-best way the contrasting winestyles of the west and east bank, cabernet-led and merlot-led. And 2010 Ch Ducru-Beaucaillou is up there too, appealing more to those who mark up new oak in their claret, whether recognised as new oak or not.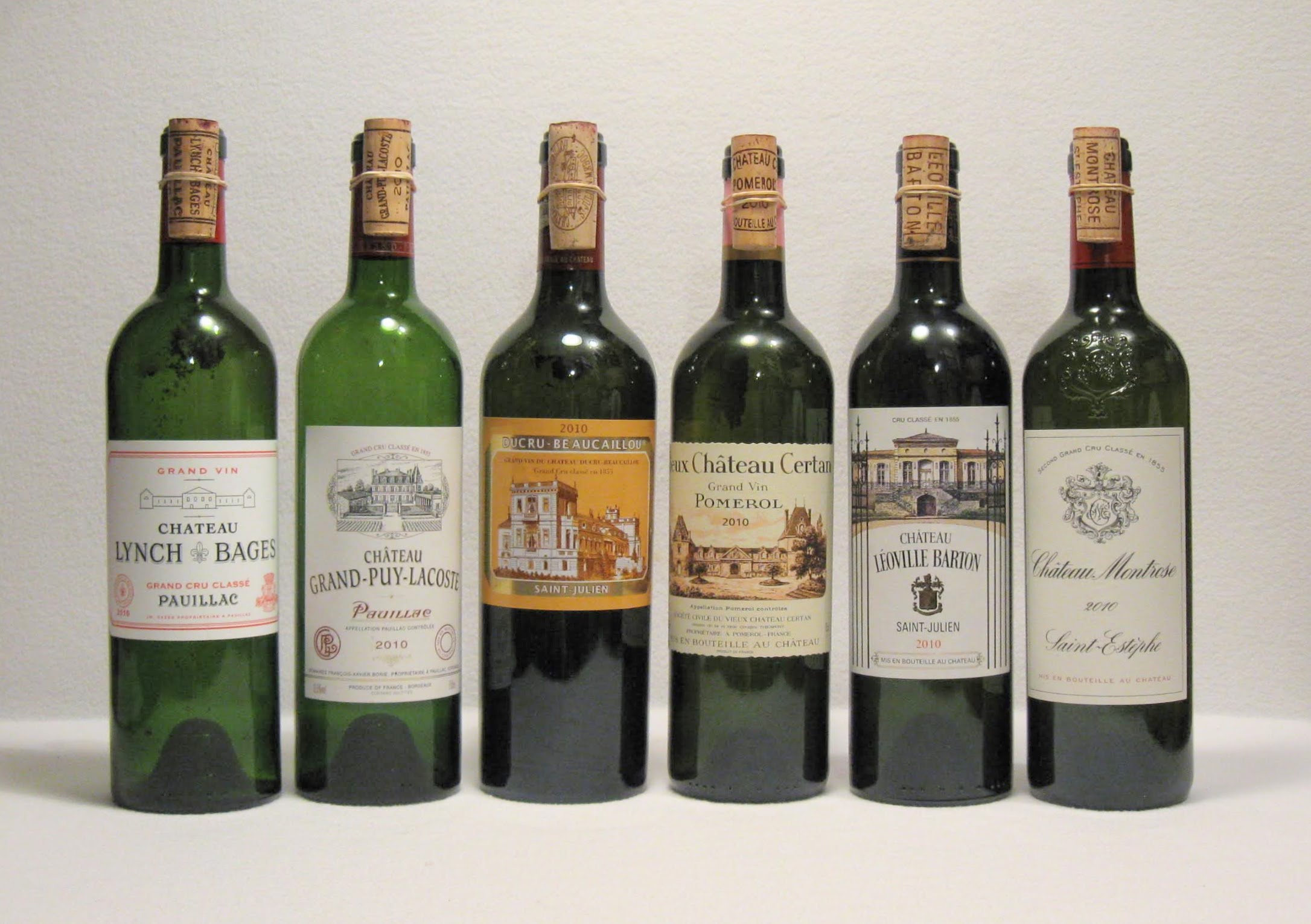 An indication of the quality of the wines in the tasting can be gained from the fact that these top six all scored 19 + or more … an almost unimaginable result given there were only 12 wines all told. Nine of the 12 were gold medal level or better. From the left, our 2010 Ch Lynch-Bages did not seem quite as remarkable as the bottle reported on from London, but still impressed for its amazing freshness and youth, with clear-cut cassisy berry characters and subtle oak. Three people had it as their top wine, 19 +; next 2010 Ch Grand-Puy-Lacoste, showing a suppleness and charm with soft cedary complexity which made it more accessible than some, but did not appeal to the group so much, 19 +; the 2010 Ch Ducru-Beaucaillou stood out a little in the top six, not only for its superb 56 mm cork, but also with its much more noticeable new-oak handling adding just a thought of the New World. This was matched by intense and perfectly ripe cabernet sauvignon characters, eight people rating it their top or second wine, 19 +; then the East Bank contender, the very highly regarded 2010 Vieux Chateau Certan, beautifully floral as merlot should be but so often is not, and supple bottled plum and blueberry notes on palate. It was hard to imagine how an East Bank wine could be more characteristic, with ten tasters rating it their favourite or second-favourite wine in the set, 19.5; in second place was the intensely cassisy 2010 Ch Leoville Barton, in a sense exactly defining how a top-level West Bank cabernet-dominant wine should smell and taste, forming a beautiful comparison and contrast with the merlot-dominant Vieux Certan. Eight people had the Barton as their top or second-favourite wine, 19.5; and finally the exceptional 2010 Ch Montrose, one of the absolutely great Ch Montrose offerings, with a density and velvety richness of berry which is off-the-scale, yet astonishing freshness and aromatic complexity too. This is a 90-year wine, which six people had as their top or second-favourite, 19.5 +;
One could not own too many of these 2010 bordeaux. I am increasingly of the view that in both Bordeaux and the Rhone Valley North and South, 2010 is the new 1961.
Introduction to the 2010 vintage:
The goal in setting up this tasting of the most expensive Bordeaux
en primeur
campaign ever offered, is to combine some of the highly-praised wines with some of those still affordable, by the time they reach New Zealand. As always, even though the top names were demanding high prices, there were plenty of smaller chateau not caught up in the hype. For example Paveil de Luze, a much-improved cru bourgeois from the Medox, landed here for under $50 on the shelf.
But just to set the tone, let's for a moment consider the wines at the other end of the scale. We reached the point with the 2010 campaign, where a fair number of well-regarded chateau ended up over that critical $500 per bottle landed cost, which once was the preserve only of the First Growths. Ch Palmer, for example … compared with my first purchase of it from the 1966 vintage, at $6.30 on the shelf in Fletcher-Humphreys, Christchurch. For my 2010 buying strategy, I retained that $500 landed cost absolute limit.
Farr Vintners of London are now the single most famous and largest provider of
en primeur
Bordeaux to the UK market in the first instance, but to the world at large as well. For many years, Farr Vintners and it predecessor organisations have mounted a '10 years on' tasting of their earlier Bordeaux
en primeur
campaigns. In February 2020, the subject was the 2010 vintage. They assembled no less than 180 of the more important wines of Bordeaux ... and tasted them in 15 flights of 12, over 2 days. Participants included a veritable who's who of the world wine trade, including 8 MWs, Julia Harding MW from
jancisrobinson.com
, Neal Martin from
vinous.com
, and Lisa Perrotti-Brown MW from
robertparker.com
. This is a scale and depth of wine tasting which we in New Zealand (or Australia) can only marvel at. Considering that they are tasting the greatest cabernet / merlots in the world, it throws into sharp focus the sad fact that so many local wine-writers seem to start their scoring range at 90 points, despite in many cases having never tasted a number of these absolutely benchmark or defining wines, as in the 180 top wines the Farr Vintners panel assessed.
Stephen Browett
, now a substantial owner and Chairman of Farr Vintners, has written up this tasting in a most engaging way. Here are some of this thoughts, précised, focussing rather more on a context for the wines which we have. Astonishingly, some of ours (which I have marked in bold red, below), though under that critical $NZ500 ceiling, still measure up well in Browett's summary:
Expectations were very high coming in to the tasting and the big questions on everybody's lips were "How great is the 2010 vintage?" and "Is it ready to drink?".
Pomerol in general produced a stunning set of wines with four of the vintage's top seven places. The tannic structure of the 2010 vintage was tamed by the sheer plushness and weight of ripe Merlot fruit here. Some 2010s on the left bank and in Saint Emilion are pretty firm and stern, but here they are spherical, complete and harmonious. In many cases they are drop-dead gorgeous and pretty much ready to drink. The Pomerol winner (and 3rd place overall) was the quite magnificent L'Eglise Clinet with Lafleur, Le Pin and
Vieux Chateau Certain
just behind. All four of these are absolutely sensational and some of the finest young wines that I have ever tasted.
[ Since most of us will never taste current Ch Petrus, for interest we can interpolate the Pomerol scores of
Neal Martin
and
Lisa Perrotti-Brown
at this exact tasting (from
Vinous.com
and
RobertParker.com
respectively). For
Vieux Chateau Certan
NM is
97
, vs L.P-B
100
. For Ch Petrus, NM is
96
, vs L.P-B (sitting on the fence) again
100
. So fervently hoping that our bottle is sound, we have the chance of tasting claret about as good as it gets. See also
Montrose
and
Lynch-Bages
, below, which offer similar possibilities.]
Saint Julien produced a great set of wines in 2010 with some deep colours, classic Cabernet Sauvignon fruit intensity matched by a structure that will make these candidates for long-term ageing. Our top two were the slightly more plush and glossy
Ducru Beaucaillou
and Léoville Poyferré and the more open-knit
Langoa Barton
[ a reserve wine ] in third place out-scoring the more closed and tannic (but ultra-serious)
Léoville Barton
. This is a classic claret than needs at least another five years in bottle. As always the consistency in this flight was excellent – collectors can buy with confidence knowing that this appellation performs well right across the board and offers classic Médocain style in a 2010 guise.
In Saint Estèphe the traditional order was maintained with the top two wines –
Montrose
and Cos d'Estournel – clearly ahead of everyone else. The former has superb purity and dense, mouthcoating tannins that make it destined for the long haul. Such is the intensity and drive that it may not reach its peak for another decade or more.
Finally to Pauillac where two of the greatest young Bordeaux wines that I have ever tasted were our clear winners. Top of the pack with four perfect scores was the incredible Latour 2010. ... However, for those of us who can't afford to drink First Growths every night, the big news here was the incredible performance of
Lynch Bages
. This classic claret is the essence of Cabernet Sauvignon and is all set to mature into one of this property's greatest ever wines. With a jet black colour, huge black fruit and matching tannins, this First Growth taste-alike was the third highest rated wine of not just Pauillac, but of the entire left bank of Bordeaux – even outscoring Lafite, Margaux and Haut Brion. This wine is still not ready to drink but is starting to reveal its true potential as the tannins soften and the enormous weight of fruit bursts into life. There were also terrific performances by ...
Grand Puy Lacoste
(refined, supple and subtle) – truly fabulous and much closer to maturity than some of the neighbours.
So, how do we describe 2010 red Bordeaux and how does it rate against other years? First of all it is abundantly clear that this a great vintage. For me it is very different in style to the more opulent and obviously sexy 2009. I would say that 2009 is more consistent as a vintage with quality at every level, but 2010 at the top contains higher peaks with several potentially perfect wines. The very best of these are not yet mature but their class is clearly evident.
The
Wine Spectator
current rating for the 2010 vintage is: Left Bank
99
, their highest-ever rating (in their schedule back to 1972), Right Bank
98
, top equal with 1989.
Wine Advocate
ratings are
94T – 99T
, varying with village.
The Invitation to the Tasting:
Make no mistake,  2010 is a great year in Bordeaux.  For the next 50 years,  enthusiasts will argue as to whether the best wines match or surpass the 1961s … but the point is,  the vintage is of that calibre.  It is particularly like 1961 in that it is a year of classical restraint,  needing cellaring.  Thus some of the
fashionistas
,  for whom everything has to be accessible immediately,  have mocked the vintage.  Disregard them.
With global warming,  plus immense advances in the science and practice of wine-making,  fine vintages in Bordeaux are now much more commonplace than even 20 years ago.  In this century there was a tentative start with the 2000 vintage,  then a great step forward with the 2005s.  Jump a few years,  and there are the warm-year, plush and thus accessible 2009s appealing to the American palate,  then the taut and aromatic 2010s,  in a sense appealing more to the European palate.  2015 and 2016 is an exact replay of that sequence.  In purchasing the 2010s,  notwithstanding them being the most expensive 
en primeur
 Bordeaux vintage ever offered,  I was excited by the early reports.  Now,  having waited the traditional 10 years ("it is a sin against the spirit of the bottle etc …" ) for good Bordeaux to reveal some its charms,  how will these still-expensive wines open up for us ?  Note these wines are quite rare in New Zealand, due to their high
en primeur
offer price.
With the passage of the years,  old mentors and advisors are increasingly challenged by young and very switched-on tasters.  For Bordeaux,  two English palates are to the fore,  
Neal Martin
at 
Vinous
,  and
Jane Anson
at 
Decanter
.  And in a more supervisory role,  there is also
Stephen Browett
,  now owner of the fabulous 
Farr Vintners
 of London,  to be listened to.  The above summary of the status of the 2010 vintage is abstracted from their writings.
As to our wines,  considering both Browett's Farr Vintners report, and going back to established advisors,  
Jancis Robinson
elsewhere lists her top 20 wines for the 2010 Bordeaux.  When you reflect that she is frequently tasting wines of a price and calibre we never see,  such as Ch Cheval Blanc,  Ch Petrus,  the Rothschilds etc,  for us to have even four of her top 20 wines is extraordinary. When I add in that
Lisa Perrotti-Brown
,  now the chief Bordeaux taster at 
RobertParker.com
 has given one of those four wines 100 points in her comprehensive 2020 review of the 2010 Bordeaux,  and that both she and Neal Martin have given another of the four 99 points,  you can see that by New Zealand standards,  this Library Tasting of 2010 Bordeaux comes very close to being an opportunity to taste truly benchmark cabernet / merlot blends.  But I have also included some affordable wines,  to retain a grip on reality. This tasting should be a very special experience.
References:
Brook, Stephen, 2007:
The Complete Bordeaux
. Mitchell Beazley, 720 p.
Browett, Stephen, 2010:
Bordeaux Ten Years On, February 2020
.
https://www.farrvintners.com/blog.php?blog=276
Parker, Robert M., 2003:
Bordeaux, Fourth Edition
. Simon & Schuster, New York, 1244 p.
Peppercorn, D. 1982:
Bordeaux
. Faber & Faber, 424 p.
Robinson, Jancis, Feb. 1920:
My top-scoring 2010 red bordeaux
.
https://www.jancisrobinson.com/articles/bordeaux-better-ageing-selling
www.decanter.com
= latterly, Jane Anson for Bordeaux, some free material on website, subscription needed for longer articles, and reviews
www.jancisrobinson.com
= Jancis Robinson MW and Julia Harding MW, some free articles, subscription needed for reviews
www.robertparker.com
= Robert Parker and successors, for Bordeaux Lisa Perrotti-Brown, vintage chart, subscription needed for reviews
https://vinous.com
= Antonio Galloni and associates, now notably Neal Martin for Bordeaux. Introduction to articles free to mailing list, subscription needed for reviews
www.winespectator.com
= vintage chart, subscription needed for reviews.
Authors / Initials cited:
FV:
Farr Vintners, London (UK)
JA:
Jane Anson UK @
Decanter
JH:
Julia Harding MW (UK), @
Jancis Robinson
JM:
James Molesworth (US), @
Wine Spectator
JR:
Jancis Robinson MW (UK)
L.P-B:
Lisa Perrotti-Brown MW (US), @
Wine Advocate
NM:
Neal Martin (UK), @
Vinous
, formerly at Wine Advocate
RP:
Robert Parker (US), @
Wine Advocate
SS:
Stephen Spurrier (UK), @
Decanter
WA:
Wine Advocate (US)
WS:
Wine Spectator (US)
Acknowledgements:
Particular thanks to Scott Gray, of Maison Vauron, for help with 2010
En Primeur
pricing … appreciated.
---
THE WINES REVIEWED – CABERNET MERLOT
The first 'price' given is the current
wine-searcher
world-market value,  if available, per 750ml bottle.  An approximation of the original purchase price is given in the text,  if evidence / best recollection is available. In the reviews, I try to contrast a British view with a United States one … and sometimes an earlier view with a later. 
---
Reserve Wines:
#
2010 Ch Calon Segur
Saint-Estephe Third Growth, Bordeaux, France: 14%; $228 Cork; landed $158; CS 56%, Me 35, CF 7, PV 2, average age 22 years, planted at 8,000 vines / ha, with the immediate goal to increase the CS to 70% by 2032; all hand-picked at 5.9 t/ha = 2.4 t/ac; fermentation in s/s, cuvaison to 21 days; elevation 18 – 20 months in 100% new barrels; average production 6,650 x 9-litre cases; consulting oenologist earlier Pascal Ribéreau-Gayon, now Eric Boissenot; JR records the 2010 as being CS 86%, Me 12, PV 2, plus 14% press wine; NM@Vinous, 2020:
... a slightly gamey bouquet, vibrant and energetic with plenty of red and black fruit. This appears to gain complexity with aeration, revealing hidden facets with each swirl of the glass. The palate is medium-bodied with supple tannins, a fine bead of acidity and a really gorgeous, surprisingly fleshy but focused finish that exudes style and class. What a lovely wine ... to 2055,
94; RP@WA, 2011:
... a concentrated, textured wine ... notes of plums, kirsch, licorice, incense and herbs. Full-bodied, moderately tannic, pure, fresh and precise, this beauty will require lots of patience,
92 - 94+; website hard to use, no menu; www.calon-segur.fr
#
2010 Ch La Lagune
Haut-Medoc (Ludon) Third Growth, Bordeaux, France: 14.5%; $138 Cork; landed $106; CS 60%, Me 20, CF 10, PV 10.
#
2010 Ch Langoa-Barton
Saint-Julien Third Growth, Bordeaux, France: 13%; $170 Cork; landed $122; CS 70%, Me 20, CF 8, PV 2.
---