LIBRARY TASTING 8 OCTOBER 2020, EIT SENSORY LAB, HAWKES BAY
GLORIOUS SYRAH:  GUIGAL COTE ROTIE 1983 – 2010, TWO 1999 GRANDS CRUS ...
Geoff Kelly, MSc Hons
Dazzling, intense, less austere than its neighbour Hermitage, Côte-Rôtie produces some of the world's greatest Syrah. … In most growers' view, 1999 is the best vintage ever made here. Stephen Brook, Decanter, Nov. 2003
Conclusions from the tasting:
There was a delightfully expectant air in the room, as people assembled for the second Library Tasting in this EIT series, the Guigal set of wines. Very few people in New Zealand have ever tasted the Guigal grands crus, yet they are regarded as definitive syrahs on the world stage, by those in a position to evaluate them comparatively. Since syrah is with pinot noir the red wine variety where New Zealand may make its greatest world impact, and since all three of the wines offered had been rated as 100-point wines by Robert Parker, something that happens very rarely, one would expect any New Zealand winemaker critically interested in making world-class syrah to be interested in these tastings.
In the event, perhaps the greatest of the Guigal grands crus, Cote Rotie La Mouline, had to be rejected from the tasting for substantial cork / TCA taint, so the extraordinary opportunity to taste all three of the grands crus together was lost. For interest I nonetheless asked participants how many people had tasted the full set of Giugal's five Cote Roties from any one year together, namely Brune & Blonde, Ch d'Ampuis, La Mouline, La Turque, and La Landonne. None. This gives an index to how rare these key syrah wines are in New Zealand.
Even so, the 12 wines provided a stunning introduction to the winestyle syrah, the 1999s in particular being at a pinnacle of early maturity. The best of them showed all the floral complexity of great syrah ripened to perfection in a temperate viticultural climate. They highlighted the stylistic differences between complex temperate-climate syrah winestyles, and the more one-dimensional shiraz wines from warmer climates. Of the 12 wines, nine of them were somebody's top or second-favourite wine, a quite remarkable endorsement of the Guigal style of winemaking.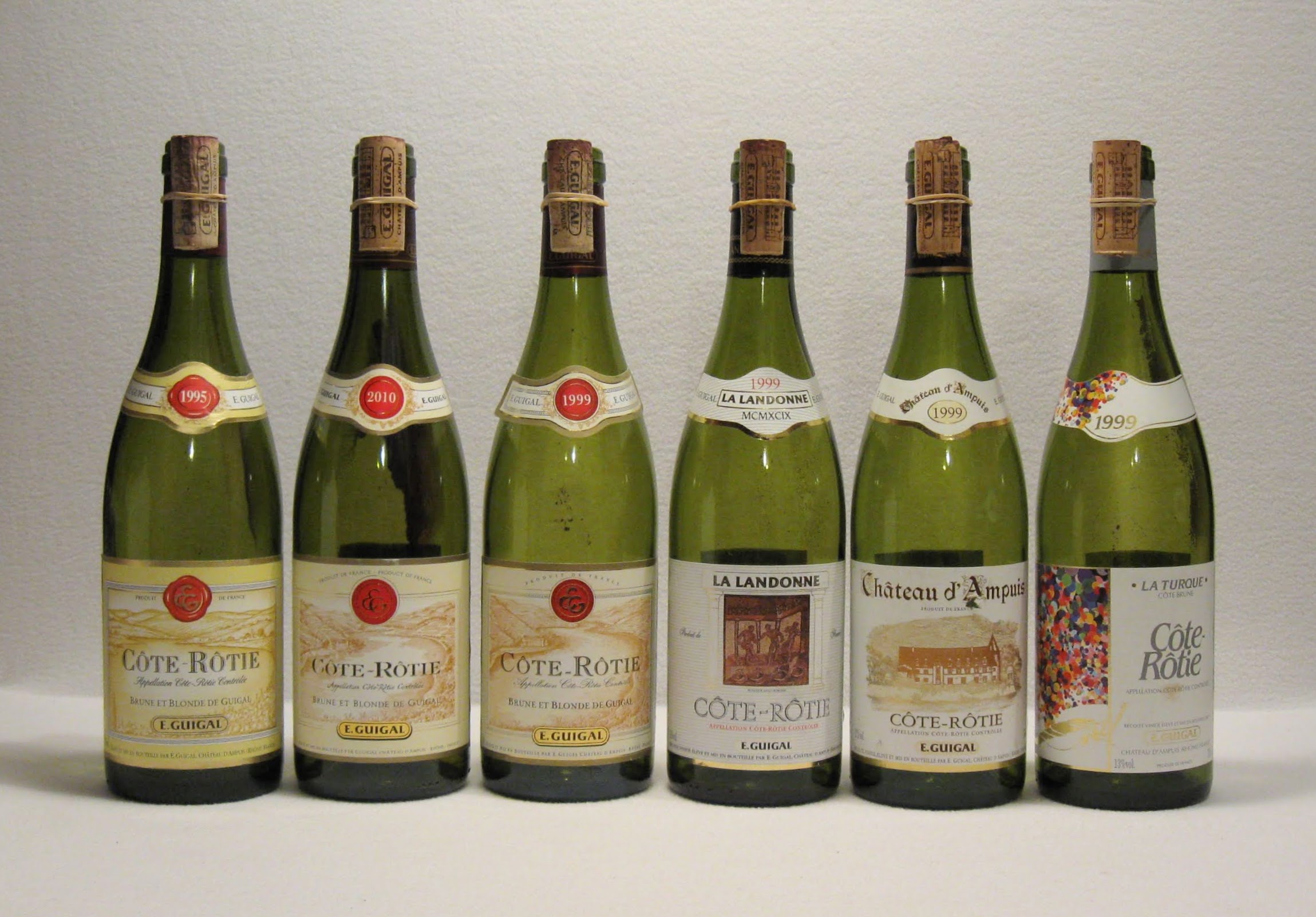 With eight of the 12 wines scoring 18 points or more, it seemed appropriate to illustrate the top six, all Guigal, and all gold-medal wines in conventional Australasian judging terms. Four of these top six are 1999 wines, confirming what a magical vintage this is in Cote Rotie, aided by the wines now being at a pinnacle of early maturity. Had the La Mouline not been rejected, five would have been 1999. Regrettably this photo contains two errors, the first bottle should be the 1998 Guigal Cote Rotie Brune & Blonde, making clear yet again that in the Northern Rhone Valley, hot years merely confirm the excellence of the syrah in that year, the wine softly floral, and beautifully fruited, with a clear red-berry component as well as cassis, 18.5 (for the 1998); next the 2010 Brune & Blonde, perhaps the greatest year in the Northern Rhone Valley since 1999, the wine softly and sweetly floral, then showing beautiful potential fruit richness considering it is the standard village label, 18.5 +; then the magical 1999 Brune & Blonde, making explicitly clear that as Prof Saintsbury said so many years ago, great Northern Rhone syrah is intensely floral. This wine shows both piquant lifted dianthus florals plus the sweeter notes of wallflower and dusky roses, on beautiful cassisy berryfruit. It is one of the best Brune & Blondes ever, 18.5 +; next is 1999 Guigal Cote Rotie La Landonne, which should be one to the right, initially displaying an odd spearmint note, but that rapidly giving way to an aromatic bouquet even showing freshly-cracked black peppercorns, on intensely cassisy berry, as befits a 100% syrah wine, 19.5; then the out-of-order 1999 Cote Rotie Ch d'Ampuis, not obviously much richer than the 1999 Brune & Blonde, but noticeably more new-oaky, 19; and then as top wine of the tasting, the lovely 1999 Cote Rotie La Turque, with its enhanced colour depth from co-fermentation with 7% viognier, then deep and complex florals with all the lighter notes of good Cote Rotie, plus a sweet underlying suggestion even of violets as well as dusky red roses, leading into a depth of cassisy and aromatic berry on palate which is an absolute delight, and so youthful. A wine to treasure, 19.5 +.
All told, seven winemakers (one from Otago) and one MW availed themselves of this rare opportunity to taste the wines. They added greatly to the calibre of discussion, once the wines had been evaluated blind. Keen tasters came from Auckland, Taupo and Levin. The Otago winemaker happened to be in the Bay for the event. The best of the wines was exhilarating, and the least of them would still be pretty acceptable in a dinner setting. Had the 1999 Cote Rotie La Mouline been in good condition, I am certain it would have displaced Cote Rotie La Turque as the top wine of the tasting. Once Gladwrap®-treated for 48 hours under ice, it had a depth of sweet florality and bouquet complexity which was amazing, coupled with even greater berry-richness than La Turque. It would have been a 20-point syrah for me, I am sure, my second-only. An indicative tasting note is appended.
Introduction to the Tasting, and the Guigal 'grands crus':
Cote Rotie is a tiny appellation of some 202 ha, (Burgundy-like) shared among 130 growers. Livingstone-Learmonth records that annual production averages 850,000 litres … that is 94,400 x 9-litre cases for the whole world. Given that syrah is a variety of critical interest to the future of the New Zealand red wine industry, and given that Cote Rotie, Hermitage and sometimes Cornas are the producers of the worlds defining syrahs, the first thing to say is, Cote Rotie in general and Guigal's Cote Roties in particular have become exceedingly rare at retail in New Zealand.
New Zealand appears to be embarking upon an unwise phase of excessive self-satisfaction with our home-grown wines, exactly like Australia before us. This attitude will not lead to enhanced domestic wine quality. Comparison with international yardstick wines remains imperative. Given this national myopia, in 2020 this tasting therefore provides a rare opportunity, for those who in fact wish to learn about international wine standards. The tasting incudes some of the greatest red wines in the world, see below.
Otherwise, this tasting seeks to illustrate two things. Firstly, I am interested in varietal expression in syrah the grape, and the fact that at its best it is both floral and aromatic, as well as rich in cassis-like berry. It thus shares attributes of both cabernet sauvignon and pinot noir, but only in a temperate viticultural climate. In warmer to hot climates, syrah becomes simply a big wine, made aromatic by new oak more than fruit quality, and more frequently referred to as shiraz. I hope the remarkable range of wines and vintages we have will illustrate these attributes of syrah well.
Secondly, New Zealand being a young wine country,  the opportunity to share in vertical tastings, and to see how a wine changes with the years, rarely arises.  In this tasting we span 27 years of the same village Cote Rotie bottling from Maison Guigal,  via 8 different vintages.  The wines presented include most of the best vintages, in the timespan. Guigal's village Cote Rotie sets the standard for the appellation, and amounts to at least 30% of the entire appellation's production. These eight wines include the beautiful 1999 vintage. Then to explore the 1999 vintage, and syrah at 21 years of age more closely, there will be Guigal's higher-level Ch d'Ampuis from Cote Rotie, and then the three grands crus, all 1999, all three rated 100 points by Robert Parker. How often does one taste a Robert Parker 100-point wine ? These wines typically spend 42 months in 100% new French oak, yet mysteriously, are not crippled by it.
The 1999 vintage is rated
96
, Voluptuous, silky vintage with stunning quality for Côte-Rôtie by
Wine Spectator
. In Cote Rotie, the three Guigal grands crus represent a pinnacle of wine achievements for the district, notwithstanding there are detractors who say that they are Guigal wines first and foremost, and the appellation comes second. Guigal Cote-Rotie La Mouline typically with c.11% viognier was first made in 1966, and is the most burgundy-like of the three. Cote-Rotie La Landonne (the all-syrah one) is the most Hermitage-like of the three, and was first made in 1978, while Cote-Rotie La Turque typically with 7% viognier was first made in 1985, and naturally is intermediate in character.
Parker, 2011:
The three single vineyard Cote-Roties are among the world's top fifty wines ever made. Their differences become apparent around age 8-10 and are dramatically different by age 15. So ours at 21 years old should be revelatory.
To further confirm the standing of the Guigal grands crus,  an analysis of Robert Parker's (
sensu stricto
) scores for the three grands crus shows that he has (between them) awarded the three a perfect score of 100 points 28 times.  To put that into perspective,  if we take the arguably most famous wines in the world,  the five Bordeaux First Growths Chx Latour,  Lafite-Rothschild,  Mouton-Rothschild,  Margaux and honorary Ch Petrus,  they have in total,  between all five,  won 100 points 15 times only.  Surprising.  For our tasting,  1999 is one of seven only vintages in which all three wines have won 100 points. To have these five 1999 Guigal Cote Roties, three of them 100-point wines, all offered together for comparative evaluation is exceedingly rare in New Zealand.
The Guigal approach:
The reputation of the Guigals, late grandfather Etienne, father Marcel, and son Philippe grows year on year. Rather like J L Chave, you get the impression this is because the same two or three sets of taste-buds have assessed every wine, over the last 70 years.
Robert Parker
was the first to publicly recognise the extraordinary skills of the Guigals, and thus has a clearer view of their achievements than anybody. In his pioneering Rhone book of 1987 he said:
… the house of Guigal … has emerged as the dominant producer of outstanding Rhone wines … both a negociant and a significant vineyard owner. It was founded only in 1946 [by Etienne]. Since the early seventies, his son, the bespectacled, bereted, birdlike Marcel, has taken charge. The result has been the transformation of very good wines to not only spectacular wines, but some of the finest in the world …
Guigal's style of winemaking is unique not only in Cote-Rotie, but in all of the Rhone Valley. First, he is the Rhone's greatest exponent of the judicious use of new oak barrels for aging his wines … his single-vineyard Cote-Roties sojourn 30 – 36 months in new oak [ 42 months now ]. Second, because … Guigal's red wines spend spend such a long time in both small oak and large oval foudres, his wines rarely have to be fined or filtered … The results are wines that have … impeccable balance and aging potential.
At the close of 2012, Parker's view had not changed much:
… The Guigal family may be the modern world's greatest testament to a family-run winery with impeccably high standards, integrity and an uncompromising vision of the future. They continue to push the envelope of quality to greater and greater heights. … I have almost unlimited admiration for the Guigals and their ability to produce millions of bottles of inexpensive Cotes du Rhones [ for the elegant 2016, 4.5 million bottles or 375,000 x 9-litre cases ] that are among the finest of the entire Rhone Valley, as well as their portfolio of exquisite whites, reds and roses from the most prestigious appellations in the Rhone. …
The magic of the Guigals is not only due to having some extraordinary vineyards in St.-Joseph, Hermitage, Cote Rotie and Condrieu, but also the ability to pay the highest price for purchased grapes and/or wine from which they fashion remarkable blends. The importance of a wine's upbringing (or, as the French call it, elevage) is the key to understanding the entire Guigal locomotive. No one does it better; no one has done it longer; and no one seems to have the Midas touch for putting the wines in the bottle at precisely the right moment to capture the essence of a wine before it begins to fade or lose its vibrancy. This may sound easy, but to date, no one comes remotely close to what the Guigals consistently do across all fields of play. … Over my three decade plus career, it has been a noteworthy story to watch Marcel's son, Philippe, take full responsibility for the future direction of this incredible enterprise.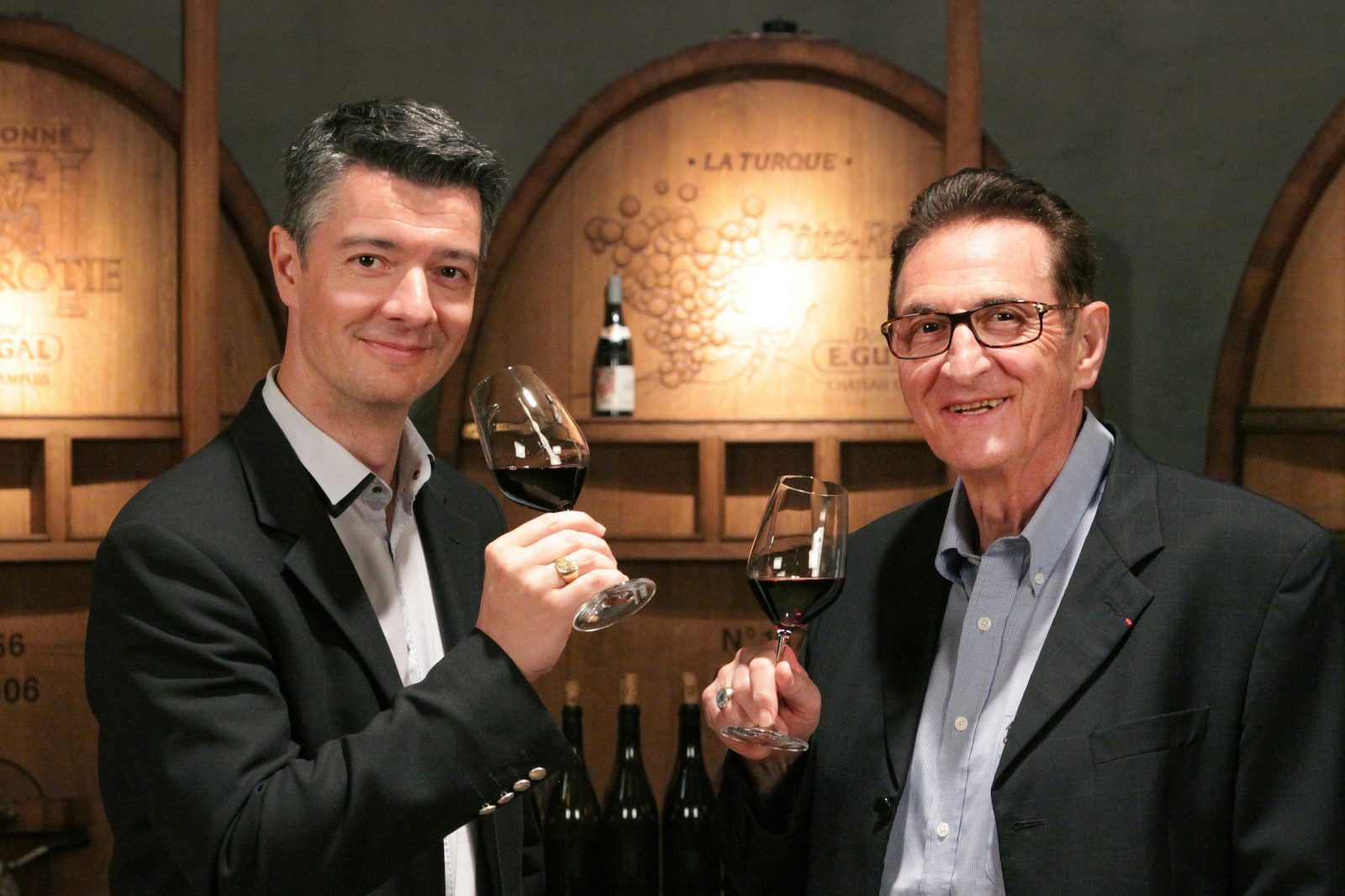 Philippe & Marcel Guigal, in 2015. Photo: E. Guigal SAS, with permission
Background to Maison Guigal
Maison Guigal is based in the village of Ampuis, in the heart of Cote-Rotie. Grandfather Etienne started his winemaking career there with the then-famous winemaking firm Vidal-Fleury in 1924. Vidal-Fleury continued to be one of the leading producers in Cote-Rotie. Etienne finally left to found his own winemaking company, Domaine Guigal, in 1946. He continued till 1961 when blindness struck. Son Marcel took over and increasingly moved the firm towards the visionary path that characterises them today. In 1973 his wife joined him, and the house of Guigal became the complete family business. Current chief winemaker and son Philippe was born in 1975. Throughout the years the firm has increasingly been characterised by careful and perceptive acquisitions and expansion, yet it remains totally family owned and controlled.
First there were key vineyard acquisitions in Cote-Rotie, enabling the introduction of the single vineyard and monopole wine La Mouline in 1966, then progressively the acquisition of small parcels of the famous La Landonne vineyard as opportunity offered, leading to the second 'grand cru' wine La Landonne in 1978. The purchase of the Vidal-Fleury establishment in 1985 augmented the La Landonne holdings, and gave Guigal total control of the La Turque vineyard, to become the third of the great Cote-Rotie wines which have made Guigal famous the world over.
In 1995 the famous Château d'Ampuis in the heart of Ampuis village was acquired: now fully restored it serves as the prestige headquarters for the firm, and houses the Guigal cooperage. Guigal started making barrels in-house in 2003, and now produces 800 new barrels per year. One can only speculate that there is some secret in the Guigal approach to coopering, longer weathering of the staves perhaps, that facilitates the extended elevage often with high ratios of new oak that is so much the trademark of the Guigal wines. Yet mysteriously, very rarely do the wines show undue oak influence, when compared with many New World wines. Total winery stock of smaller barrels exceeds 5,000, but there is large wood as well. Chateau d'Ampuis has a Cote-Rotie named after it, assembled since 1995 from several well-regarded vineyards. In quality it sits between the 'grand cru' wines and Guigal's Cote-Rotie Brune & Blonde. However there is much more to the Guigal headquarters than this historic building: their extensive underground cellars and buildings in Ampuis now spread over and under about three hectares.
Robert Parker has long forecast that since Marcel Guigal holds that there are three pre-eminent wine regions in the Rhone Valley, namely Cote-Rotie, Hermitage, and Chateauneuf-du-Pape, that he would be seeking to acquire vineyards in the latter two places. Part of this goal was achieved in 2001, with the purchase of Domaine Jean-Louis Grippat, giving vineyards in Saint-Joseph and notably Hermitage. The key holding here was the small vineyard plots allowing the creation of a 'grand cru' Hermitage, Ex Voto, the same year. This wine is intended to complement and match the three 'grand cru' Cote-Roties, even though it is assembled from several parcels of land in named Hermitage vineyards. The same year Guigal acquired de Vallouit, providing further holdings in Cote-Rotie, Hermitage, Saint-Joseph and Crozes-Hermitage. These acquisitions also allowed the introduction of the premium Saint-Joseph wines Saint-Joseph Vignes de l'Hospice and Saint-Joseph Lieu Dit, but they do not enjoy quite the reputation of the now-four grands crus. In 2017 the Guigals have achieved the second part of those goals, with the acquisition of Domaine de Nalys, a 16,000 case winery, giving them 50 ha (124 acres) within the Chateauneuf-du-Pape appellation, including part of the famed La Crau site. Guigal has now added two re-named Ch de Nalys chateauneufs to his portfolio, the first vintage being from the remarkable 2016 year. It was vinified by the previous owners, but further raised, blended and bottled by Guigal. The 2016 Guigal Ch de Nalys Chateauneuf-du-Pape Grand Vin has just arrived in Negociants NZ, Auckland. They are not importing the de Nalys 'second' wine
The mastery of Guigal father and son however extends well beyond their own vineyard holdings. To again quote
Robert Parker, 1997:
What is the key to Guigal's success? For Guigal's own vineyards, which are cultivated organically with no chemical fertilisers or treatments, there is a notoriously late harvest aimed at picking grapes that are nearly bursting because of their supermaturity. The late harvest, plus extremely low yields, minimal intervention in the wine cellar (minimal rackings and absolutely no filtration), all combine to produce spectacularly fragrant, rich, profound wines. The same prerequisites are applicable to the juice that Guigal purchases to fashion his blends of Cotes du Rhone, Hermitage, Condrieu, and Chateauneuf du Pape. He buys only from producers who have old vines and low yields and who harvest late.
Table 1:
Guigal red wine production as at 2017 (indicative only)
| | | | |
| --- | --- | --- | --- |
| DISTRICT WINES | 9-litre | INDIVIDUAL VINEYARD WINES | 9-litre |
| Cotes du Rhone: | 291,600 cases | Saint-Joseph Lieu Dit: | 960 cases |
| Gigondas: | 12,500 cases | Saint-Joseph Vignes de l'Hospice: | 625 cases |
| Chateauneuf-du-Pape: | 16,600 cases | Cote-Rotie Chateau d'Ampuis: | 3,000 cases |
| Crozes-Hermitage: | 37,500 cases | Cote-Rotie La Mouline: | 415 cases |
| Saint-Joseph: | 16,600 cases | Cote-Rotie La Landonne: | 1,000 cases |
| Cote-Rotie Brune & Blonde: | 24,100 cases | Cote-Rotie La Turque: | 400 cases |
| Hermitage: | 2,900 cases | Hermitage Ex Voto: | 650 cases |
An indication (only, sources vary) of the scope of the Guigal enterprise can be extracted (in part) from their website, plus
Wine Spectator
info, as in Table 1. In 2017 Maison Guigal was a 670,000 case winery. Though the crop may vary by 50% or more depending on the season, the figures above are based on 2012, which Robinson reports on as a year of 'average' production in the Northern Rhone Valley. They are very approximate annual average production totals, reds only (but not forgetting Guigal is the leading producer, some 45% of all Condrieu marketed, according to Berry Bros & Rudd). Livingstone-Learmonth records that Guigal as owner and negociant, vinifies over 40% of all Cote Rotie. The case numbers for the premium wines show why they are rationed / allocated throughout the world.
References:
Broadbent,  Michael,  2003:   
Michael Broadbent's Wine Vintages
.  Mitchell Beazley,  London,  223 p.
Brook, Stephen, Nov. 2003,
Côte-Rôtie: King of the Rhone
.
https://www.decanter.com/features/cote-rotie-king-of-the-rhone-248237/
Livingstone-Learmonth, John, 2005:
The Wines of the Northern Rhone
. University of California Press, 704 p.
Parker, Robert, 1987:
Wines of the Rhone Valley and Provence
. Simon & Schuster, 456 p.
Parker, Robert, 1997:
Wines of the Rhone Valley
. Simon & Schuster, 685 p.
Parker, Robert, 2012: website: footnote to the reviews of the Guigal 2009 and 2010 'grands crus'.
www.drinkrhone.com
  =  John Livingstone-Learmonth  NB: marks out of SIX stars (subscription needed for reviews)
www.guigal.com
Guigal winery website, better info than many wineries
www.jancisrobinson.com
= Jancis Robinson MW and Julia Harding MW, subscription needed for reviews
www.robertparker.com
= Robert Parker and (then) Jeb Dunnuck, vintage chart, subscription needed for reviews
www.winespectator.com
vintage chart, subscription needed for reviews
Some earlier internet sources are now (on checking) not readily available.
---
THE WINES REVIEWED – SYRAH ± VIOGNIER :
The first price shown is the current
wine-searcher
international averaged value (where available), expressed in New Zealand dollars. The original price where known or inferred follows in the text. The alcohols on the labels appear to be perfunctory.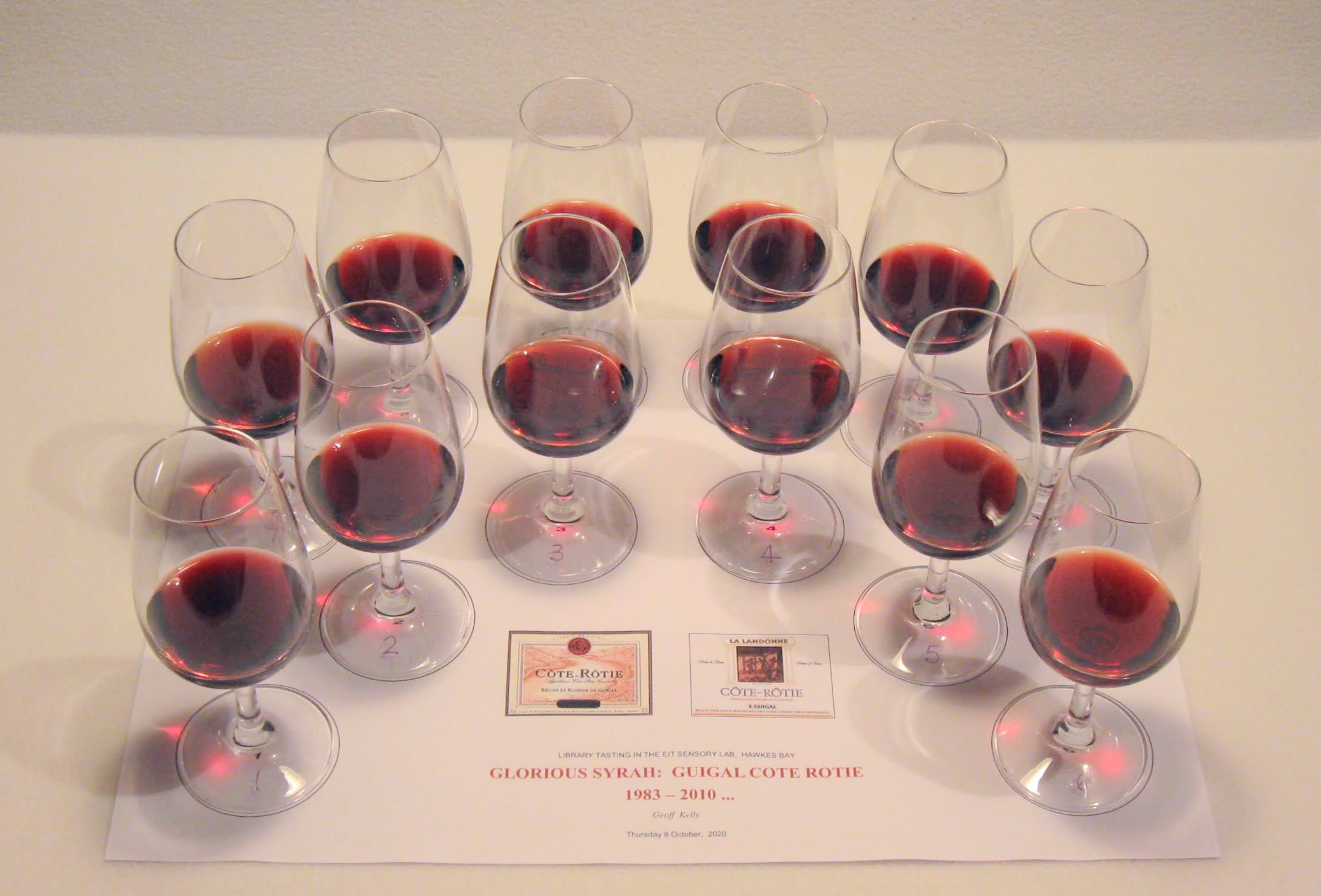 Once poured, the set of 12 wines looked tremendously enticing, the gradations of colour appealing and the smell wonderful. Glasses 1 – 6 the front row, 7 – 12 the back. Though it penalised the wine, the outstanding 2010 Guigal Cote Rotie Brune & Blonde was set as #1 wine, as a sighter for the set. The front row glasses are the six Brune & Blondes from 2010 in order back to 1985, the progressive lightening of colour apparent in the photo. Wine seven is the richer 1983, and wine eight the richer-again 1999 Brune & Blonde, only a little lighter than the Ch d'Ampuis at position nine. Then for the last three wines, wine 10 1999 Guigal Cote Rotie La Turque is clearly the deepest and richest of the 12, and far and away the favourite wine, seven first-places and five second. Wine 11 is nearly as rich, the 1999 Rostaing Cote Rotie Cote Blonde, but in this tasting stood out for a brett component. Wine 12 is the 100% syrah grand cru La Landonne, initially standing out for a light but clear spearmint note, but then becoming very cassisy on both bouquet and palate, a bolder wine than La Turque, but also well-liked, with three top-places, and again five second. An exciting set of wines. Font>
---
Addendum:
The following key wine had to be excluded from the tasting, for conspicuous TCA taint. Since bottles of La Mouline are so rare in New Zealand, this abbreviated note is added to indicate how a glass sample appeared,  no doubt somewhat muted, after two days on ice with 100 mm² of Gladwrap®.
(g)
1999  Guigal Cote Rotie La Mouline
(probable score)
20
Cote Blonde, Northern Rhone Valley, France: 13%; $869 Cork, 49mm, ullage 10;  release price c.$435; Spectator rating for year 96; a single 1 ha vineyard on the Cote Blonde; typically Sy 89%,  Vi 11,  co-fermented (meaning the Vi is over-ripe when the Sy is ready),  average vine age 60 years,  typically cropped at 4.8 t/ha = 1.9 t/ac and yielding only 3,735 litres on average;  in the winery, fermentation employs pump-over to keep the cap immersed, c. 28 days cuvaison,  42 months in 100% new French oak barriques, not fined or filtered;  Parker, 1997 in characterising the three Cote-Rotie grands crus,  says of La Mouline:  
It is one of the world's most intensely perfumed wines … the most supple and seductive of Guigal's single-vineyard treasures;
JR@JR, 2012:
Intense nose of warm leather. The merest hint of brett. Vibrating with fruit and with the patina of age. I wouldn't keep it that much longer,
18; J.L-L, 2011:
big, abundant aroma that is smoky, very full, has a light sprinkle of tannin. Boudoir perfume hovers over it. The palate is tight, its black fruit all muscled up. This is an evidently copious wine … almost too much. It does ease on that front after half way … and finds a little mineral stretch … unchanging wine since its youth. Caramel is in the flavour, which I do not associate, or seek, in Mouline. To 2034, *****;
RP@WA, 2003:
The most developed, evolved and forward of the three La-La's in this vintage ... An extraordinary effort, it offers a smorgasbord of aromas and flavors. Scents of violets, raspberries, blackberries, roasted espresso, balsamic vinegar, and pepper tumble out of the glass. It is unctuously-textured, full-bodied, and fabulously concentrated with a tremendous purity and seamlessness that must be tasted to be believed. A wine of singular greatness, it can be drunk young, but should be at its finest between 2005-2020,
100; weight bottle and closure:  588 g;  www.guigal.com
Ruby and velvet, nearly some carmine still, the deepest and freshest of the 12 Guigal wines. Bouquet is amazingly rich, softly and sweetly floral in a darkest roses way, though presumably somewhat muted by both TCA and the Gladwrap® treatment, showing sensational berry and fruit depth. Palate likewise is astonishingly rich, clearly richer than La Turque, velvety deep cassis and dark bottled black doris plummy fruit, very rich, beautiful balance, oak totally in the background. The wine shows an amplitude rare in temperate-climate syrah. Oak handling is almost invisible. An extraordinary syrah, and certainly a great loss to the formal presentation. Cellar 20 – 30 years. GK 10/20
---