LIBRARY TASTING 26 NOVEMBER 2020, at REGIONAL WINES, WELLINGTON
A 2000 BORDEAUX TASTING, WITH TWO AUSTRALASIAN WINES ...
Geoff Kelly, MSc Hons
René Lusseau, maitre de chai at Ch Ducru-Beaucaillou, as quoted by Stephen Brook:
… malolactic fermentation in barrels is done more for the benefit of journalists than the wine.
Conclusions from the tasting:
Given that local interest in New Zealand red wines has increased markedly in the last 20 years, as our wines have become better and better (riper, and more appropriate concentration), it is a pleasure to record that this tasting of French wines sold out in less than three hours. Such interest arises partly from the fact that it has been a while since 2000 Bordeaux were offered for tasting in Wellington, partly because the year 2000 is increasingly being seen as a quality year in Bordeaux, and thirdly because of the wines offered. In New Zealand, very few people have (for example) ever tasted Chx Ducru-Beaucaillou, Leoville Las Cases, and Palmer alongside each other. Let alone all from the same vintage, with identical provenance.
Accordingly the tasting was eagerly awaited, everybody was there well on time, and the air of expectation in the room was simply a delight to experience. At the decanting stage, none of the wines was TCA-affected. Enjoyment of the tasting was heightened for participants by Ben Jones, co-winemaker for Te Mata Estate, coming down from Hawkes Bay to share in the wines. The quality of discussion following a tasting is always honed by having a winemaker present. Te Mata Coleraine was the New Zealand 'foil' wine in the tasting.
The best of the French wines illustrated the beauty and appeal of the traditional Bordeaux winestyle very well indeed. At least seven of the wines merited gold medal level, 18.5, by New World judging standards. Tasters commented that the wines seemed to sit on the cusp between new and old, a majority of them being beautiful examples of the subtlety and refreshing nature of 'classical' claret, even at perfect ripeness, whereas a couple were in a bigger, riper, more modern and fleshy style. The nett impression was one of less powerful wines than the better of the 2010s seen by the group in September, reported on
here
.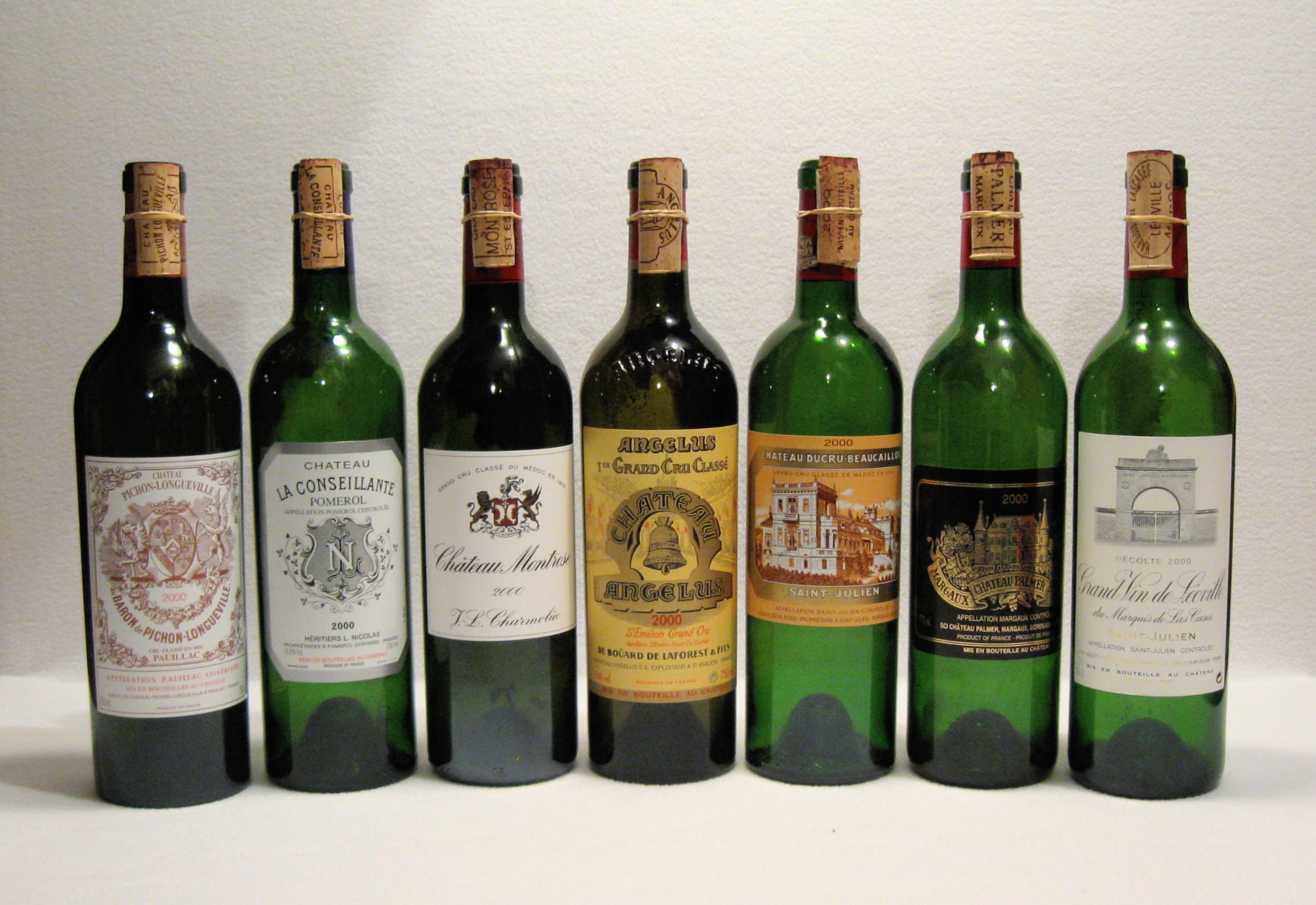 Seven of the wines illustrated the qualities of Bordeaux the district admirably, all at a gold medal level of quality. To have both the Pomerol and the Saint-Emilion in the top seven added greatly to the interest of the tasting, the top wines showing clearly the contrast between the more aromatic cabernet-led styles from the Medoc, versus the softer merlot-dominated wines from the East Bank. From the left, 2000 Pichon Baron, intriguingly aromatic, delightful palate, not a powerful wine, 18.5; the much softer 2000 La Conseillante, beautifully fragrant, supple fruit, also not a big wine, 18.5; 2000 Montrose, very cabernet, reserved at this stage, much promise, 18.5 +; then the richest of the top wines, 2000 Angelus from Saint-Emilion, its modern plush style contrasting with the fragrant Medoc wines in their more classical style flanking it, 19; 2000 Ducru-Beaucaillou a little more savoury and complex / traditional, very 'winey', 19; then the extraordinarily pure, floral and berry-led 2000 Palmer, the oak almost invisible, 19 +; and the top wine for me, 2000 Leoville Las Cases, illustrating the depth and complexity which really great bordeaux can display, while remaining fragrant and subtle, a wine of First Growth quality, 19.5.
While it is always questionable to have just one or a couple of another country's wines in a comparative tasting, six of each country being much more illuminating and informative, nonetheless the New Zealand wine in the tasting (2000 Te Mata Estate [ Cabernets / Merlot ] Coleraine) provided a very 'authentic' bordeaux-styled foil. Only four of 21 tasters thought glass eight was from New Zealand, at the blind data-seeking stage. In its berry characters and complexity level, it compared very closely with one of the bordeaux wines. The Australian foil fared less well, conspicuously lacking appropriate ripeness, florality and bordeaux-styled berry complexity. Both the New World wines sell at a price point comparable with top cru bourgeois / lesser classed growths.
The 2000 Vintage in Bordeaux:
Wine Spectator
's rating for the 2000 vintage is:
West Bank:
95
Drink or hold. Racy tannins and very delineated reds now hitting their stride.
East Bank:
93
Drink or hold. Rich, powerful and structured, yet harmonious. Wines starting to open up now.
In the
Wine Spectator
scheme of things (for they monitor the evolution of the wines more closely than other vintage-ratings sites),
95
for the Medocs in 2000 is the same rating as 1982, 1986, 2003, and less than 1989 (98), 1990 (97), 2005 (98), 2009 (97), 2010 (99), and 2016 (97). The East Bank pattern is similar, only the success of the 1998 East Bank (98) standing out.
Around the turn of the century, Robert Parker was at the height of his powers. He had consolidated 20 years of very successful wine reviewing, building on his initial success with foretelling the quality of the 1982 Bordeaux vintage. In this time he revolutionised the world of wine reviews, for the first time putting the customer first, and telling them what they needed to know to buy wisely and well. Up till that time in the Northern Hemisphere, and still even today in places like New Zealand and Australia, too many wine reviewers seek first and foremost to ingratiate themselves with producers and suppliers of wines, with the customer / reader coming a rather distant second best. Therefore we can take note when
Parker
in reviewing the 2000 vintage in
2002
said:
Retasting the 2000 vintage three to four months before bottling provided overwhelming evidence that this is the greatest vintage Bordeaux has ever produced. Remarkably consistent from top to bottom, there has never before been a year where so many exceptional wines were produced. ...
To reiterate, this vintage exhibits superlative quality from the lesser known wines and satellite appellations, such as the Côtes de Castillon, Lalande de Pomerol, and Côtes de Bourg, to the blue chip pedigree appellations of the Médoc, Graves, and right bank areas of Pomerol and St.-Emilion. These are enormously rich, incredibly pure, concentrated wines. Furthermore, they represent a confluence of Mother Nature providing ideal growing conditions, and a new generation of extraordinarily committed Bordelais that understand their legacy, realizing that they are the world's reference point for wines of richness, longevity, and complexity. While the aristocracy in the Médoc has vociferously condemned the garage movement in St.-Emilion, and to a lesser extent Pomerol, the fact is that those wines have proven what dedicated people can do with unknown terroirs. This has only added to the competition and overall quality level that exists in Bordeaux, which today is higher than ever before in the history of this noble wine region.
Yet the vintage did not get off to an easy start. Précising
Parker
, it was a late-ish season, with much indifferent weather in May and June, and some disease pressure. Rainfall however was concentrated in two events in June, and the fruit set was surprisingly good. July continued to be overcast and modest. It was only at the very end of July that fine dry weather settled in. By the end of August, soils were sufficiently dry that grape skins were thickening, and optimism for the vintage markedly increased. Fine and warm weather in September was interrupted only briefly by a thunderstorm on 19 September. By the end of September, much of the merlot and cabernet franc had been harvested, fortunately, since merlot is thinner-skinned and there was some rain the last days of the month. The thicker-skinned cabernet sauvignon was little affected, and fine weather returned, such that harvest was substantially completed by October 10.
Parker
goes on to say:
At the top level, yields of 35-55 hectoliters per hectare [ 4.55 - 7.15 t/ha = 1.84 - 2.9 t/ac ] were modest by modern day standards. Most producers experienced textbook vinifications (because of higher acidities), with very few difficulties despite grapes with high sugars. Many Merlots hit 14% and Cabernets pushed 13%. However, for reasons that are not totally clear, many wines had relatively high acidity levels in addition to robust but ripe tannin as well as surprising fatness. While technical measurements of tannin and dry extract can be misleading, especially when compared to the taste performances, there is no doubt that many wines possess record levels of tannin as well as extract.
My tastings confirm that the 2000 vintage has produced some of the most immense, black-colored, concentrated, powerful, and tannic wines of the last thirty years. For that reason, the vintage is difficult to compare with any of its predecessors that qualify as superstar years. The wines are generally less accessible than the 1982s, 1989s, and 1990s, but are possibly more concentrated, blacker-colored, heavier, and thicker than the 1986s, 1995s, or 1996s were at a similar age. Moreover, the finest 2000s possess the most impressive length, structure, concentration, and delineation that I have experienced in 23 years of tasting new Bordeaux vintages.
Moving on ten years, it is usually informative to get a more conservative view of any batch of wines from the United Kingdom's
Jancis Robinson
. Yet by and large in
2010
she shares Parker's enthusiasm:
The real excitement of bordeaux for me comes from vintages that are so consistently successful that you can find delicious wines at virtually all prices and quality levels. I liked 2000 bordeaux from the start and found many of the well-priced Haut-Médoc minor châteaux really rather inspiring ...
At a more elevated level, 2000 has tended to show well in vertical tastings ... ever since, but it was only last week that I had a chance to participate in a really wide-ranging horizontal tasting ... of top-quality 2000 bordeaux now that it is 10 years old and has benefited from at least eight years' bottle age.
What I love about this vintage is that in almost all cases the grape obviously ripened properly (unlike so many Bordeaux vintages ... ) and yet it has delightful freshness (unlike 2003), gentle tannins (unlike 2005) and seriously impressive harmony.
Likewise, the great London wine firm
Farr Vintners
describes the 2000s as: not showy or fleshy ... but more of a classic serious vintage, in the great tradition of Bordeaux. All in all, therefore, there is much to be excited about, in anticipating this tasting. More information follows in the introductory notes to each wine.
Main Grapes:
Six varieties are considered eligible for classic bordeaux blends:
cabernet sauvignon
– dark red fruits, cassis and firm tannin, the informing grape of the West Bank, the Medoc etc;
merlot
, darkening red fruits, plummy, softer tannins, the dominant grape of the East Bank, St Emilion and Pomerol etc;
cabernet franc
, clearly red fruits, even raspberry (+ve), fine grain, subtle, finicky, throughout;
petit verdot
, a kind of super-cabernet, dark fruits, tannin, harder to ripen properly, mostly on the West Bank;
malbec
, softer dark but 'wild' fruits more in the merlot spectrum, occasional throughout but more on the East Bank (and the dominant grape of Cahors); and
carmenere
, the 'lost' grape of Bordeaux, now emergent in Chile (from pre-phylloxera plantings), dark red fruits, furry texture, also finicky to grow, still very rare.
Oak:
[ For the purposes of discussion in this review, Italy is considered New World ... for the cabernet / merlot class of wines.] Bordeaux has classically been oaked, with varying percentages of new oak even approaching 100% for great chateaux in great vintages. Where cropping rates are low, and dry extract is high, the wines from old vines can sometimes handle this. In general however, and traditionally, the finished and mature wines of Bordeaux have not been dominated by oak. It is only within the last generation or perhaps two that the American taste for bigger wines has lead to greater use of new oak, and accentuating techniques such as barrel fermentation and malolactic fermentation in barrel.
In the New World oak has been seized upon as some kind of
sine qua non
to achieving quality in the bordeaux blend, and its use in California, Australia and then New Zealand has sometimes verged on the grotesque. In New Zealand particularly, this overuse of oak has been exacerbated by the lack of both vine age, and a tradition of heavy / inappropriate (for
Vitis vinifera
) cropping rates. The resulting lack of dry extract in many of the wines makes them sensitive to over-enthusiastic oaking. The balance between fruit and oak will be of interest in this tasting, though it can be said that the New Zealand wine has long had a relatively subtle approach to oak use.
Style:
It is hard for New World countries to make a mark in the bordeaux blends class. There are at least 6,000 individual chateaux in the greater Bordeaux region, many producing very acceptable wines at prices which seem modest relative to some New World wines. For this tasting, Italy is in nett terms the best-placed to match the Bordeaux winestyle. Australia has traditionally had a problem with excess warmth, and thus a perceived need for acid adjustment which harshens the palate … but our wine comes from both a cooler zone, and a winery preoccupied with tradition. Traditionally in New Zealand, we have had a problem with ripeness, as well as concentration, in the cabernet / merlot class. Both these factors have been exacerbated by excess use of oak. Latterly the balance is changing, as seasons become warmer, and winemakers become more familiar with international benchmarks for the winestyle.
Good Bordeaux blends will cellar for decades, given appropriate dry extract and ripeness. This applies equally to New Zealand or Australian wines, as well as classic bordeaux. Here again, excess oak is an inimical factor to long cellaring, since fruit does recede over the years, and excess oak can then come to seem clumsy / varnishy. In the New World context, appropriate elevation is mindful of the full lifespan of the wine. This outlook is difficult to achieve in a country such as New Zealand where most wine is drunk within hours or days of it being bought, and 5-year old wine is (ludicrously) regarded as 'old'. This myopia is no reason however to be dissuaded from seeking classical and harmonious balance in the young wine. There are sophisticated consumers, and it is worth winemakers' time to cater for them. This is particularly the case where a winery aspires to export bordeaux blends.
The Invitation
The goal of this tasting is a sampling of the 2000 vintage in Bordeaux,  including some of the very best wines (as listed below) but no First Growths,  at the 20-year point.  Several of the wines are now virtually never experienced in 'public' tastings in New Zealand.  The wines should be at an early peak of perfect maturity.  Corks permitting,  there is one wine from each of the eight main sub-districts in Bordeaux,  plus highly-regarded wines from Tuscany / Italy,  Yarra Valley / Australia,  and Hawkes Bay / New Zealand ... as external markers.  The only district doubled up is Saint-Julien,  often regarded as the source of quintessential claret.  How long is it since we were in a position to taste Ch Leoville Las Cases alongside Ch Ducru-Beaucaillou ?
As to the quality of the wines being offered,  using only
Wine Advocate
(Parker et al) or
Wine Spectator
in one case,  scores for our 12 wines range from 90 - 99,  and average 94.  So that gets us off to a good start … considering that the highly regarded Te Mata Coleraine has only four times ever achieved 94,  and once 95,  in
Wine Advocate
.  
To whet the appetite,  here is
Robert Parker
on the Ch Angelus (cork willing):  Approaching perfection … the wine has great concentration, a magnificent, full-bodied mouthfeel, stunning purity, and well-integrated acidity, tannin, alcohol ...
99
.  All told,  five of our wines qualify as 'Super-Seconds' –  and that's not counting Angelus !  The tasting also offers the opportunity to taste the rare and acclaimed super-Tuscan Masseto,  which is 100% merlot.
Price:
  I acknowledge the price is higher than any before.  Production is finite,  demand increases,  and the trend-line is upwards,  particularly for wines of the ranking nearly all of ours display.  The price reflects applying the Reserve Bank Inflation Calculator to the actual outlayed cost.  Please bear in mind that by the time of the 2000
en primeur
campaign in mid-2001,  five of the above wines had already reached (or passed) $300 per bottle.  Current
wine-searcher
value on these wines works out to a tasting cost of well over $275 per person.
References:
Brook, Stephen 2007:
The Complete Bordeaux
. Mitchell Beazley, 720 p.
Cooper, M. 2003:
Michael Cooper's Buyers Guide to New Zealand Wines
. Hodder-Moa-Beckett, 391 p.
Cooper, Michael 2005:
Classic Wines of New Zealand
. Second Ed. Hodder-Moa, 471 p.
Parker, Robert M 2003:
Bordeaux, Fourth Edition
. Simon & Schuster, New York, 1244 p.
www.farrvintners.com
= noteworthy London wine merchant, great info annually for their
en primeur
campaign
www.jancisrobinson.com
= Jancis Robinson MW and Julia Harding MW, subscription needed for reviews
www.robertparker.com
= Robert Parker now retired, both reviews and vintage chart, subscription needed for reviews
www.winespectator.com
= James Molesworth for bordeaux; reviews and vintage chart, subscription needed for reviews
https://vins-saint-emilion.com/en/our-wines-2/the-2012-classification
= latest Saint-Emilion classification.
---
THE WINES REVIEWED – CABERNET MERLOT
The first price given is the current
wine-searcher
value. The purchase price is in the text following. The French and New Zealand wines were bought
en primeur
/ at initial release, the Italian and Australian from auction, if temperature-controlled cellars were guaranteed.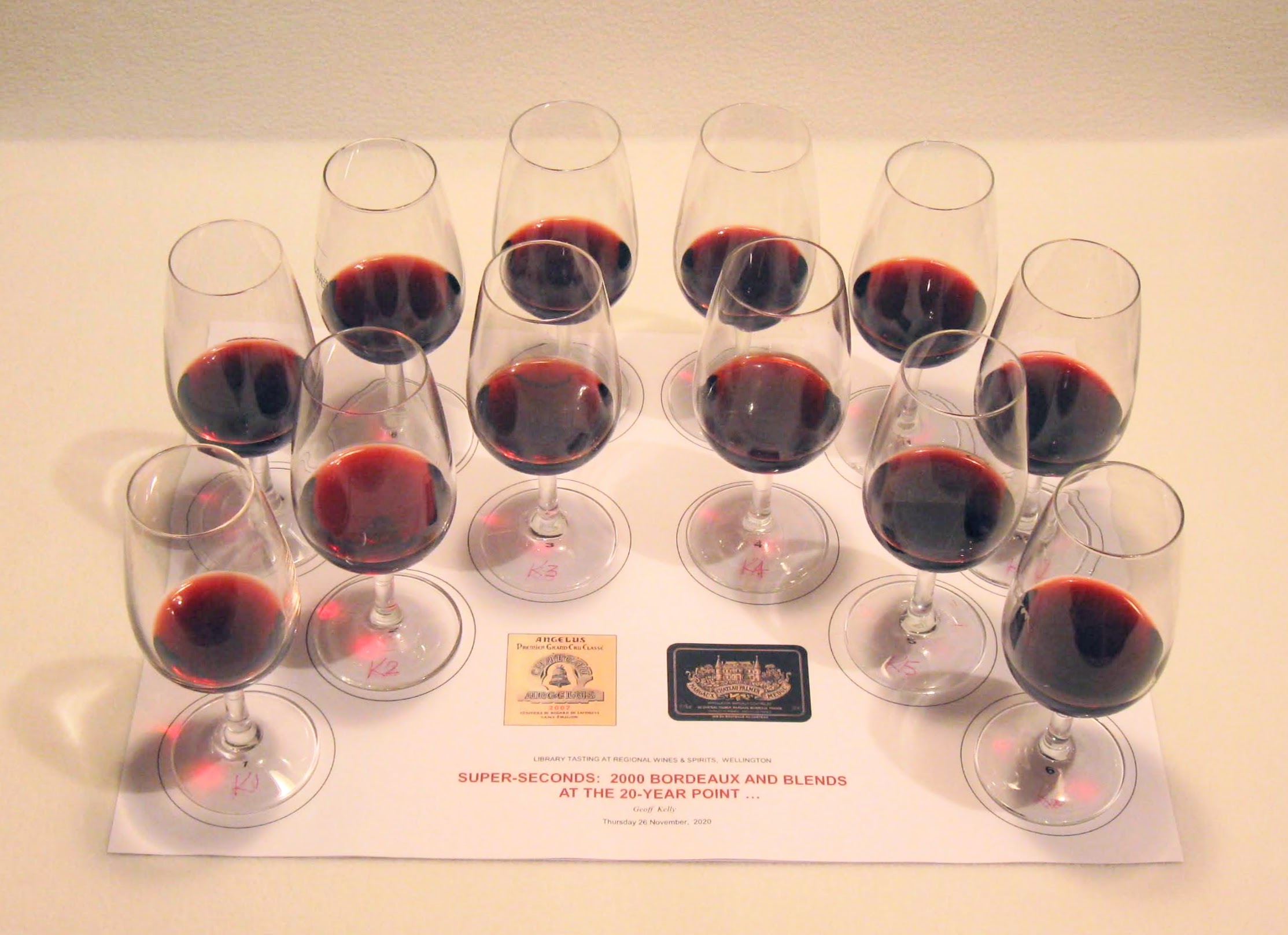 At 20 years age, most of the wines had lost the carmine of youth, only the Leoville Las Cases in position 10 being conspicuously youthful. Colour rendering here is more youthful than in the flesh, and a number of the wines still being quite dense, their transparency is not always apparent. The Mount Mary at position two is clearly the lightest wine by quite a margin, followed by (surprisingly) the Ornellaia Masseto at position four, and Malartic-Lagraviere in glass one. The depth of colour in the two deepest wines, the de Bouard wines, Angelus in glass 12, and La Fleur de Bouard in glass five, is apparent. But the Ch Palmer in glass 11, and the Leoville Las Cases in glass 10 were not too far behind. The floral and cassis-led aroma arising from the set of wines was an absolute delight.
---