LIBRARY TASTING AT REGIONAL WINES & SPIRITS,  WELLINGTON, 29 APRIL 2021
PENFOLDS RAREST BIN REDS 60A & 42,  GRANGE,  707,  RWT … PLUS GIACONDA, ALL 2004,  ASTRALIS 2002,  and THREE 1971 REDS
Geoff Kelly, MSc Hons
Conclusions from the tasting:
This Australian reds tasting based on 2004 and 1971 wines was an absolute adventure for participants. Not only did we have some of Australia's most 'famous' wines, but also some of its 'finest'. Given Australian pride in its red wines, coupled at times with domestic speakers having less familiarity with relevant international benchmark wines, these two descriptors do not always coincide, at least in the estimation of tasters beyond Australian shores.
Of the 21 tasters present, only two had previously made the essential (to wine learning) comparison of Penfolds Grange Shiraz 100% new American oak, vs Penfolds Shiraz RWT c70% new all-French oak, vs Penfolds Cabernet Sauvignon Bin 707, 100% new American oak, the wines all from the same vintage. These three labels in their best years in one sense define Australian red wine attitudes and enthusiasms. Understanding them is essential to understanding Australian red wine. And nobody at all had tasted the even rarer / more special Penfolds Cabernet Sauvignon Bin 42, and Penfolds Cabernet / Shiraz Bin 60A. So, an adventure indeed.
And at the other end of the tasting, none present had tasted three Australian reds of repute, all of the same year, when each wine is 50 years old.
The top four wines of this tasting all rated 19 or more points. In this review, the gentler and subtler wines, those better suited to enjoying with food, gained points. From the left, the near-legendary 2004 Penfolds Cabernet Shiraz Bin 60A, clearly cabernet sauvignon on bouquet at this stage, but then the palate filled out and 'sweetened' by very pure shiraz, a wine of great refinement, 19.5; 2004 Penfolds Shiraz RWT, shiraz ripened to the blueberry level on bouquet, but still nearly syrah in its quality, 19 +; next the long-standing pure cabernet sauvignon 2004 Penfolds Bin 707, intensely cassisy, highly fragrant, remarkable concentration, gentler than some examples from earlier years, 19 +; and finally the highly-regarded but sometimes contentious 2002 Clarendon Hills Syrah Astralis, in a particularly elegant showing, 19.
Thus, to say people were interested in the 12 wines is a clinical understatement. A better measure is that all but one of the wines was somebody's top or second favourite wine of the evening. This is a remarkable endorsement both of the wines, and also tasters' ability to accommodate both very young, and very old wines. Further, despite four of the wines having current (unrealistic, in auction terms)
wine-searcher
valuations approaching $NZ1,000, there was no head-and-shoulders favourite wine. There was, therefore, much for tasters to enjoy.
An introduction to the style of Penfolds red wines, and the now legendary Max Schubert, is given in my 2017 article:
Do Penfolds reds including Grange cellar for 50 years
,
here
. Much more information about Max Schubert and his pivotal role in the evolution of Penfolds red wine styles is available on the Net.
As an outside calibration wine for the expensive 2004 Penfolds wines, at the writing-up stage I opened Le Petit Vin d'Avril, of the same age. This wine is 'famous' in that Vincent Avril uses it to condition his new barrels, so there is no new oak aggression in his grand vin, Clos des Papes. The whole wine-making style of Clos des Papes is therefore the polar opposite of Penfolds. This wine is also remarkable in the Southern Rhone Valley, in that it contains both cabernet sauvignon and merlot: it is thus merely a Vin de France. This sometimes wonderful but all-too-often overlooked wine is anything but 'Petit': at best it can be both substantial, and long-lived. The results were more than illuminating, if assessing wine quality to international standards be the goal.
Invitation / Introduction:
The heart of the tasting is a comparative evaluation of the top 2004 red Bins from Penfolds Wines.  Given the growing reputation of Penfolds as a winery,  this is a tasting to go out of your way for,  simply because 2004 was a cooler year in South Australia,  and therefore (within the Penfolds context),  the wines are more varietal,  more aromatic,  and somewhat subtler than usual. 
The tasting includes some of Australia's greatest reds.  Some are more expensive than Grange,  which means,  now that the release price for current Penfolds Grange is $850 (or more),  that the tasting cannot be cheap.  But the tasting is also rare,  these wines rarely being seen together.  The Giaconda and Clarendon Hills shiraz wines are nearly as famous as Penfolds, and rarer.  They will provide a kind of calibration role.
To counterpoint the young wines,  and some will still be very young,  we have a 1971 Penfolds 389 which back then drew on the fruit now going into these latter-day top-end Bins,  a 1972 Penfolds St Henri not often offered with age,  and both the 1971 Tahbilk Cabernet and the 1971 Tahbilk Shiraz.  For many years,  1971 was regarded as the absolute benchmark vintage for Tahbilk reds.  It will be fun to see these wines at 50 years age exactly.
References:
Evans, Len, 1978:
Complete Book of Australian Wine
, Third Edition. Paul Hamlyn, 512 p.
Halliday, James, 2002:
Classic Wines of Australia and New Zealand, Third Edition
. 386 p. Harper-Collins.
Lake, Max, 1966:
Classic Wines of Australia
. Jacaranda Press, 134 p.
Read, A, & A Caillard, 2000:
The Rewards of Patience, Fourth Edition
. 144 p. Penfolds.
www.jancisrobinson.com
  =  Jancis Robinson MW and Julia Harding MW, subscription needed for reviews
www.penfolds.com/en-au/wines/tasting-notes.html
  short-cut to the core of the hard-to-use Penfolds website, most of the wines in 'The Penfolds Collection', Bin 60A and Block 42 in 'Special Bins'.
www.robertparker.com
  = Robert Parker and Joe Czerwinski,  vintage chart,  subscription needed for reviews
www.winespectator.com
  =  vintage chart,  subscription needed for reviews
---
THE WINES REVIEWED:
At the decanting stage, the wines all seemed sound, so no Reserve wines (listed at foot) were needed. The first price given is the current
wine-searcher
value, but note that for Penfolds in particular,
wine-searcher
is unduly influenced by the world-wide demand for Penfolds wines currently. Penfolds has been particularly desirous of becoming well-known in the East. Thus the prices for older bottles offered by wine retailers overseas is often far, far higher than the same wine will fetch at auction, in Australia or New Zealand. An approximate indication of the original purchase price is in the text following, if clues are available. Most wines have been cellared in Wellington since original purchase.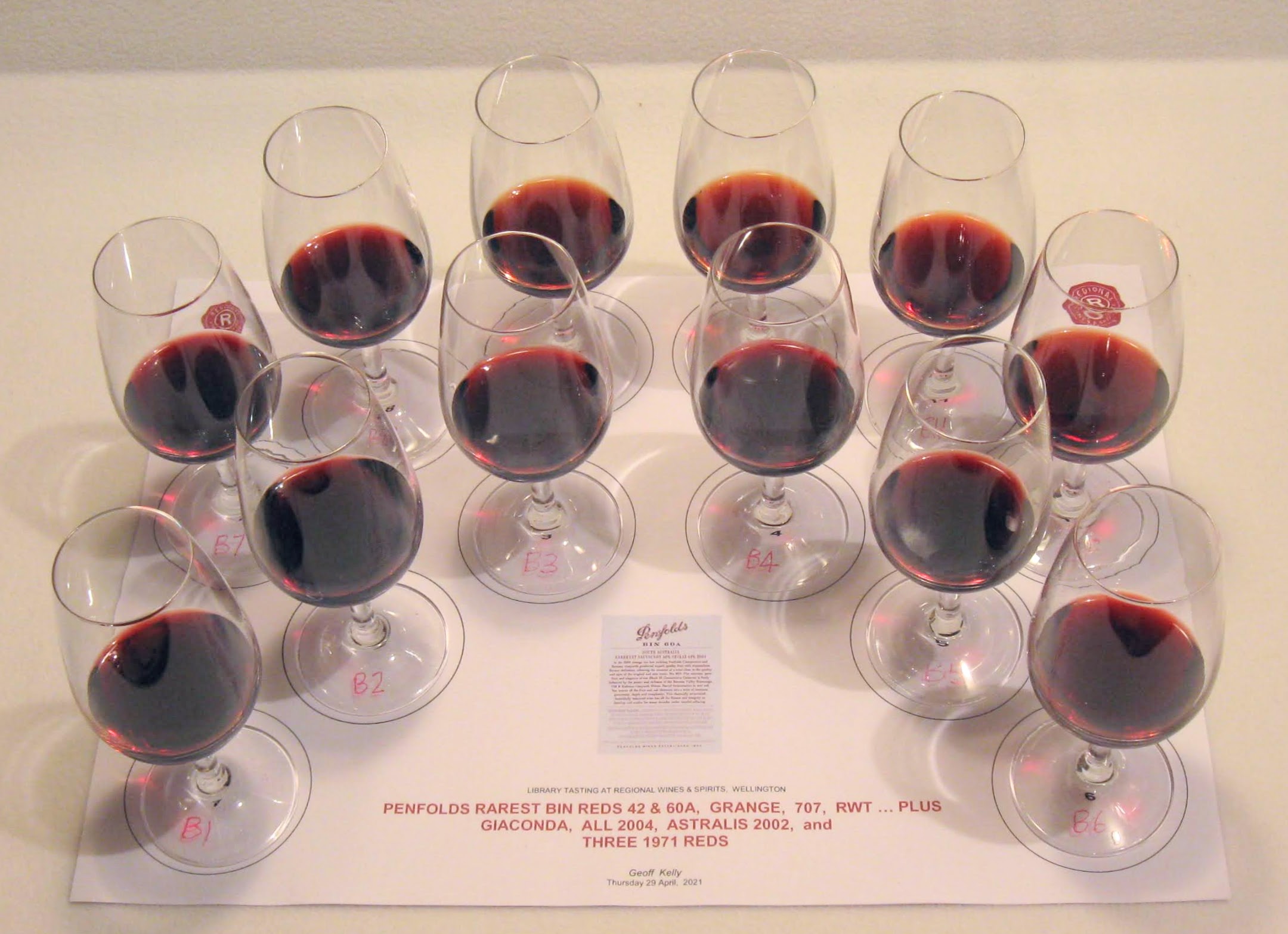 The twelve wines generated the most amazingly aromatic and berry-rich aroma around the glasses, really enticing and exhilarating. Dark cassis-like notes were the main sensation, plus fragrant near-cedary oak, and a generally piquant and exciting quality hard to describe. You could not wait to smell and taste them. Eight of the wines being so young, the colour gradation in the 2004s does not show up here, but wine 4, Penfolds Shiraz Grange, was the deepest and most intense colour, followed by wine 5, Penfolds Cabernet Sauvignon Bin 42. Wine 6, 2002 Clarendon Hills Syrah Astralis, despite its reputation, was the lightest in the front row. In the back row, wine 7 the 2004 Penfolds Bin 60A, was midway in depth, in the 12. Wines 9 to 12 are the 1970s wines, wine 11 the 1971 Tahbilk Cabernet being the darkest of these four, and wine 10 the 1971 Tahbilk Shiraz being the lightest, but still a very acceptable colour … at 50 years of age. Font>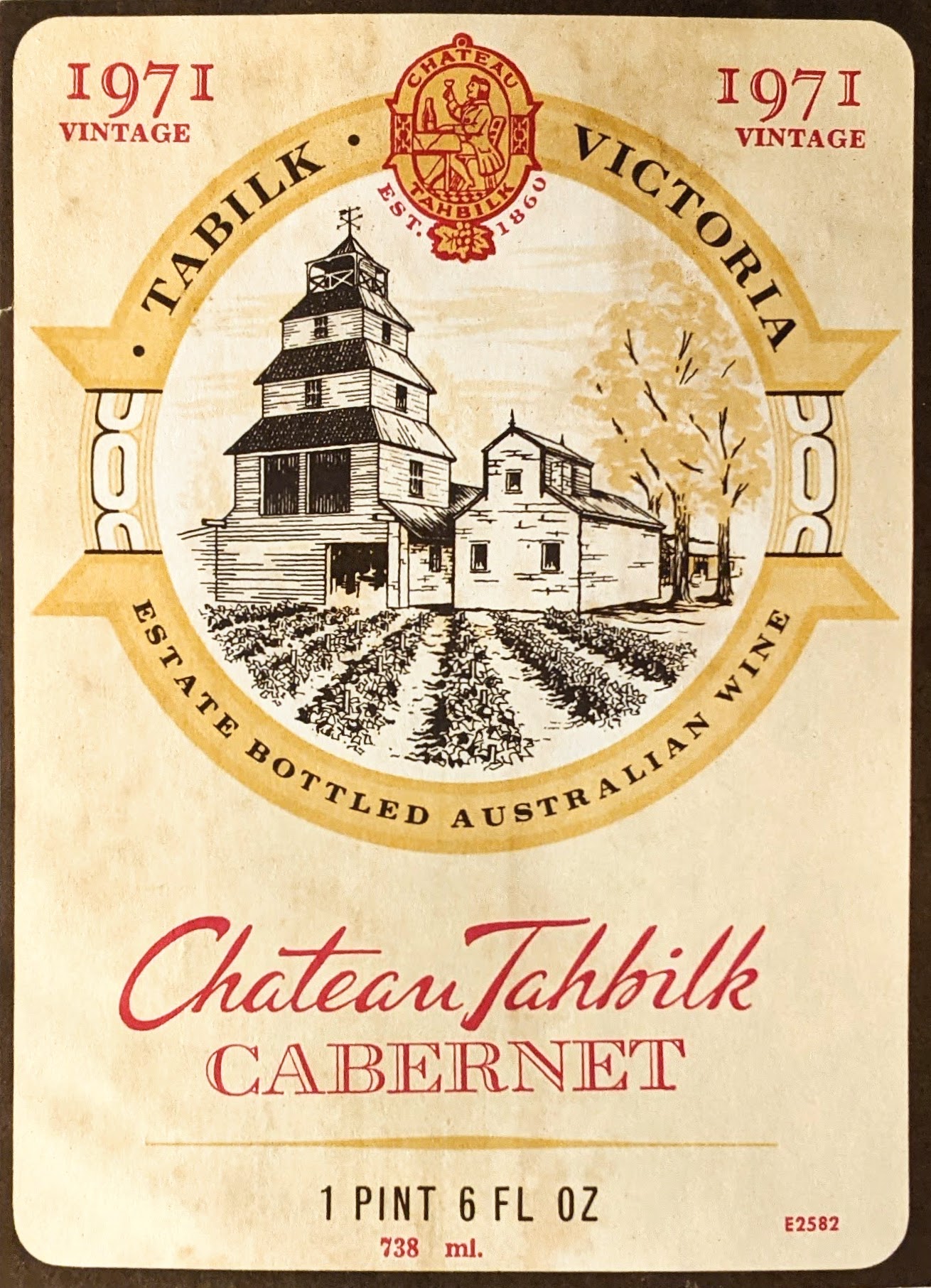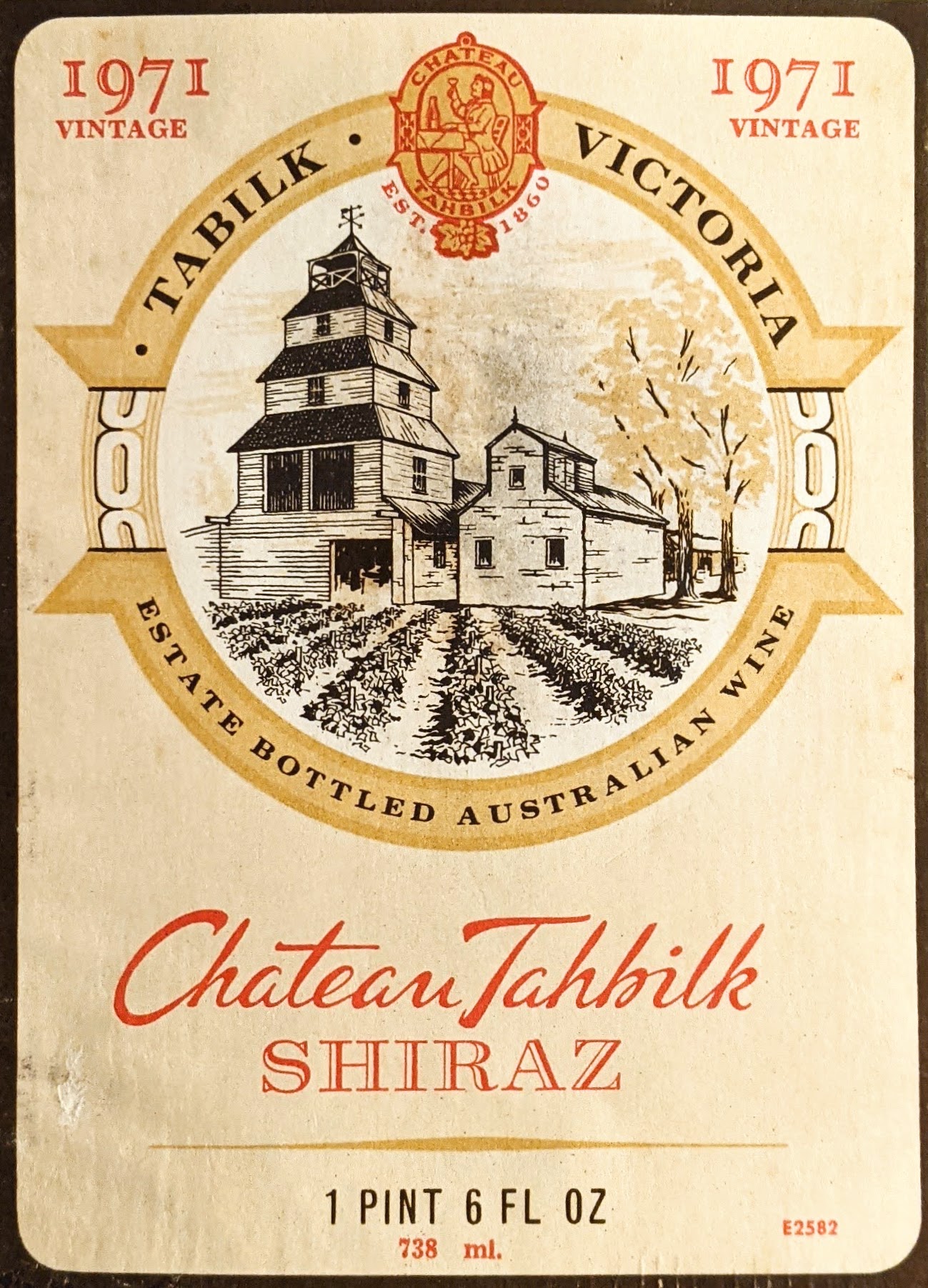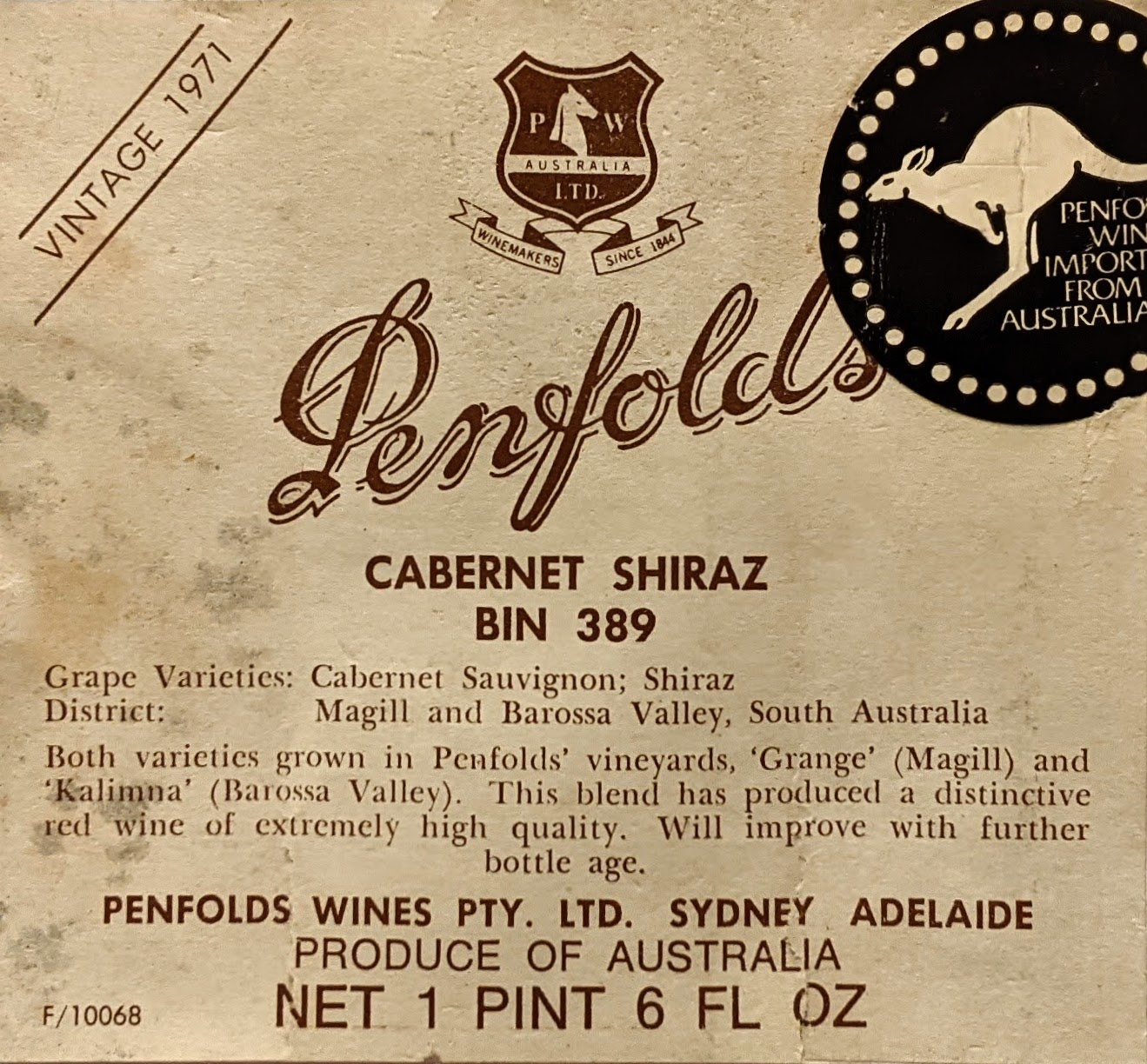 ---
Reserve wines:
#
1999  Torbreck Shiraz The Factor
, 
Barossa Valley,  South Australia
14%; $162 Cork; J. Halliday, 2011:
a powerful, dense bouquet with ripe plum to the fore, then gentle spice and positive oak. The smooth palate has plush, ripe, dark berry and plum fruit, fine tannins, and excellent oak integration,
95; https://torbreck.com 
# 1994  Penfolds Shiraz Magill Estate,  South Australia
13%; $143 Cork; H. Steiman@WS, 1998:
Rich and generous in flavor, this is a complete wine, with spicy blackberry and chocolate flavors swirling through a finish that eases off a bit, making it feel elegant. Drink now through 2004. 3,200 cases imported,
90
; www.penfolds.com
# 1981  Ch Tahbilk Shiraz 1860 [ pre-phylloxera vines ],  Nagambie Lakes,  Central Victoria
14%; $ – Cork; among the oldest pre-phylloxera (ungrafted) shiraz vines in the world; RH@JR, 2010:
Raspberry and redcurrant, chocolate, fresh and lengthy with lovely depth and a leathery finish,
17; James Scarcebrook, 2015:
…  lifted aromatics, more toasty charred notes, smoked meats. Quite fresh for its age,  sweeter oak tannin hanging in there, a bit of creamy texture, pretty lovely, more sweet breads.
No score; www.tahbilk.com.au


---