LIBRARY TASTING AT REGIONAL WINES & SPIRITS,  WELLINGTON, 17 JUNE 2021
THE TOP 1987 NEW ZEALAND REDS:  DOES 1987 MARK A TURNING POINT ?
Geoff Kelly, MSc Hons
Conclusions from the Tasting:
The level of taster interest in this historic New Zealand wines Library Tasting was a delight, it being over-subscribed within an hour of offering. It is however probably fair to say that people came more out of curiosity and interest in earlier New Zealand wines than in anticipation of sensory delights. But as the tasting unfolded, there is only one word to describe the reaction of participants: astonishment.
First there were the colours, so many of the wines retaining appreciable red in the maturing hues. And then there was the the volume of winey / loosely 'claret-y' aroma the set of 12 glasses generated, the wines collectively smelling true to type, alive, and vital. But when it came to taste, only then did some of the wines make clear that this was a set of wines from an earlier generation of New Zealand cabernet / merlots … and rather many of them did not taste of the bordeaux-like hints the collective bouquet suggested. But even so, there were some reasonably well-balanced and good wines to carry the day. And the best wines were indeed the benchmark wines of the times that the Invitation held out promise for. A clue to that can be gleaned from the fact that 6 of the 12 wines were rated top of the set by at least one of the participants. An even more surprising 10 of the 12 wines were at least one person's second-favourite.
But, it was the 1987 Stonyridge Cabernet / Merlot / Franc Larose that carried the evening. In 1989 I wrote in
National Business Review
that: The results were clearcut. Stonyridge Larose is New Zealand's top red in the 1987 vintage. It joins a shortlist of all-time great New Zealand cabernet styles, such as 1965 McWilliams Cabernet Sauvignon, and the 1982 and 1983 Te Mata reds.  And that conclusion remains true today. In this tasting, 1987 Vidal Cabernet Sauvignon, 1987 Goldwater Cabernet / Merlot / Franc, and 1987 The Antipodean (to a degree) also added weight to the view that 1987 was indeed a turning-point in the evolution of fine and appropriately ripe New Zealand cabernet / merlot or bordeaux blend wines. Three of these wines showed Bordeaux-like ripeness and harmony, without intrusive acid. Unfortunately that step forward could not be consolidated in 1988, that being the year of Cyclone Bola. But the years 1989, 1990, and 1991 were again variably favourable, with some good wine made. Only a few … these were still early days.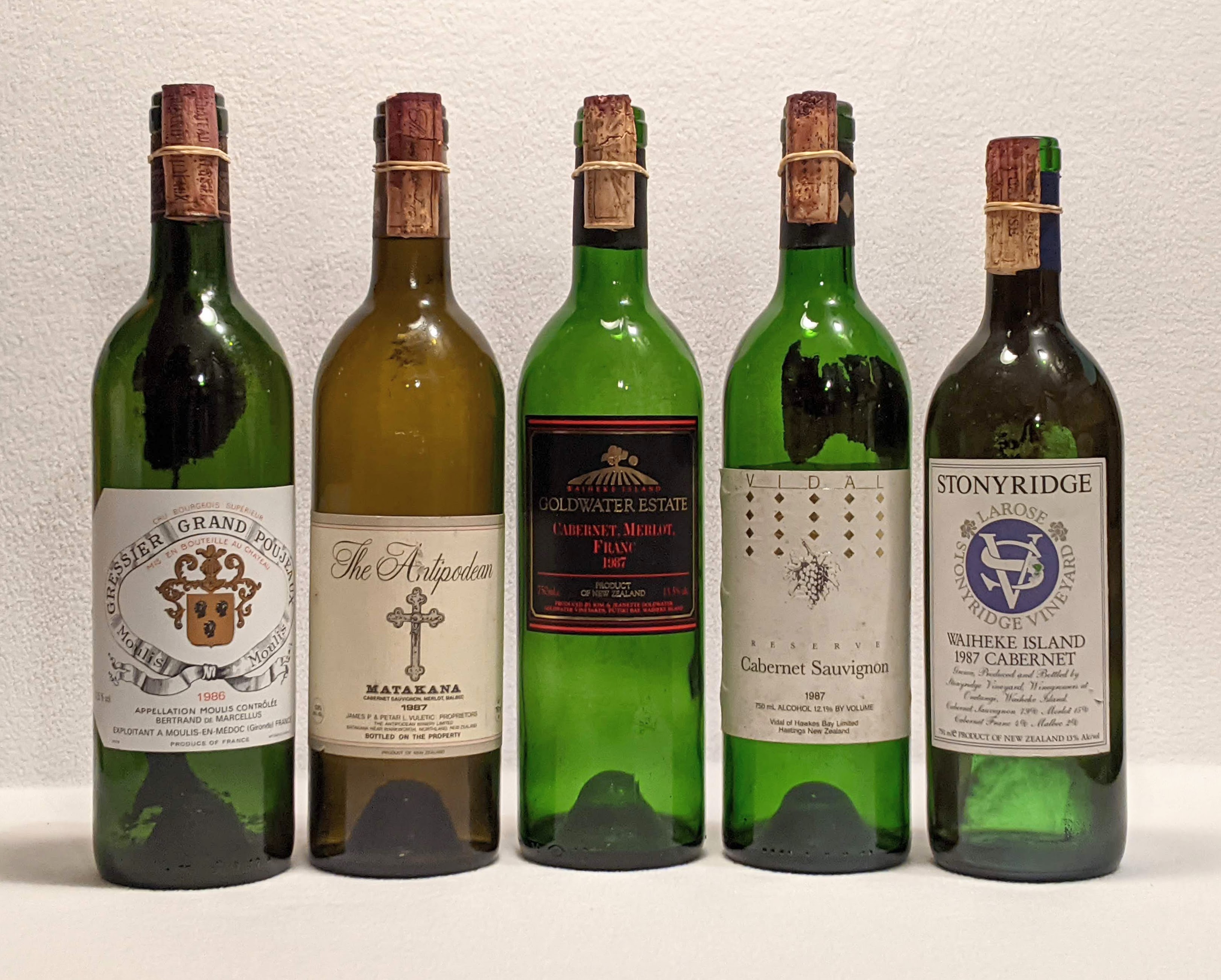 This tasting was designed not only to check up on how these 1987 New Zealand reds are holding up in 2021, and see to what extent wine reviews made at release of the wines were relevant, but also to see how the New Zealand wines compared with good but not great international wines of the day. The key factor of interest in that comparison is to assess the dry extract, that is the richness and texture of the wine. The reason for this approach is that New Zealand reds have traditionally been skinny, due to over-cropping … by international standards. This factor can be analysed for, but careful tasting can also give an approximation. Reference wines for dry extract were 1987 Santa Rita Cabernet Sauvignon from Chile, one of the better Chilean reds of the day, and 1986 Gressier-Grand-Poujeaux, a cru bourgeois from Moulis, in the Medoc, Bordeaux. The latter shown here on the left, is clearly one of the richer wines in the tasting, with sound berry and older oak flavours appropriate to a cru bourgeois, 17 +; next to it The Antipodean from Matakana, north of Auckland, also quite good body, a wine smoothed-over by very high-quality oak, but fractionally under-ripe, 17.5; then 1987 Goldwater Cabernet / Merlot / Franc, from Waiheke Island, a ripe and supple wine showing a smoothness and charm then unusual in New Zealand reds, 18; to the right again 1987 Vidal Cabernet Sauvignon Reserve, 18, seeming understated back in 1989, but now in full flower and richer than the Villa / Vidal blends with merlot, which were preferred at the time. The merlot in those blends was picked at a higher cropping rate, and is now letting them down a little. Finally on the right, the most complete wine of the tasting, 1987 Stonyridge Larose, also from Waiheke Island, a wine of international calibre showing all the benefits of a cropping rate aligned to Bordeaux AOC standards, multi-variety blending, good ripeness, and beautiful oak, 18.5. It was clearly the top 1987 New Zealand red in 1989, and remains so today. Font>
This Library Tasting highlighted yet again how critical the issue of dry extract is to perceived and actual quality in New Zealand wines.  Notwithstanding that import of New Zealand wine into the European Union requires dry extract analyses in the accompanying documentation,  the significance of dry extract to wine quality was a near-total mystery to most New Zealand winemakers in the later 1980s and 1990s.  The critical problem is, it remains so, to far too many in the 2010s and 2020s.  Too many New Zealand wines both white and red have plenty of freshness,  initial impact, fruit notes and aroma,  but lack body and satisfaction in mouth. This failing becomes critically apparent, with food.  The most obvious example has been our beverage sauvignon blanc, when compared with any half-way-decent Loire Valley sauvignon blanc made in accordance with AOC cropping regulations. All too often our beverage wines win out in the (super)-market place more because they are affordable, they are cleaner and fresher, and the closure is the handy-to-open screwcap. When price is the determining factor in wine purchase, attributes such as body become secondary. Mouthfeel / body / dry extract in the wine is not a subjective factor in wine evaluation: it can be measured analytically.
As well as illuminating wine industry achievements in the climatically favourable 1987 vintage, this tasting set out to highlight exactly the issue of dry extract,  by including both a representative cru bourgeois made in accord with Medoc / Bordeaux AOC yield requirements,  and one of the better Chilean commercial cabernet sauvignons of the day,  where cropping rates have long been attuned to European values.  These two wines were conspicuously the richest and most satisfying wines in terms of dry extract in the tasting.  The Stonyridge came close,  and it is thought to also have been cropped at a Bordeaux cropping rate ... nearer 5 t/ha =2 t/ac rather than the much higher figure the New Zealand industry then thought 'normal'.  The Antipodean was also noticeable for its body on palate,  suggesting more an appropriate meaning European AOC cropping rate.  The other reds were lighter, right down to thin,  with cropping rates bearing no relation to the 5 – 6 t/ha (maybe up to 7 t/ha for whites) considered the maximum for quality wine in Bordeaux. This is a critically important dimension of quality wine, both for export in that sector, and for people who cellar wine for the decades.
Appropriate smells and flavours are more-or-less a given in fine wine. Cropping rate,  dry extract,  mouthfeel and body in the wine remain key issues, however, if New Zealand's better table wines are to be taken seriously on the world wine stage.  Thus far, these key attributes of fine wine have been insufficiently thought about, in New Zealand wine industry practice. A few leading winemakers are now increasingly aware of this key dimension of fine wine – Larry McKenna at Escarpment for example has pioneered providing a dry extract figure in the specifications sheet for his top wines.
This tasting also cast some light on the still widely-held view that New Zealand wines do not cellar well. In my experience over the last 50 years of New Zealand wine, the simple fact has been that where our better wines have been made to international standards of practice particularly with respect to yield,  dry extract and body,  good New Zealand wines have kept as well as similar wines from overseas.  The problem was not New Zealand wines,  but viticultural and winemaking practices in a country then insulated from full knowledge of both the wines of the world,  and how they should taste and perform,  as well as the viticultural practices that produced them.  
It would be a step forward for the industry now, if wine-researchers were year by year documenting dry extracts for a cross-section of current New Zealand wines,  some thirty years after these 1987 wines, and publishing the results. Ideally this work would be tied in with careful sensory evaluation. Such work would widen understanding of this worthwhile dimension of fine wine.  The New Zealand wines must not be documented in isolation:  it is imperative that such a survey each year include a few agreed / unarguable international benchmark wines (which do not need to be unduly expensive),  to introduce the reference-points of reality so often (and so critically) missing in New Zealand wine evaluation.  On the red side for example,  suitable wines would be for the cabernet / merlot winestyle the cru bourgeois Ch Meyney from Saint-Estephe,  and for the 'burgundy' winestyle (that is,  pinot noir and syrah) Guigal Cotes-du-Rhone.
Invitation and background to the tasting:
This tasting could more fully be titled:  The top 1987 New Zealand reds:  does 1987 mark a turning point in the evolution of New Zealand Cabernet / Merlot winestyles ?
During the 1980s I was wine correspondent for 
National Business Review
,  at a time when it took a broad and liberal view of the 'business' world.  In mid-1989 there were three articles I particularly enjoyed preparing,  reviewing the quality of the 1987 New Zealand cabernet / merlot wines.  In the June 16,  1989 article I commented: "... the top 1987 wines show a considerable advance on those reviewed in my account of the 1985 wines (NBR, 26th of June 1987). The review was titled: "Ripe fruit needed for cabernets", and the point remains."  I have recently re-published these articles,  available
here
.
Thus the goal for our June Library Tasting will be to assess how the 1987 wines are faring,  and to what extent those comments 32 years ago were at all well-informed and accurate … bearing in mind they had to be read against the woeful standards for most New Zealand red wine before the mid-1980s.  Yes,  there had been odd quality wines,  Tom McDonald and Denis Kasza's 1965 and 1969 McWilliams Cabernet Sauvignon from Hawkes Bay,  odd Cabernets from Alex Corban and Dudley Russell in Henderson,  occasional special reds from the earlier Mission Estate, and the 1982 and 1983 Te Mata Coleraine,  also Hawkes Bay.  But more generally,  the long shadow of hybrid reds still lingered,  when cropping rates were bizarre by world standards,  water addition was still widespread / had only recently been disallowed,  and few New Zealand winemakers were at all familiar with how the quality red wines of the world in fact tasted. 
This tasting will provide a now-rare opportunity to taste the best 1987 New Zealand Cabernet / Merlot or bordeaux blends,  at 34 years of age.  Yes,  some may be frail,  some may be either skinny or too oaky (or both),  as was the norm then (and still is,  to a degree) … but all will be interesting,  and a couple are both rare and exciting.  They will allow us to peer back into a very different world.  And there will be a couple of foils,  to calibrate the tasting.
It is doubtful any wine group in New Zealand could now offer this tasting … let alone with wines sourced from the ideal-for-cellaring temperate Wellington climate.  It is the kind of tasting which the wine industry itself should have provided for,  and be offering,  particularly New Zealand Winegrowers. It is therefore a rare opportunity.
As a 
bonne bouche
 to the tasting,  note that the line-up will include arguably the finest bordeaux blend made in New Zealand in the 1980s,  namely the Waiheke Island 1987 Stonyridge Larose.  This wine is now rare.  Bottles cellared in Auckland are much more advanced than those from cool Wellington cellars.  There will be a reserve bottle of this rare wine,  so you are pretty well guaranteed to taste it.  The other wine that springs to mind as a contender for that title is 1982 Te Mata Coleraine,  and naturally we will include the 1987,  but 1987 was not a stand-out year for Te Mata.
1987 not being a noteworthy vintage year for most parts of the world,  at this distance it is a little hard to put together 12 x 1987 wines.  As calibration wines for the whole exercise,  we will have a 1987 (or 1986) Cabernet Sauvignon from a leading producer in Chile,  which should fit in well.  At the time Chile seemed to offer the greatest export challenge to our cool-climate red wine styles.  We will also include a 1986 cru bourgeois from the West Bank,  Bordeaux.  These wines should illuminate the concepts of appropriate cropping rate,  and appropriate ripeness in the cabernet / merlot wine style,  without too much overshadowing the New Zealand contingent.  
Pricing:
  current auction realisations for older / better New Zealand wines of the calibre in this tasting have doubled in the last two years.  There is a small but growing consumer interest in these older New Zealand vintages, even if winemakers are slow to help them. It seems realistic therefore to price the tasting to partly reflect the value the bottles would achieve at auction.  In the March Webb's (Auckland) sale,  our exact 1987 Te Mata Coleraine sold for $300,  to which must be added c.19% fees.  It is quite a while since any Coleraine sold for under $150.  Likewise in the May Webb's sale our exact 1987 Stonyridge sold for $260.  But surprising prices,  meaning a few tens of dollars,  are currently being paid even for modest wines like Montana Cabernet Sauvignon.
So join us for a visit to a bygone age,  a sensory walk in New Zealand red-wine history at a time when alcohols were commonly 12 – 13%,  and in one of its more exciting years.
Acknowledgements:
Michael Parker and Peter Whittington contributed much-appreciated bottles to this Library Tasting. All winemakers contacted dug deep in their memories and office filing systems, to contribute indicative facts and in two cases, labels, for this tasting. I appreciated their response very much. Invidious though it is to single one out, Kym Milne MW, now Adelaide Hills but then Chief Winemaker, Villa / Vidal Group, wrote at length and fondly, of their very special 1987 reds, the wines in his view eclipsing anything made in the 10 years he was in charge.
References:
­
Cooper,  Michael 1990:
Michael Cooper's Pocket Guide to New Zealand Wines & Vintages
. Hodder & Stoughton, 256 p.
Cooper,  Michael 1992:
Michael Cooper's Buyer's Guide to New Zealand Wines
. Hodder & Stoughton, 280 p.
Halliday, James, 2002:
Classic Wines of Australia
, 396 p. Third Ed. Harper-Collins.
Kelly, Geoff 1989:
National Business Review:
articles in issue for Friday,  May 19, 1989; Friday June 16, 1989; Friday August 18, 1989, now re-published on
www.geoffkellywinereviews.co.nz
Parker, Robert 1991:
Bordeaux
. Simon & Schuster, New York, 1026 p.
---
THE WINES REVIEWED:
In the reviews below, cropping rates tend to be indicative / from memory, rather than exact, few wineries now having records. There will be reviews for some of the wines in this tasting in Peter Saunders' annual Guides of the time:  I do not have the relevant issues.  1988 / 89 was before Michael Cooper started his now remarkable series of annual Guides.  1990 was the first,  format yet to crystallise.  There is one Cooper review elsewhere for 1987 Larose,  and one Raymond Chan review for 1987 Coleraine.  Otherwise,  we have to use my reviews in the three
National Business Review
articles cited, regrettable though that may be.  Where I have more than one review,  I have quoted the latest. 
The first price given is the original purchase price,  expressed in $NZ.  Older New Zealand wines are (in effect) not covered by
wine-searcher
. Apart from the Vidal Cabernet Sauvignon cellared in Masterton, all wines have been cellared in Wellington since original release.  A few comments from a similar tasting of these wines I presented in 2002 (but failed to publish) have been added in, to add continuity to the appraisal of these important New Zealand reds. An outline of the Reserve wines is included,  at foot.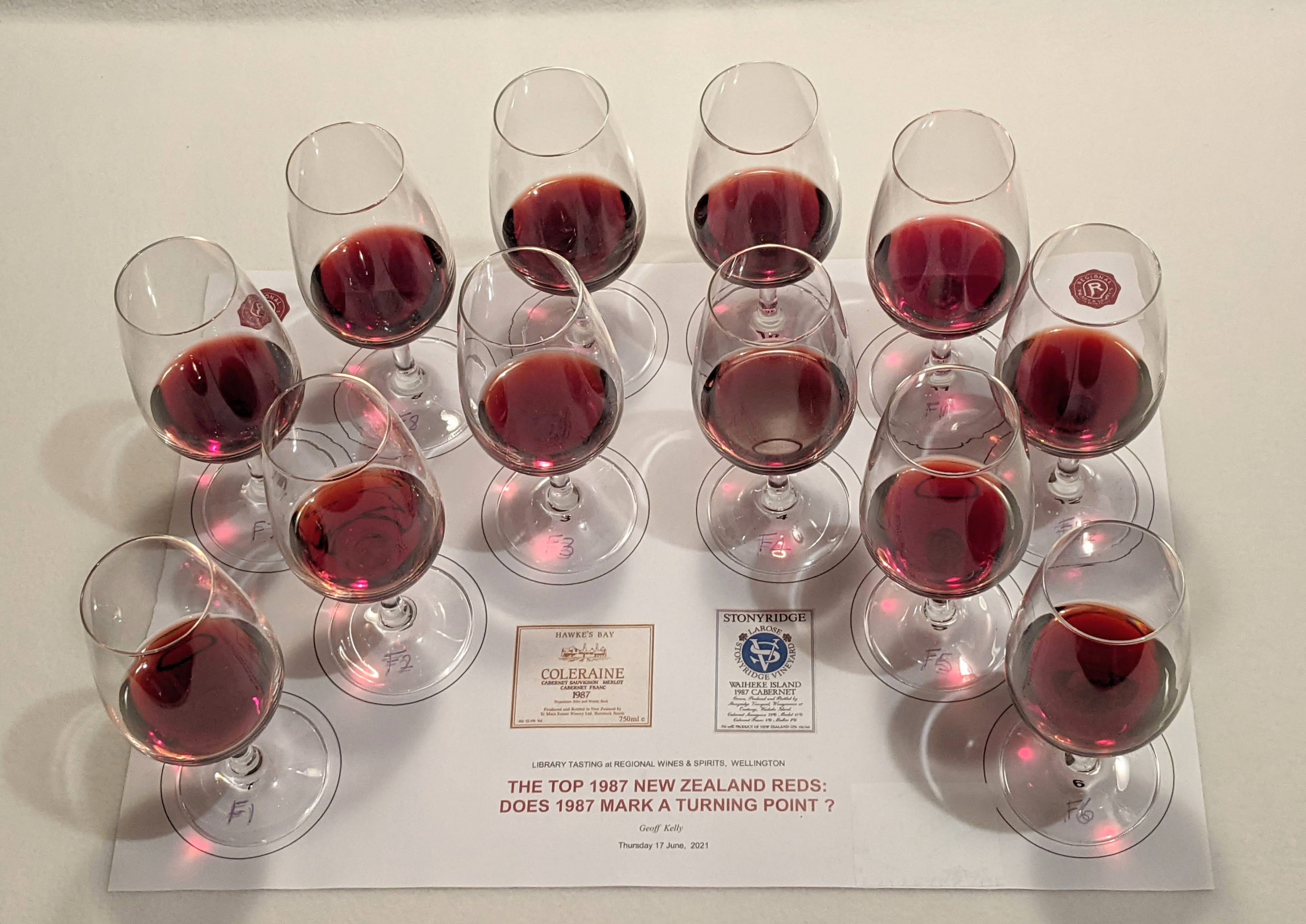 The twelve 1987 (one 1986) wines in the tasting presented an enchanting sight. As can be seen, the colours were astonishingly good … compared with what tasters were expecting. This is a result of very conservative and thermally efficient cellar practice in the cool equable Wellington, New Zealand, climate. The wines are presented in two rows of 6. Colours ranged from the deepest, 1986 Ch Gressier Grand Poujeaux, in position 4 front row, to the lightest, 1987 Brookfields Cabernet / Merlot, in position 2. By far the reddest was wine 11 in the back row, The Antipodean, not what one might expect given two years in 100% new oak. Wine 9 the second deepest, is the remarkable 1987 Villa Maria Cabernet Sauvignon Reserve picked at 20° yet seemingly (at the time) fully ripe, all Ihumatao / Mangere fruit. The top-ranking wine, 1987 Stonyridge Larose in position 12, was exactly at the mid-point, for depth of colour. It matched very closely the Chilean, 1987 Santa Rita Cabernet Sauvignon, at position 5. The other high-profile wine in the tasting, in the sense of expectation, was Te Mata Coleraine, at position 3. In this vintage it was the second lightest of the 12. As the text comments, the wines looked good, and smelt even better. A great start to the tasting. Font>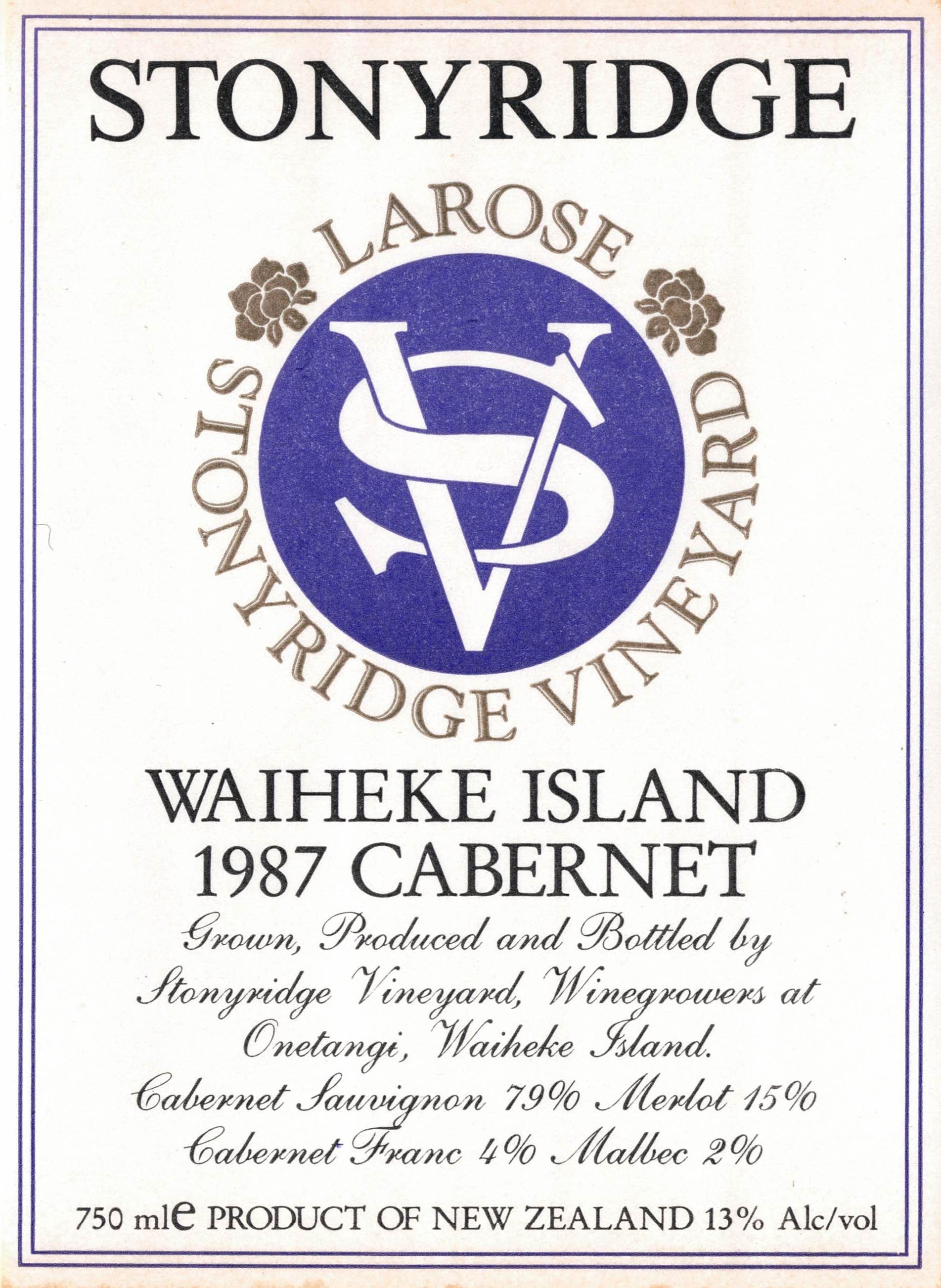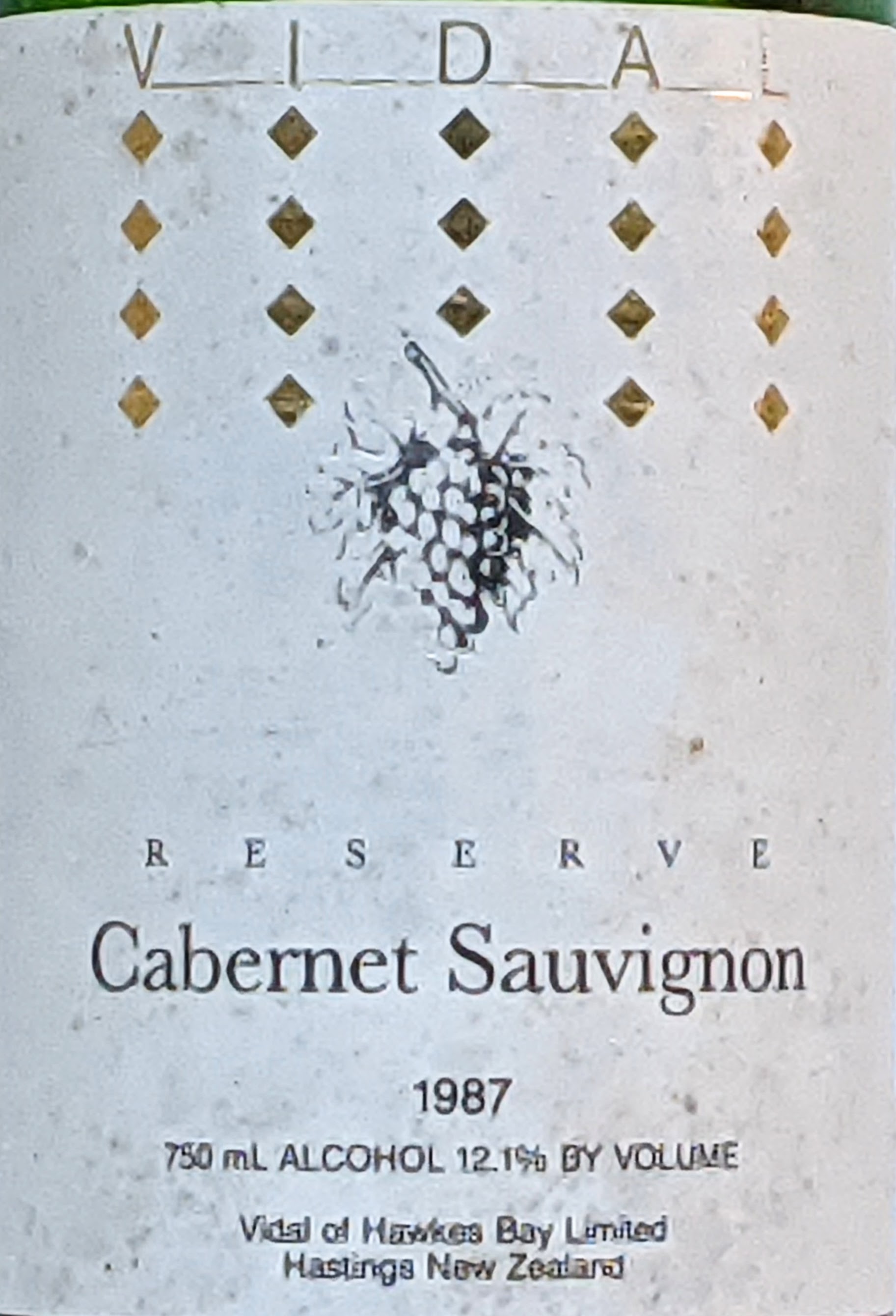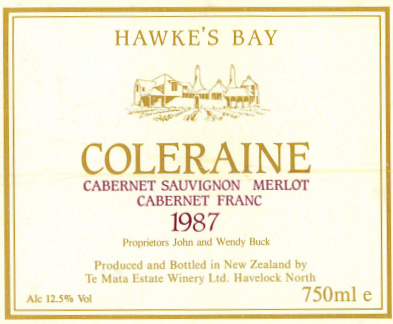 Reserve wines:
1986 Matua Valley Cabernet Sauvignon, 
Dartmoor-Smith vineyard,  western Hawkes Bay   
No info available,  perhaps a little fruit from Auckland,  perhaps 15 months in French barriques;  www.matua.co.nz
1987 Matua Valley Merlot, 
Dartmoor-Smith vineyard,  western Hawkes Bay   
No info available;  www.matua.co.nz
1986 Santa Rita Cabernet Sauvignon,  
Maipo Valley,  Chile
400mm annual rainfall,  likely French and US oak;  www.santarita.com
1988  Wynns John Riddoch Cabernet Sauvignon,  
Coonawarra,  South Australia.
Vines planted from 1960s.  First produced 1982.  15 – 26 months (depending on vintage) in new (now c.30%, probably more then) and one-year old French oak hogsheads more than barriques. No previous vintages on website;  www.wynns.com.au
---