LIBRARY TASTING AT REGIONAL WINES,  WELLINGTON,  26 SEPT 2019
PINOT NOIR AT 20 YEARS:  1999 BURGUNDY CROSS-SECTION vs ALL NEW ZEALAND PINOT DISTRICTS …
Geoff Kelly, MSc Hons
Conclusions from the Tasting:
This tasting worked well: people enjoyed it. No one present had sat down to a formal evaluation / blind tasting of six 1999 burgundies vs six 1999 (a couple in fact 1998) New Zealand pinot noirs. And it is safe to say most people attending would have supposed that the New Zealand wines would be both more than obvious, and probably past their prime, especially thinking back to New Zealand pinot noirs and New Zealand pinot noir practice 20 years ago.
But as the tasting unfolded, the nett impression could hardly have been more different. It was damnably difficult to be sure which were the New Zealand wines. At the questionnaire stage, before the wines were revealed, apart from ranking the top, second-favourite and least wines, the only other meaningful questions to be asked seemed to be: is this wine from France, and then, is it from New Zealand ? For every wine of the 12, some thought one, some the other. For four of the wines, the votes were roughly 50-50. Astonishing. Details are given below, noting that 18 approximately of the 21 tasters participated in this ranking. Tasters agreed this was a challenging and very worthwhile exercise, which we should be doing a lot more.
It was noticeable however, that long-experienced pinot noir practitioners – John Kavanagh (Te Kairanga ex Neudorf), Olly Masters (Misha's ex Ata Rangi), and Larry McKenna (Escarpment ex Martinborough Vineyard) – were more on the button in this analysis. Each easily nailed one of the wines (at least) as clearly from New Zealand, on details of evaluation which passed most tasters by. It adds so much to the calibre of the tasting, when there are winemakers present. Other tasters learn so much. For this tasting, there were seven winemakers and viticulturists.
As to how we found the wines, even the least would be welcome at dinner. And it is worth mentioning yet again the bizarre cellar-life estimates of both New Zealand and American wine-writers. It is as if these people never taste cellared wine, never cellar wines themselves. The so-American preoccupation with 'consuming' over-rides all. Consider the wine reviews given in the 'admin' section / introduction for each wine below, made when the wines were a year or two old, and then reflect that to a wine-lover, this tasting seemed appropriate at the 20-year interval. And tasters were delighted with the result.
Another detail worth commenting on (in the sense of striving for clarity of communication) is the strange fruit and other analogies American wine-writers use, particularly for pinot noir, in seeking to find aroma / flavour descriptors. In 50 years, I have never encountered blackberry fruit aromas in good pinot noir. Over-ripe pinot noir, yes maybe, but not in good pinot noir. Nor blackcurrant, another American favourite, a specific aromatic berry note so characteristic of cassis, cabernet sauvignon and temperate-climate syrah.
Though any of the 12 wines in the tasting would be good with a meal, the top six all had specific things to say about the winestyle pinot noir. From the left, the 1999 Felton Road Pinot Noir Block 3 from Otago eloquently portrayed an earlier generation of New Zealand pinot noirs: intensely fragrant and varietal, but in that volume of aroma also a hint of leafyness and imperfect ripeness, confirmed on palate by a relative lightness of body and lack of dry extract, 18; then next the 1999 Claude Dugat Gevrey-Chambertin, so totally the opposite on palate as to teach the taster everything needed about the importance of cropping rate and thus dry extract (in the classical French approach to viticulture), but the wine in relative youth thus far lacking explicit varietal detail on bouquet, 18 +; then the surprise of the tasting, the quietly-achieving 1999 Greenhough Pinot Noir from Nelson, a restrained wine yet with beautiful florality on bouquet, and a lovely burgundian palate, the oak near-invisible, 18.5; next the 1999 Quartz Reef Pinot Noir also from Otago, one of the lightest in colour as good burgundy so often is, but surprising with its exact varietal quality on both bouquet and palate, plus good palate weight, 18.5 +; then the 1999 Geantet-Pansiot Gevrey-Chambertin Vieilles Vignes, a simply astonishing wine for a village wine, showing that one does not need to spend a fortune on burgundy to smell and taste the very essence of pinot noir florality, suppleness and charm, 18.5 +; and finally, my top wine, the 1999 Domaine Sylvie Esmonin Gevrey-Chambertin Clos Saint-Jacques Premier Cru, the bouquet epitomising the magic of Cote de Nuits as opposed to the Cote de Beaune, fragrant, floral, piquant and nearly aromatic, red fruits more than black, subtlest cedary oak, the palate all this and more, youthful, showing what grand cru quality is all about, in terns of bouquet, flavour, texture and dry extract, 19. This was clearly the most popular wine, showing a Burgundy quality hard to find on the shelves in New Zealand today. Font>
The Invitation:
Twenty years is an agreeable time to evaluate good pinot noir … where 'good' means grapes cropped at a sufficiently low rate for the wine to have enough dry extract to mature attractively in bottle,  over that time span.
The germ for this tasting arose in a letter I recently received.  This was from the New Zealander I regard as having the best palate and best feel for quality in pinot noir as a winestyle.  He said:  "Enjoyed Martinborough Pinot Noir Reserve 1998 last weekend … blitzed the Jadot Clos Saint-Jacques and Bonnes Mares served blind alongside."
That is some statement … .  Tasters will recall that in 2011 this same 1998 Martinborough Pinot Noir Reserve was in the headlines (small) for winning a pinot noir judging in Pasadena,  California,  against all-comers … the other wines including 1990 Domaine de la Romanée-Conti La Tache.  As a consequence the winery offered to buy in the wine,  from good cellars, offering $500.  The same wine sold for $915 at Webb's Auctions,  in Auckland,  in July 2013.  Thus … given these stimuli, we immediately have a tasting. The slight vintage mis-match is hardly pivotal.
The New Zealand wines represent each of the quality pinot noir districts in New Zealand.  Opportunities are rare to see these districts alongside each other,  in maturity. Key features of the wines are shown in the Table.
The French wines offer a microcosm of the world of pinot noir (for ordinary mortals).  From the often-light and fragrant Volnay and Chassagne styles of the Cote de Beaune through richer Le Corton to the more aromatic and exciting wines from Gevrey-Chambertin,  there should be a pinot noir here to please all but the most fastidious.  Note that the tasting includes three Premier Cru wines and one Grand Cru.  And Clos Saint-Jacques is a Grand Cru in all but name.  Opportunities to taste these upper-quality burgundies have become rare,  in recent years in New Zealand.  Let alone examples with appropriate age.
Background for the wines
Attempting to find out basic wine-making information for the French wines is too hard, from New Zealand. Information for the New Zealand wines is set out in the Table.
Table 1:
Basic winemaking data for the six New Zealand wines, only. North to South across the top,
parameters down:
Martinboro
'98 M'boro
Nelson
'99 Greenh
Marlborough
'99 Wither H.
Canterbury
'98 Kaituna *
Otago
'99 Quartz R.
Otago
'99 Felton R.
Source
M'b Terrace
Hope V'yd
Wairau V.
Kaituna V'yd
Pisa V'yd
Elms V'yd
Clones
5, 10/5
22, 5, 10/5
Abel, 6, 114
10/5 &
5, 10/5
10/5 &
Vines / ha
c.3,000
c.1,890
2,525
–
c.3300
2,665
Vine age '99
10, 15, 20 y.
23 & 6 yrs
c.5 years
various – 16
4 years
7 years
Hand-pick
Yes
Yes
Yes
Yes
Yes
Yes
Tonnes / ha
c.5
4 – 5
5
–
4.5
8.8
Whole-bunch
c. 20%
Nil
Nil
–
Nil
28%
Cold soak
c.5 days
3 – 5 days
4 days
–
5 – 7 days
9 days
Cuvaison
14 ± 2 days
28 days
20 days
–
26 – 28 days
19 days
Yeast
wild
wild
cultured
–
wild
cultured
Barrel-ferm ?
No
No
c.10%
–
No
No
MLF timing
in barrel
± in barrel
in barrel
–
barrel, spring
barrel, spring
In barrel
18 months
11 months
12 months
12 months
11 months
10 months
% bar'ls new
50
20
40
50
33
57
Toast
Low
M 80%, M+
Medium
–
Medium
Medium
Assembly etc
4 weeks
6 – 7 months
5 months
–
4 weeks
3 weeks
RS g/L
Nil
< 1 g/L
1.5 non-ferm.
–
0.5 g/L
Nil
Sterile-filt.
No
No
Yes
–
No
No
9-litre cases
c.250
180
c.2,000
–
950
330
* Winery no longer in existence, info from 2007 vintage, tentative.
Reserve Wines:
1999 highlights the era when New Zealand winemakers were becoming extremely distressed about the high incidence of TCA, in the corks New Zealand received. The almost universal adoption of screwcaps for pinot noir followed in the following three vintages. For this tasting, winemakers were anxious I have reserve bottles, several offering to supply a second bottle. That sort of interest and concern is very much appreciated. I had second bottles for key ones already standing up. There were also alternative bottles.
In the event, we did need a second bottle of the 1999 Quartz Reef, but not for TCA. Although to the closest examination the 45mm cork was physically perfect, the ullage only 10mm, and the wine penetration along the cork also c.10mm, the wine in glass was clearly lacking – on reflection, oxidised. Once a second bottle was opened and alongside, the difference in colour confirmed.
Acknowledgements:
Particular thanks to (from North to South):
Paul Mason
(present wine-maker, Martinborough Vineyard),
Larry McKenna
(winemaker for the 1998 Martinborough),
Andrew Greenhough
(winemaker for the Greenhough),
Brent Marris
(winemaker for the Wither Hills),
Rudi Bauer
(winemaker for the Quartz Reef), and
Blair Walter
(winemaker for the Felton Road), for the particular interest each took in contributing winemaking information to this tasting, as summarised in the Table. The only winemaker unable to be contacted was
Grant Whelan
, for the Kaituna Valley wine.
References:
Coates, Clive MW, 2008:
The Wines Of Burgundy
. University of California Press, 864 p.
Cooper, M. 2001 – 2003: successive years,
Michael Cooper's Buyer's Guide to New Zealand Wines
, Hodder, Moa, Beckett, c.375 p. Date on spine used, not Copyright page.
Morris, Jasper MW, 2010:
Inside Burgundy
. Berry Bros & Rudd, 656 p.
www.decanter.com
= various authors, some free material, subscription needed for longer articles, and reviews
www.jancisrobinson.com
= Jancis Robinson MW and Julia Harding MW, subscription needed for reviews
www.robertparker.com
= Robert Parker and associates, vintage chart, subscription needed for reviews
www.winespectator.com
= various authors, vintage chart, subscription needed for reviews
The
Net
generally, for some quoted reviews ex merchants etc, ex paid websites I don't subscribe to.
---
THE WINES REVIEWED: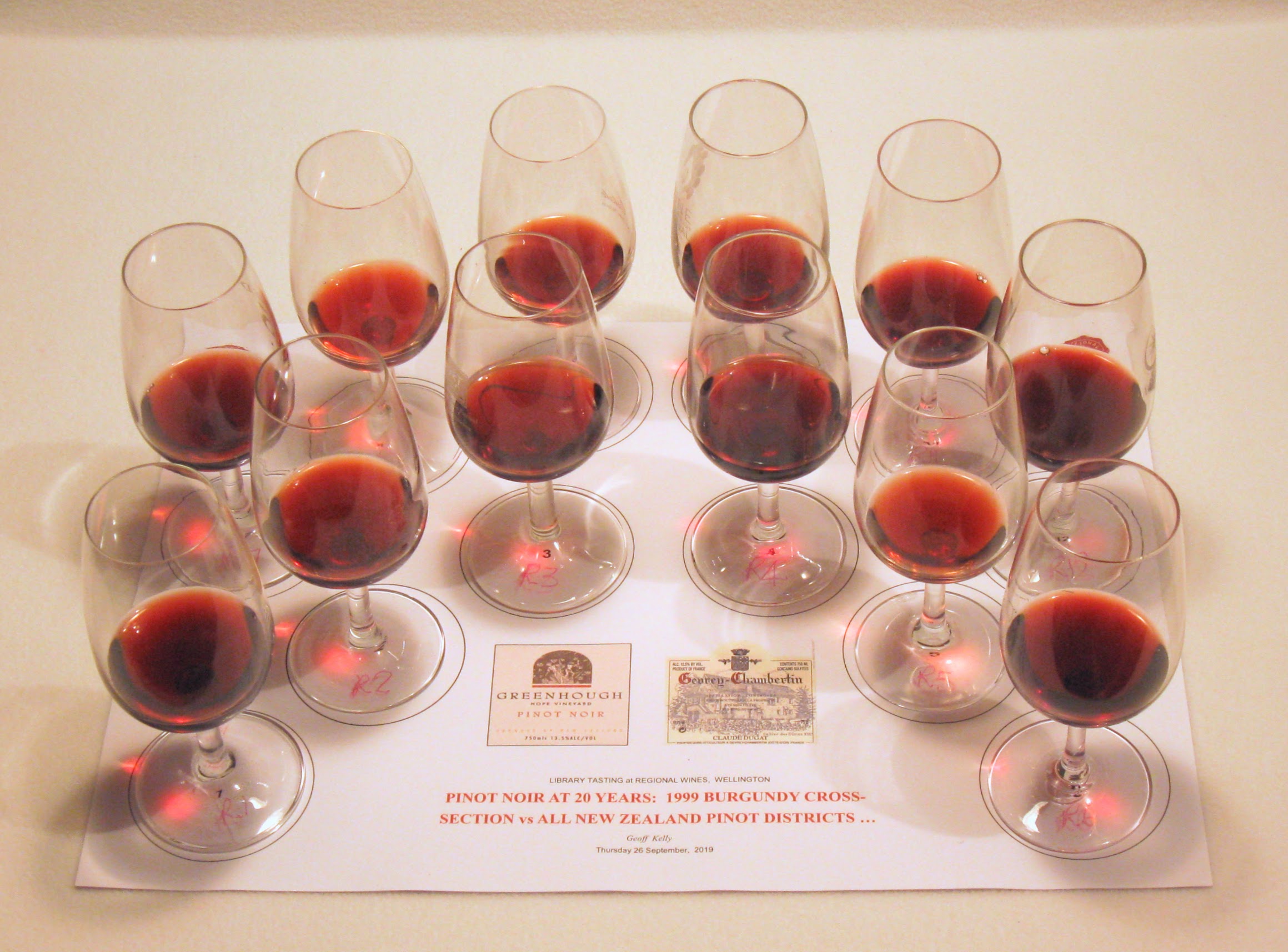 This tasting was a pleasure to sit down to. As tasters poured their wines, the range of colours revealed was delightfully appropriate to good pinot noir. And as always with pinot noir, depth of colour is no guide at all to the quality of the wine, or its pinot noir varietal expression. Front row from the left, wines 1 to 6, back row 7 to 12. In this tasting, wine 8, the lightest wine, 1999 Geantet-Pansiot, was the second-highest rated wine. The same principle applies to the New Zealand wines, wine 5 the 1999 Quartz Reef being one of the lighter wines, but also rating well in the results. But the reverse proposition is certainly not true either, wine 11 the 1999 Greenhough being one of the darker wines, yet still intensely varietal on both bouquet and palate. Wine 12, the 1999 Claude Dugat, is the darkest wine, and here there is a relative lack of exact floral and varietal quality on bouquet, as yet, but the palate holds much promise for the future. The seemingly oaky 1998 Martinborough Reserve at position 9 did not show oak-induced age in hue, though being in the lighter-coloured half of the field. Wine 1 is quite deep for a Volnay, wine 6 the Corton the second deepest, as might more be expected. The top wine of the tasting, the 1999 Sylvie Esmonin at position 10, closely matches the Martinborough Reserve, in the lighter half of the field. Font>
The wines are listed below in my rank order, not the group view, though taster's thoughts influence the notes. The first price given is current from
wine-searcher
. An approximate original price follows in text, if known.
---