LIBRARY TASTING AT VILLA MARIA WINERY, MANGERE, 15 OCTOBER, 2019
A CHATEAUNEUF-DU-PAPE CELEBRATION:   Pt 1
– THE 2007 VINTAGE …
Geoff Kelly, MSc Hons
Writing of new-generation Australian grenache-based wines, London-based wine-writer Sarah Ahmed in 2015 summarises a viewpoint which helps explain the quality and appeal of the better Southern Rhone Valley wines:
So, the trick to great single varietal Grenache is to keep yields low and pick the right site in which case the winemakers I spoke to tell me that Grenache retains a low pH, even at riper levels, which helps rein in its tendency towards high alcohol. This high natural acidity together with the tannin structure which comes from old, dry grown bush vines results in ageworthy, balanced wines with great depth of character – an earthiness and more savoury and spice fruit characters as opposed to the bright fruit and florals of younger vines. … old, dry grown, low yielding vineyards [my added emphasis] ... Melton is emphatic that they are absolutely key to great Grenache.  Why?  Because the moment yields increase, the quality of Grenache drops off dramatically.
• Conclusions from the Tasting:
• Other authors on the Southern Rhone Valley:
• The Invitation – and background information for the district:
• Vintage Chart: The better Southern Rhone Valley vintages of the last '40' years:
• Cepage:  the Main Grapes: 
• The essential Southern Rhone garrigue aroma / complexity factor: 
• References:
• Acknowledgements:
• The Wines Reviewed:
Conclusions from the Tasting:
This tasting proved popular, not only because the supple velvety wines of the Southern Rhone Valley are well-liked, but also perhaps because rather many people do like the riper, 'American-styled' vintages such as 2007. Whereas those to whom bouquet complexity is all important are somewhat guarded about these bigger, more alcoholic, wines. In the event, there turned out to be an intriguing range of wine styles, such that 10 of the 12 wines ranked as at least one taster's favourite. Intriguingly, eight of the 12 wines also rated as at least one taster's least favourite. These two parameters indicate the range of wine styles. There was no clear top wine, and bearing in mind this was a Chateauneuf-du-Pape celebration tasting, the wine just inching ahead as wine of the night (by one vote) was the Australian. I attribute this to its familiarity: the (in this case, relatively subtle) mint going on euc'y lift on bouquet, which many New Zealanders, long accustomed to Australian reds, now mostly enjoy. Though there is a significant percentage of tasters who strongly dislike this character.
In terms of the style of the wines, for me they divided into two camps. At best, there were those that show relatively little sign of a long, dry, warm and sunny vintage, the wines still being fresh, and fragrant and floral to a degree. Conversely, there were several wines where the fruit character was much more traditional baked plum or raspberry jam-tart rather than fresh berries or fresh jam. I marked these down. Two long-experienced tasters with trade experience were at pains to suggest these wines had acquired their over-ripe somewhat baked character by misadventure in transit, specifically loss of temperature control in the shipping container, post-bottling. I am not totally convinced, given the American wine-writers predilection for big, ripe to over-ripe, and alcoholic wines. Tasters from more temperate viticultural regions can find such wines over-ripe, or otherwise lacking in florality, subtlety and charm. At this distance in time and place, the matter is hard to resolve, but given the reputation of the wines, and the 2007 Clos des Papes in particular, this result was disappointing. One relevant factor is that the three wines objected to for this possible failing, come into New Zealand via three separate importers. Since New Zealand wine importers rarely if ever share refrigerated container space among themselves, the likelihood of three containers failing in much the same import season seems to me less likely. These riper, more alcoholic wines are noticeably less food-friendly, too … unless (as noted) one is habituated to them – as many warm-climate people are. One only needs to look at average alcohols in Australian wines.
The reviews below present my individual views, not the consensus of the 21 tasters. I do however give an indication of tasters' views. From the consumer point of view, where 'affordable' special bottles are desired, the lesson from this tasting was: in terms of nett pleasure at table, in a hotter year, sometimes the more affordable wines, standard bottlings and the like, can be fresher, more fragrant and more food-friendly than the prestige cuvées, which often include old-vine fruit, greater ripeness, and new oak exposure. This was shown to perfection by the Grand Veneur trio of Chateauneuf-du-Papes, where the standard Chateauneuf-du-Pape was a fresh and fragrant delight, showing no signs of over-ripe-year distress, whereas Les Origines to a degree, and the rare Vieilles Vignes, were both less fresh and aromatic, and less appealing. Unfortunately the Vieilles Vignes had to be excluded from the group tasting, due to TCA, but the present assessment looks through that factor. One of the Reserve wines, the Cuvée du Vatican Reserve bottling, was substituted.
Other authors on the Southern Rhone Valley:
A key aspect to this tasting is: we have five wines marked 96 or more by
Robert Parker
and associates. And one of them, 2007 Clos des Papes, has won that ultimate accolade, 100 points from the Parker team, with RP himself saying: "It is unquestionably one of the great Chateauneufs of my lifetime."
John Livingstone-Learmonth
, now the ultimate authority on the wines of both the Northern and Southern Rhone Valleys, is not quite so keen, across the board. This no doubt reflects more the general European view on the 2007s, that some are a bit big and too ripe and alcoholic, but nonetheless J.L-L has two rated ****(*) or *****. For Parker's 100-point Clos des Papes, J.L-L is *****, noting that he marks out of six stars –an accolade rarely given.
Parker
in his heyday had both a fantastic grip of the Rhone Valley wines, witness his marvellous book from 1997, but also loved the wines dearly (even when they were noticeably bretty). With
John Livingstone-Learmonth
too, you are left in no doubt that both authors love the wines of this region. This gives them both an endearing credibility. In contrast
Jancis Robinson
, despite occasional high marks, scarcely conceals the thought that the wines of the Southern Rhone Valley are mostly not her personal favourites, and her associates seem hell-bent on following her lead, rather than redressing the balance from her tending-detached approach to this region. In the sense one cannot subscribe to all wine-writers, now that wine websites are multiplying like rabbits, that leaves
James Molesworth
at
Wine Spectator
. He has been reporting steadily on them for more than 10 years now, and his vintage chart summaries are the best in the business. His wine reviews offer consistency, but a vocabulary that tends to the arcane / doesn't communicate well to the non-American reader. Plus he (too) reflects a distressingly American consumerist short-term view for the life expectancies of these wines.
The Invitation – and background information for the district:
The first tasting in our Chateauneuf Celebration centres on the ripe and generous 2007 vintage.  It also coincides with the point when
Robert Parker
had achieved the zenith of his influence on world wine matters.  The 2007 Chateauneufs were big,  and he liked them.  
Parker,  2008:
  "It is the vintage of my lifetime for this region, and I don't say that lightly. These 2007s will also be very long-lived given their extraordinary balance."  and 
Parker,  2009:
  "This is a truly historic and profoundly great vintage."
Jeb Dunnuck
 reviewed the 2007 Southern Rhone Valley wines at the 10-year point,  2017 (in 
www.robertparker.com
,  and makes some useful points (paraphrased):
#   … in  their infancy, both from barrel, and then from bottle the following year … they showed a huge amount of fruit, concentration and textural richness ... they also possessed singular aromatics (which is one of the hallmarks of the vintage), incredible complexity and a purity of fruit that was hard to believe.
#  2007 was a cooler than normal vintage that featured warm days and cool nights.
#  There were no heat spikes, with only 34 days above 86 degrees Fahrenheit (30 Celsius).
#  2016 was one of the driest vintages since 1871.
#  2016 was an exceptionally sunny vintage … in the same ballpark as 2010.
And we must remember that Parker is on record as saying that when it comes to wine for drinking at home,  the Southern Rhone Valley is his favourite district.  He added a postscript to Dunnuck's 2017 article (paraphrased):
"In my 39 years of tasting, three vintages stand out for their greatness and singularity … 1982 Bordeaux, 1990 Barolo and Barbaresco, and 2007 Chateauneuf-du-Pape. I bought as much of these vintages as I could afford … and how steady and reassuringly the greatest 2007 Chateauneufs have evolved. … characterized by great opulence and plush textures that often hid significant structure and tannin."
In contrast to a degree,  
Wine Spectator
 takes a quite clinical view of the wine world in their Vintage Charts. They have revised their view of the 2007 Southern Rhone vintage a little,  so that 2007 at 
95
 is now fractionally less than 2016, 2015,  2010,  2005,  1998,  1989,  and is now matched with 1990 (for recent years). But one has to make the caveat, that Americans like the big ripe years such as 1990 and 1998 (and probably 2007, notwithstanding Dunnuck's notes) more than the Europeans do. Again,
Wine Spectator
summarises the 2007 vintage with just the right note of caution as: "Ripe, rich, powerful reds thanks to long Indian summer at harvest-time. Grenache is heady and rich; Mourvèdre and Cinsault are key for balance. Best are hedonistic delights; though some are over-the-top."
As mentioned, the tasting includes 2007 Clos des Papes,  the winery now regarded by many as the definitive Chateauneuf,  if one favours elegance – though that assessment will need to change, as the new styling for Ch de Beaucastel beds in. Robert Parker's view on this wine is: "It is unquestionably one of the great Chateauneufs of my lifetime, and I suspect it will merit a three digit score after another 3-4 years of cellaring." Another feature of the tasting is the opportunity to compare three of the (then) four main Chateauneuf-du-Pape cuvées from Domaine Grand Veneur, an up-and-coming winery for which
Livingstone-Learmonth
rates the Vieilles Vignes (only 350 cases all told) particularly highly. The base wine is more traditional in upbringing, whereas Les Origines and Vieilles Vignes both have new oak. And any tasting of a declared Vieilles Vignes Chateauneuf is of interest – even though when you check, most of our wines contain significant 'old-vine' material.  [ In the event, the desire to have the three Grand Veneurs was thwarted by TCA, in the Vieilles Vignes.] The Charles Melton wine from Australia is included for fun,  for interest,  and maybe to illustrate some differences in the Australian approach to wine-making.  His Nine Popes is particularly highly regarded in Australia. I have used the 2006 because
Halliday
, in his Vintage Chart for Australia,  regards 2006 as a 'perfect' vintage 10/10 for the Barossa Valley,  vs 2007 at 7.   
Recent Vintages in the Southern Rhone Valley:
The essential character of the main Southern Rhone Valley vintages over the last 40 years (the in-fact useful life-span of good examples of these wine-styles, in a cool cellar) is summarised in the Table.
Table 1: The better Southern Rhone Valley vintages of the last '40' years:
YEAR
 Broadbent 
 Wine Advocate  
 Wine Spectator 
Summarised / paraphrased comments
1976
  ** to ****
    –
   –
B: hot dry summer, potentially ripe and concentrated wines, but late Sept. rain reduced cellaring potential
1978
*****
97R
   –
B: best since 1911, big, tannic, rich; J.L-L absolute reference year
1983
  *****
  87C
    –
B: excellent, rich, concentrated, hard tannins have softened
1985
  *****
  88R
    –
B: outstanding reds, rich, long-lasting
1989
  ****½
  94T
    96
B: Chateauneuf particularly successful, rich complete reds; WS: powerful concentrated reds, round tannins
1990
  *****
  95E
    95
B: less aromatic than 1989, powerful, promising; WS: massive wines, great concentration. GK: too like '98
1995
  ****½
  90T
    90
B: comparable with 1990; WS: tannic reds, Chateauneufs improving beautifully
1998
  *****
  98E
    97
B: best since 1990; WS: dense, rich, superb grenache, ripe tannins GK: too warm for fragrant / floral wines
1999
  ****½  
  90E
    90
B: south less than north; WS: syrah and mourvedre wines better than grenache-dominant. GK: fragrant, elegant wines, perfect now
2000
    –
  98E
    94
WS: powerful rich ripe reds with silky tannins
2001
    –
  96T
    92
WS: great vintage with structured racy reds in Chateauneuf
2003
    –
  90I
    93
WS: very hot dry year, best superb, but some inconsistency
2005
    –
  95T
    97
WS: great concentration, structure, should rival '98 and '90. GK: high alcohols
2006
    –
  92R
    93
WS: ripe, pure, balanced, fresh, like 1999 but more concentrated
2007
    –
  98E
    95
WS: ripe rich powerful reds, some grenache over-ripe, mourvedre key for balance. GK: over-ripe aromas/flavours in some wines, high alcohols detract
2009
    –
  93E
    94
WS: Warm dry year, cool nights retained acid, pure fruit and polished tannins. GK: high alcohols
2010
    –
  98T
    98
WS: Reduced crop, warm days, cool nights, beautifully ripe racy wines for aging, the spine of '05 with extra flesh. GK: more fragrant than '09, alcohols still high
2012
    –
  92E
    93
WS: small crop, grenache year, ripe flavours, well-balanced
2015
    –
  93T
    97
WS: warm, dry, then Aug rain. Reds rich, ripe, powerful, in style of '09, '07, but better definition. GK: high alcohols
2016
  –
  98E
    99
WS: Exceptional diurnal variation, truly rare vintage – the new benchmark. Reds rich yet racy and fresh. GK: 'cooler' / more fragrant than '15, alcohols still too high, but an 'investment' year.
                                                 www.geoffkellywinereviews.co.nz
Table compiled from
Broadbent
(to 2002),
Parker
(rated 90 or more, from 1970, where T = Tannic / youthful, E = Early / accessible, I = Irregular, and C means Caution, may be too old),
Wine Spectator
(90 or more, from 1988), and
John Livingstone-Learmonth
(for checking detail). Some personal thoughts now added.
Cepage:  the Main Grapes:
The main red grapes of the district are grenache,  syrah,  mourvedre,  vaccarese, counoise, cinsaut and carignan.  Some appellations permit whites in the red.  Few winemakers use them.  Grenache is far and away the dominant and traditional variety of the region.  It tends to be a low-tannin variety,  ripens late often with high sugars and thus alcohol, and is characterised by aromas of raspberry and cinnamon. The resulting wine-style is in a sense reminiscent of spirity pinot noir.  Unlike pinot noir,  grenache hides alcohol freakishly well,  such that wines up to 15% may be quite acceptable.  Either syrah or mourvedre is the next most important in quality terms.  Both add darker berry notes and complexity,  and (from syrah) perhaps hints of florals and black pepper / spice, though the climate is against the more subtle floral and aromatic characteristics of syrah.  Mourvedre is more finicky,  and harder to ripen,  but in the great years may the more noble of the two in this district,  particularly in its tannin structure, but also its dark berry flavours.  Wines with a higher percentage of mourvedre cellar well.  Of the lesser varieties,  vaccarese is floral and aromatic at best, counoise can contribute acid, cinsaut is a pretty, pale, early-maturing variety reminiscent of pinot meunier (and widely used for rosé),  while carignan is a robust productive well-coloured grape making hearty wines which are good in youth, but don't age well.  Its best use is in
vin de pays
and the like.
The essential Southern Rhone garrigue aroma / complexity factor in red wine: 
What is this characteristic aroma that people talk about in the wines of the Southern Rhone Valley ?  The  term 'garrigue' refers to the low shrubby vegetation of the hills and forelands of the peri-Mediterranean district.  Many of the component plants of this scrub have essential oils,  which are volatile in hot weather.  The vegetation type is known as maquis or garrigue.  It is analogous to manuka and kanuka short scrub in North Auckland,  in that it spreads over areas formerly forested.  When you push through it on a sunny day,  there is this wonderful essential oil smell – from bruised leaves.  The Mediterranean zone being drier than New Zealand,  however,  the vegetation type is now semi-permanent there. Characteristic plants contributing to the fragrant garrigue aroma are: 
rosemary:           Rosmarinus officinalis 
lavender:            Lavandula stoechas
sage:                   Salvia officinalis 
salvia:                 other species of Salvia
thyme:                Thymus vulgaris 
oregano:             Origanum vulgare 
myrtle:          Myrtus communis 
juniper:          several species of Juniperus
fennel:            Foeniculum vulgare
rockrose:        Cistus monspeliensis
pinks:             several species of Dianthus
     
References:
Broadbent,  Michael  2002:  
Michael Broadbent's Vintage Wine
.  Harcourt,  560 p.  
Broadbent,  Michael  2003:  
Michael Broadbent's Wine Vintages
.  Mitchell Beazley,  223 p.  
Karis, Harry 2009:
The Chateauneuf-du-Pape Wine Book
. Kavino, 488 p.
Parker,  Robert  1997:  
Wines of the Rhone Valley
.  Simon & Schuster,  685 p.
Parker, Robert 2002:
Parker's Wine Buyers Guide Sixth Edition
.  Simon & Schuster,  1,648 p.
www.jancisrobinson.com
= Jancis Robinson MW and Julia Harding MW, subscription needed for reviews
www.robertparker.com
= Robert Parker but now more associates, vintage chart, subscription needed for reviews
https://thewinedetective.co.uk
= Sarah Ahmed, 2015:
From Roussillon with love: Australian Grenache.
www.winespectator.com
= exceptionally good vintage chart, subscription needed for reviews
ww.drinkrhone.com
=  John Livingstone-Learmonth, J. L-L below, subscription needed for reviews
www.winecompanion.com.au
= James Halliday, but increasingly associates, subscription needed for both reviews and the vintage chart.
Acknowledgements:
I particularly thank Ian Clark for facilitating, and Sir George Fistonich for authorising, the use of the delightful Boardroom at Villa Maria headquarters, for these two Library Tastings. Extensive use has been made of the vast information resource in
John Livingstone-Learmonth
's website, as above, plus
Jancis Robinson
. Reviews from the
Robert Parker
website mainly, and
Wine Spectator
, are also included, to achieve pan-Atlantic judging balance.
---
THE WINES REVIEWED:
The initial price given is the
wine-searcher
value in 2019. Purchase price where known follows in the text.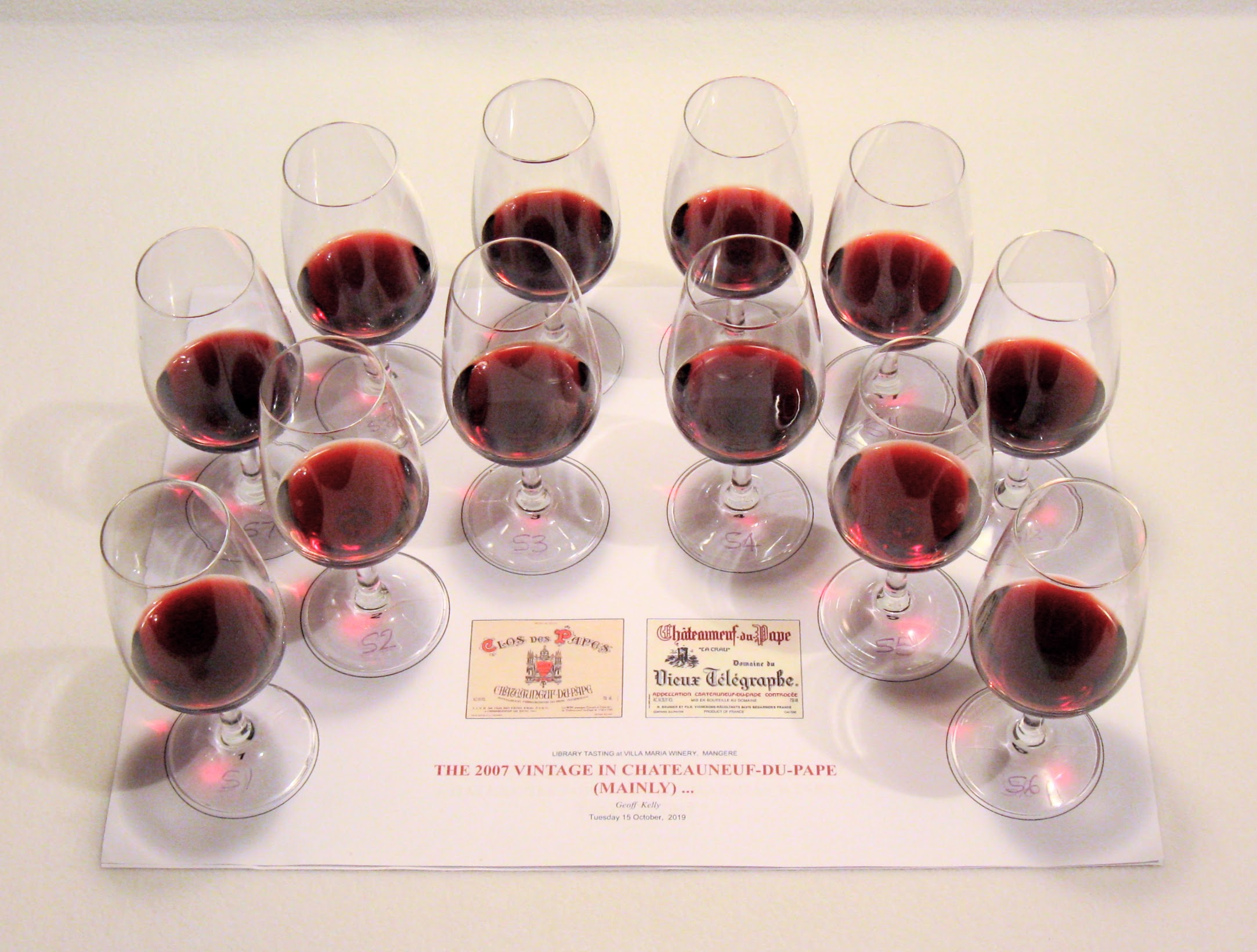 These 2007 wines varied considerably in both their depth of colour, and in their relative hue / age, but as a set, they looked surprisingly youthful for their age. The subtleties of hue do not reproduce well, the image on paper losing translucency in the liquid, at the non-professional level of photography. With even pours, and a high-quality tungsten light source, and counting from the left, wine 4 in the front row, the 2006 Charles Melton Nine Popes was the deepest wine in the set, and one of the reddest / most youthful, closely followed in depth by wine 9 the 2007 Grand Veneur Chateauneuf-du-Pape Les Origines. Les Origines is noticeably older in hue than the less-oaked base-wine 2007 Grand Veneur, in position 7 (back row). At the lighter end of the 12, both wine 2 the lightest, 2007 Vieux Telegraphe, and wine 5, the second to lightest 2007 Clos des Papes, were wines where doubts were expressed about temperature control in shipping, but there seems little likelihood of a colour-correlation, since the third such doubtful wine, the 2007 Mordorée in position 3, was one of the deepest. None of these three were in the fresher-hued half of the set, however. The tasting was unusual in that there was a poor correlation between the characters (descriptors) tasters found in the glasses, and the words which the Northern Hemisphere wine-writers used to describe them. One would like to both taste these wines untravelled, in the Northern Hemisphere, and taste alongside the main wine-writers, to learn just what characters they have in mind for their descriptors. For many writers, from long study, one does not feel that they use words consistently. For example, in the wine notes in this report, one writer uses the term 'Marmite' to describe a "beef stock" character … whereas Marmite is a yeast (ie plant)-derived product. A 'Bovril' or 'Oxo' analogy would make better sense, to a scientifically-trained person. In a sense, wines from Bordeaux have a more consistent world-wide vocabulary.
---